You will receive New Release Notifications for this item.
This item has been added to your Wish List.
When the latest volume of an item that you have rented and/or added to your Wish List is available, you will receive a New Release Notification.
NOTE: If you do not wish to receive New Release Notifications, you can change your settings here.

Write a Review
Let us know what you think!
Vibes:
What
vibes
did you get from the list below?
Share your Vibes!
We recommend using TICKETS for multiple purchases.
$
USE CASH

USE TICKET/S
Story :
Moeka just started living alone a month ago. She's a college student hoping to find herself a nice boyfriend, and one day, she realizes something. From her balcony, she can see everything in the room in front of her apartment, and she finds out that a very hot guy lives there......! She starts spying on him through the window, but one day, his girlfriend (!?) walks in his room and kisses him......!! Moeka is so shocked that she nearly gives up on him, but then she catches him having sex with his girlfriend!! She knows she shouldn't look, but she can't take her eyes off them. And...... guess what!? It turns out that the girl isn't the one who was kissing him the other day! As soon as she realizes it, she starts to feel horny and touches herself on the balcony......! She can't resist the temptation and does it again the next day......!
VOYEURISM -BEATING AROUND THE BUSH ON THE BALCONY-
"Let them look. Being watched is way more fun than watching." "Hey... the curtains are open... It's embarrassing...!" Everything's showing...![40pages]
We recommend using TICKETS for multiple purchases.
$
USE CASH

USE TICKET/S

Write a Review
Be the first to write a review!
Customers Who Rented This Item Also Rented
Other Titles By This Artist/Author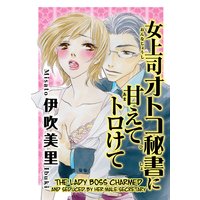 THE LADY BOSS CHARMED AND SEDUCED BY HER MALE SECRETARY
Titles You Have Viewed Recently
You have not viewed any titles recently.
You might be interested in these.