Upcoming Manga
Release Date:25th Jan. 2017

*Please note that release dates may change or be delayed without prior notice. Thank you for understanding.
Love/Erotica Manga
LIVING IN CONFINEMENT WITH A COMFORTING GUY (6)
[author]Yuka Hijiri [publisher]Love Chocolat
"I still don't believe it...... Kazuma, who's always been so nice to me, is now keeping me in confinement...!!" Ayano spends her days exhaustingly busy at work and she eventually collapses on the street. She is then saved by Kazuma, a comforting flower shop employee who Ayano considers to be the only good thing going on in her life. As he nurses her back to health, Ayano learns they both feel the same way about each other... And she then shares a passionate night of sex with the gentle Kazuma. After they finish, Ayano leaves a note and plans to be on her way, but the moment she tries to open the front door... Kazuma says to her "I won't let you go. You're mine now." ......!?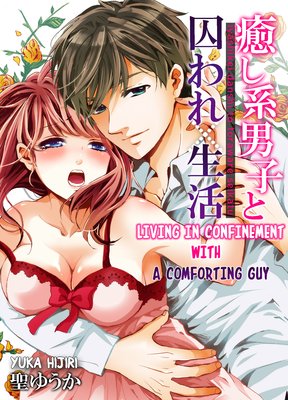 DEBAUCHED ON THE NIGHT BUS -A SLEEPLESS NIGHT WITH A GUY BESIDE ME...- (5)
[author]Tonari Toyama : uroco [publisher]W Comics ZR
"You're actually really naughty, aren't you...?" Has the nice guy sitting next to me suddenly gone wild!? I'm forcibly ravished on a night bus...... Responding to his bold advances with uncontrollable moans...... I was really anxious about riding on the night bus for the first time to get to Tokyo for a job interview. I'm happy that a real gentleman is in the seat next to mine, but I simply can't get to sleep...... That's when he says he'll help me and instructs me to close my eyes... But then he kisses me! I lose my mind as he strokes and caresses me...... The following day I get myself together and attend the interview, but... Who is this? No way...... The guy from the bus!?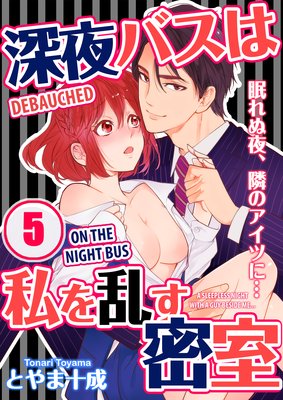 TEACH ME EVERYTHING NAUGHTY -STEAMY EMPLOYEE-TRAINING IN SESSION- Chapter 3
[author]Manami Fujiwara [publisher]KASAKURA PUBLISHING co.,ltd.
"Didn't I tell you that if you don't like it, you should just say so?" Mizuki applies for a job, but the man conducting the interview is the guy she had a one-night stand with. He was so skilled with his fingers and the sex was so good that for the first time ever, she begged for more. Now that she looks different he might not realize it's her, but she never imagined she would end up working in his department! And then, when they're alone in the elevator, he suddenly kisses her!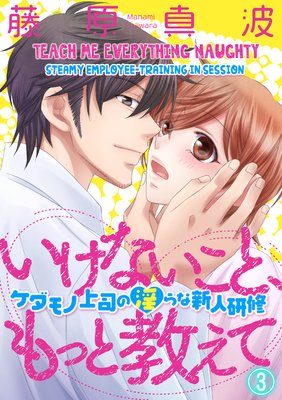 ANOTHER WILD NIGHT WITH MY LORD!? -IS THIS SERVICE PART OF THE JOB?- (3)
[author]Aki Mizuiro [publisher]Love Chocolat
"Spread your legs." he said, before he suddenly started pounding into her. She's not sure what's going on, but for some reason, it's turning her on...!One day, Suzuka meets an old man, who offers to help her pay off her family's debt. He takes her to a large, traditional inn, where she starts working as a live-in waitress. In the afternoon, all employees and villagers gather in the reception hall, and with a cheer of "Our lord has returned!!" a super-handsome young man enters the hall!! This man seems to be the lord of the town, and there seems to be a reason for it. Out of nowhere, he declares, "You'll be attending me tonight..." and, "Don't you want to be mine?" But despite his honeyed words, he turns out to be rather rough in bed...! Will this arrogant tyrant get to use Suzuka's body as he pleases!?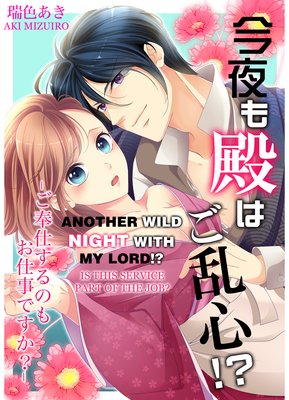 23 YEARS OLD, TAMED IN THE OFFICE 2
[author]Lin Sasaki [publisher]Iproduction Co. Ltd.
"I'll change you." When Yumiko, age 23, hears her crush (who has no idea how she feels) is engaged, she throws caution to the wind and decides to have a crazy night on the town! There, she gets picked up by a guy called Kikuo, who takes her to... a swingers' bar!? She escapes, but who should join her company the next day but Kikuo himself...! As Kikuo prods her to break her crush's engagement, Yumiko gives in and lets Kikuo school her in the ways of pleasure... Playing with Kikuo, and engaging in some mutual rebound sex with her manager Toshi... What's going to become of her office life now!? And what'll happen with her crush...!? This is a love story revolving around Yumiko, a straight-laced office worker gone astray.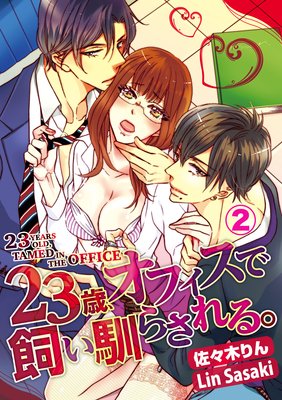 [author]Saya Dando [publisher]KASAKURA PUBLISHING co.,ltd.
Shy college student Michiko harbors secret feelings for young Professor Tanigawa. One night, she visits his office, only to witness Tanigawa in the middle of masturbating while calling out the name of a woman she doesn't know! Jealousy drives Michiko to do something she'd never do normally. Using his embarrassment at being caught in the act as leverage, she makes him a slave to her desires... So begin the passionate, secret meetings between the hot professor and the girl in love! But what surprising twist awaits the two at the end of their tryst...!?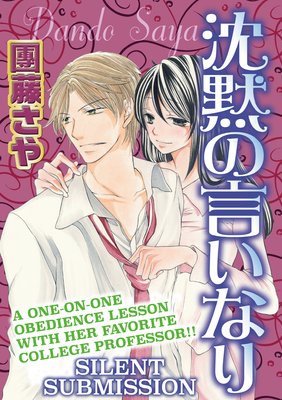 Harlequin Manga
THE DOCTOR TAKES A PRINCESS
[artist]MIHO TOMOI [original novel]LEANNE BANKS [Publisher]Harlequin
Bridget, the princess of Chantaine, always glamourous and the toast of the town, hides her authentic self from her admirers...from everyone. She believes that nobody can love her true self because of the trauma she experienced as a little girl. One day, she realizes that she is able to be herself with Ryder, a handsome yet stubborn doctor who used to be a well-known playboy in Texas. Will he be the one to reach Bridget's hidden heart?


THE CEO'S CHRISTMAS PROPOSITION
[artist]AYUMU ASO [original novel]MERLINE LOVELACE [Publisher]Harlequin
One day Devon is asked to go on a business trip to cover for her coworker who caught a cold. Devon, no fan of Christmas and already tired of the city's holiday mood, happily accepts the assignment and heads to Germany. At the airport she meets her client Cal Logan, a successful businessman. She is struck by his beautiful face but determined not fall in love. Too bad Cal isn't making it easy for Devon to stick by her decision.


[artist]MEGUMU MINAMI [original novel]ELIZABETH POWER [Publisher]Harlequin
When a strange man pursues Sanchia, naturally she runs away. Offended, he asks why she would run from him. Apparently his name is Alex Saber, he's a lawyer...and he's her lover! But Sanchia, having lost two years' worth of memories in an accident, doesn't recognize Alex. She explains this to him, and he insists he wants to help her get her memories back.Sanchia welcomes his help, but for some reason she's also scared. What is it about Alex that makes her so uneasy?


[Bundle] Harlequin Comics Best Selection Vol. 7
[author]CHIKAKO KAWAKAMI : TAKAKO HASHIMOTO : RIN OGATA : ESU CHIHARA : MEGUMI TODA : JUNKO OKADA [original novel]JESSICA HART : MARION LENNOX : STELLA BAGWELL : CATHIE LINZ : CARLA CASSIDY : RAYE MORGAN [Publisher]Harlequin
Collect the best Harlequin comics! Vol. 7 is best selection of Princess stories! Includes "The Secret Princess" "Princess of Convenience" "The Expectant Princess" "The Marine & the Princess" " An Officer and a Princess" and "Jack and the Princess"! Please check "Harelequin comics Best Selection Vol.7" in Free Best selection.


[Bundle] Betty Neels Best Selection Vol.1
[author]NATSU MOMOSE : KAYONO SAEKI : YURI TAKAGI [original novel]BETTY NEELS [Publisher]Harlequin
Collects: A CHRISTMAS PROPOSAL,Heidelberg Wedding , and An Innocent Bride
Even though she's the daughter of a prestigious family, Bertha is cruelly oppressed by her stepmother and stepsister. At her own birthday party, she finds herself despondent, wearing an awful dress and standing alone against the wall. In complete contrast to the way the guests fawn over her beautiful stepsister, no one goes near Bertha. But then, one young doctor, Oliver, calls out to her. "Why are you so sad?" With his sharp insight, Oliver discovers how cruelly Bertha is treated and, unbeknownst to her, begins working to save her!


[Bundle] Bachelor Brothers
[author]YOKO HANABUSA [original novel]CAROLE MORTIMER [Publisher]Harlequin
Collects: To Woo a Wife,TO BE A HUSBAND , and TO BE A BRIDEGROOM
Businessman Jarrett travels to Canada in order to secure the purchase of a business. There he meets his newly married friend and his wife, and agrees to join them for dinner. He is introduced to a former model, Abbie. Jarrett falls in love at first sight, but her suspicious behavior leads him to assume she is a high-class escort. But her true identity is even more surprising!


[author]EVE TAKIGAWA [original novel]SUSAN MALLERY [Publisher]Harlequin
This bundle contains: Delicious 1 , and Delicious 2
Penny is a capable chef who dreams of opening the best restaurant in Seattle. One day, out of the blue, her ex-husband, Cal, asks to meet her. He wants her to help breathe life back into his family's oldest restaurant. He's still as handsome as he was when they separated three years ago, and she never could hate him; so she gives him the okay?as long as he agrees to all of her conditions. Penny's once-smoldering feelings for him light back up, but she can't admit it. After all, she's sure he doesn't love her anymore...


[author]ESU CHIHARA [original novel]REBECCA WINTERS [Publisher]Harlequin
Collects: Bride Fit for A Prince, and Rush to the Altar
When Callie's twin sister, Annabella, told her she won the grand prize of the contest?"I Stole the Prince's Heart and Engagement Ring," she was more than amazed. However, Annabella, an up-and-coming starlet, asks Callie to go in her place and refuse the prize because it clashes with her acting in a big upcoming movie. "Why would anyone want to publicly search for a bride?" is what Callie thought as she reluctantly agrees to make the far trip for her desperate sister. But the moment she arrives at the airport, Callie gets taken away by the?elegant?butler of the prince.?When she attempts to explain her situation, he doesn't seem to care.??"Stop telling me lies about being a twin. You will marry the price in twenty-four hours."?


[With Bonus Episode !] TURBULENT COVENANT
[artist]SORAHA HIMURA [original novel]JESSICA STEELE [Publisher]Harlequin
[With Bonus Episode !] Including 4 special pages of additional story. After one little slip of the tongue, Tiffany finds herself in quite the bind. A rumor spreads that she is engaged to Ben Maxwell, an airline captain. In order to avoid losing face, Ben suggests they play along and pretend to actually be engaged. Soon that isn't enough-they have to officially get married, even if it's only temporary. During this whole ordeal, Tiffany feels a whirlwind of emotions-guilt for having a rumor go so out of hand, frustration while having to deal with Ben's constant judgmental remarks, and eventually a strange attraction to him, as well. But their marriage is nothing but a ploy to save Ben's image and salvage his pride...or is it? Could that really be all it meant to him?


[With Bonus Episode !] PRETTY AS A PICTURE
[artist]MIHOKO HIROSE [original novel]PATTI STANDARD [Publisher]Harlequin
[With Bonus Episode !] Including 4 special pages of additional story. Television newscaster Erika models in a swimsuit after her friend begs her to. But then the pictures are edited so she appears topless and they're published by a Marlow company magazine! She barges into Marlow headquarters to get to the bottom of things, but the CEO, Richard, doesn't take her concerns seriously, which infuriates her. Yet, when he accidentally brushes against her, Erika feels her heart flutter despite her anger...


[With Bonus Episode !] MR. DECEMBER
[artist]KIRIKO HIGASHIZATO [original novel]HEATHER MACALLISTER [Publisher]Harlequin
[With Bonus Episode !] Including 4 special pages of additional story. Spencer Price has a hand in the robotics field, literally. But designing robotic hands costs a lot of money, so he's helped fund his ambitions by posing for a "science hunks" calendar as Mr. December. When he's forced to help promote the calendar, Lexi Price makes a deal with him: come to her odd family's Christmas dinner, and she'll vouch for what an amazing a date he is. When Price realizes that she comes from money, he thinks he may have just found the supporter he needs.


Harlequin Comics Best Selection Vol. 47
[artist]MAO KARINO : RYUKO TATSUMI : MASAKO TSUKIMORI [original novel]MAGGIE COX : BARBARA MCMAHON : HELEN BROOKS [Publisher]Harlequin
This is a collection of free-previews of the best Harlequin comics! The vol. 47 is featuring the theme "Love in a Foreign Country" Vol.1. It contains "One Desert Night" "The Nanny And The Sheikh" and "The Sultan's Favourite".



Yaoi Manga
BOY + BOY + BOY = THREESOME!? (4)
[author]Meo : uroco [publisher]W Comics ZR
"Take a good look. I'll prove that he's my boyfriend!" The class delinquent, Yuga, suddenly asks Teruya out. Unable to turn him down, Teruya asks his best friend Koki for help... So Koki tells Yuga that Teruya's going out with HIM! Of course, Yuga doesn't believe this lie, so Koki kisses Teruya as "proof"... But Yuga still doesn't buy it. Koki takes it up a notch and starts playing with Teruya down there...! Unable to resist, Yuga joins in and a threesome begins... The two guys' caresses are just too much for Teruya......!!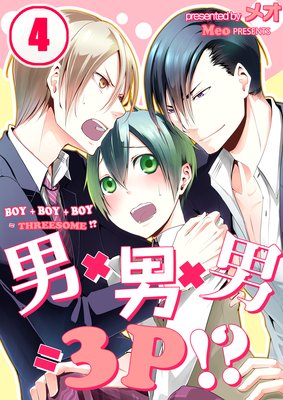 GANGSTERS LOVE A GUY IN GLASSES (3)
[author]Ako Kaneko [publisher]ShusuishaPOP
"Cum, you little virgin...... So cute." Satoshi Mayama is a daycare teacher. He hasn't popped his cherry yet. His concerned friend takes him out to meet some girls, but he ends up with a handsome blond man! Satoshi knows this guy is anything but ordinary, and is suddenly pressed down and kissed deeply! The man grabs, fondles and stimulates his dick. Despite wanting to, Satoshi can't push him away...... Who is this man that knows Satoshi's name......? What's his aim......? Dangerous love between a gangster that goes his own way and a nerdy virgin!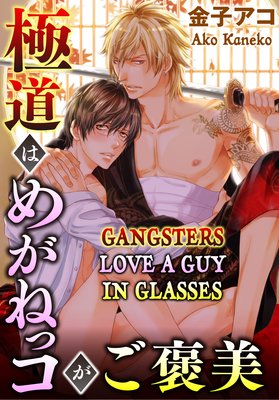 TAKE MY HIGH HEELS OFF (2)
[author]Jijico Okina [publisher]SHU-CREAM POP
"Ken, do you really like me?" Kengo is always a little dry with his girlfriends, and that's what they say when they dump him. Then one day, he sees his classmate, Chiaki, dancing in high heels as part of a cultural festival presentation and gets a hard-on. He thinks it must be some mistake...... Depressed, but on his way to the after-party, he sees Chiaki going into a hotel with a strange man and finds himself further obsessed. Unable to contain himself, Kengo confronts Chiaki and...... What is this dark emotion......? A clumsy, straight, antisocial boy and a beautiful, gay, self-prostituting boy. A criss-cross love between male students muddled by infatuation and lust!!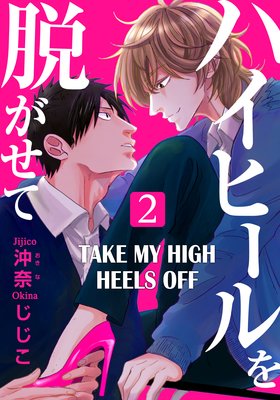 BOYS MAKING BABIES: 24-HOUR FORCED COPULATION CAMP 2
[author]Emiri Ito [publisher]futurecomics
"I have the maternal chromosome!?" Aki can conceive, an ability which can be found in only one in a thousand people. To ensure the survival of the human race, he participates in a program under state control...... But it turns out to be a forced copulation camp! "I just kissed you and touched your nipples and you already have a boner." His sadistic partners take his virginity and cover him in their cum! After taking part in a series of hard-core sexual activities including anus dilation and massages that help to conceive, he finally gets pregnant......!?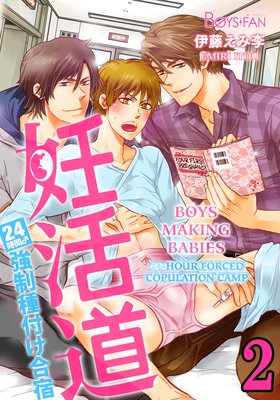 [author]Kanade Tokiwa [publisher]SHOBUNKAN
When Yuto, a Japanese student studying abroad in England, gets injured in a street fight, he develops a deep relationship with Leon, the man who tended him at the nearby monastery. But is Leon really a monk, or is he something else? Welcome to the elegant world of the romantic past!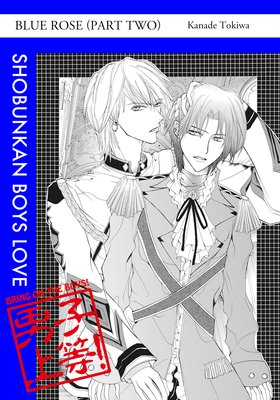 F.W.B. THEATER GROUP -THE CALLOUS WRITER AND THE SUCKER ROOKIE- (1)
[author]Miyoko Matsumoto [publisher]SHU-CREAM POP
They're just a college theater group, but their shows sell out and their top billed actor's a TV star. However, they're unfortunately named "F.W.B. Theater Group" - as in, "Friends with Benefits." One day, freshman and aspiring-actor Asahikawa appears before scriptwriter Utatsu, asking to join the group. Utatsu turns him down flat, but Asahikawa doesn't know when to quit. Utatsu tries to give Asahikawa an impossible challenge to make him go away, but his plan backfires, leading to the two of them watching porn together. Utatsu's curiosity eventually wins out, and he ends up asking Asahikawa to get him off...... So he'll sleep with a guy if he's "interesting" enough!? Theater is his life, and this promiscuous scriptwriter is about to get physical with an inexperienced, fresh-faced freshman!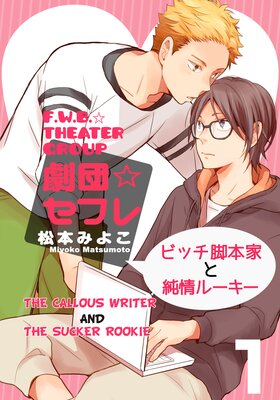 [author]Haruka Fujiki [publisher]futurecomics
"It can't be! I've never been touched by a guy before...!" By chance, Mizuki gets a job as a babysitter-cum-housekeeper. But he's got to work for... a yakuza family! The gang is run by the late boss's four sons and is led by the eldest, Ryuichi. So, Mizuki starts babysitting during the day, and taking care of the brothers' sexual needs at night! They like to see him hot and bothered, and they use every trick in the book to get into his underpants. But one day Mizuki finds out their secret...!