Yao
The ultimate MC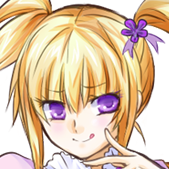 Rina
Steeped in the world of yaoi since elementary school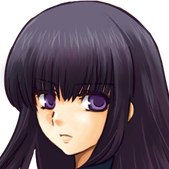 Murata
Has no recollection of a pre-fujoshi self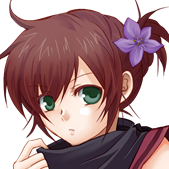 Yoshino
Has an ability to sense fellow fujoshi in the air

Yao
Apparently our fruitful discussion was too fruitful last time, and our boss told us off since it was so long... This time we'll try to be more to the point! Bexy's busy with work today so unfortunately she can't join us (;A;) She's with us in spirit though! Let's start with the topic, then. How did you like it, Yoshino?

Yoshino
First off, the cover gave me very strong BLAC◯ BUT◯ER vibes. (Note: Bexy and Yoshino are a little too invested in certain demonic butlers)

Yao
I know, right!?

Yoshino
So I was really surprised when the black-haired guy turned out to be the bottom.

Yao
Ah... that means your soul hasn't been tainted yet. You're a Light Fujoshi.

Rina
A Light Fujoshi... ?

Yao
Yep. I'm a Dark Fujoshi so I immediately thought that Sin was going to top from the bottom.

Yoshino
Murata, are you a Dark Fujoshi as well?

Murata
Hmm. To be honest, rather than dark stories themselves, I like characters with twisted and tortured personalities *o*

Yoshino
I see...
Yao
Huh. People who thought that Virtue was going to be the bottom, put your hands up!

Everyone
(2 people in the room raise their hands)

Yao
Seems like there's an actual fight between the forces of light and darkness. What did you think, Murata?

Murata
I actually thought that Hasumi and Kenta were the main characters, so I was a little surprised. I didn't expect it to be about Virtue and Sin inside Kenta's heart!

Yao
It's supposed to be a personification story, after all. Although Kenta's love struggles are kind of cute, too.

Murata
Oh! Actually, in my opinion it wasn't personification.
Yao
What!? Then what did you think it was?

Murata
I guess like a... job of sorts?
Yao
That might be the case! It's a lot like a buddy cop show, too.

Rina
It's so funny that they had assessment meetings and targets. It's like an actual company!

Yao
I feel a little nauseous since I just finished my target assessment the other day...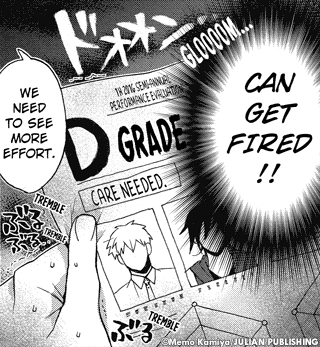 Murata
Also, I really couldn't care less about Kenta.
Yao
Seriously!?

Murata
He didn't seem like a main character... more like filler material.

Yao
Poor Kenta... Pat, pat T_T
Yoshino
At least it all gets wrapped up nicely so I think he deserves a cookie...

Rina
It'd be cool if there was a sequel showing what happened to Kenta and Hasumi after the main story ended.
Yoshino
I know how you feel!

Yao
Someone send a fan letter to the author! I wanna read the continuation... that doesn't exist.

Murata
I want a prequel as well! I need flashbacks from Virtue and Sin's past in my life!

Yao
Flashbacks are great. You know that book series about a certain wizarding school? Dark Fujoshi are the type to prefer the parents' generation... So naturally, I want to read the flashbacks. I bet Murata's craving a prequel, too!

Murata
Sorry, I'm actually only interested in learning the character's pasts when it's young love or a story that follows the characters as they grow...
Yao
Ah...

Everyone
(LOL)

Murata
I'd like them to expand more on how Virtue used to be in the top rankings in everything until he was paired up with Sin.

Rina
And Sin totally had a one-sided crush on Virtue that goes way back!

Yao
Yes!! Like in this scene...

Rina
Exactly!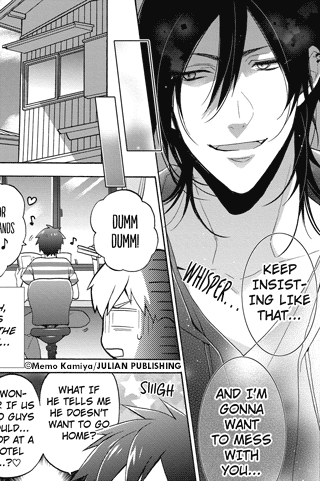 Murata
Really!? I felt like Sin had a bit of a flirty streak to him and he just went with the flow...

Yao
Well, fujoshi tend to read into everything a bit too deeply and find a hidden layer in every story... It's in our blood!
Yoshino
I also just can't handle how bossy Sin is. It's so gooood. Don't you love how bossy he is in this scene? He's such an evil tease.

Murata
This gives me life. And also how Virtue finally snaps right there and then! That's so hot!

Yao
Even the way he snaps and "attacks" him is very, shall we say, virginal. They make such a great couple: a bossy, forward bottom and a clumsy top wrapped around his finger...

Rina
I really liked the different ways they reacted to getting pushed down. When Virtue was pushed on his back, he didn't even get red or anything, almost as if he had no idea what might be done to him next... but when Sin was pinned to the floor, he blushed and got very flustered.
Yao
I'm impressed you noticed all that... Let's see... You're right!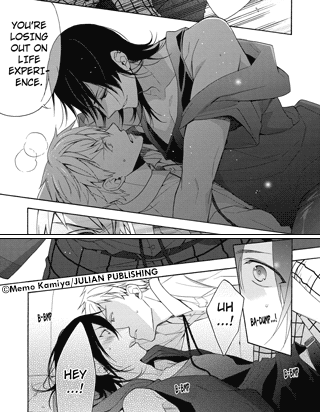 Yoshino
I liked this scene, too. "Grant yourself lucky we can bareback without the risk!"... The power of that line knocked me off my feet!
Yao
Wait a second, you can't make that kind of comment unless you already know that barebacking comes with certain risks...

Murata
Do you mean those two might have been human at some point in the past?

Yao
I think we might be reading too deeply into things again. But if there was a spin-off about their past lives, I'd be on it in a heartbeat! Oops, I got distracted again. Please go ahead, Yoshino.

Yoshino
My favorite scene? Another one I liked is this one. The little heart emoji...

Rina
He's protesting and complaining but the hearts make it look like he's enjoying the hell out of it. Well, he actually is.

Murata
Those hearts! What a life ruiner! This feels like poor Virtue's being abused... I want to give him a hug.

Yao
Although technically Sin's on the bottom, it's like he's fucking Virtue with his ass... As in, Virtue's the one getting it! Hehe.

Murata
Virtue's a true virgin! You can tell how inexperienced he is by the way he's moving... He doesn't know how to handle his big dick...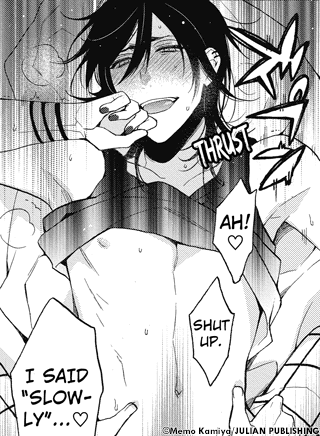 Yoshino
Speaking of big dicks, I just remembered another scene that I enjoyed. That one! Usually when a guy is in that position, you can see his dick but here nothing's peeking through to greet us. So I thought, what if Sin actually has a small cock? Virtue, on the other hand, is very well-endowed. A virtuous big dick!

Yao
Wait a moment, it dawned on me just now! He might not necessarily have a small dick; maybe he's just not hard! I mean... as a man lives his life and his ass is more and more accomplished in the arts of pleasure, he learns how to have a dry orgasm. And when you have one, you apparently don't need to be hard! Which means that Sin's ass is indeed an accomplished and experienced one.
Yoshino
My guess is that he's long since lost the skill and will to have sex with a woman...

Murata
Well, these are all just our suspicions.

Yao
Oh my god... I just noticed something terrible... The recording stopped three seconds after we started talking! (Note: Since we get too excited and our memory cannot be trusted, Yao records everything we say for blackmail material... I mean, to write everything down properly)

Everyone
(LMAO)

Yao
Okay, wait, I managed to switch it on again! Murata, we need the gist now!

Murata
Uh... I believe the keywords were, "big dicks", "heart emoji as life ruiners" and "barebacking without the risks"!!

Yao
Whoa, sounds horrible when you put it like that. We're just a bunch of pervs in the end... Plus only a bit of this was actually recorded... But the time is upon us! See you guys next time!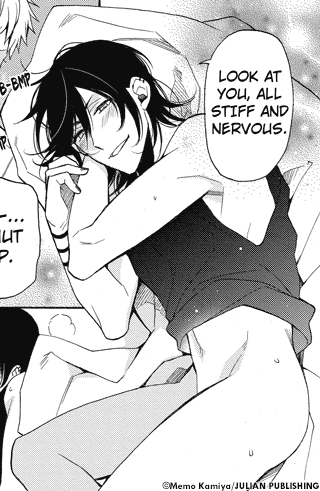 VIEW MORE ABOUT THIS TITLE