Creating an Account
Step 1
Click "JOIN" in the top-right corner of the homepage.

Step 2

Fill in your email address, password and username. Check the terms and conditions, click "Accept Terms and Conditions, and Register".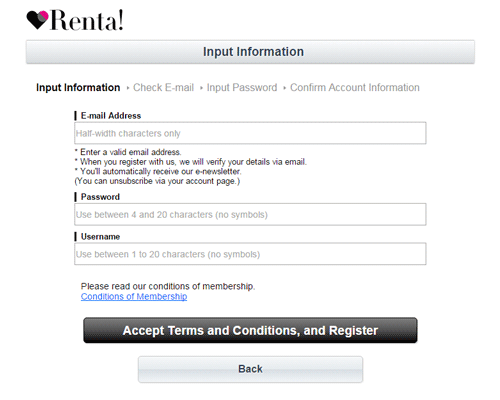 Step 3
An email will be sent to the address you used in step 2. Click on the link in the email to complete the registration process.
Reading Manga on Renta!
Free Manga
Users must pay to read the majority of the content on Renta!. However, we do have a small selection of free manga, which can be accessed by clicking "FREE" at the top of the screen.
48 Hours/Unlimited
There are two options to choose from when you rent a manga:
If you select the 48hours option, you can upgrade to unlimited later on as long as you upgrade before your 48 hour rental period expires.
Free Previews
All our manga come with free previews to help you decide if you want to read a manga. On the product page these can be accessed via the "take a peek" icon, which looks like an open book.
Finding Manga on Renta!
There is a selection of manga on the home page. You can also view the new releases, go to the feature page for each genre, view a complete list of all manga for each genre, or search directly for the title you want to read.
Payment
We accept payment via both credit card (Visa and MasterCard) and PayPal. If you are unable to use your card on our site, please check the following section in the FAQ:
I want to know why my credit card won't work.
There are two payment systems to choose from when renting manga on Renta.
Use Cash
The first option is to pay directly just for the manga that you want to read. Just click on the "USE CASH" button and input/confirm your credit card details.
Use Tickets
The second option is to pay via ticket. Tickets must be bought separately and can be used later to read manga. They can be bought in sets of 10, 30, 50 and 100. If you choose to buy a large number of tickets, you will get some free. With 30 you get two extra, with 50 you get four extra, and with 100 you get nine extra. You can see your current amount of tickets in the top-right corner of the home page. If you wish to add more tickets to your account, click the "BUY TICKETS" button, which can be found in the top-right corner of the home page, and on each product page. You will then be taken to the screen below, where you must select the number of tickets you want and then input/confirm your credit card details. The tickets will be added to your account, and will be used every time you rent a manga.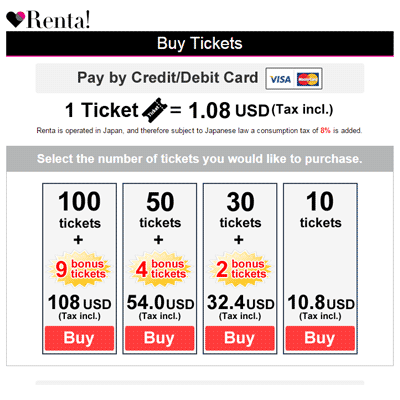 Sometimes we will give you free tickets as part of a campaign. These will usually come in the form of "gift codes" which can be used by putting a code into the gift code page. The gift code page can be accessed by clicking "GIFT CODE" in the top-right corner.
Account Settings
You can change your account settings by clicking "MY PAGE" at the top of the screen. From here you can also view your wish list, my books, recently viewed manga, and manage your bookshelves.
Bookshelf Management
Clicking on "My Books" at the top of the screen, or in the "My Page" will let you view any manga you are currently renting. From here you can create "bookshelves", which are essentially lists of manga that you can organize to your liking. Detailed instructions can be found by clicking on the "Guide" button.
---