Upcoming Manga
Release Date : June 13
*Please note that release dates may change or be delayed without prior notice. Thank you for understanding.
Schedules for all manga >
Love/Erotica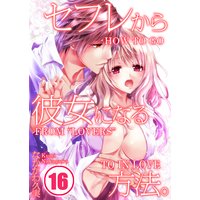 How to Go from "Lovers" to in Love (16)
[author]Kumi Nakagawa [publisher]SCREAMO
"Don't tell me I'm making you nervous just from doing this...?" Her body grows hotter with each touch. Even though it's her first time... her mind's totally blank!! Having had a crush on Sagara, an older student from her high school, our heroine goes to his college to chase after him. She's put a lot of effort into changing her looks to start her new life, and then the unexpected happens! The person inviting her to join his extracurricular club is Sagara himself! And he's grown even more handsome in the two years she hasn't seen him... Still, rumors have been going around ever since high school that "he doesn't want girlfriends, only sex friends." In order to hide her true feelings from him, she acts like a playgirl, but his techniques are about to make her lose her mind...!!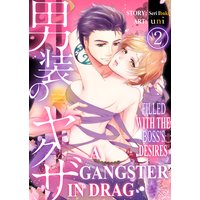 A Gangster in Drag -Filled with the Boss's Desires- (2)
[author]Seri Ibuki : uni [publisher]Iproduction Co. Ltd.
Madoka Takura lost both her parents and was brought up in an orphanage, separated from her twin brother Kaoru, who was raised in another city. By chance, the two are reunited at the same college. Madoka is overjoyed to have her brother back, but then one day, Kaoru leaves a large sum of money in Madoka's care and vanishes. The police won't help Madoka search for Kaoru, so Madoka goes to a private detective, only to find that Kaoru was involved with the mafia. Was he killed for knowing too much? Rumors abound. Frustrated with the inaction of the police and the private detective, Madoka cuts her hair, gets a tattoo, and vows to join the Hafu to search for Kaoru herself. But, when the Hafu mafia boss finds out she's a woman, he offers to keep her secret... as long as she'll be his mistress...!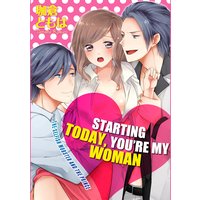 Starting Today, You're My Woman -The Selfish Mobster and the Prince- (4)
[author]Tomoha Kakura [publisher]Love Chocolat
Yuna Soma encounters a prince-like stud on her way to work who cheers her up. That same night, she receives a phone call from someone claiming to be a friend of her deceased father. Something happened when her father was still alive and the voice tells Yuna he has something of her father's to hand her. She's not sure whether to believe him or not, but she goes to his place anyway. However, she ends up getting dragged into a mobster's office, and she finds the young gang leader who looks just like the prince she met that morning! She's being kissed all of a sudden, stripped of her underwear, and she finds herself being touched all over! She shouldn't like it, but she's starting to feel good...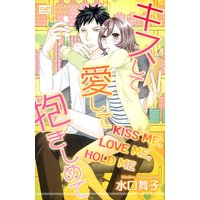 Kiss Me, Love Me, Hold Me
[author]Maiko Mizuguchi [publisher]KASAKURA PUBLISHING co.,ltd.
Even though they've been dating for six months now, Yuna still doesn't know how her boyfriend, Eigo, feels about her. She knew he was a dorky researcher who doesn't talk much, but thinks it's unbelievable that they've only slept together a few times so far! When they're together, Eigo treats her like furniture, and whenever Yuna tries to signal that she wants some lovin', she fails miserably. The only reasons she can think of for this situation are all signs that something may be wrong... This is a compilation of relationships based on real-life experiences... where lovers fret, get excited, and fall passionately for each other!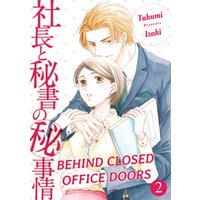 Behind Closed Office Doors (2)
[author]Takumi Izaki [publisher]KASAKURA PUBLISHING co.,ltd.
Ai has been assigned to work as the newly appointed company president Kaiji's secretary. Although he is a bit aloof, Ai takes pride in the fact her new boss is good at his job and starts feeling something more. She thought that their positions in the company would make romance a fleeting dream, but when Kaiji says,"I see you as a valuable partner," the two spend the night together... The company president and his secretary; a love story that transcends status.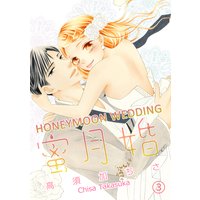 Honeymoon Wedding (3)
[author]Chisa Takasuka [publisher]KASAKURA PUBLISHING co.,ltd.
Misuzu and Seiji are a newlywed couple with a 14-year age difference. Misuzu is overjoyed to be married... to her childhood love! But even so, they haven't done more than kiss. They've never slept together! Misuzu enjoys being kissed and touched, but what's wrong with expecting a little more? Rather than touching herself, she longs for Sei to love her with his fingers and tongue. Could this be the beginning of a sweet and naughty honeymoon for both of them?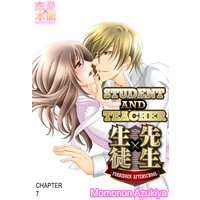 Student and Teacher -Forbidden Afterschool- (7)
[author]Momonon Azukiya [publisher]OrangeVox
Yuna Shirakawa, a brand-new teacher at an elite, all-boys private school is constantly being pursued by Itsuki, one of her students. If being with a student is so wrong, then why does her body feel so right!? There's no end in sight for this forbidden love!!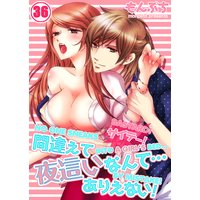 Bastard! No One Sneaks into a Girl's Bed... by Mistake! (36)
[author]monpetit : uroco [publisher]WPOP
He touches my sensitive private parts, and somewhere deep inside me starts to get hot... I never had an erotic dream like this before... But, wait! It isn't a dream!?
I Want to Back You into a Corner (3)
[author]Mimi Yamamoto [publisher]Mobile Media Research
Yoko, who works at a university, is a masochist. Her boyfriend dumps her, so she gets drunk and has sex with an older gentleman. The next day, he tells her, "I want to make you cry myself." He turns out to be a true sadist! She realizes there's no love between them, but she cannot reject him...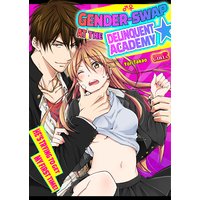 Gender-Swap at the Delinquent Academy -He's Trying to Get My First Time!- (2)
[author]Yori Takao [publisher]Bevy
Torao is a delinquent who's always eager to let his fists do the talking. His greatest enemy is Ryohei, both the strongest guy in school and a terrible womanizer. When Torao tries to get revenge for the time Ryohei humiliated him in a fight, his plans are thwarted by a mysterious potion that turns him into a girl. From that point on, Torao (now Torako) develops a steamy and complicated relationship with the boy he hates! But, is hate really the only thing on Torao's mind!?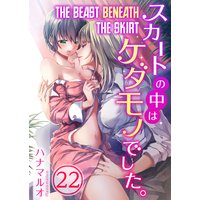 The Beast Beneath the Skirt (22)
[author]Hanamaluo [publisher]SCREAMO
The beautiful girl who brought me to the peak of pleasure... isn't a girl at all! "I just couldn't help myself," he says in a deep voice, licking my most sensitive area. Shizuka goes to a drinking party, but she can't adjust to the mood. Just then, a stunning woman named Ryou approaches her. They ditch the party to have a drink together and quickly hit it off. Shizuka ends up going to Ryou's place afterward, where Ryou suddenly forces her into a kiss. "She's a lesbian!?" Shizuka thinks so at first, but Ryou's body feels unusually hard below the waist. Could Ryou actually be... a man...!? Shizuka's mind goes blank as Ryou's fingers thrust into her deepest area...!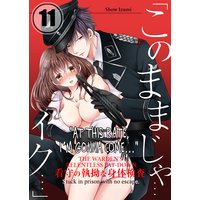 "At This Rate, I'm Gonna Come..." -The Warden's Relentless Pat-Down- (11)
[author]Show Izumi [publisher]SCREAMO
"You're dripping wet down here... Is the pat-down turning you on?" It's not as if Hina wants to come, but her body just does it on its own... She's going crazy... Hina is locked up in prison after being framed for a crime she didn't commit. There, the cold and cruel warden, Aki Myojin, awaits her and dominates her... At the mercy of his delicate touch and ravishing tongue, she's nothing but his plaything... In the examination room, her cell, and even in the visiting room, with her lover there... Bit by bit, her body is disciplined to become dirtier and dirtier... "Someone help! I don't wanna come any more...!"
Female Pleasure. -I Turned into a Girl and Now I'm Addicted to my Step-Brother- (7)
[author]Ouji Maguro [publisher]Iproduction Co. Ltd.
On an afternoon like any other, high-schooler Nanaki falls into a pond that's shrouded in legend and suddenly turns into a girl! Although mortified, he loves how soft and smooth women's bodies are, so... Why not have some fun? He tries on his own, but can't quite seem to get it right... And that's how Souma, Nanaki's step-brother, finds him when he gets home from work! Once Nanaki's hero, "Soumy" is now nothing but an annoyance... That is, until Souma shows Nanaki how to fully enjoy a woman's body! Why is he doing this, and why does it feel so good!?
Harlequin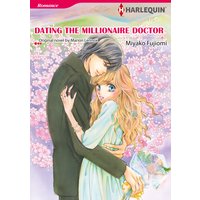 Dating the Millionaire Doctor
[artist]MIYAKO FUJIOMI [original novel]MARION LENNOX [Publisher]Harlequin
After a wildfire broke out, Tori buried herself in her work as a wild animal veterinarian. Until her friend dragged her out to participate in a speed-dating event where she met Jake, a rich and handsome doctor. At first his personality was off-putting, but after running into him again and spending more time with him, his true charming personality begins to show. Despite putting up a wall around her heart, Tori can't help but desire Jake's love. But their worlds are just too different for them to be together-Jake, too, has personal struggles he's going through. Tori decides she wants a night to remember him by, so she gives in to her emotions and rushes into his embrace. But can Tori really let Jake go after spending the night with him?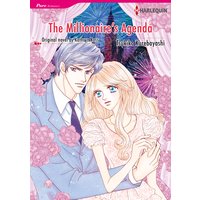 The Millionaire's Agenda
[artist]TSUKIKO KUREBAYASHI [original novel]KATHRYN ROSS [Publisher]Harlequin
Chloe is a secretary and her boss, Steven, is a brilliant and handsome businessman. After losing his wife, he is also the single father of a small daughter. One day his nanny has an emergency and Chloe steps in to care for his daughter. Chloe had been recently engaged and didn't see Steven as an object of romance. But now that she's single, her feelings have begun to change, especially once they spend some time together outside work. And now a chance snowstorm is coming, and these coworkers will have to spend the night together! Will their relationship still be strictly professional once the snow has cleared?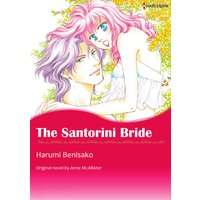 The Santorini Bride Greek Tycoons
[artist]HARUMI BENISAKO [original novel]ANNE MCALLISTER [Publisher]Harlequin
Martha was betrayed by her boyfriend, so she's taken a trip to her ancestral home, an island in the Aegean Sea. She was planning to heal her broken heart in her family home, which was supposed to be vacant, but a pirate-like man named Theo has gotten his hands on this home so full of memories without her even knowing about it. Martha is fascinated by his charm, but he orders her to leave. She used up all her money on the flight there and she has nowhere to go, leaving her at a loss. But when some women show up and pursue Theo, he suddenly proclaims that Martha is his girlfriend and pulls her into a rough kiss. What is going on here?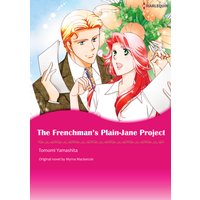 The Frenchman's Plain-Jane Project
[artist]TOMOMI YAMASHITA [original novel]MYRNA MACKENZIE [Publisher]Harlequin
Shy and timid Meg was engaged to the son of her company's CEO, but after he embezzled funds and blamed it on her, she was abruptly fired. Then one day a French businessman named Etienne appeared in front of her. The moment they met he told her he wants her to return to the company that fired her, but this time as its CEO! Meg swore to herself that she would never again be deceived by a man, but she eventually gives in and agrees to return on her own terms. Although, despite her determination to keep their relationship professional, the distance between her and Etienne seems to keep shrinking...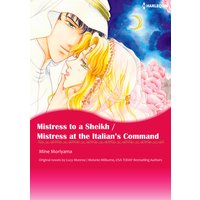 Mistress To A Sheikh / Mistress At The Italian's Command
[artist]MINE MORIYAMA [original novel]LUCY MONROE : MELANIE MILBURNE [Publisher]Harlequin
Mistress to a Sheikh-When Jade met Khalil, a prince from a desert country, she was captivated by his deep blue eyes. After passionately surrendering her virginity to him, she began living with him in a magnificent villa. But even after two years, he still won't introduce her to his family. Can Jade go on living with their arrangement?Mistress at the Italian's Command-After Ally's twin sister was deserted by a married man with whom she was having an affair, she tried to take her own life. His relative, Vittorio, tries to shield his family from the scandal by making it look as if she was actually his own mistress. What he doesn't realize is that Ally is pretending to be her twin sister...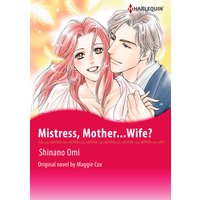 Mistress, Mother...Wife?
[artist]SHINANO OMI [original novel]MAGGIE COX [Publisher]Harlequin
Anna was working at the hotel bar when she spotted an attractive, but lonely-looking, patron. She asked him if he wanted someone to talk to and ultimately accepted when he invited her to his suite. Even though her evening with Dan was a one-night thing, she didn't regret it. After all, she was blessed with a beautiful angel that night... Five years later, Anna is the assistant manager of the hotel and Dan has suddenly appeared in front of her again-this time as an investor.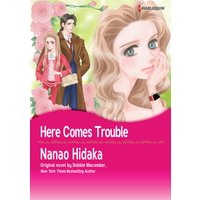 Here Comes Trouble
[artist]NANAO HIDAKA [original novel]DEBBIE MACOMBER [Publisher]Harlequin
Popular columnist Kramer has published something he regrets. He described Maryanne, the daughter of an important man in the newspaper industry, as someone raised in such luxury that "she can't be independent." As a result, she's quit the job her father got her and has said she will move out of her luxury apartment...and away from the protection of her security guards. Kramer feels responsible and tries to persuade her to be reasonable, but Maryanne refuses because she's determined to get a job and apartment on her own. Kramer has no choice but to move in to the apartment next door so he can check on her safety daily. He had no idea that this would be only the beginning of his sleepless nights...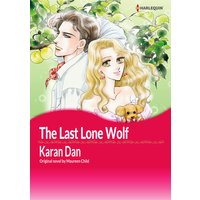 The Last Lone Wolf Man of the Month
[artist]KARAN DAN [original novel]MAUREEN CHILD [Publisher]Harlequin
After losing her younger brother, her only living relative, to war, Daisy was tormented by loneliness and wanted a new family. She didn't need a husband or a lover, but she wanted a baby. And the baby's father should be the man her brother respected and admired, his superior officer Jericho! In order to get pregnant with Jericho's baby, Daisy applied to be a chef at the survival camp he runs. Jericho insisted that she didn't belong there and put distance between them, but little by little he started opening his heart to her...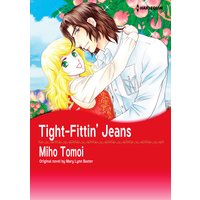 Tight-Fittin' Jeans
[artist]MIHO TOMOI [original novel]MARY LYNN BAXTER [Publisher]Harlequin
International entrepreneur Garth was diagnosed with a difficult illness and forced to rest. For a while, he tried to hide his identity and he spent his time on a ranch. One night when his absent neighbors asked him to check on their ranch while they were out of town, he was suddenly hit on the head by a woman who mistook him for a trespasser! From then on, the woman, Tiffany, felt she needed to look after Garth. Garth spent a night with kind Tiffany, but she still had no idea just how rich he really was...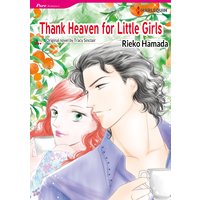 Thank Heaven For Little Girls
[artist]RIEKO HAMADA [original novel]TRACY SINCLAIR [Publisher]Harlequin
Penny, a single mother, has gone on a dream trip to Rome with her five-year-old daughter. It was her hard-earned one-month-long vacation. She was excited because she was able to rent a house in a luxurious city. The night Penny arrived, after she fell into a deep sleep to recover from the exhaustion of traveling, she was woken up, and a man she didn't know was standing at the end of her bed! He wanted to know what she was doing in his bed. What on earth was he talking about?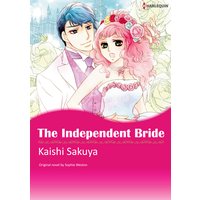 The Independent Bride
[artist]KAISHI SAKUYA [original novel]SOPHIE WESTON [Publisher]Harlequin
Pepper is next in line to inherit a large American corporation owned by her grandmother. But she has her doubts about living life on her grandmother's terms, so she throws it all away to start her own business in London. On her flight there, she bumps into a very handsome man in the aisle of the plane and her heart beats faster than she knew was possible. A few days later, she runs into the same man in the least likely of places! His name is Steven Konig. And when Pepper is in a television debate, he's...her opponent! He makes her heart pound, yet she can't believe the harsh words that are coming out of his mouth...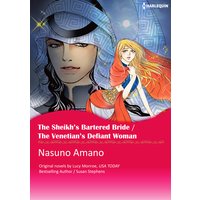 The Sheikh's Bartered Bride / The Venetian's Defiant Woman
[artist]NASUNO AMANO [original novel]LUCY MONROE : SUSAN STEPHENS [Publisher]Harlequin
Catherine has a chance meeting with Hakim, an heir to the throne of Jawar, at the library where she works. He seems just like a prince out of a fairy tale... She falls for him with one glance, and the two begin a passionate romance. One day, he proposes to her out of the blue. Catherine is thrilled...until she learns that it was all just an elaborate ploy. He then whisks her away to the burning sands of the desert! Catherine doesn't know what Hakim's motives are, just that she seems to be trapped far from home... What is he trying to do? This volume also features the story about a love affair between Charlie, an art conservator, and Orlando, the strong-willed Venetian man who hires her to consult on a painting he's recently acquired.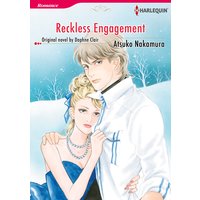 Reckless Engagement
[artist]ATSUKO NAKAMURA [original novel]DAPHNE CLAIR [Publisher]Harlequin
It took Katrien's breath away when she saw mountaineer Zachary at the party. He looked just like that man from twelve years ago! The one who pulled her back into the light when she was falling into darkness... But she's already engaged to the sophisticated Callum. As a model, Katrien is skilled at keeping a poker face, but coincidence keeps bringing Zachary back into her life, leading her heart away from her fiance and toward a different love!
Yaoi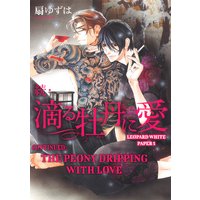 Leopard White Paper -Continued: The Peony Dripping with Love- (5)
[author]Yuzuha Ougi [publisher]SHINSHOKAN
Aya's a super handsome yet stingy host who works at the club "Leopard". One day, he's approached by Tadatomo, a man with the aura of a king. "I want to buy you. How much do you want?" And so begins the love game between the arrogant and rich Tadatomo and Aya, the host with the nature of a wild cat.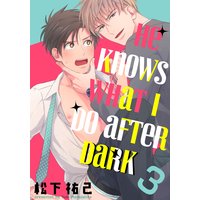 He Knows What I Do After Dark (3)
[author]Yuki Matsushita [publisher]SHU-CREAM POP
Mizuto Kusaka is a serious and diligent office worker... by day. At night, however, he works as a rent-boy! One day, he heads to the club after work as usual, but the client who's waiting for him is, unbelievably, his obnoxious, accomplished coworker Shinichi Takasugi! Shinichi gently caresses Mizuto, who can't help finding it... irresistible... An arrogant hotshot and a goody-goody with a wild side get down 'n' dirty in this steamy office romance!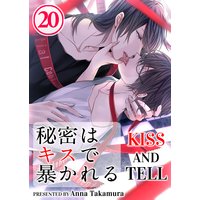 Kiss and Tell (20)
[author]Anna Takamura [publisher]SCREAMO
"The guy I hate knows my most humiliating secret... And now my lower half is reacting to his tongue in my mouth...!" Leo is a popular but self-conscious guy on campus who's been hiding the fact that he can't "get it up" lately. Not even therapy (porn) seems to help. At a party one night, he's forced to kiss his popular and irritating neighbor Ryosuke in front of everyone. Ryosuke's unexpectedly skillful tongue takes the lead, moving deeply inside Leo's mouth... Then Leo's body begins to react. Leo thought he had erectile dysfunction, so how can he be getting turned on in a situation like this...!?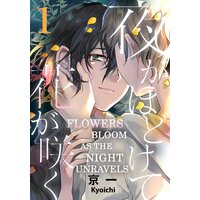 Flowers Bloom as the Night Unravels (1)
[author]Kyoichi [publisher]SHU-CREAM POP
At the beginning of his last year in college, Shizuka meets Izumi, his new professor's assistant. Shizuka is drawn to Izumi's black hair, pale skin... and seemingly lonely expression. However, he realizes one day that it's the professor who is the target of Izumi's gaze. "...The person I like has someone they like. And that someone has a wife." It's so painfully pure and maddeningly sad. It's a romance between guys that cultivates love with great care.
DragoStarPlayer ROMEO 3
[author]Asia Watanabe [publisher]FAT CAT
"Kouyou, you're at your limit." Kouyou is a male beast known as a Lycan with very powerful sex hormones. Jade is the beautiful and macho one being driven crazy by those hormones as they are as strong as the hormones produced by a male cat in heat. Jade helps Kouyou relieve his sexual tension, but only to avoid the trouble that comes with the other males around him being driven insane. He does it as a medical service and only engages in foreplay. A new powerful and erotic BL fantasy from Asia Watanabe is here!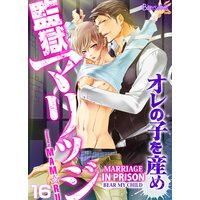 Marriage In Prison -Bear My Child- 16
[author]mamoru [publisher]futurecomics
Get pregnant with my brat! "ahhh! Mmph... D-Don't... Don't put your tongue in there... Aaaaaaah!!" Made homeless and without kith or kin, Kaoru is helpless as a man in a suit toys with his body. His first kiss, his sensitive nipples and anus... His first time was taken away from him...! Not only that, but the same man lures him to a deserted island and imprisons him. What awaits him there is an endless stream of sexual encounters in an experiment with the aim of impregnating him! It's a never-ending circle of casual sex in captivity. A series of complicated infatuations blossom while engaging in hot steamy rendezvous with different men. What will Kaoru's fate be...?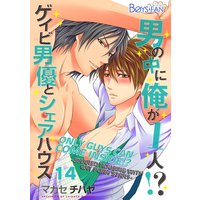 Only Guys Can Come Inside!? -Shared Housing with Gay Porn Stars- (14)
[author]Chihaya Magase [publisher]futurecomics
His boyfriend's weird obsession with sex toys made Ichiya afraid of men, even though he's gay. He later takes over his grandfather's shared house as the administrator, and it turns out... its residents are all gay porn stars! Ichiya accepts the job under the impression that being an administrator means no touching. As soon as he arrives, he becomes the center of attention for all the actors! They film gay porn in the living room, barge into the bath for a hug... It's all going haywire! To top it off, Ichiya has to share a room with one of the guys until his own is fully renovated!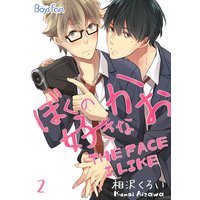 The Face I Like (2)
[author]Kuroi Aizawa [publisher]futurecomics
Sota's childhood friend, Akira, was picked on for being too cute as a kid, and Sota was the hero who saved him. Now they're in high school, and Akira's a handsome and popular guy! The distance between them grows before they know it... Sota, who wants to go back to the way things were before, is determined to enter a student movie competition and gets Akira to be his subject! However, he curiously starts becoming aware of the fact that the more he looks at Akira's face, the more beautiful it is...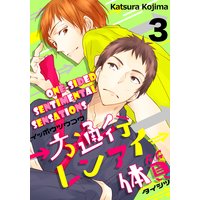 One-Sided Sentimental Sensations (3)
[author]Katsura Kojima [publisher]SHU-CREAM POP
Totsuka is a straight guy, working on a university campus and cursed with a long history of unrequited love interests. He really wants to be able to call someone his own, but every time he tries, it never seems to work out. Of course, as fate would have it, the one person who seems to be into him is a male student, Nari, who showers Totsuka with sweet nothings like "You're totally my type" and "You should pick me, Totsuka." One day, Nari stops showing up to college, and Totsuka can't help but worry about him. One thing leads to another, and Totsuka finds himself going to Nari's place hammered... and passionately kissing him. With Totsuka unable to control himself under Nari's intoxicating sensuality and Nari smoothly leading him in the bedroom... How will this one night between an office worker with absolutely no game and a gay playboy student end...!?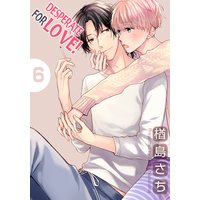 Desperate for Love! (6)
[author]Sachi Narashima [publisher]SHU-CREAM POP
Yohta Seto just wants to feel needed. His lover dumps him, saying Yohta would be with anyone as long as they praise him! After getting kicked out of his ex's apartment, he meets Tatsumi Okazaki, a regular at the restaurant where he works, who lets Yohta move in with him. Tatsumi confesses he's always been interested in Yohta, and asks if he has a chance. "I'll do whatever you need if you let me stay..." Yohta says, attempting to seduce him...! "If you mean it when you say you like me, I wish you'd prove it by sleeping with me..." Tatsumi's mixed signals are confusing the hell out of Yohta...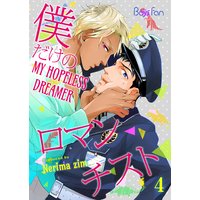 My Hopeless Dreamer (4)
[author]Nerima zim [publisher]futurecomics
Shinobu Aizawa is already in his forties, but he works part-time as a security guard while pursuing his dream of becoming an archeologist. One day, he is sent to work at a party venue and the guy he tries to hold down for making a fuss turns out to be Aldo, the very prince who organized the party. Before Shinobu has a chance to understand what's going on, he's being dragged into the center of the room and introduced as the prince's fiance! This is a romantic love story between a bold and brazen prince and a middle-aged dreamer by the popular manga artist Nerima zim!
Shojo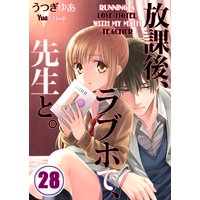 Running a Love Hotel with My Math Teacher (28)
[author]Yua Utsugi : uroco [publisher]COMIC ISHIN
"That's just the kind of hotel this is, you know?" My teacher has got me pinned down in the S&M room at a love hotel...! What should I do? I can't run away...!! My name is Kana; I'm a high school girl by day and a love hotel owner by night. Of course, it's a secret to everybody at school. My grades have dropped due to the stress from my busy life, but I'm kind of happy that it gives me an excuse to receive extra lessons from Mr. Saitou, the teacher I admire. One day, however, a guest at my hotel catches my eye... What!? It's Mr. Saitou!? And the room he chooses to stay in is the hotel's most popular room, the S&M room!! Really!? That kind and gentle teacher...!? Flustered and shocked, I'm forced to go into his room! What will become of me...!?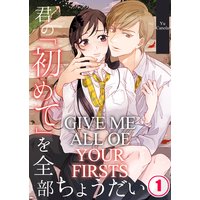 Give Me All of Your Firsts (1)
[author]Yu Canola [publisher]COMIC ISHIN
Saki's loved making bets ever since she was kid. Today's contest was over archery, a sport she excels in. A new student named Sugito is introduced in class and for whatever reason, he seems to know her. Later that day, on her way home from school, Saki is at a loss when she's asked out by a friend from class. Just then, Sugito appears, pulls her close, and out of nowhere kisses her. It can't be... It was her first... But without time to recompose herself, Sugito confesses how he's missed her... and that he's won the bet. Just who is he?
Love/Erotica
Harlequin
Yaoi
Shojo
Release Schedule for All Manga
Release dates may change or be delayed without prior notice. Thank you for understanding.
Love/Erotica
| Release Date | Title | Author | Publisher |
| --- | --- | --- | --- |
| 2018/6/27 | Female Pleasure. -I Turned into a Girl and Now I'm Addicted to my Step-Brother- (8) | [author]Ouji Maguro | [publisher]Iproduction Co. Ltd. |
| 2018/6/27 | First Love Connection | [author]Waltz Miyata | [publisher]KASAKURA PUBLISHING co.,ltd. |
| 2018/6/27 | Behind Closed Office Doors (3) | [author]Takumi Izaki | [publisher]KASAKURA PUBLISHING co.,ltd. |
| 2018/6/27 | Love Lesson with My Home Tutor (5) | [author]Kuromame | [publisher]OrangeVox |
| 2018/6/27 | Gender-Swap at the Delinquent Academy -He's Trying to Get My First Time!- (3) | [author]Yori Takao | [publisher]Bevy |
| 2018/6/27 | Starting Today, You're My Woman -The Selfish Mobster and the Prince- (5) | [author]Tomoha Kakura | [publisher]Love Chocolat |
| 2018/6/27 | The Wild Beast in His Suit... (1) | [author]Tadasugi | [publisher]Mobile Media Research |
| 2018/6/27 | My House Servant Is Naughty and Cocky with Secrets... (2) | [author]Nono Shimanaga | [publisher]Mobile Media Research |
| 2018/7/4 | Gender-Swap at the Delinquent Academy -He's Trying to Get My First Time!- (4) | [author]Yori Takao | [publisher]Bevy |
| 2018/7/4 | Starting Today, You're My Woman -The Selfish Mobster and the Prince- (6) | [author]Tomoha Kakura | [publisher]Love Chocolat |
| 2018/7/4 | The Wild Beast in His Suit... (2) | [author]Tadasugi | [publisher]Mobile Media Research |
| 2018/7/11 | Love Lesson with My Home Tutor (6) | [author]Kuromame | [publisher]OrangeVox |
| 2018/7/11 | Another Wild Night with My Lord!? -Is This Service Part of the Job?- (21) | [author]Aki Mizuiro | [publisher]Love Chocolat |
| 2018/7/11 | The Wild Beast in His Suit... (3) | [author]Tadasugi | [publisher]Mobile Media Research |
| 2018/7/18 | I'll Teach You Everything -A Dangerous Next Door Neighbor- (1) | [author]Kei Shichiri | [publisher]Mobile Media Research POP |
| 2018/7/18 | Only 0.01Millimeter Between My Boss and Me (1) | [author]Mikako | [publisher]Mobile Media Research |
Harlequin
| Release Date | Title | Author | Publisher |
| --- | --- | --- | --- |
| 2018/6/27 | Hug Me, Holly! | [artist]MAYUMI TANABE [original novel]JILL SHALVIS | [Publisher]Harlequin |
| 2018/6/27 | The Husband Contract | [artist]SAEMI TAKAHASHI [original novel]KATHLEEN O'BRIEN | [Publisher]Harlequin |
| 2018/6/27 | Desire Never Changes | [artist]RIE NAKAMURA [original novel]PENNY JORDAN | [Publisher]Harlequin |
| 2018/6/27 | Playing By The Greek's Rules | [artist]KYOKO SAGARA [original novel]SARAH MORGAN | [Publisher]Harlequin |
| 2018/6/27 | Invitation To The Prince's Palace | [artist]MIO TAKAI [original novel]JENNIE ADAMS | [Publisher]Harlequin |
| 2018/6/27 | Playing The Dutiful Wife | [artist]TAKAKO HASHIMOTO [original novel]CAROL MARINELLI | [Publisher]Harlequin |
| 2018/6/27 | Undercover Sheik | [artist]RUKA KIRISHIMA [original novel]DANA MARTON | [Publisher]Harlequin |
Yaoi
| Release Date | Title | Author | Publisher |
| --- | --- | --- | --- |
| 2018/6/27 | My Hopeless Dreamer (5) | [author]Nerima zim | [publisher]futurecomics |
| 2018/6/27 | From the Front-Line Base with Love (13) | [author]Ichigo Satou | [publisher]DeNIMO |
| 2018/6/27 | Flowers Bloom as the Night Unravels (2) | [author]Kyoichi | [publisher]SHU-CREAM POP |
| 2018/6/27 | Nipple Bingo -Kishiwada, a Guy with Very Sensitive Nipples- 2 (12) [Plus Renta!-Only Bonus] | [author]Asuka Ibuki | [publisher]futurecomics |
| 2018/6/27 | Only Guys Can Come Inside!? -Shared Housing with Gay Porn Stars- (15) | [author]Chihaya Magase | [publisher]futurecomics |
| 2018/6/27 | We Became the Wives of Beasts Today! (1) | [author]Hazuki Natsu | [publisher]Mobile Media Research |
| 2018/7/4 | My Hopeless Dreamer (6) | [author]Nerima zim | [publisher]futurecomics |
| 2018/7/4 | Flowers Bloom as the Night Unravels (3) | [author]Kyoichi | [publisher]SHU-CREAM POP |
| 2018/7/4 | Only Guys Can Come Inside!? -Shared Housing with Gay Porn Stars- (16) | [author]Chihaya Magase | [publisher]futurecomics |
| 2018/7/4 | The Face I Like (3) | [author]Kuroi Aizawa | [publisher]futurecomics |
| 2018/7/4 | The Bartender and the Brokenhearted Boy -Enjoy a Sweet Cocktail Tonight- (1) | [author]Tsukiyono136 | [publisher]futurecomics |
| 2018/7/4 | We Became the Wives of Beasts Today! (2) | [author]Hazuki Natsu | [publisher]Mobile Media Research |
| 2018/7/4 | This Porn Star Just Doesn't Listen (1) | [author]Hosita | [publisher]Mobile Media Research |
| 2018/7/11 | My Hopeless Dreamer (7) | [author]Nerima zim | [publisher]futurecomics |
| 2018/7/11 | The Bartender and the Brokenhearted Boy -Enjoy a Sweet Cocktail Tonight- (2) | [author]Tsukiyono136 | [publisher]futurecomics |
| 2018/7/18 | My Hopeless Dreamer (8) | [author]Nerima zim | [publisher]futurecomics |
| 2018/7/18 | The Bartender and the Brokenhearted Boy -Enjoy a Sweet Cocktail Tonight- (3) | [author]Tsukiyono136 | [publisher]futurecomics |
Shojo
| Release Date | Title | Author | Publisher |
| --- | --- | --- | --- |
| 2018/6/27 | A Second Away from a Kiss (21) | [author]Sui Souda | [publisher]COMIC ISHIN |
| 2018/6/27 | Cigarette Kiss -Love That Began in the Smoking Area- (2) | [author]Hana Watase | [publisher]COMIC ISHIN |
| 2018/7/4 | 15 Years Old: Starting Today We'll Be Living Together (31) | [author]Aco Momota : uroco | [publisher]COMIC ISHIN |
| 2018/7/4 | Give Me All of Your Firsts (2) | [author]Yu Canola | [publisher]COMIC ISHIN |
| 2018/7/11 | Cigarette Kiss -Love That Began in the Smoking Area- (3) | [author]Hana Watase | [publisher]COMIC ISHIN |