A bitter love with the devil begins!!

For those who like their Sweet Love dripping with Fantasy!!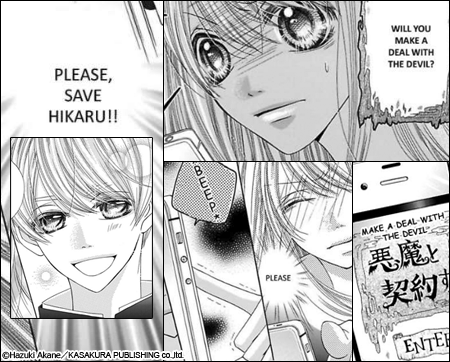 Maria prizes her beloved step-brother Hikaru, but one day he gets into an accident, and ends up in a critical condition.
Maria uses a strange website to summon a devil to save his life...
The devil that appears is an overwhelmingly beautiful man with black hair and black eyes, called "Kuroki". The devil grants Maria's wish, but in return...

Maria is at Kuroki's every whim, as he makes her fulfill her contract. He even tells Hikaru about his step-sister's contract with him. Hikaru is shocked, but Maria is too important for him to lose, and he vows to protect her from the devil.
But Maria gradually falls under Kuroki's spell, his words slowly wrapping tighter around her soul, as he comes to realize his own attraction to her purity. Once the contract is fulfilled, though, Kuroki will disappear....

What will happen to the devil and the human girl?