The Sabbides Secret Baby
Posted on Jan 22nd / Genre: Harlequin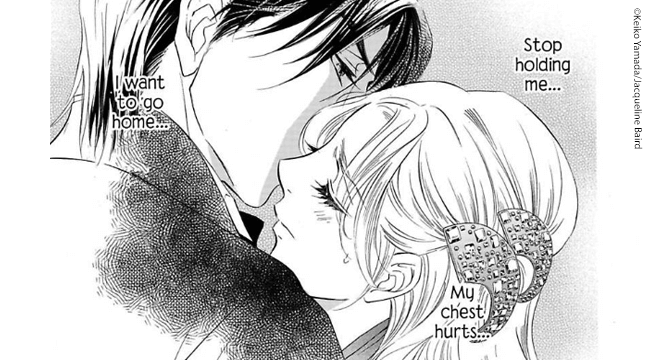 Quin's comment
And now, for another thrilling tale of love, lust, and secret babies! Phobe felt like she was in paradise with her lover Jed, a handsome, Greek, tiger of a man, and heir to the famous Sabbides Corporation. Showered with gifts and nights of passion, it seemed like everything was perfect, that is, until she found out she was pregnant. Jed's scornful reaction to Phobe's announcement was the last thing she was expecting, and when she then suffers from a tragic miscarriage after an unfortunate accident, she decides to run home to Dorset and be rid of the cruel man and her now tainted memories with him. Five years later, the two happen to meet again at a ball in Greece, and while Jed seems to still be the cold, but lustful man Phobe remembers, she herself is actually keeping a secret from him...
The relationship between Phobe and Jed is like watching a battle between fire and ice, as misunderstandings mount, and neither one wants to back down. They fight not only each other though, but themselves as well, as we find out more about Jed's troubling past and what made him into the man he is today. If you're after excitement, I can't recommend "The Sabbides Secret Baby" enough.
Nekomiya and the Cat Shrine
Posted on Jan 15th / Genre: Shojo
Jo's comment
Everybody knows that cats have nine lives... but what if they actually lived forever? The premise of this cuddly collection of short stories is that cats can't actually die; they just go to Nekomiya's cat shrine and change into a new fur! However, if a human should somehow discover this secret, that cat will forget the most important thing to them. For a cat, that could be anything from their owner's memory, to their love of eating, or even something that makes up their core personality! Each story is filled to the brim with all types of furry feline cuties: loving cats, aloof cats, lonely cats, fighting cats... even a cat who decides she wants to wear "human fur!" And, just when you think it can't get any cuter, another heartwarming panel appears. At first, Nekomiya herself seems angry and mysterious, but she has her reasons, too, and it turns out petting all the cats is only part of her job description...

Since each story is basically self-contained, there's no grandiose plot here. In other words, this manga is the distilled essence of taking a break and looking at cat pictures. If that sounds right up your alley cat, then you owe it to yourself to open up a new tab(by) and scratch that post and that itch with "Nekomiya and the Cat Shrine!"
The Process of Impure Love
Posted on Jan 8th / Genre: Yaoi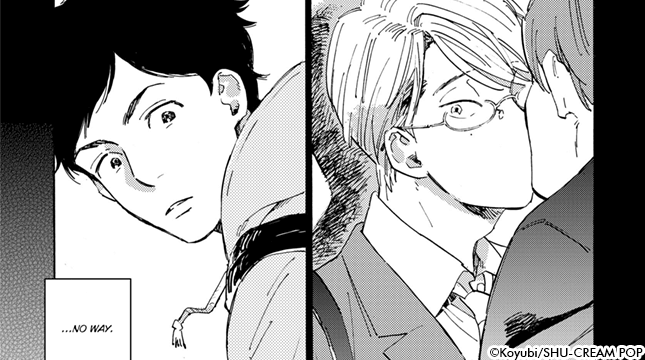 Yao's comment
Serizawa is a normal college student who spots his professor, Utsumi, kissing a man in an alleyway. In exchange for not telling anyone, Serizawa had a rather pure-hearted request... for Utsumi to go drinking with him and listen to his woes! One thing leads to another, however, and Serizawa wakes up with Utsumi doing him a "favor"...

This manga is very different from most of the yaoi manga on Renta! It's quite bittersweet, and the tone is rather dreary, but with a feeling of nostalgia and longing, which I loved. What starts out as an "impure" relationship becomes personal growth and the overcoming of depression, leading to the opening of hearts and eventually, love. The depiction of Utsumi's depression and how it manifested in the mess that is his life and his living space was too real... I also adored how emotions are a portrayed as spectrum and not black and white, which is hard to come by in yaoi manga, I feel!

If you're looking for something a little different, with characters who seem uncannily human, try this!
Only Be Yourself with Me
Posted on Dec 25th / Genre: Love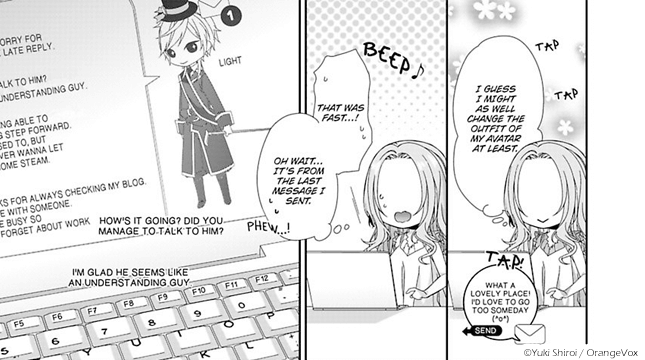 Candi's comment
Mei Narimiya is the heir to the exclusive kimono store, Narimiya. She's always struggled to connect with others and finds it easiest to be and express herself online. Worried that she'll end up alone for the rest of her life, her parents arrange a marriage with the recently repatriated young and handsome bachelor, Kou Hino. At their first meeting, however, Mei can hardly strike up a conversation with him and spills tea all over the table. She nearly cries in front of Kou, but he assures her that there's no pressure for her to force a conversation and asks to meet her again. The next time Kou comes to see Mei, he offers to chat with her through their cell phones and Mei begins to open up to him. Walking on cloud nine the next day, Mei goes out to run errands, but bumps into a guy on the street. The guy apologizes and Mei can hardly mumble a word to him! "She's hot, but kind of creepy! No thanks! Hahaha!" he comments to his friend as they walk off. Dejected, Mei decides to make the next time she sees Kou their final meeting. She breaks the news to him the following week, gets up to leave, but trips and falls. Kou goes to catch her, but falls on top of her and... kisses her!? Will Mei change her mind about Kou? Read on and find out!
Protecting the Desert Princess
Posted on Dec 18th / Genre: Harlequin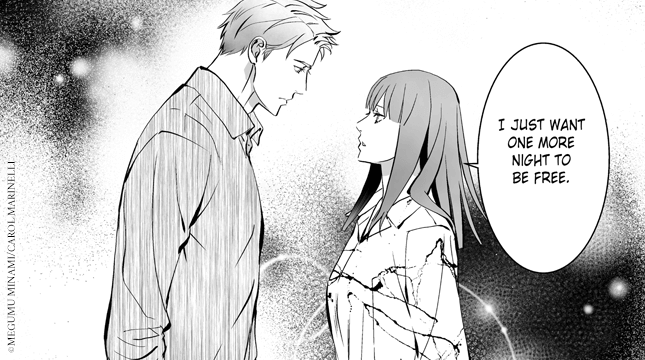 Quin's comment
Although we are all pretty much familiar with stories where a tall, handsome sheikh gets his heart stolen by a beautiful outsider, it's not often that we see a gorgeous princess venturing out of her kingdom and finding forbidden love. Princess Layla is scheduled to marry against her will and to continue living a completely sheltered life without ever having experienced freedom, passion and many other things she's always dreamed of. When the time for her to choose a husband draws nearer, she decides to take a leap of faith and escapes during travel. She chooses Mikael, an infamous lawyer who's as successful as he's despised by many, to accompany her on the last adventure she's allowed to have in this lifetime. Little do they both know that simple attraction will stir something infinitely deeper and stronger in their hearts.
This story features one of the boldest and most direct heroines you can find in romance manga. Layla's very open and honest about what she wants and Mikael is often taken aback by her innocence and drive. The way he's trying to keep it together when she makes shocking demands is really quite adorable! If you want to read an interesting role-reversal story, look no further!
Coupledom 101
Posted on Dec 11th / Genre: Shojo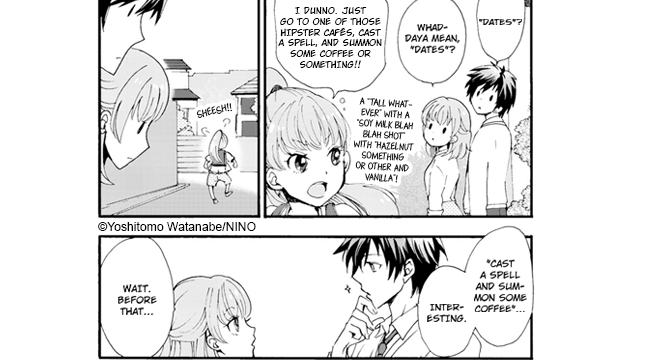 Jo's comment
Mamoru and Miyuki have been together for basically as long as they've been alive, and they're as tight as two peas in a pod. They both collect the same trading cards, they dress with the same fashion sense, and their interests couldn't be more similar. Now that they're in high school, all their friends say they should be a couple, but between the two of them, they know about as much about how to be in love as a fish knows about breathing on land! But, they might as well give this whole "dating" thing a shot, right?
And OMG, both of them are so cute! It's so clear how they're such good friends, but the way they have no idea what they're doing is a real breath of fresh air from the usual "instantly a master of romance" trope! I bet anyone reading this will instantly feel better about their own love life! And even though their attempts to find what love is don't really blossom into a textbook (or comic book in this case) romance, the two of them are such a good pair that you can't help but root for them on their next attempt!
You can do it Mamoru! I believe in you, Miyuki! Please don't mess this up, for all our sakes! Enter the world of coupledom so you don't just become another dumb couple!
The Pirate
Posted on Dec 4th / Genre: Harlequin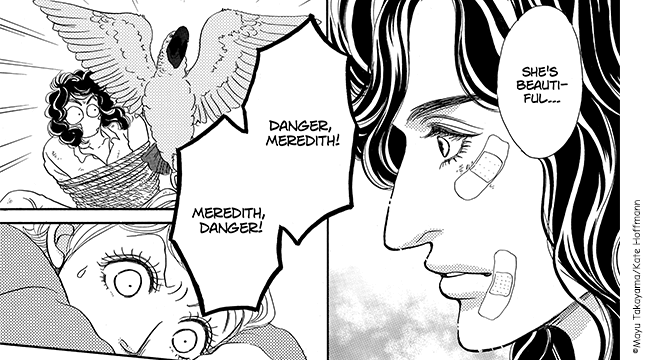 Quin's comment
If you like some fantasy with your romance, then this one's for you! When the pirate loving Meredith returns to her hometown to finish her research, boy does she time it badly, as the worst storm in 20 years hits just as she arrives. Stuck at home riding out the terrible weather, she comes across a book on pirates that she's never seen before, and upon opening it is greeted with a fantastic surprise: a real-life pirate from the 18th century (and he's gosh darn beautiful!) Although somewhat of a shock at first, it turns out the two of them get along reeeeally well, and quickly get to work on a way for him to travel back to his own time. That is until...!
This is such a unique Harlequin story and was so refreshing to read! The pirate, Griffin, is really well fleshed out, and his surprise and lack of understanding of the modern world feels genuine, humorous, and charming. The bond him and Meredith share is one of mutual respect and understanding (he's a surprisingly progressive pirate!) and feels so mature and real. The climax of the story though was definitely the most enjoyable part, and not to spoil anything but, I couldn't have hoped for a better ending!
First Love Reset
Posted on Nov 27th / Genre: Love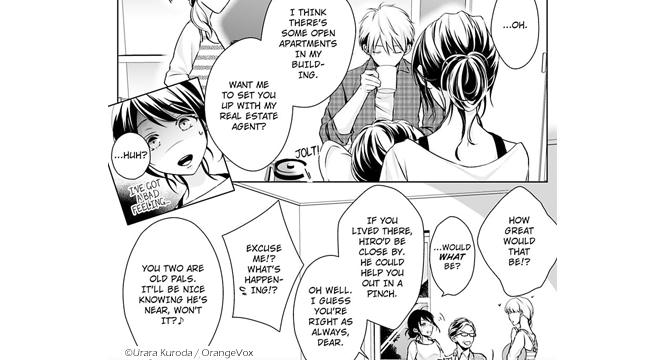 Candi's comment
Ako Fujima, 25, is desperately trying to convince her parents to let her move out and "spread her wings." All she wants is a pet cat and freedom like her other friends. Ako's discussed it before with her mother, who wholeheartedly agrees. Ako's father, on the other hand, thinks that she's flaky and that it's not right for someone her age to move out yet. Just then, the doorbell rings. Who should it be but her childhood friend, Hiro. Ako, or Ann as he affectionately called her, and Hiro were inseparable. Ako asked him out in high school, but Hiro shot her down. Ten years later, the thorn from that rejection is still stuck in her heart. Hiro mentions that there are open apartments in his building and offers to help get her one. Ako ends up moving into his building and living two floors below him. After she realizes she forgot to call the gas company to turn on her water heater, she heads up to Hiro's room to borrow his shower. Ako sits with Hiro for a beer afterwards and ends up drunker than she expected. She nearly falls down, but Hiro grabs her...! His feelings for her come rushing back to him! What will Hiro do next!?
His High Heels at Midnight
Posted on Nov 20th / Genre: Yaoi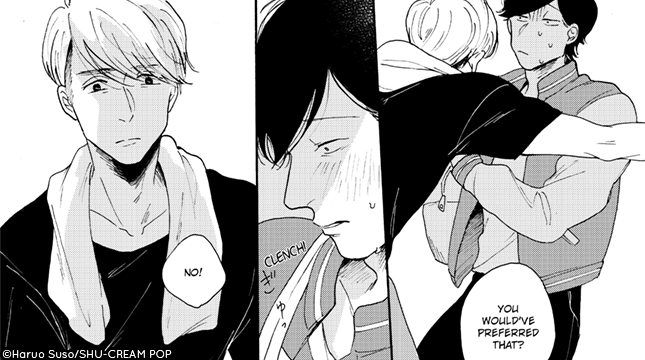 Yao's comment
The story opens with Ryotaro, an up-and-coming photographer, sitting unwillingly with his sponsor in a cross-dressing bar. Feeling unwell, he stumbles on his way to the toilet, and a cross-dresser comes to his aid. Ryotaro is shocked to find that he recognizes the feet of the man before him. They belong to Wataru, a single father struggling to make ends meet, and they went to high school together. Desperate to stay connected to Wataru, Ryotaro strikes a deal with him to meet up once a week...

This manga may seem on the surface to be a carnal, foot-fetish yaoi, but it's much more than that. Nostalgia, forgiveness, learning to treasure the past while moving forward, and finding the courage to love yourself, are all major themes in this slow-burn romance.

What I love about this manga is how artfully the author has captured the way Ryotaro and Wataru work through their own feelings as a result of their vastly different pasts. Most importantly, I thought depiction of Wataru's struggle to accept the death of his wife was respectful, and a distinct part of his character, not just a way to push the story forward like in many yaoi manga involving previously married men. For those of you looking for a mature, slow-paced yaoi manga that leaves you feeling whole and warm, give this one a try.
Hazakura Junior High Animal Club
Posted on Nov 13th / Genre: Shojo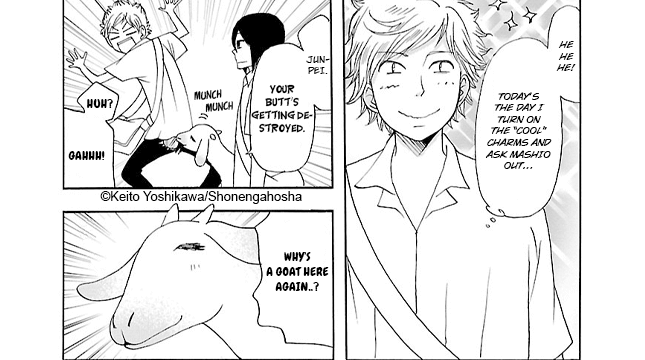 Jo's comment
Junpei just wants a normal life, but he has work to do in his school's animal club! Every day he gets into new misadventures with his clubmates, Shinobu and Mashio. But it's not just chasing chickens around campus and grazing goats on the grounds! The area around Junpei's school is filled with all sorts of creatures, from cute dogs to creepy crawly bugs. Even a spooky ghost story finds its way into these pages! Mystery and adventure await as in each chapter, Junpei deals with a new animal, and a new problem to solve. Farm animals, exotic parrots, bugs, and of course cute dogs all roam the school, and it's the Animal Club's job to clean up their messes, while hopefully not starting any new ones! If you want to take a break from romance with some short, light-hearted stories filled with humor and happiness, you can't go wrong with Keito Yoshikawa's collection of fantastic (but never really unbelievable) tales from the schoolyard. And maybe eventually Junpei will finally be able to ask Mashio out on that date without Shinobu finding some way to interrupt!
View Previous Staff Awards