I Hate Romance Comics!
Posted on Aug 21st / Genre: Shojo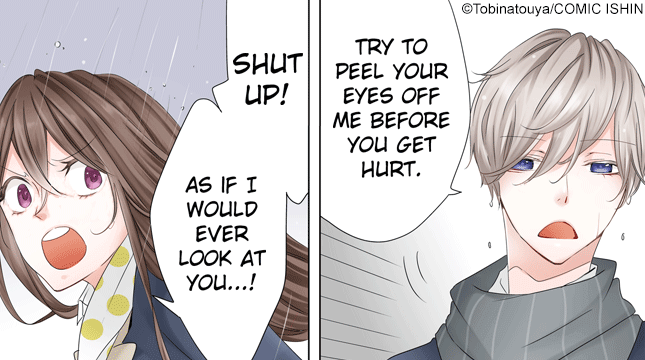 Jo's comment
I'm sure if you try hard enough you could easily name a laundry list of romance tropes: stuck in a sudden rainstorm together with your crush, bumping into him on the street with your half-eaten breakfast, getting stuck at the nurse's office together...

But, Momoko Akashi wants nothing to do with any of that! For her, romance comics are tied in with the worst day of her life. After that horrible day, Momoko swore that she would never touch another romance comic ever again. But, her friend is sick of her constant badmouthing and "curses" her: Momoko is forced to find love in the most "romance comic" way possible with the first boy she sees! It's happily ever after whether she likes it or not! And, guess what, it's none other than Aiji Aoto, the boy she absolutely hates!
Despite all the crazy situations Momoko finds herself in with Aiji, she's determined to stay strong and not lose to her stupid curse. Besides, there's no way the curse is even real, right!? Will she succumb to her sweet happy ending after all? Don't be a hater and check it out for yourself!
Intensive Care
Posted on Aug 14th / Genre: Love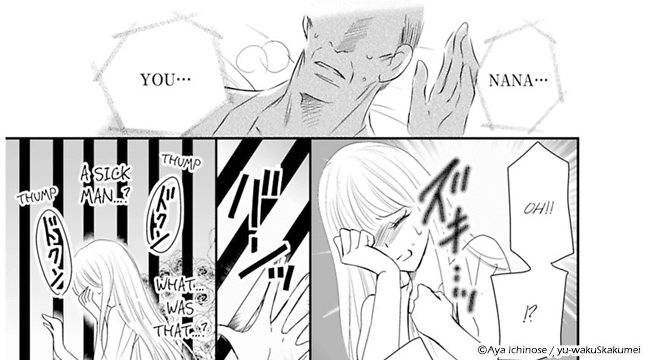 Candi's comment
On her way home from a wedding dress fitting, Nana Hiiragi is involved in a terrible accident in which she loses her memory. When she awakes in the hospital after having a nightmare, she finds herself surrounded by two men she doesn't recognize. One is Dr. Yaotome, and the other is her fianc?, Yusuke Kogami. Nana tries her best to understand how she could've fallen for the rough-around-the-edges Yusuke and can't help but feel afraid of him. One night, a sick man flashes before Nana's eyes. She feels like she knows him from somewhere, but can't recall where. She tries to go out in search of him, but is stopped by Yusuke. Yusuke tells her she's become meeker and that he prefers her this way. What on earth was Yusuke like before she lost her memory? Will Nana recover her memory and discover who the sick man is? Read on and find out!
Mr. Katakura's Dirty Little Secret
Posted on Aug 7th / Genre: Yaoi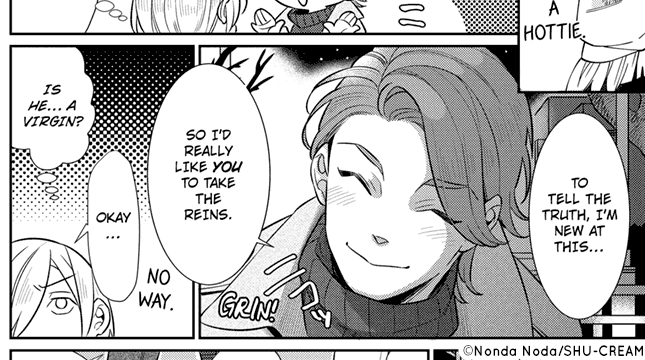 Yao's comment
Shoichi Katakura works at a nursery school and is loved by all the children and their parents! But at night, he becomes "Ichi" and eats men like candy... On one of his prawls for a man online, a super hot, but also super straight man turns up. Shoichi had promised himself he would never sleep with a straight man again, and he ditches the hottie, Kei, in the middle of their session... Only to think that Kei looks awfully familiar. Of course, this only means they will run into each other again, and in the most inconvenient place for Shoichi...!

I looooooove me some Nonda Noda! A master in both Love Manga and Yaoi manga, this is just the perfect combination of so many tropes that push my buttons. 1) Secret night life to a otherwise prim-and-proper character, 2) A "straight" top, 3) Super beautiful art, 4) Adorable side characters... and so much more! I had gone into this thinking it would be light-hearted and a simple, fun, smutty read, but ended up more emotional than I had expected, which is always the best surprise. Also, the extra chapter at the end is SUCH a special and surprising treat as well... You won't be disappointed!
Married for the Tycoon's Empire Brides for Billionaires I
Posted on July 31st / Genre: Harlequin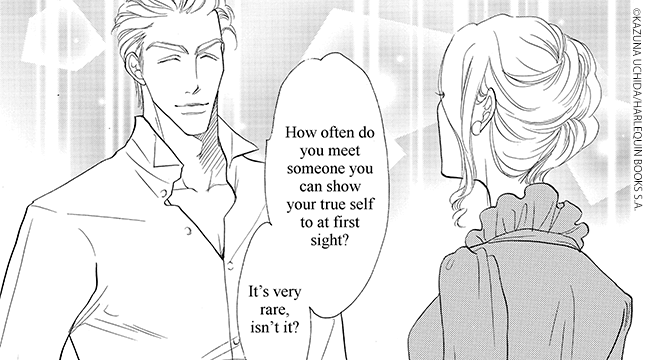 Quin's comment
When American business tycoon Ben Carter calls three of his rivals to a meeting, it comes as quite a surprise to all of them. What could he want to talk about? It turns out he's had enough of the press constantly bad mouthing all of them and making up fantastical stories about them drinking the night away and bedding countless women. Not only is it damaging their businesses, but it's hurting the charity they all work with as well! The way to put a stop to this nonsense? Show the world that they are good, family men, by finding themselves wives. Acting on that, Ben joins a dating agency, and his eye is immediately caught by the beautiful and elegant British woman Julianna Ford. But after trying to set up a date, he is crushingly rejected by her, as it turns out she is the daughter of a British construction tycoon, whose business Ben tried to take-over! How will Ben win Julianna over and show the world his good side? This is maybe one of the most wholesome romance series I've had the joy of reading up until now. Not only is the art beautiful, but you can really feel the connection between Ben and Julianna and understand the worries that they're both having.
The Bittersweet Taste of Love -Bakery and Restaurant-
Posted on July 24th / Genre: Shojo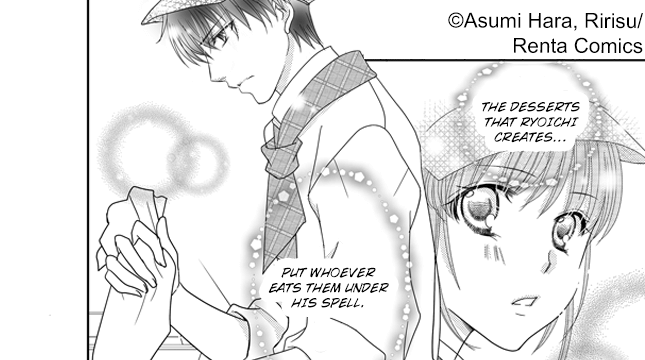 Jo's comment
Ah, on-the-job romance. What could be more glamorous? Well, it turns out that working day-in and day-out in the kitchen at a five-star hotel isn't exactly the best place to get to sit down and have a real heart-to-heart when you have a huge crush on another employee.
Ryoichi is the award-winning head chef at a hotel bakery. Chika has been in love with him ever since she crossed paths with him when her sister, Hazuki, hired him to create her wedding cake four years ago. What better place to fall in love than at a wedding, right? There's just one problem: Chika's sure Ryoichi has a crush on Hazuki due to the amazing intricacy and incredible beauty of the cake topper he created. Oh yeah, and also Ryoichi has no respect for anyone and belittles everyone he meets. Darn. Even their boss isn't safe from his sharp tongue!
But deep down, beneath his rough exterior, Chika knows that Ryoichi has a caring heart, even though she can't bring herself to tell him how she feels. Now that Chika is working at the same hotel, maybe her chance will finally come! Will Ryoichi notice her for who she really is, or will Chika be forever doomed to hiding her sweet feelings behind her sweet creations? Read on for a story of love and dessert so savory you'll be hungry for more!
Love in the Fujinami Household -A New Romance Begins in the Family!?-
Posted on July 17th / Genre: Love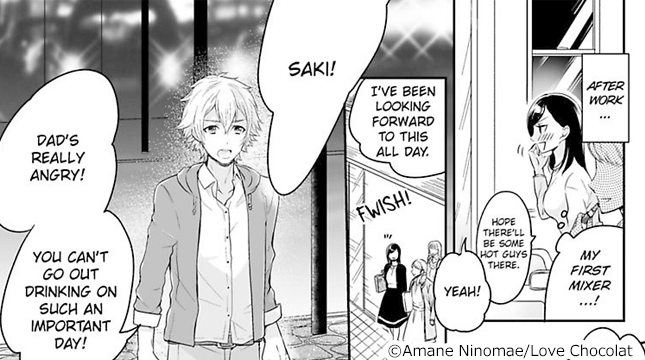 Candi's comment
Saki Fujinami's father remarried when she was 10 years old. Her mother passed away when she was 14. Ever since then, she's been living with her brothers who are so over-protective that they don't even let her go to a simple mixer. It's understandable, though. On her way home from school, she ran into a flasher, and her brothers insisted on dropping her off and picking her up from school. When the story begins, Mitsuki, her youngest brother, asks her to go to a caf? with him. Saki refuses, saying she's got another work dinner, but Shinobu drills her about it. She gives in and confesses that she's going to a mixer. Despite their efforts to stop her, Saki heads off to the mixer anyway! Just as she's leaving work with her friends, Mitsuki shows up and tells her their father's angry she blew off Mitsuki. Her friends insist that she prioritize her family and skip the mixer. Mitsuki drags her back home where they watch Takaomi's films. Right before the juicy part, Takaomi turns off the TV. Saki laments that she's stuck at home, unable to find a husband when her brother's character is getting all the action.

"If you want a husband, there's one right here," Takaomi says nonchalantly.
"...Huh? Where?" Saki asks.
"You shouldn't be so rude to your husband," Takaomi responds, as he leans in to Saki...

Hold up...! Takaomi can't be serious...!? Read on today and find out what happens next!
Happy Ending, Together.
Posted on July 10th / Genre: Yaoi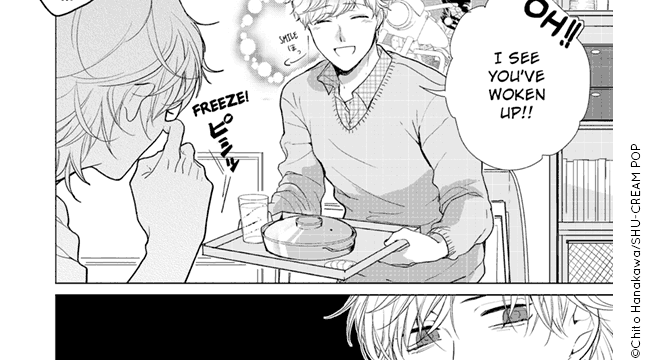 Yao's comment
This manga takes the "my idol is actually my next-door neighbour!?" trope and softens it with innocent, pure love!
Sakuraba is a man who loves cute things. He packs his own lunch boxes, complete with bunny-shaped rice balls, his room looks as instagrammable as can be, and his favourite pasttime is reading the monthly shojo manga magazine, Garnet! Imagine his shock when he finds out at a book-signing event that his favourite manga artist, Megumi Nono, was his male next-door neighbour all along! Sakuraba is such a huge fan he begins to drop by Megumi's apartment regularly to let him know how much he enjoys his work. Despite Megumi's thorny attitude, they spend more and more time together, until Sakuraba realizes that his feelings seem to have exceeded those of a fan...
If you love sweet, slow stories that's more about two characters slowly developing feelings for each other, this manga would be perfect for you! I'm usually not a huge fan of tsundere characters, but wow, Chito Hanakawa managed to entice me! Megumi's tsundere personality is believable as a combination of social awkwardness and defense mechanisms, and it only goes to make him feel more relatable as a character. His loneliness and earnest feelings despite his tsundere attitude, paired with Sakuraba's straight-foward-yet-awkward love, really goes a long way to give you heartthrobs!
A simple story that is a feel-good read, with a few tear-jerkers along the way, this is definitely something you'll want to sit down with on a rainy day!
A Proper Wife
Posted on July 3rd / Genre: Harlequin
Quin's comment
Devon and Ryan met in the worst possible circumstances when Ryan's bawdy compliment humiliated Devon in front of a roomful of people. To his shock, Devon didn't just take it- she slapped him in a quite impressive display of pride. Ryan found himself both annoyed out of his mind and strangely attracted to her, although he was convinced that Devon just likes to play around with wealthy men. After that explosive first meeting, fate has more surprises for them and brings them back together in a most unexpected way... Ryan's grandfather suddenly announces that he wants him to get married to the woman that he hates the most- his brother's stepdaughter. The entire family suffered at the hands of Devon's mother, and it seems that her daughter might just have to pay the price... but can Ryan really trust his feelings? His desire for revenge is starting to weaken as he realizes Devon's sweet and innocent personality might not be a mask. This manga offers really beautiful art and just the right amount of twists and turns to keep you enthralled. The main couple has a lot of chemistry and an abundance of both sweet and passionate moments that make you root for them. You can't miss out on this one!
Want to Sell Me Your Body?
Posted on June 26th / Genre: Shojo
Jo's comment
Our story begins with tragedy. The young student Tsukasa loses her mother in a car accident, and soon after that, her father loses his own job and succumbs to the vices of drugs and alcohol. Fast forward three years and now even her father has run away from home. As she is sitting down for dinner, there's a knock on her door. She is shocked to find a beautiful woman on the other side, but not as much as when she hears about the debt that her father racked up: a whopping $30,000! While she's still reeling from shock, the woman lets herself in and starts helping herself to Tsukasa's food... and then Tsukasa herself! Unfortunately, more debt collectors show up, this time demanding $70,000! This really isn't Tsukasa's day, huh? They are about to kidnap her, when the lady from earlier slams the collector to the ground and slaps a check for the money in his face. This woman, who introduces herself as Reiko, makes Tsukasa a counter-offer: if Tsukasa sells her body to Reiko, she can consider her debt taken care of. Wait... sell her body to Reiko? What the heck does that mean? And, why is she talking about "night duty "? Reiko seems so nice, but what does she want? Why would Reiko want to sleep together with Tsukasa in her tiny apartment? Throughout the course of the series, you can see the bonds between Tsukasa and Reiko blossom, as both of them help the other grow as people through their own trials. This story is amazingly sweet, and you definitely won't regret reading it if you're a fan of sweet, lovely yuri relationships!
The Line Between Love And Play
Posted on June 19th / Genre: Love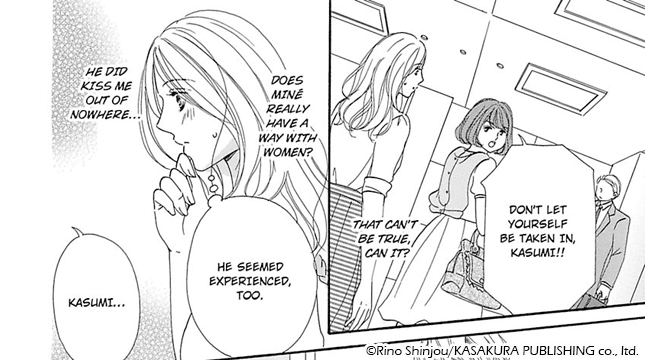 Candi's comment
Kasumi's secretly in love with her coworker, Miné. One night when she's doing overtime alone in the office, Miné brings her food and offers to help her. As she's eating and watching Miné, noting his long eyelashes and his soft and smooth-looking skin. "You look at me a lot, Kasumi," he casually mentions. Kasumi blushes, but brushes it off and tries to escape to the bathroom. Miné grabs her arm and asks her why she's running away. He pulls her close to him and kisses her! Just when they're heating up, Satoda, their coworker, comes back into the office to get her phone. The next morning, Satoda approaches Kasumi and asks her just what she was doing with Miné. "You should be careful with Miné. I've known Miné since college. He's got a way with girls," she warns Kasumi. Kasumi starts to doubt Miné's true intentions with her. Will they end up together, or was Kasumi just a fling? Read on and find out!
View Previous Staff Awards