My Beloved North Star [Plus Digital-Only Bonus]
Posted on Feb 13th / Genre: Yaoi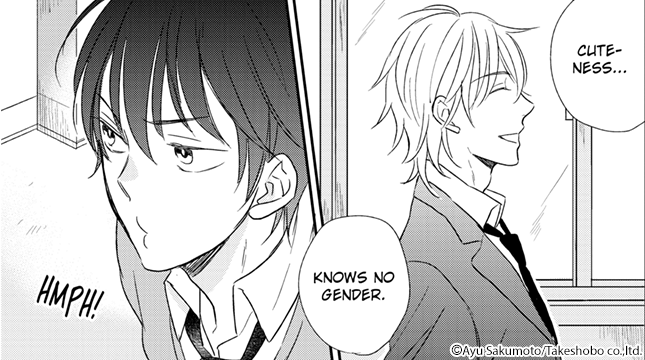 Yao's comment
Yuri has always had a complex about his cute appearance and name. But Kei, a half-Japanese playboy from the U.S., thinks he's just his type. No matter how many passes Kei makes at Yuri, he just can't seem to win him over, but Yuri doesn't seem to hate his approaches. Their relationship begins to evolve as they find out more about each other in the astronomy club... After all, there is always more than meets the eye.
This is a wonderful coming-of-age teen romance to warm your heart with as spring approaches! I loved the Tom-and-Jerry type dynamic between the two characters, who grow not only as a couple, but also as individuals. Even the side characters are likeable (I looked forward to all of Yuri's dog's appearances), and the art is clean and beautiful. If you like puppy-like, slightly ditzy tops paired with cute but strong-willed bottoms, this manga is definitely for you!
Carrying the Sheikh's Heir
Posted on Feb 6th / Genre: Harlequin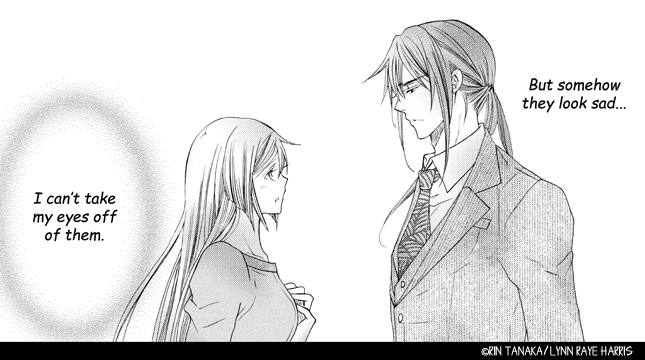 Quin's comment
Sheridan is a pure-hearted and selfless woman who agrees to become a surrogate mother for her sister's child. Her life could have gone very differently, were it not for a mix-up at the clinic which leads to her potentially becoming pregnant with the child of Rashid, the King of Kyr. When the king turns up at Sheridan's office and all but kidnaps her, she tries to rebel against him, but finds herself inexplicably drawn to him at the same time. The forceful king is insistent on protecting her and their baby, but even with everyone's blessing, the misunderstandings between the two threaten to tear them apart before they can ever become a family. Complete with beautiful, airy art and a good dose of dramatic twists and turns, this book is sure to keep you entertained! If you want to relax with a love story set in a faraway, almost magical land and escape reality for a while, this title is definitely for you!
Loving You!
Posted on Jan 30th / Genre: Shojo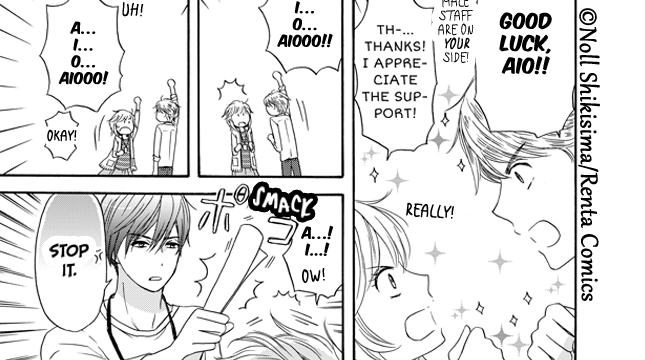 Jo's comment
Sometimes you run into a story that is just so cute you want to share it with everyone, and Loving You! is definitely one of them. All of the characters feel like real people, from the cheerful optimism and persistence of the heroine, Aio, to the melancholic and down-to-earth realism of her crush, Yuri, who acts as her boss and the head of General Affairs. While all the other girls around the ad agency where she works are scared of Yuri's cold and impersonal nature, only Aio sees the nice and hard-working guy who really cares for his company and coworkers underneath. Even though for two years, Yuri has constantly spurned Aio's requests to go out with her, the two still have a good working relationship and play really well off each other. Through her conversations with her friends, it's easy to tell that Aio is young and inexperienced with love, but she never acts like an overly naive caricature of a human. All of the side characters are also interesting, and they naturally drive the story forward without seeming like soulless plot devices. Noll Shikisima's art style is also wonderful, perfect at capturing both the drama of serious moments as well as charmingly cute asides. After reading this story, I'm really rooting for Aio in the end! If you love stories that are cute and will get you hooked from start to finish, you'll love Loving You!, available exclusively on Renta!
I Can't Help But Love Him.
Posted on Jan 23rd / Genre: Love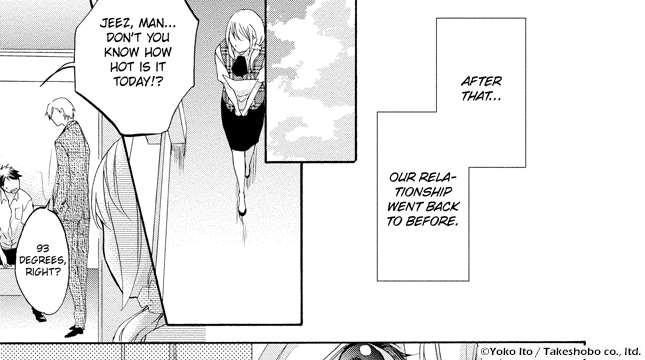 Candi's comment
Sako is just your run-of-the-mill office worker. Eiji, on the other hand, is the office's hotshot salesman. One fateful afternoon in the file room, Sako peeks through the gaps in the bookshelf as she's putting files away, hoping to get a glimpse of him. But, he's disappeared! She hears footsteps beside her and turns to look. It's Eiji, and he's giving her a good lashing. Does some lowly, pathetic office worker think she's got a chance with someone as handsome and elite as him? Hah! As if! Sako apologizes, then grabs his face and starts squishing it! She tells him she couldn't give a crap about his looks - what she's really into is his suit! That's right, folks: Sako's got a major thing for suits - especially the ones that Eiji wears! After that, Eiji and Sako start hanging out. For the life of him, Eiji can't figure out why Sako's the only woman who's not interested in his looks. All the women in the office fawn over his face. Both hate to back down, so they decide to go to a hotel and prove their real intentions. The next morning, Sako awakes from her drunken stupor and realizes what they've done! She can't bring herself to talk to him, let alone look in his direction. Things suddenly take a spicy turn when they end up on the same company trip! Where will they go next!? Read on and find out in this latest addition to Renta! from Yoko Ito, author of the best-selling Allergic To Love!
Give Me All of Your Firsts
Posted on Jan 16th / Genre: Shojo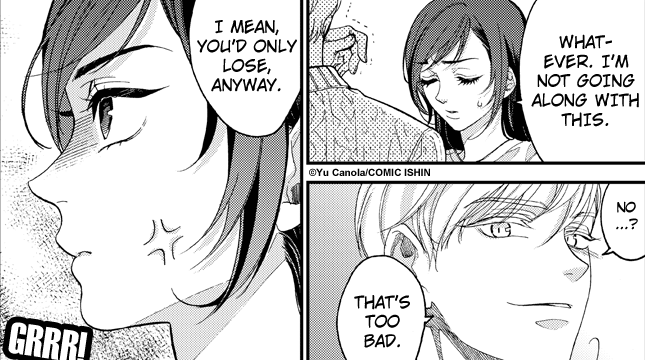 Jo's comment
This is such a sweet story! Saki, the heroine, is fairly normal and pretty relatable, which I like. Sugito, the hero, is really cool and clearly cares about Saki. We learn at the start that the two knew each other as children, but Saki has forgotten all about Sugito. He transfers to her school, and she has no idea who he is, and then he kisses her when another guy is being too pushy! It's a bit of a whirlwind day for her, really! Saki enjoys making bets, and when Sugito suggests that they bet on who falls for the other first, she can't help but agree. You can practically feel the delicious tension building! On top of all that, the art is absolutely gorgeous. The characters' eyes in particular are super expressive, and it took me longer to read this than expected because I just kept admiring the drawings. This is a must-read!
Inherited by Her Enemy
Posted on Jan 9th / Genre: Harlequin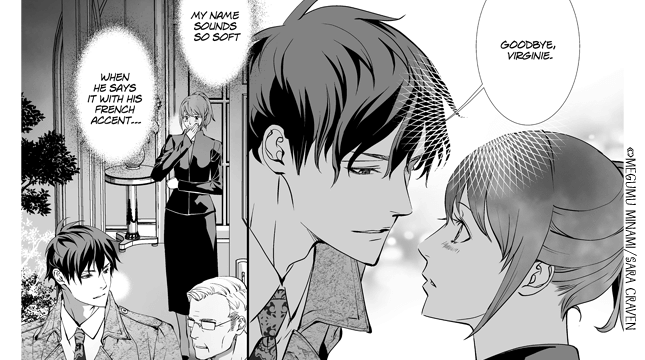 Quin's comment
Virginia seems to be the only person truly upset at the passing of her stepfather, with her mother and sister too busy trying to come up with ways to get their hands on the inheritance. However, their plans are about to get thwarted when Andre, a stunningly handsome son of the millionaire turns up to claim his share. He doesn't seem too impressed by Virginia's greedy relatives and the two of them get off to a rocky start.
This story seems heavily inspired by Cinderella; especially when it comes to evil relatives plotting against the happiness of the main character. The plot is full of twists and turns, betrayed love and a complicated family history. Andre makes for a great prince charming, and he sweeps Virginia off her feet, even if she doesn't want to admit that she's drawn both to him and the beautiful vineyards he takes care of. Add a baby to the mix, and the situation gets even trickier! You should definitely reach for this manga if you're in the mood for a solid Cinderella-like romance story with beautiful art!
Puppy Love
Posted on Dec 26th / Genre: Love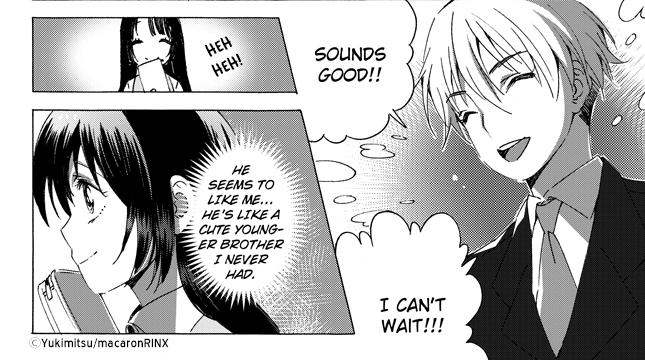 Candi's comment
It's hiring season at Yuki's company, and some of the new hires are pretty handsome! The young Nobuteru acts like a younger brother, while Hirotaka is hard-working and diligent. At the company party, Yuki gets swept up in the moment and has a few drinks too many. The next morning, she wakes up in Nobuteru's bed! If only she could remember what exactly happened last night...! Did she do anything with him? Nobuteru is definitely handsome and kind, but he's five years younger than her! Will they be able to put aside their feelings and have a normal working relationship after this? Or is this the start of a budding office romance?
Unspoken Truths
Posted on Dec 19th / Genre: Love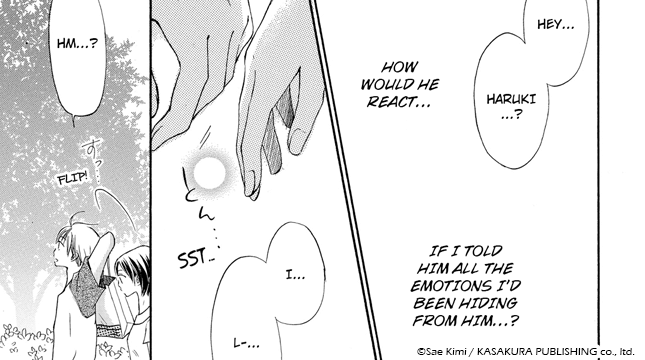 Candi's comment
Kumiko's father and Haruki's mother married each other when Kumiko and Haruki were just children. Haruki's cheerful demeanor made Kumiko fall deeply in love with him. She knows that Haruki's already in love with the school nurse, and that they couldn't possibly be together, even if they are step-siblings. One afternoon, Haruki begs Kumiko to go with him to see the school nurse. When they show up in the nurse's office, no one is there. Haruki starts rummaging through the papers on her desk and discovers that the nurse's dating Mr. Nakano, the P.E. teacher. Heartbroken, Haruki shuts himself up in his room and cries himself to sleep. Unable to stand the pain Haruki's going through, Kumiko goes into his room to comfort him, but can't seem to hold back her own feelings. Will Haruki respond in the like? Read on and find out!
View Previous Staff Awards