Deadly Sugar Syrup [Plus Digital-Only Bonus]
Posted on June 12th / Genre: Yaoi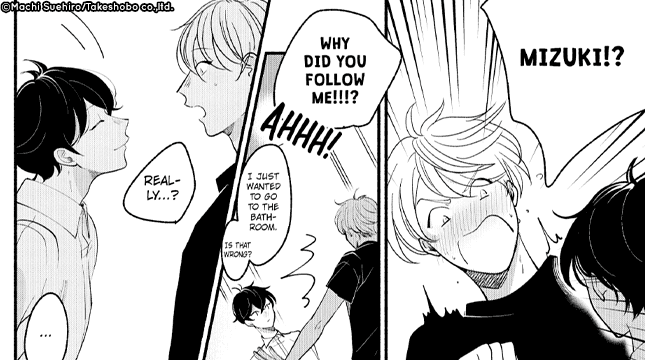 Yao's comment
Okay, confession time. I went through a vampire obsession phase back in the day, so when I came across this title I had high expectations... And I'm glad to say that I wasn't disappointed in any way with this manga! As one can expect from many modern-day vampire stories, the vampire protagonist, Mizuki, substitutes semen for blood to satisfy his hunger. He usually keeps his man-hunting identity a secret, but one day his hunger drives him to lose control on a younger school mate, Sakura. As you would have it, Sakura's cum is utterly delicious! Mizuki has never tasted anything like it, and doesn't think he ever will again!
In his effort to keep Sakura all to himself (as food), he seduces Sakura and even agrees to become his lover. Everything up to this point is great archetypal build-up, but what I truly loved about this manga is what happens after. The emotional dance that Sakura and Mizuki do to figure out their own true feelings. How clumsy and awkward they both are as they do their best to work around Mizuki's unsatiable appetite. The way they are so both so earnest, yet stubborn, but unable to be more straight-forward with each other.
This manga was so sweet, with the most perfect touch of bitterness, and peppered with light, fun humour throughout. If you're looking for something to pull at your heart strings but also make you smile, definitely check this out!
A Scandalous Melody
Posted on June 5th / Genre: Harlequin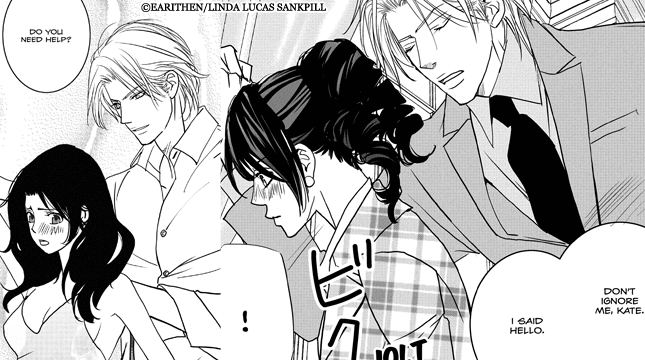 Quin's comment
Kate and Chase met one fateful night when Kate's father was especially cruel to her and threatened to throw her out. The magnetic pull both of them felt never quite went away after that but, unfortunately, neither did the horrible influence Kate's father had on their relationship. Opposing the young couple's union, he sent a group of men to attack his own daughter, and then forced her to testify against Chase who saved her. Chase, unable to forgive the betrayal, was made to leave the town and did not come back until after Kate's father had died and left her to deal with his debts. Chase then embarked on a journey to destroy Kate and the town that scorned him, but did he really get rid of his old feelings completely?
What starts off as a typical revenge story turns into a rather intense tale of mutual passion that couldn't be extinguished by misunderstandings and betrayal. Although Chase insists that he despises Kate and wants nothing more than to see her humiliated, his heart is at odds with that resolve. Kate is also struggling to stay calm and collected while the love she feels for her supposed nemesis pushes her to make rash decisions. The push and pull between the couple and the interesting contrast between the internal monologues and what they actually reveal to one another makes for quite a riveting read! You just can't miss it!
That's the Hottest Restaurant in Enoshima
Posted on May 29th / Genre: Shojo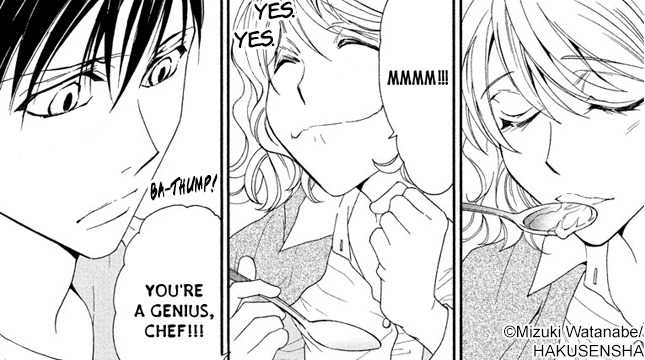 Jo's comment
Iori Tachibana is broke, jobless, and has nothing to look forward to in her life. After failing yet another interview, she goes for a walk and ends up in front of a famous restaurant run by the world-class chef, Tsubaki Shiratori. Although she is initially turned away by the manager, an attractive chef takes pity on the poor girl and offers her a table. As expected, Chef Shiratori's meal is so good, Iori can't help but get lost in the amazing taste. She leans back in her chair to savor the flavors... and accidentally knocks over a priceless vase! It's really not Iori's day, is it? The same hot chef from before once again comes to her aid, and it turns out he's none other than Chef Shiratori himself! Iori vows to do odd jobs at the restaurant until the debt is paid off. The rest of his staff doesn't seem to share her work ethic and devotion though, and they all decide to quit at the same time, just before a huge Valentine's Day banquet! How terrible of a person do you even have to be to do that!? Will Iori and Chef Shiratori be able to salvage the restaurant they love in time for a full crowd?
While reading this story, you can tell the author did a lot of research on French cuisine, and put just as much effort into drawing it! Everything looks so good, just reading this manga makes me hungry. If reading about delicious food isn't good enough to sate your appetite, the touching love story with a full-color ending is the perfect pairing that's guaranteed to leave you stuffed to the brim, yet still wishing for more!
A Drop of Love
Posted on May 22nd / Genre: Love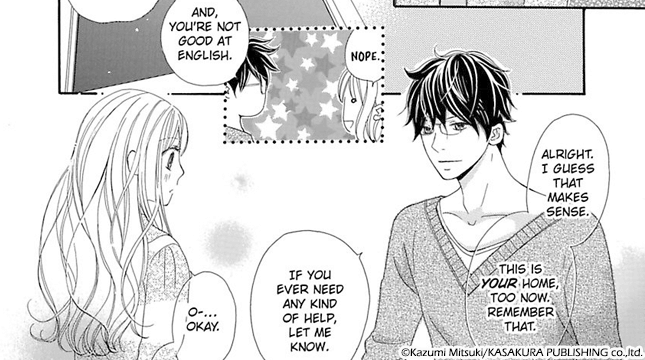 Candi's comment
Karen's mother's remarried and now Karen has a step-brother, Ei Ujiie. Ei, a.k.a. Mr. Ujiie, also happens to be her English teacher! After her step-father and mother move to the United States for her step-father's work, Karen moves in alone with Ei/Mr. Ujiie. Karen's English grades have suffered since, so Mr. Ujiie offers to tutor Karen privately at home! After an incident at school due to her inability to express her needs and wants, Mr. Ujiie takes Karen home and asks her to tell him how she really feels. Karen's never really liked him, but for some reason her heart won't stop racing. Mr. Ujiie leans in...
Will Karen be able to tell him how she really feels? Will she ever be able to stand-up for herself? Read on and find out!
The Essence of Love
Posted on May 15th / Genre: Yaoi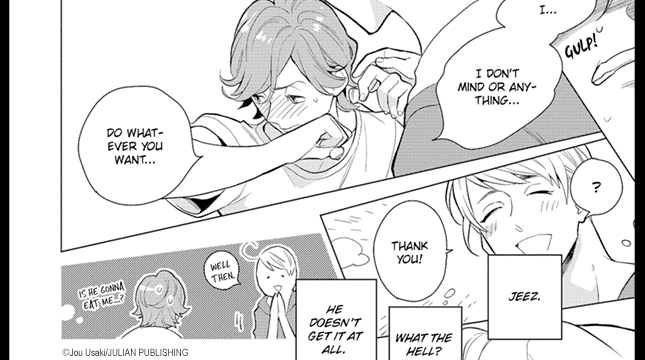 Yao's comment
Kira Kira hates his name, because it basically means sparkly sparkles. Jobless, he buys his friends with his parents' money and is generally up to no good. When his friend is crushed to death by a telephone pole one day, he sees a winged figure. This "angel", a celestial guide sent to guide the dead, is sick of his job, and chases Kira into his home to ask him to teach him the ways of being human garbage...!?
Wow, where do I start? This was so cute, and not your typical angel-on-earth manga. The art is wonderful and slick and the characters are charming and loveable. While it does not dig too deep, morality and what it means to be "good" is explored in a down-to-earth way, giving this romance a layer of thought that is often lacking in yaoi manga.
The quest to turn the celestial guide into the trashiest of scum is about to begin! But fate has it that it will not go as smoothly as Kira would like...
Dante's Wedding Deception
Posted on May 8th / Genre: Harlequin
Quin's comment
Kiley appears in front of Nicolo Dante, a dashing young millionaire, threatening to take possession of the diamond mines that are the basis of his business. She insists that she has a legitimate claim to them, and on top of that she seems to cause an electric reaction in Nicolo... quite literally! There is a legend in the Dante's family, that flames soar when a member of the family meets their soulmate, and Nicolo is about to find out exactly what that means. When shortly after that meeting Kiley gets into a car accident, everything changes. Kiley suffers from amnesia and becomes a completely different person... or, could it be that this is who she's always been?
This story takes you on a wild ride from start to finish, and it's quite unpredictable. Even when you think you've got it all figured out, there's another twist and your perception of the characters changes. As per the title, there really is a lot of deception going on in unexpected places! The chemistry shared by the main couple is amazing and makes you want to root for them. Beautiful art is an undeniable plus, too. You just have to check it out!
Running a Love Hotel with My Math Teacher
Posted on Apr 24th / Genre: Shojo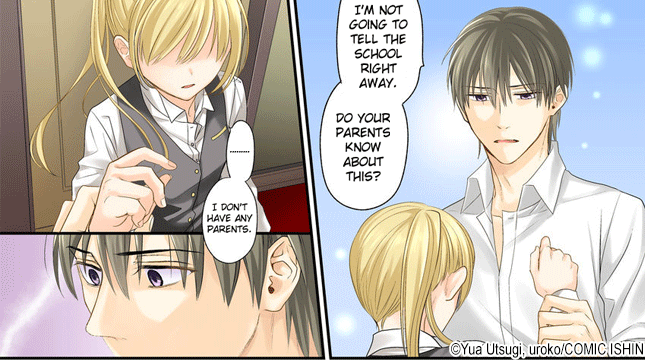 Jo's comment
Kana is a busy high schooler, but she has slightly different problems than her friends. While they worry about juggling clubs, schoolwork, and blossoming love, Kana is busy with a different kind of work: secretly managing an after-hours hotel by herself! Since her parents passed away in an accident midway through her freshman year, she has been forced to take over their more-than-slightly unsettling family business, and with staff dwindling, it's been taking up more and more of her time. Naturally, her lack of free time and sleep has drastically impacted her studies, and the last thing she wants is to be held back a year. Thankfully, her math teacher, Mr. Saitou, has been kind enough to give her extra lessons. Not the worst punishment in the world, as Mr. Saitou is the most popular teacher at Kana's school! Lucky Kana gets to be next to her crush for a few hours every day, but of course, manga characters can't be truly happy for more than a few pages at most. One late night working reception at the hotel, she gets a call to fix the A/C in the most popular and expensive room, and I bet you can guess just who she finds there... none other than Mr. Saitou! Having a part-time job is already against her school's rules, and at a love hotel too! Why is such a nice and friendly guy like Mr. Saitou even there in the first place? What will happen between Kana and Mr. Saitou (besides the situation in the title)? This long-running, beautiful full-color series full of all kinds of twists and turns is a big hit, and you don't have to be a love hotel manager yourself to see why!
Hot Communication
Posted on Apr 17th / Genre: Love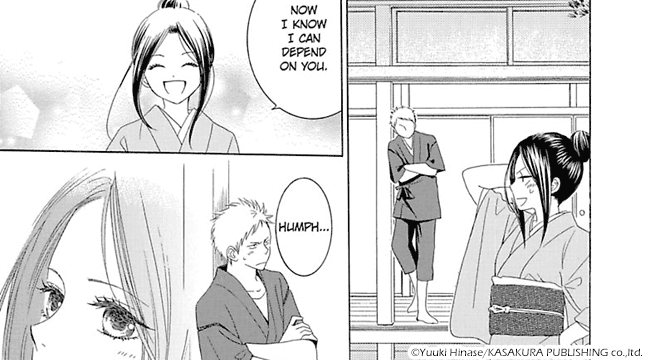 Candi's comment
Kagura Takeshiba, a.k.a. Kabu, began working at the Matsuya hot spring inn after he was expelled from school for picking a fight. The Matsuyas warmly welcome him to the team, but Kabu won't have any of it. He spits in their face, so Kozue, the inn's poster daughter, takes off her slipper, whacks him on the head with it, and drags him off to start working. Kabu's pretty fearless, but he might have just met his equal! They clean a room after the guest checks out and Kabu discovers a pair of glasses left behind. Kozue takes Kabu with her, jumps on the inn's scooter, and chases the guests down to return their glasses. On the way back, she stops to shop for groceries to take back to the inn and Kabu runs into the gang of delinquents that got him expelled. They're about to pick a fight when Kozue approaches them, thwacks Kabu on the back of the head (again) with a red snapper she just bought, and drags him back to their scooter. Later, when they're cleaning up the outdoor hot spring bath, Kabu asks Kozue why she butted in and if she was afraid of being attacked. "Won't you save me if that happens?" she teasingly replies. Pissed off, Kabu turns the hose on her and sprays her with it! He thinks it'll put her in her place since her kimono is so thin he can see through it, but she proudly takes off her kimono and shows off her polka-dot underwear! "Isn't it cute? It's my favorite underwear!" she taunts. Later that night, she takes another round of drinks to a room where a group of loud and drunk businessmen are having dinner. They insist that she pour them their drinks and try to cop a feel. She tries to push them off, but can't! Just then, Kabu kicks the door open and threatens to call the police on them if they don't stop. As a thank you for resucing her, Kozue pours him a glass of the alcohol she stole from the guests in all the commotion. Some time later, Kabu earns his first paycheck and is readmitted to school. Kozue asks him to take her out for fast food, karaoke, and games to celebrate. At the arcade, she steps out to go to the bathroom and when she returns, Kabu's gone! She realizes the gang they ran into on his first day at the inn have probably taken him away to get their revenge on him! She chases after them and sees Kabu lying on the ground, beaten up pretty badly. She keeps some distance and eavesdrops on their conversation. They reveal that they're planning to burn down the inn if Kabu doesn't steal their money and give it to them! Will Kabu steal their money? Will Kozue work up the courage to rescue him again? Read on and find out!
Satoshi and Kakeru [Plus Digital-Only Bonus]
Posted on Apr 10th / Genre: Yaoi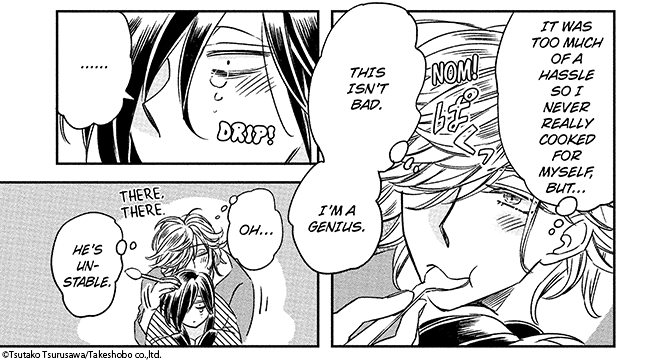 Yao's comment
TRIGGER WARNING FOR THIS MANGA: depression and mention of suicide.
Satoshi is a famous author who is more than bit creepy, and morbid... but he falls for Kakeru, a host who is the complete opposite. After overcoming much difficulty in the prequel, their bond is stronger and Kakeru finds himself in love with Satoshi. As you may have noticed, this manga actually a spin off from another comic, so it starts a little abruptly, but it doesn't make it any less enjoyable on its own! The art is extremely charming and expressive, and the characters are fun and incredibly endearing.
I thought that this manga was refreshing and heart-warming because while it was very steamy and sexy, the focus was on the two characters expressing their love in indirect ways, e.g. Kakeru trying not to pounce on Satoshi at every chance he gets because Satoshi's sex drive is lower. One of the best parts of their relationship is how Kakeru cares for Satoshi when he's going through a massive depressive episode, something you rarely get to see in mainstream media, let along yaoi manga.
The second couple featured in this manga are tooth-achingly sweet as well! All in all this manga was such a treat, and I hope you will give it a chance!
A Royal World Apart
Posted on Apr 3rd / Genre: Harlequin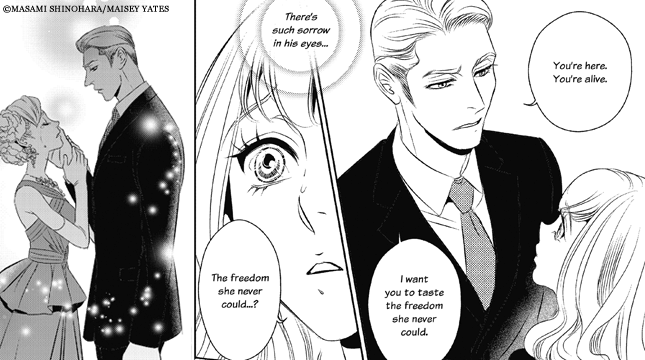 Quin's comment
Princess Evangelina is a young girl who just wants to be loved for who she truly is, but fate has different plans for her- she's supposed to marry a man she doesn't even know, for the sake of her country. She keeps rebelling, but eventually has to accept her father's plans... granted last six months of freedom, she is put under the care of a handsome bodyguard, Makhail. She's felt her heart flutter in his presence even before, so what will happen now that the circumstances brought them closer?
This manga is actually quite surprising, and although it does feature some well-known tropes, the characters are refreshingly mature. The conflicts in the story don't feel forced, and the plot moves at a good pace and keeps you interested until the end. Makhail's past plays a very important part, and the way Eva reacts to it is quite touching. They're a couple you want to root for and the beautiful art is definitely a huge plus! Don't miss out on this title!
View Previous Staff Awards