Hazakura Junior High Animal Club
Posted on Nov 13th / Genre: Shojo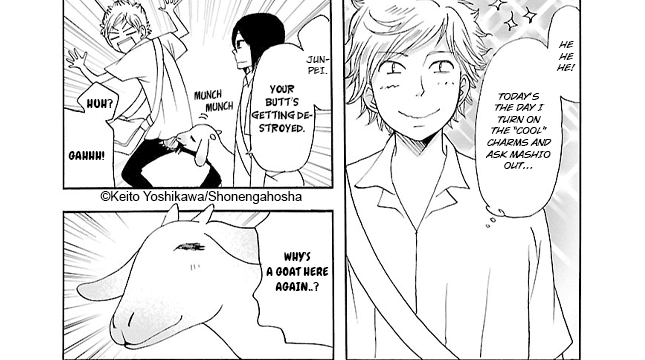 Jo's comment
Junpei just wants a normal life, but he has work to do in his school's animal club! Every day he gets into new misadventures with his clubmates, Shinobu and Mashio. But it's not just chasing chickens around campus and grazing goats on the grounds! The area around Junpei's school is filled with all sorts of creatures, from cute dogs to creepy crawly bugs. Even a spooky ghost story finds its way into these pages! Mystery and adventure await as in each chapter, Junpei deals with a new animal, and a new problem to solve. Farm animals, exotic parrots, bugs, and of course cute dogs all roam the school, and it's the Animal Club's job to clean up their messes, while hopefully not starting any new ones! If you want to take a break from romance with some short, light-hearted stories filled with humor and happiness, you can't go wrong with Keito Yoshikawa's collection of fantastic (but never really unbelievable) tales from the schoolyard. And maybe eventually Junpei will finally be able to ask Mashio out on that date without Shinobu finding some way to interrupt!
When Destiny Calls!
Posted on Nov 6th / Genre: Love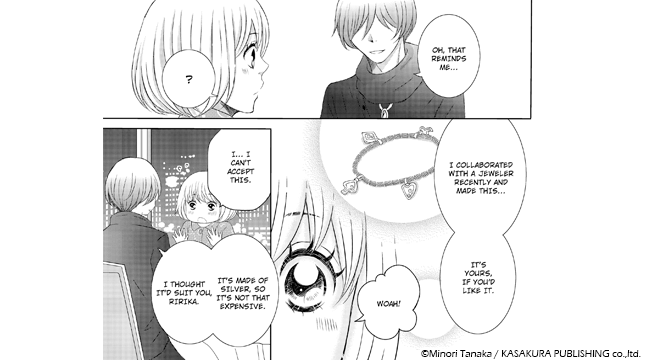 Candi's comment
Ririka's passionate about fortune-telling, especially her own fortune. She wants to meet her knight-in-shining armor desperately, but still hasn't had any luck. One fateful day on the train, she locks guys with a hottie standing by the doors. Just then, the train takes a sharp turn and her bag falls on the floor, spilling out all of her lucky charms. The guy laughs and exits the train at the next stop. Depressed, Ririka expresses her woes to her best friend who predicts that she will meet her knight-in-shining armor... that SAME day. Half-filled with doubt, she walks over to the art club after class where she meets Kyoichi Tono, a world-renowned sculpture and alumnus of her college. He invites her to his show. Ririka, walking on cloud nine, rambles on and on about how handsome, (probably) rich, and amazing Kyoichi is to her best friend since middle school, Shu. "Bullshit!" Shu screams as he pulls Ririka toward him and... kisses her!? Ririka's torn between two guys! Who will she choose? Read on and find out!
Flaver
Posted on Oct 30th / Genre: Yaoi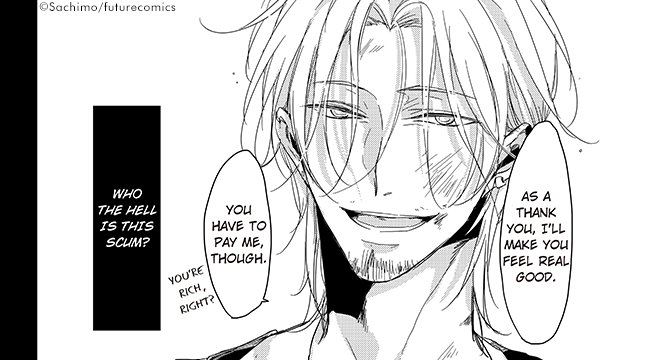 Yao's comment
We've been featuring a lot of cute, sweet, happy Yaoi Manga lately, but sometimes you just need something with a bit more edge! For those of you who want something dark but emotional, dramatic yet filled with an atmosphere of ennui, may I point you in the direction of Flaver?

This is an intense story about Shimojo, a mafioso who's lived his life manipulating people, breezing through on easy-mode, and the shadow of a man who used to be his rival, Kuse. Shimojo had always wanted to be the one to destroy Kuse, and he can't stand knowing that the boy who had humiliated him in high school is now deadbeat human trash. He takes him home, and things only escalate from there...

With so many yaoi manga, the past of the characters is often only revealed as necessary, often near the end as a plot device, but in Flaver, the story weaves between past and present to show how deeply intertwined the two characters are. For a bit of suspense and some Top x Top dynamic, I definitely recommend Flaver.
Secrets, Lies & Lullabies
Posted on Oct 23rd / Genre: Harlequin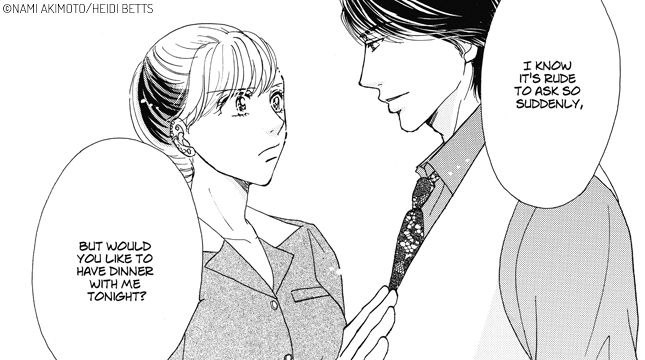 Quin's comment
Who doesn't love a good enemies-turned-lovers story? "Secrets, Lies & Lullabies" brings a rare pure-heartedness into that beloved trope and really makes you root for the main couple to get their happy ever-after. Jessica, whose family lost their fortune and prestige because of a vicious takeover staged by Alex's company, meets a handsome stranger in the hotel she works at as a maid. And who else would fate bring to her doorstep but her great arch nemesis!? Jessica's cousin, Erin, orders her to steal documents from Alex to help avenge their family, but Jessica can't bring herself to truly hate the beautiful man she's so drawn to... She chooses to disappear instead, but not before some irrevocable mistakes are made... or are they just blessings in disguise? To avoid spoiling the story too much, let's just say that there are a lot of secrets and lies in the way of the couple's happiness, but they choose each other every step of the way. You'll be sure to enjoy this wonderful story and the amazing art, too!
Clavay's Keys
Posted on Oct 16th / Genre: Shojo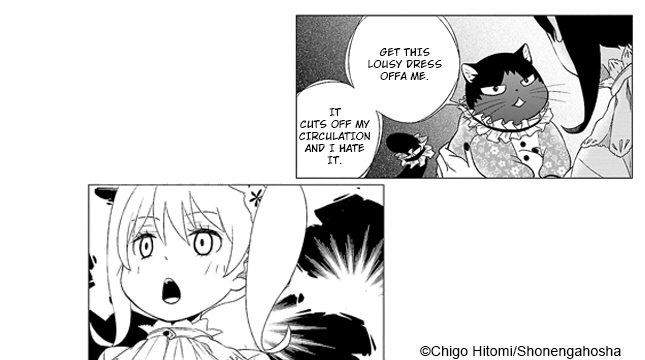 Jo's comment
Do you like cats? Do you like... talking cats!? If the answer is yes, then what are you waiting for? Check out this manga now!!

Okay, I guess I should talk about the story and stuff, too. Anna is a locksmith that lives with her mysterious cat, Clavay. Also, their locksmith shop is in a mystical dimension that only appears to those who need to unlock something. Pretty nice digs, right? Anyway, the manga is split into different short stories, all involving some kind of mystery or problem that somehow needs to be solved with a cat. And a lock, too. But, mostly a cat.
There are all sorts of different stories in this 200+ page volume, ranging from a girl who loves the piano but is jealous of a boy who plays better than her (and who also loves cats), a spoiled cat who hates the frilly dresses his owner puts on him, even a restless spirit who possesses a... well, you get the point. For those of you who prefer a bit of sweet romance, there's also a story of a boy who has a crush on a girl who likes his twin brother (and he has a really cute pet cat). If you like lighthearted adventure comics, check out Clavay's Keys for a story that's paw-sitively sure to unlock your heart and have you going, "Aww!"
Sadistic Boyfriend's Maid -Body Repayment Plan-
Posted on Oct 9th / Genre: Love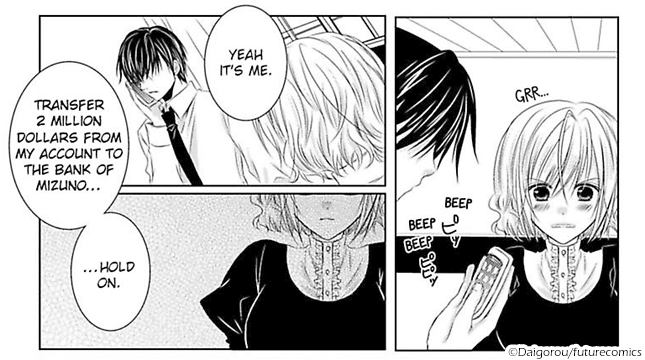 Candi's comment
This spicy one-shot features Rin and her master. Rin's worked odd jobs all her life to help pay off her family's debt. She's now working as a maid to an extremely wealthy, well-toned and attractive young man. One afternoon, he calls her into his private office and offers to pay off her family's debt then and there in full provided she do a little extra work for him...

If you're looking to spice up your manga bookshelf, you won't want to miss this one!
Twilight Vows
Posted on Oct 2nd / Genre: Harlequin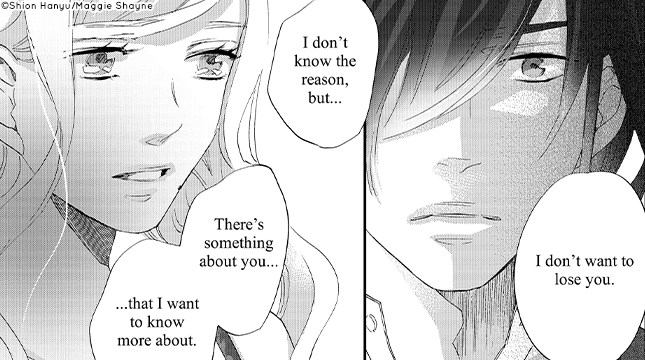 Quin's comment
Don't let the cover fool you! When I hear "vampire romance" I'm expecting something dark and saucy and racy, but this was anything but. I've read a fair share of vampire love stories, but this one surprised me in the best of ways. The story itself is simple and somewhat predictable, about a young woman who returns to her hometown to investigate vampire legends, and discovers that her "guardian angel" was a vampire all along. However, it never lets the reader down or betrays your expectations. It's a wonderfully tender and wistful love story between two people who yearn from a distance, one trying to let go but being unable to, and the other hanging onto anything she can to remember her love.
The female lead is a little bit of a damsel in distress, which is actually a trope I enjoy when it's done well... which it is here! She knows what she wants and is strong in her conviction and dedication, and never asks to be saved. The male lead is your strong-and-silent protector archetype, but not at all broody and possessive. Combined with soft, airy art that matches the dreamy atmosphere of the story, these characters are really hard not to like!
If you are a fan of modern vampire romances with a soft gothic touch and want something that deviates from the the edgy stereotype, you won't want to skip this one!
Star-Crossed Paintbrushes [Plus Digital-Only Bonus]
Posted on Sep 25th / Genre: Yaoi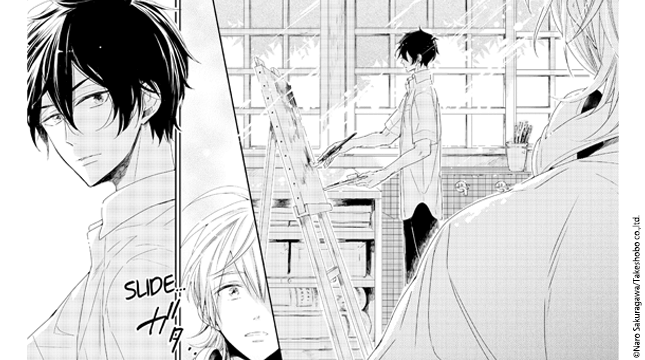 Yao's comment
If you like slow-burners, this one's for you! Although the couple technically get together pretty early on, their relationship doesn't really become whole until the later chapters, leaving us to enjoy the slow build up throughout the story.
This is not a smutty series, but rather an emotional journey for both characters, where we get to see them overcome some serious crap they've got going on, both personally and in their relationship. Though if you're into smuttier stuff, there's some really nice extra chapters at the end of the second volume that you might enjoy!
Although the focus is on the main couple throughout, I appreciated the world building that was present, and the fact that side characters weren't just throw-aways and actually had some presence in the story. It's refreshing to find a series not based in a city as well, and the small island aesthetic really suits the themes of loneliness and finding oneself that are heavily present. Not to mention the fact that the outside scenes really show-off the beautiful artwork!
Summertime Blues
Posted on Sep 18th / Genre: Shojo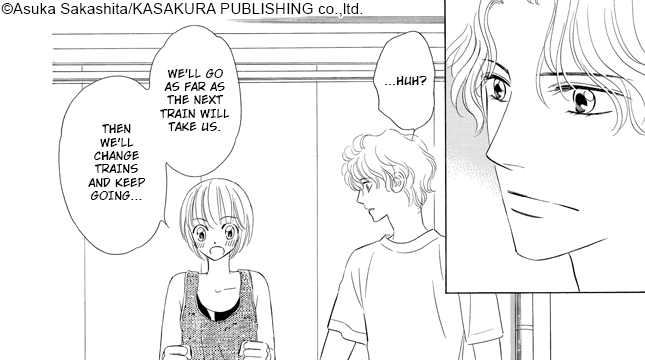 Jo's comment
It's back-to-school time again, and for many people, that means new opportunities, new friendships, and maybe even new love. But, for Chika, when she looks back at her high school memories, all she can think about is the one who got away: Kataru, her classmate and first crush. One summer, she was able to get close to him, but then somehow it all fell apart...
This story takes place with the past and present interspersed. When Chika happens to run into Kataru for the first time six years later, it's as if those summer memories from all those years ago have bubbled up to the surface and are reaching up to a slow boil. And that's exactly what Asuka Sakashita is great at doing in this story! Each chapter starts out leaving you wondering what will come next, and slowly builds up to a heart-pounding climax, only to leave you hanging for the next chapter. I admit I couldn't put it down myself without reading everything in one sitting!
Chika and Kataru, as well as Kataru's younger sister Yuki, are really interesting and fleshed-out characters who react to the manga's themes of love, despair, loss, and change in realistic ways. Both of them deal with sadness and pain differently, and the story takes some surprising turns as their relationship develops! Just because summer is over, it doesn't mean you have to be sad. Check out Summertime Blues and cure your own malaise!
From Booty Call to Girlfriend
Posted on Sep 11th / Genre: Love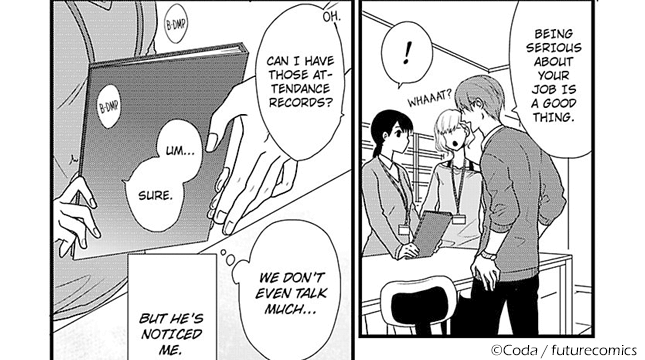 Candi's comment
Aoi Nishino is a part-time professor at a graphic arts and design college. She's earned herself the reputation of being an uptight teacher among the students. Eri Maeda, her newest colleague, tells her to loosen up and dress more casually. Sosuke Miura sticks up for her, and that's when we first find out that Aoi has the hots for him. Sosuke later tells Aoi that he's planning the yearly full-time-staff-only party and wants to invite her this year. Aoi jumps on the opportunity, thinking it'll give her the chance to get to know him better. At the party, Aoi and Sosuke are seated right next to each other and get to talking. Things seem to be going well, but Aoi doesn't get her hopes up. They decide to skip out on the after party, and on the way home, Sosuke admits that he's got a little liquid courage, so he asks Aoi to come back to his place! Will Aoi accept his invitation? Read on and find out in the latest series from Coda, author of bestselling Artist And The Beast!
View Previous Staff Awards