Our After-Hours XXX
Posted on Mar 25th / Genre: Yaoi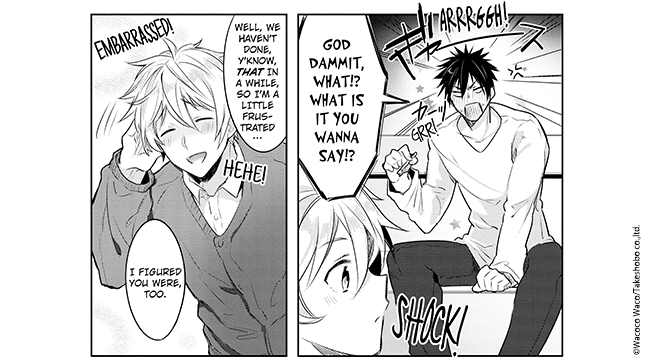 Yao's comment
A lead-programmer at a start-up company, Kaname was hoping that success would bring him girls and riches, but instead, he keeps getting stuck at work with new projects piling up. His only form of release is his co-worker, Yuki, with whom he has a special jerk-off-agreement (of sorts.) As Yuki starts moving around the back though, things start to escalate beyond a friendly ol' tug-of-war. Now, Kaname can't finish by himself, and it's all Yuki's fault! Fortunately, Yuki seems to be well prepared to take responsibility for his actions...
A simple story, but a very cute one! Kaname and Yuki's relationship is very wholesome from the get-go and only becomes more so as they move from being friends, to more than that. Despite his cute appearance, Yuki loves to play around in the bedroom, and the smut scenes are hella hot! (Perfect if you like small, aggressive tops.) There's an additional story at the end of the manga featuring the couple's two co-workers as well, which is just as sweet, and both stories get wrapped up nicely by the end.
Backwards Honeymoon
Posted on Mar 18th / Genre: Harlequin
Quin's comment
Backward Honeymoon opens just as a beautiful wedding is about to occur. It is picture perfect, a dream come true. Or, at least that's what it looks like. Katie, the daughter of a very rich CEO is about to marry Douglas, a man who is not what he seems. After discovering that Douglas is marrying her for her money, Katie makes a rash decision and runs away with the son of one of her house staff members. His name is Jonah and he's nothing like what she expected. The two embark on a cross country trip that leads them through America and toward their destiny. Along the way lots of things happen and their relationship blossoms. This manga is a real treat to read! My favorite thing about it was how relatable it is. Both the main characters have things in their childhood that they are working through, they both also deal with money and the problems that come with in in their own way. Through their journey they learn to rely on each other and how to work as a team. They grow, laugh, and cry and remind us what a real connection can look like. The ever-changing locations and the charming people of a rural town restore your faith in humanity and remind you that life can be beautiful. Backward Honeymoon is a breath of fresh air and a must read!
Black Ace
Posted on Mar 11th / Genre: Shojo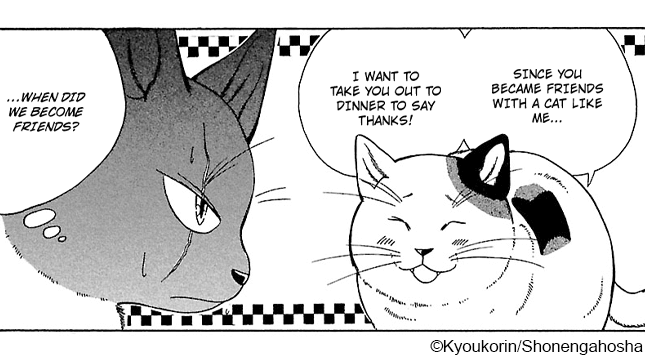 Jo's comment
Renta! continues to prove that they are the number one place to get purr... sorry, pure stories about our feline friends, and Kyoukorin's "Black Ace" is no exception! Our story opens as the stray cat Ace is kicked out of his gang for being too fearsome. And right after that, he gets wounded by a car! But, now that he's on his own, the prideful Ace is too reluctant to rely on humans... after all, are not cats the strongest and most fearsome animals in the world? Well... maybe not, but Ace presses on anyway, unconvinced! Even though he is a wandering stray on an endless journey, the legends of the Black Ace follow him. Throughout Ace's quest, he meets many different cats (and all of them are so cuuuute!) , and helps them solve their problems. From a happy-go-lucky kitten that can't hunt, to a fat cat that wants to show how strong he is, Ace is always willing to fight, but only those who truly deserve it. Ace even has to play the "tough guy with a heart of gold act" to a prim and proper lady house cat! If you're looking for action, drama, and of course, fluffy kitty cuteness, you can't go wrong with Black Ace.
Clumsy Love -Secret Cohabitation with a Younger Guy-
Posted on Mar 4th / Genre: Love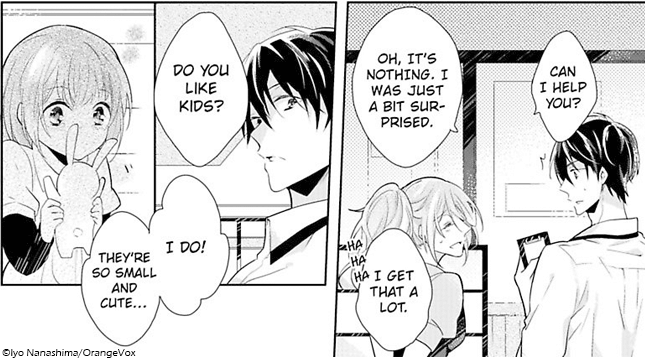 Candi's comment
Hinayo Otose's the target of all of the guys' gossip at her work because she's flashy and comes off as flirtatious. Everyone thinks she's only out to play with guys' hearts, but the only thing she wants is real love and a boyfriend. Who doesn't? One fateful day, she meets her new colleague, Yuzuki Kiyohara. She instantly gets a good vibe from him, but finds him a little intimidating on the surface. Yuzuki's warned about the gossip going around about her and told to keep his distance. Yuzuki sees Hinayo comfort a crying child in their restaurant and is surprised to learn that Hinayo loves children. On his way home from work in the rain, he runs into a shoeless Hinayo sitting in the rain. He carries her back to his place and lets her take a shower and change her clothes. After she's dried off, she cooks him dinner as thanks. Struggling to get back on her feet, Hinayo stays as Yuzuki's place and makes him dinner every night. Yuzuki's coworker tells him Hinayo's just playing him and not serious. Dejected, Yuzuki returns home and hardly speaks a word to Hinayo. He then breaks his silence and asks her if she's dated their coworker. She tells him she has, and before she knows it, she's jumped on him and kissed him! Will Yuzuki return her kiss!?
I'm Straight, But My Friend Gets Me Hard
Posted on Feb 26th / Genre: Yaoi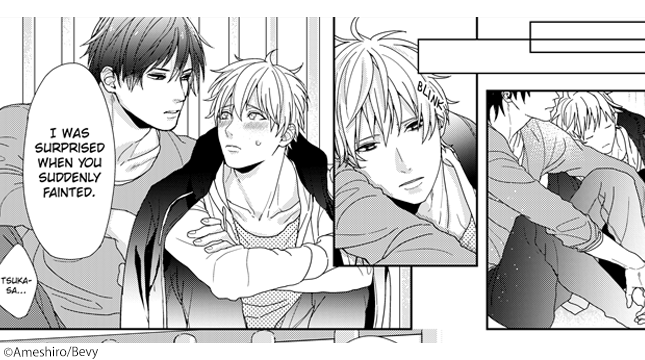 Yao's comment
We've all been there: you're trying to get off but nothing's happening, and then your friend walks in and pow! Like Tokyo Tower in 3 seconds flat. At least, that's the situation Atsushi has found himself in. After disappointing his girlfriend with member limper than string cheese, he's determined to find out what's going wrong with his little friend. While he's in the process of doing so though, his dark and handsome friend Tsukasa walks in and ends up giving him the hand he really needed! And so, begins the romance of one straight guy, and his overly forward friend.
The story is quick to solidify Atsushi and Tsukasa's relationship and move on to other issues the two of them have, like Atsushi dealing with his sexuality and how they explain everything to their mutual friends. The balance of smut to story is very well done, and let me tell you, the smut is HOT! Atsushi might be new to all this, but Tsukasa clearly has no desire to hold back... well, his desire! A yaoi manga that has a bit of everything, be sure to check out "I'm Straight, But My Friend Gets Me Hard."
A Mistletoe Kiss with the Boss
Posted on Feb 19th / Genre: Harlequin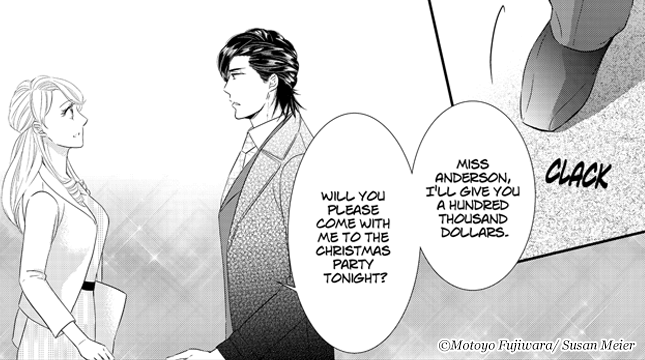 Quin's comment
Kristen is the assistant to the princess of Grennady. Dean is the CEO billionaire of an American game company. A Mistletoe Kiss with the Boss is the charming story of how these two unlikely companions contrast and compliment each other while each working toward their goals. Kristen wants Dean to move business to her country to spur the economy, but an old rivalry with the royal family is keeping him at arm's length. Dean needs a date for a party so he can show the public that he is just a normal guy amidst his company's declining share price crisis. In order to help her country, and to generate capital for her dream of starting schools for the underprivileged, she pretends to be his girlfriend. Throughout this story, we learn of their wounds from the past and how they are still haunting them today. We see what different motivations can make you do, and we see how having a little faith in someone can make all the difference. This is a great romance manga that will keep you interested and coming back to see what happens next. Will Dean move his business to Grennady? Why is he so closed off from Kristen? Will she ever be able to help her country? Check this manga out to have all your questions answered in the most satisfying, enticing, and exciting way!
The Kawai Complex Guide To Manors And Hostel Behavior
Posted on Feb 12th / Genre: Shojo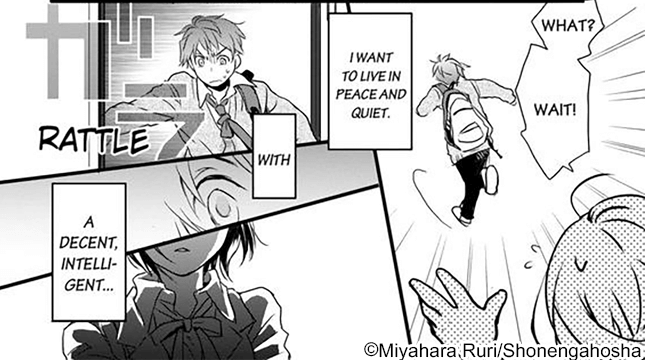 Jo's comment
The world can be a strange and small place, especially when you're just starting high school. And our hero, Usa, is about to find out just how strange it can be, as he is striking out on his own in high school after his parents have moved away. After going through hell in middle school, all he wants now is a bit of peace and quiet, and maybe a beautiful and intelligent girlfriend... but his new sharehouse is filled with the weirdest and wildest people imaginable! He was promised a single, but even before he arrives, he meets his new roommate... staring through a hole in a school fence! Usa can't believe that his new roommate is such a creep, but the landlord assures him he's harmless (...probably). Still, not exactly the best situation for a sound night of sleep, right? Usa is fed up and about to rough it on his own, when who should walk in but his dream girl, accompanied by a chorus of angels. Or, was that just in his head? Will Usa be able to live in this crazy sharehouse with a full cast of wacky characters for the sake of being closer to the permanently cool-headed and stone-faced Ritsu? Or will he give up and head for the hills? Whether you're looking for a bit of laughs or a bit of love, you can find it in this story!
Coffee Lover
Posted on Feb 5th / Genre: Love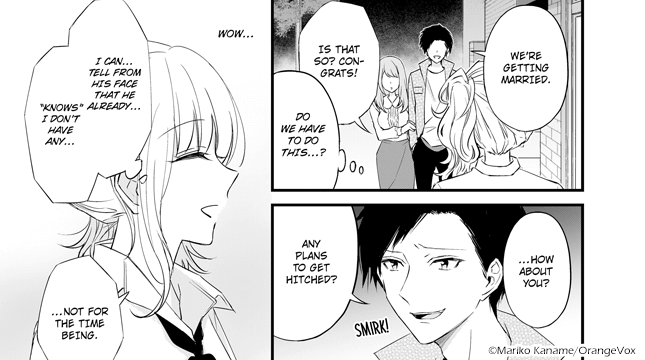 Candi's comment
Sakura Shiromine is a barista at Cafe Lunetta. As a college student, she fell in love with coffee and worked her butt off to get where she's at. Now, her dream is to open her own coffee shop. Of course, she hasn't given up on love, despite being dumped by her ex for being "too independent" and "career-oriented." she's intrigued by the regular at Cafe Lunetta, hot college student Takashi Matsuoka. Takashi's irresistible and always sits at the counter where he can watch Sakura make coffees and hit on her. He started coming to Cafe Lunetta after Sakura took care of his little brother on an awfully rainy night. One night, Sakura's ex shows up at the shop to rub his engagement in her face. Takashi swoops in to the rescue and then invites Sakura to his place for a coffee. She reluctantly accepts his offer, makes him coffee with the machine he bought just for the occasion, and then informs him it will be the first and last time she visits his place. Takashi tries to ease her by offering her ice cream with affogato (which means, "to drown" in Italian, by the way). An ice cream and several drinks and tears later, Sakura's reassured by Takashi that she's not alone and that her ex is in the wrong. He pulls her close and offers to... kiss her!? Will Sakura drown in Takashi's love? Read on and find out!
Can I Make a Friend?
Posted on Jan 29th / Genre: Yaoi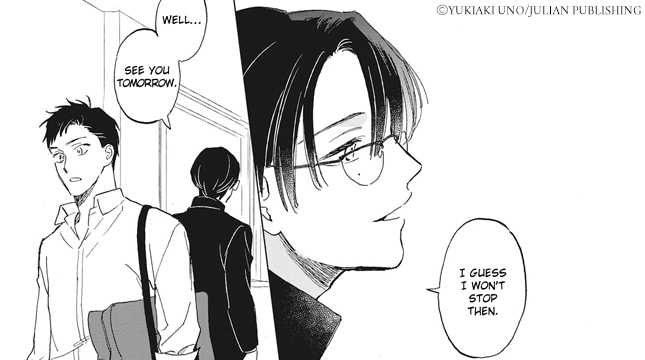 Yao's comment
A straight-laced Mr. Perfect falling for a slightly debauched guy can definitely be called a trope, but it's a joy to read when it's well-executed! "Can I Make a Friend?" is a short but sweet series about two teenagers that grow to overcome their differences and give in to their feelings. There is a slightly bittersweet realism to the situation that many people can relate to- when you end up getting a crush that's probably not a great idea, but the heart wants what it wants! The protagonist, Akira, catches a guy at his school in a very compromising situation, and although he feels confused and a bit outraged, it stirs something in him. Mitsuru, who seems to care about nothing but carnal pleasure and mocks emotions, also starts to change due to that chance meeting. But, it's not so easy to become friends when everything seems to stand between them and the quickest way to deal with treacherous feelings is to deny their very existence. If you're looking for something angsty but rewarding, with a side of mutual pining, you've come to the right place!
The Sabbides Secret Baby
Posted on Jan 22nd / Genre: Harlequin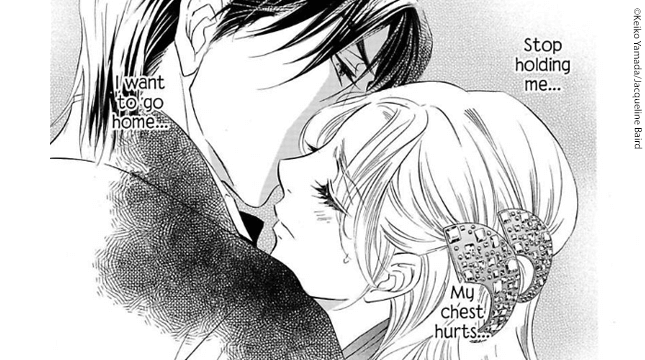 Quin's comment
And now, for another thrilling tale of love, lust, and secret babies! Phobe felt like she was in paradise with her lover Jed, a handsome, Greek, tiger of a man, and heir to the famous Sabbides Corporation. Showered with gifts and nights of passion, it seemed like everything was perfect, that is, until she found out she was pregnant. Jed's scornful reaction to Phobe's announcement was the last thing she was expecting, and when she then suffers from a tragic miscarriage after an unfortunate accident, she decides to run home to Dorset and be rid of the cruel man and her now tainted memories with him. Five years later, the two happen to meet again at a ball in Greece, and while Jed seems to still be the cold, but lustful man Phobe remembers, she herself is actually keeping a secret from him...
The relationship between Phobe and Jed is like watching a battle between fire and ice, as misunderstandings mount, and neither one wants to back down. They fight not only each other though, but themselves as well, as we find out more about Jed's troubling past and what made him into the man he is today. If you're after excitement, I can't recommend "The Sabbides Secret Baby" enough.
View Previous Staff Awards