Our House: Love Trouble
Posted on Dec 2nd / Genre: Yaoi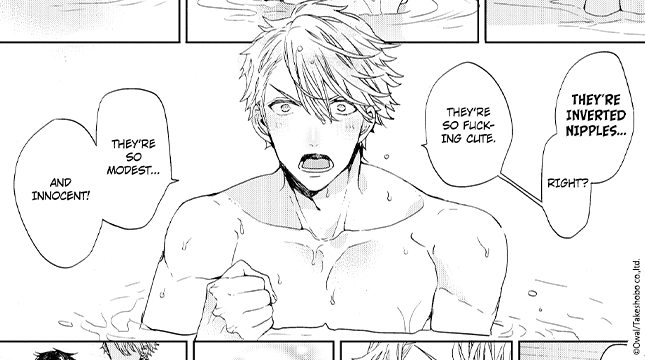 Yao's comment
Mmm ripped men in suits... truly a gift. I see plenty of businessmen in Boys' Love but Owal's art just really hits the spot y'know? Just the right amount of chiseled... Anyway... This manga has hella energy! It never really stops to take a break (not that it needs to) and just keeps going like a record-holding roller coaster. Nonohiko is the pure, innocent, virgin boy who's just entered a house of MEN. I say men, there's really only one man that's out to dirty Nonohiko's purity, and that the beautiful, sex crazed Hibiki.
The story starts off pretty intense, with Hibiki mistaking Nonohiko for a call-boy he ordered, but then they hit the 'oh we actually like each other' part and it gets strangely wholesome (but still hot and sweaty as heck) and you find yourself furiously flipping pages so you can reach the next bang-fest.
"Our House" really manages to pull off a smut heavy story, whilst keeping the relationship sweet and interesting to follow, which a lot of smuttier series struggle to do. Also, inverted nipples. That is all.
Blindside Date
Posted on Nov 25th / Genre: Harlequin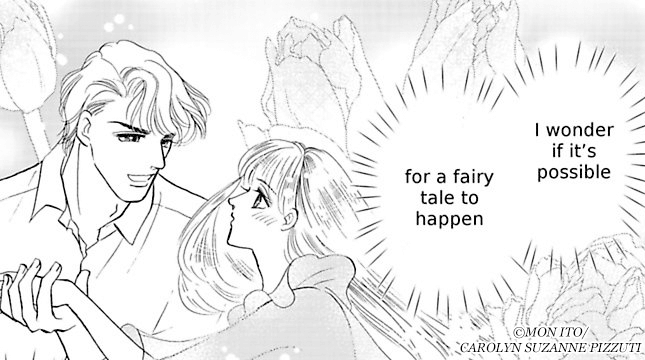 Quin's comment
Jayde and Garrett couldn't be more different. Garrett is a playboy lecturer and partygoer who is always surrounded by women. Jayde is a serious, diligent student who focuses on helping the less fortunate... and she's never been kissed! In contrast to the flirtatious Garrett, Jayde is saving her first kiss for the man she will marry. In a shocking turn, the two of them are invited to appear on a reality show about a blind date, and the promise of a fun raising segment to support Jayde's social work persuades her to take the offer. Throughout the course of the show, the two learn that while they may be complete opposites on the surface, they learn that they have more in common than they initially thought. This story shows that first impressions are not always reliable, and people are much more complicated than initial appearances. It also shows that differences between two people aren't always a deal breaker and can sometimes even help bring people closer together. You will definitely enjoy this story if you enjoy rooting for people to overcome their differences, and their own difficult pasts.
Sorry! Everyone's Favorite Prince Is No Longer Innocent
Posted on Nov 18th / Genre: Shojo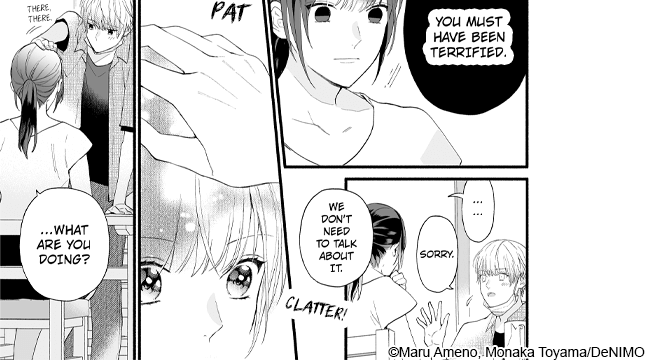 Jo's comment
Yoriko is a talent agent struggling to find new talent for her agency on a lonely Christmas Eve night, and that's when she stumbles upon high schooler Taichi crying alone on a park bench. And he's got the perfect face she was looking for! The pair soon bond over drinks (non-alcoholic in Taichi's case of course!) and Yoriko convinces Taichi to dip his toes into the pool of stardom. However, it's not exactly so easy for either of them. They have their fair share of failures, but they rely on each other through thick and thin. After seven grueling years, Taichi has finally become a household name, and he has Yoriko and her constant advice to thank. There's just one problem: Yoriko made sure that Taichi stayed pure and avoided the dark backroom deals common to the biz. Partly because of that, Taichi's never had his first true experience with a woman! He blames Yoriko for missing out on this important part of his life and wants her to help fix it!

Yoriko and Taichi are both so cute, and watching the two of them grow together through their hardships is really heartwarming! Their will-they-won't-they nature will keep you reading, hoping for something to happen between these two good friends and confidants. This prince may not be innocent, but it doesn't stop this manga from being a sweet read!
Bride of the Zaitsu Family
Posted on Nov 11th / Genre: Love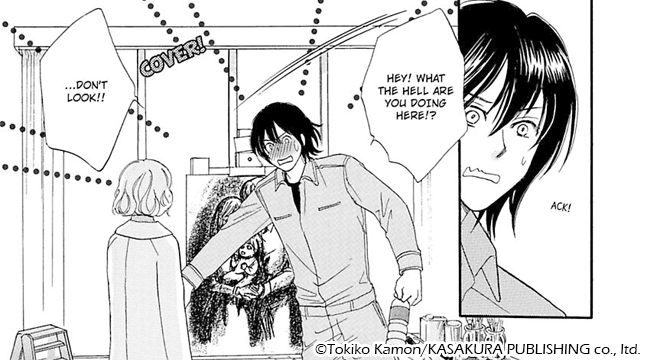 Candi's comment
This anthology includes two stories: Bride of the Zaitsu Family and I'm the Master.

In Bride of the Zaitsu, Choko Kojima moves in with her fiance, Eiichi Zaitsu. Eiichi's 19-year-old son, Sai, refuses to open up to Choko, asking her if she's just moved in because she did the deed with his dad and even flips her off. Frustrated but determined to get Sai to open up to her, Choko starts cooking meals for him and his father. Disinterested in her efforts, Sai closes himself up in a cabin within walking distance of his father's mansion. Choko cooks a meal and decides to take it to Sai and at least win over his stomach. On the way there, however, she's nearly attacked by a bear! She trips and falls, and when she wakes up she's in bed next to Sai and barely clad! She jumps out of bed and runs out of the bedroom and into his studio. There, she sees all of his beautiful paintings! Could she have misunderstood Sai from the get-go?

In I'm the Master, Aoi Katase is a workaholic who treats herself to a home cleaning service once a month with her favorite cleaner, Yuma Maki. Yuma usually comes to clean her place and cook her dinner while she's gone at work, so she's never met them, but she imagines Yuma's a sweet old lady. On one Friday after work, Aoi calls and requests Yuma while she unwinds with a beer. The service informs her that Yuma will only be available the next morning. Aoi asks them to send Yuma anyway. The next morning, her doorbell rings. In her glasses, pajamas, and with no makeup on, she answers the door and finds a man in a suit and tie at her doorstep. Assuming he's there to sell her something, she turns him away, but he hands her his business card. It turns out the sweet old lady she pictured was Yuma is him! She reluctantly lets him in, and so begins their adventure in getting to know each other!

If you're looking for a funny but sweet anthology to cozy up with by the fireplace, you won't want to miss this!
Love Doll on My Doorstep
Posted on Nov 4th / Genre: Yaoi
Yao's comment
I don't think I have to tell you to never trust someone who knocks on your door and claims to be a sex doll! Especially if they're a suspiciously cute boy...
Taiyoh is surprised to find out that he's just won a cutting-edge sex doll, that's even gone and delivered itself to his door! Of course, he's not buying that story for a second, and slams the door on poor Michiru almost immediately. Something Michiru said sticks with him though, "So, you're abandoning me?" After spending all of his childhood in an orphanage, Taiyoh knows example what it feels like to be abandoned. Not wanting to leave the boy out in the cold, Taiyoh starts trying to work out: who is this sex doll?
The initial premise for this series is somewhat ridiculous, but it soon becomes clear that the real meat of story is about how people deal with abandonment and being part of a family. Though the story never goes too deep into the subject, focusing more on the leads' relationship, there's enough substance there to make this a cute, heartwarming and memorable story.
Your Baby or Mine?
Posted on Oct 28th / Genre: Harlequin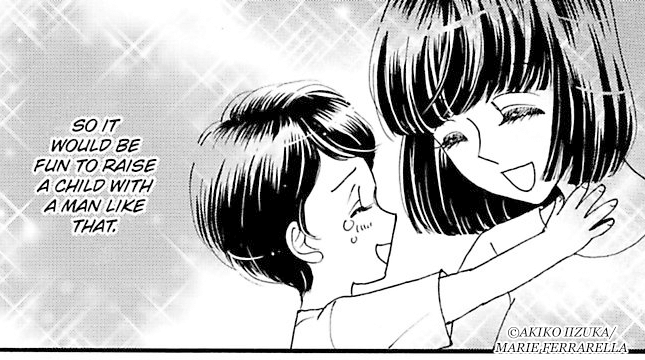 Quin's comment
Marissa, a divorced single mother, teaches childcare classes for new parents. One day, a widower named Alec joins her class with his young daughter, Andrea.
Impressed by Marissa's skill and dedication, he invites her to be Andrea's live-in babysitter, as none of the previous women he hired could connect with her. Although hesitant at first, Marissa agrees to move in after being forced out of her apartment. Now living together, Alec must come to terms with his growing feelings for Marissa, which are at constant odds with his fear of loss after the death of his wife. Marissa also has to learn to trust men again after a bad experience with her ex-husband. This story really paints a painful picture of how difficult it can be for someone to move on following the death of a significant other. Can Alec overcome his fear of suffering that same heartbreak again and chase happiness? You'll have to read through it to find out!
After Being Scouted by God, I Ended up in an Alternate Universe. -Domestic Magic Makes for an Easy Life.-
Posted on Oct 21st / Genre: Shojo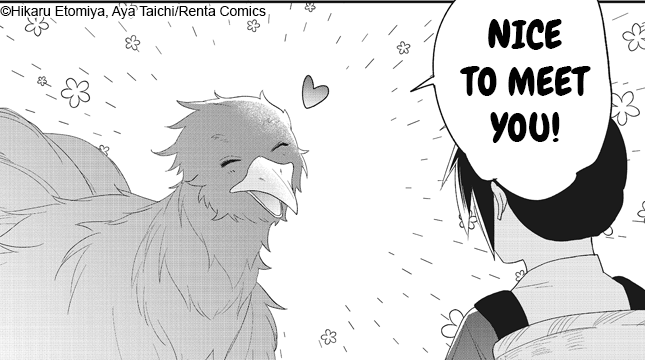 Jo's comment
We're back again with another fluffy isekai story that you should definitely check out if you like magic, talking animal friends, or just bubbly and fun manga in general! As a reward for her long and fruitful life, Towako is granted a second life by God in the war-torn magical world of Astaire. Reincarnated in a new body named Maria, she also receives three magical abilities as well: Domestic Magic, the ability to do household chores with a snap of her fingers; Appraisal, the ability to instantly recognize and learn about any object in the world; and an Item Box that can temporarily stop time. Armed with her new powers and a brand new life, Towako-Maria (or Toa for short) sets out to make a new life for herself. Domestic Magic certainly makes for a carefree life, but that doesn't mean that Toa can rest on her haunches. She still needs to find a place to live and a way to make a living somehow! This story keeps you turning every page wondering what talking mystical creature or magical potion will be coming next. If you enjoy light, carefree stories, you don't have to be scouted by God to read this comic!
I'll Teach You How to Behave -My Yakuza Boyfriend's Sensual Touch-
Posted on Oct 14th / Genre: Love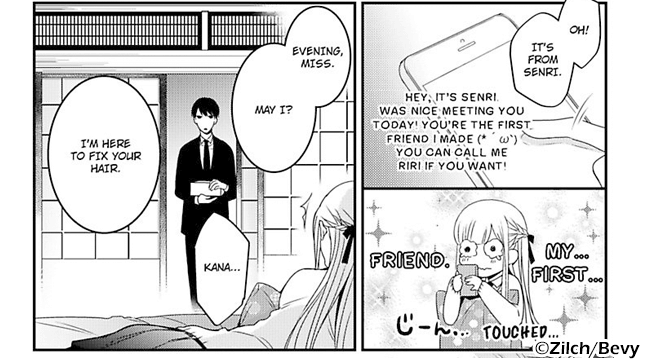 Candi's comment
Sakurako Tohdo is starting her first day at her new school and wants to show up looking perfect. She's running late, so Kana, her personal servant and chauffeur, helps style her and see her off to school. Sakurako's desperate to make new friends, so before Kana drops her off, she goes over a list of rules about how to behave in front of her friends: no calling her "Miss," no picking her up in a limo, and no black suits. Sakurako leaves school that day depressed no one talked to her at all. She's transferred to a school on the other side of town because everyone at her old one knew her family had ties to organized crime and she wanted a fresh start. Just then, a boy calls out to her, "Sakura!" Startled, she turns around sees Senri Hanada, her classmate, picking a cherry blossom petal out of her hair. Senri tells Sakurako how he wanted to approach her because she was so pretty, but couldn't work up the courage until then. He asks her to be his friend and to exchange her username with him. Kana catches Sakurako talking to Senri and drags her off campus, saying her dad wanted to see her immediately. In the car, Kana scolds Sakurako for being too defenseless and... kisses her!? She finds herself enjoying it more than she should, but quickly comes to her senses and pushes Kana off. They head inside and see her father, who tells her he's promised her hand in marriage to one of the sons of the Karyu gang! Sakurako runs to her room and holes herself up there, but Kana comes by to help her change out of her uniform and brush her hair. Sakurako then confesses that she wants Kana to see her as a woman. Kana flips her over on her bed and asks her if she knows what she's asking for! Will Kana go all the way with Sakurako? Read on and find out!
Angula Blue
Posted on Oct 7th / Genre: Yaoi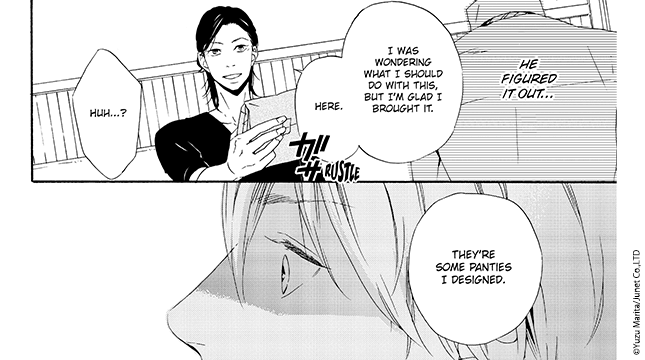 Yao's comment
A cross-dressing kink, again? Yes, yes this is my thing right now. And no, I'm not sorry.
So, this cutie Yuya is totally into wearing women's underwear (only the bottom half mind you) and is terrified of anyone finding out about his kink. Cue him bumping into an old friend from high-school, Kazuaki, outside a lingerie shop. A friend who happens to also be a lingerie designer. It's like the stars have aligned, only the stars have pretty lace and frills around the edges (there's an interesting image for you!) Anyway, Kazuaki is here to help Yuya accept the part of himself that likes wearing women's underwear, and also, to ravish him while he's wearing said underwear. It's both hot and heartwarming really, a win-win!
This volume also features two other one-shots: one about a drag-queen and his co-worker, and one about a guy who likes it in the ass a bit too much. That's plenty of bang for your buck!
His Mistress for a Million
Posted on Sep 30th / Genre: Harlequin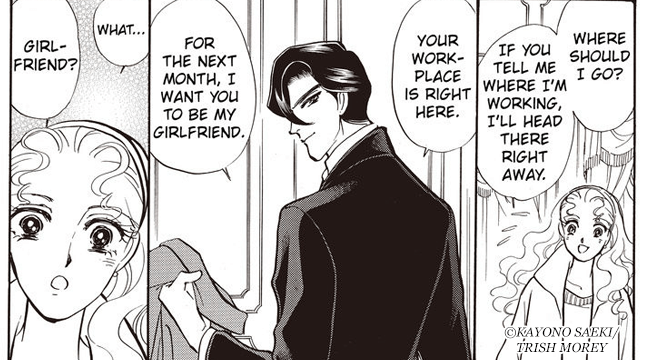 Quin's comment
Andreas and Cloe have both been burned in relationships before, and each have developed negative perceptions of the opposite gender due to these experiences. Cloe, swindled by her ex-boyfriend of all her money, is forced to work in a hotel for minimum wages. When Andreas buys the hotel and shuts it down, he gives her a large sum of money as severance pay, but Close insists on working for it. Andreas, impressed by her turning down the easy money, decides to hire her... to pose as his girlfriend! He initially claims that this is to keep other women, who are only after his money, at bay, but in reality, he fell in love with her at first sight. This manga is very inspirational as it reminds us that there are still good people in this world, and your soul-mate is out there. I enjoyed reading this story as both main characters had dark pasts, and seeing them find happiness was so exciting!
I Can't Stand That Senior Guy
Posted on Sep 23rd / Genre: Shojo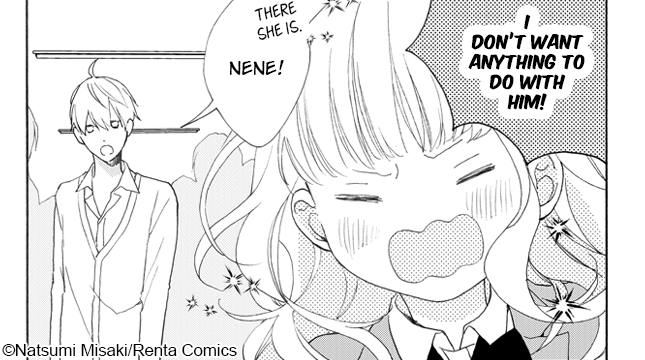 Jo's comment
Nene is so sick of all the boys at her high school fawning over girls and acting like children instead of focusing on their tasks. That's not to say that Nene doesn't want love herself, she just would rather have it with someone more... serious. While traveling between classes, she trips on the stairs and is caught by a senior, Yusuke. Unfortunately, their meet-cute isn't exactly so cute, because while he saves her, he also accidentally ends up with a handful of her breasts! He tries to apologize, but ends up saying something even worse. Argh, what a prick! Nene starts to hate Yusuke's guts, but even though he's really awkward and annoying (and so childish!) sometimes, he seems to be really nice to her at others! What is Yusuke thinking? He's definitely popular with all the girls, but for some reason he won't stop bothering Nene! I love heart-pounding romance as much as anyone, but sometimes it's nice to ditch the complex plots and cleanse your palate with a simple slice-of-life story like this, you know? It's just two students learning to come to terms with each other and themselves, and it's so sweet you've just gotta continue reading to find out what happens next. If you're looking for a classic "will they, won't they" story starring a serious girl and a slightly goofy older boy, you can't stand to go wrong here!
My Best Friend Only Gives Me Poison
Posted on Sep 16th / Genre: Love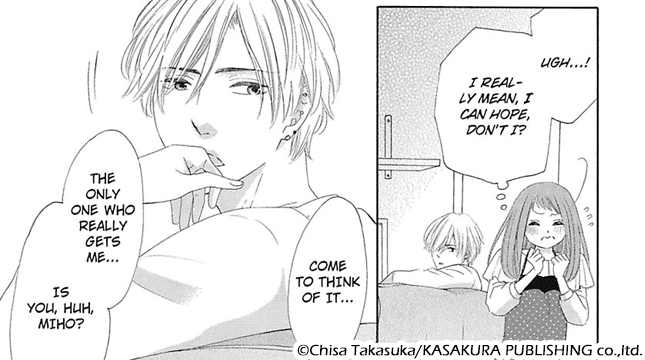 Candi's comment
Miho's best friend since childhood, Yuma, is a total playboy. He leaves a trail of broken-hearted girls behind him wherever he goes. The only reason Miho's been allowed to stay so close to him was because she never crossed their friendship line, despite being secretly in love with Yuma herself. Things change one night after Yuma returns to his apartment, famished, and tells Miho about the latest girl whose heart he's broken while wolfing down a bowl of strawberries Miho planned to use for dessert. Miho defends all the girls he's been with, chewing Yuma out for his behavior. It dawns on Yuma then that Miho's the only girl he's ever been the closest to, and casually suggests they test their chemistry. Yuma grabs Miho, and... kisses her!? Startled, Miho shoves Yuma off of her and tells him it'll never happen. The next day at school, things are back to normal: Yuma shows up in class with a new girl wrapped around his arm and asks Miho to move over so they can sit next to her. Once seated, Yuma's hand brushes on Miho's thigh! Miho jolts right out of her seat and asks the professor if she can change seats. After class, Miho goes to Yuma's apartment out of habit. Just as she's about to open the door, Yuma walks up behind her with her favorite treat, but really wants Miho for dessert! Will Miho give in and test her chemistry with Yuma?
On Camera, I'm a Woman
Posted on Sep 9th / Genre: Yaoi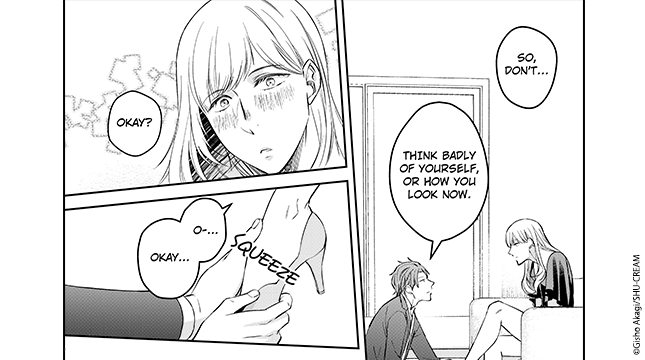 Yao's comment
Adult film director Kyoichi is on the hunt for new cross-dressers to star in his next masterpiece when he meets Nao, a man with the most beautiful, feminine face he's ever seen. Nao, having just been rejected by a girl, is feeling super down, which provides the perfect opportunity for Kyoichi to swoop in and cheer him up! After telling Nao how pretty he is, Kyoichi convinces him he needs to become even more beautiful than the girl that rejected him, by cross-dressing! But, while Kyoichi's waiting for the perfect opportunity to ask the now beautiful, long-haired Nao to star in his next film, he starts to realize that he'd rather keep the stunning young man all to himself!
Despite the sketchy premise, this is actually a pretty wholesome manga! Though Kyoichi starts off with less than pure intentions, their relationship develops into something cute and sweet, with both of them trying their best to make the other happy. The smut is hooooot as heck (assuming you're into seeing delectable sausages through panties) and, in an all too rare case for yaoi, very much consensual! If you're into cross-dressing stories, then you definitely need to check this out!
Once Upon a King
Posted on Sep 2rd / Genre: Harlequin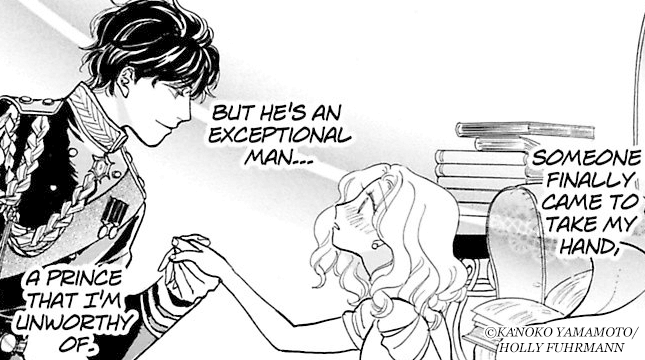 Quin's comment
Once Upon a King tells the story of how love can survive the test of time. Despite arguments and misunderstandings being left to stew unresolved, once reunited, true love will find a way to overcome them. Cara believes the Michael, the father of her unborn child, abandoned her after one night of romance, while Michael thinks that she abandoned him. Three months later, Cara goes to attend the wedding of her friend, the princess of Eliason, and she discovers that Michael is her brother, the prince of Eliason and next in line to be king. Concerned about her ability to enter the royal family and raise a noble baby, she hides her pregnancy from Michael and tries to create distance between them. Despite these obstacles, Michael is persistent in proving his love for Cara and determined to earn her acceptance. This story will make you root for the characters to realize their feelings for each other and obtain happiness. I hope it touches you the same way it touched me.
The Antique Cat Shop
Posted on Aug 26th / Genre: Shojo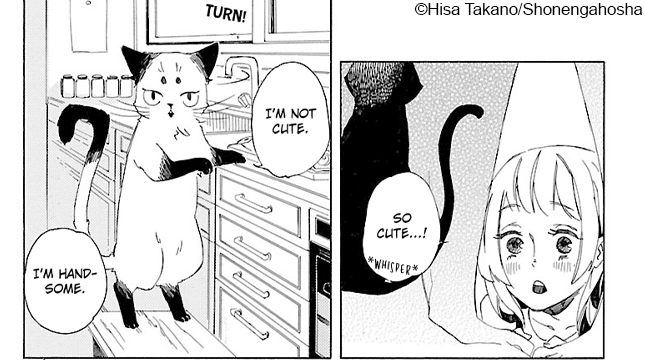 Jo's comment
Talking cats and magic! For me, that's pretty much all I'd need to read before I'm sold on any comic. But, if you're not as much of a cat lover as me, I guess I should write a bit more about this story! This short story collection focuses on a mysterious antique shop run by a man and his talking cat, Bonten. But, talking and making tea (while being really cute) aren't his only specialities! He's also skilled at appraising antiques (while being cute), and knows a few mystical arts to help out his customers (and also he's really cute). Interspersed with the main stories of magical encounters with Bonten and customers, as well as various other talking and working cats, are mini stories between Bonten and the shop owner, where Bonten shows off all the curiosity and haughtiness you would expect from a pet cat who happens to be able to speak. Every chapter of this comic kept me wondering what was going to happen next, and see what cuteness was in store for me this time. If you like stories that will melt your heart and restore your faith in humanity, you should absolutely check out The Antique Cat Shop!
View Previous Staff Awards