Steamy Love -My First Crush Is Now My Boss!-
Posted on Feb 24th / Genre: Love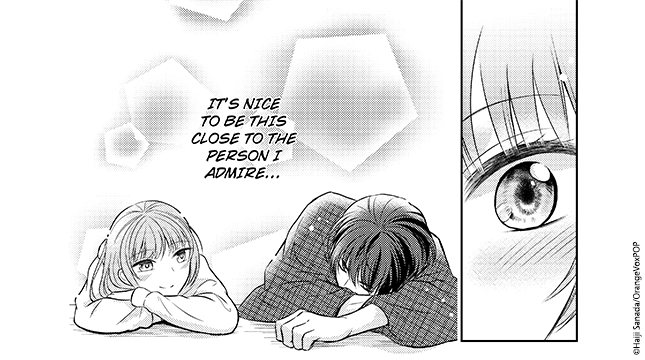 Candi's comment
Haiji Sanada does a fantastic job of combining cute and sexy in her stories, and this series is no different!
"Steamy Love" is (unsurprisingly) set at a beautiful hot spring resort where our girl Aoko has just started working. After visiting the resort as a kid, she always wanted to go back and work there, so we're off to a good start with dreams literally coming true! Just as importantly though, she wanted to meet the kind man she spoke to when she stayed there before. As it turns out, that man, Soji, is still working at the hot spring! ...Though the way they're reunited is quite... awkward, and it seems like he's not the nice guy she remembers him being! What happened during the time Aoko was gone...?
I loved how much character development fit in this short three-chapter story, that somehow managed to believably take Soji from being a jerk, to someone we trust to look after our sweet Aoko. The setting itself is a nice change from the standard city-based romance, with some beautiful countryside scenery and of course the hot springs themselves. Overall, this is just a really comfy read!
The Last Lone Wolf Man of the Month
Posted on Feb 17th / Genre: Harlequin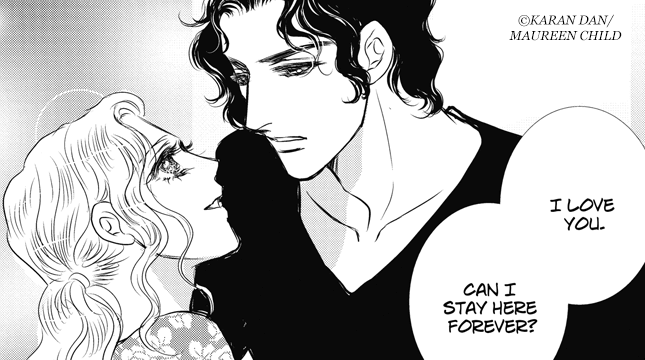 Quin's comment
Daisy raised her younger brother after their parents died when they were young, so when he perished in combat she was left alone in the world. In order to cure her loneliness, she's determined to have a baby and start a family. She's not particularly interested in having a husband, but the father must be the man her younger brother admired, Jericho. He has since retired from the military and opened a survival camp in the mountains, and Daisy applies for a job to replace the current chef who is leaving the camp soon. Initially hesitant to allow a city girl like her to work in such adverse conditions, Jericho is impressed by her performance in the survival test and allows her to work for him. However, he tries very hard to keep distance between them despite her advances. Jericho has a secret of his own and is worried that she will hate him if she finds out. Will their secrets end up tearing them apart, or will they eventually be able to find happiness together? You'll have to read to find out, but I don't think you'll be disappointed.
Fantasy Virgin
Posted on Feb 10th / Genre: Shojo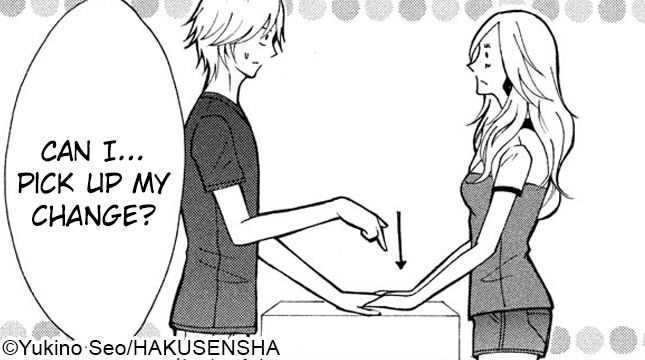 Jo's comment
This is a bit more risqué than some of the other shojo manga I've reviewed, but it's so funny, it's definitely worth the rec! So, our heroine, Jun, dresses a bit more.... openly than most of the other girls on her campus. Because of that, there are plenty of rumors flying around about her supposed promiscuity. But, Jun's real personality couldn't be any more different from the vibe her attire gives off. She's shy, sheltered, afraid to take the lead, and has actually never been with a guy! The only reason she dresses the way she does is because of the advice from her take-charge big sister, who basically tells her exactly what to do. What's more, she's prone to imagining flights of fancy with any hot guy she sees! One day at her part-time job at a convenience store, she falls in love at first sight with a guy who's just her type. And he turns out to be a fellow student and even her next-door neighbor, Kanou! Can Jun graduate from her fantasies and get into a real relationship with the guy of her literal dreams? With the help of her no-nonsense sister and a hilarious cast of supporting characters, she might just have a chance!
Jun is just so lost in her own world and keeps getting into misunderstandings every chapter... you can't help but feel bad for her, but it's honestly kind of relatable. Not only that, Jun's interactions with the supporting cast just make me want to keep reading. This manga is great, and that's no fantasy!
I Can Say "I Love You" in the Afterlife
Posted on Feb 3rd / Genre: Yaoi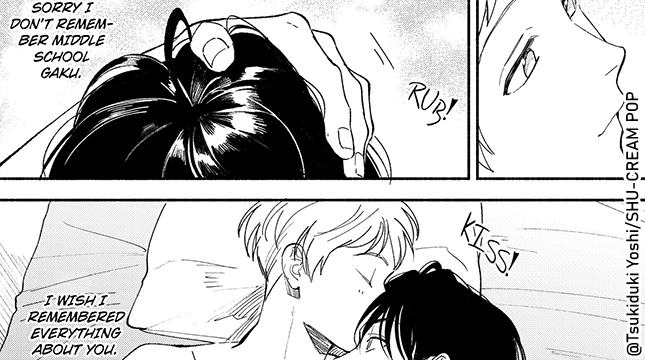 Yao's comment
Heading fast toward middle age and miserable with his life, Kunimi decides to end it all. After his attempt, however, he wakes up in his childhood bed, with an old-style cellphone, somehow back in his teenage body. At its core, I Can Say "I Love You" in the Afterlife is a charming story about fixing mistakes and coming to terms with the past. When Kunimi returns to his old high school and is reunited with his childhood sweetheart Gaku, he's forced to relive not only the incredible love (and desire) that comes with first teenage romance, but the pain and trauma of losing his youth aspirations. Is this new world truly the re-do Kunimi desperately wanted, or is he living out a torturous dream he could wake up from any second? Tsukiduki Yoshi's art is absolutely stunning, and the expressive way she draws faces forces the reader on an emotional roller-coaster along with Kunimi as he relives first love and first loss. The story itself perfectly balances just the right about of spicy scenes with bittersweet drama and romance, and is a perfect, satisfying blend of what most readers want out of a Yaoi manga - not to mention both Kunimi and Gaku are wonderful, fascinating characters and their awkward interactions are too cute for words.
Your Moans Are Mine Alone -Is It Okay for a Yaoi Fangirl to Be Popular?-
Posted on Jan 27th / Genre: Love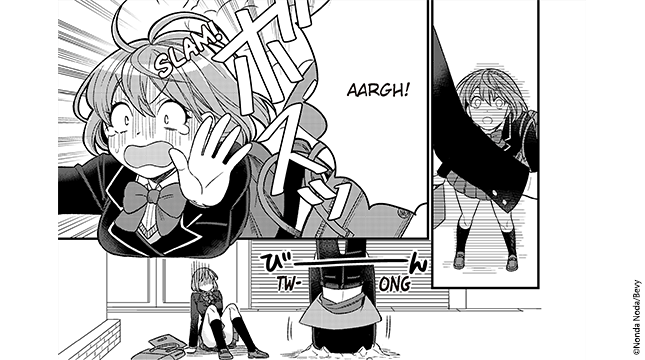 Candi's comment
So, this one's more of a shojo series + sexy bits! (+ a lot of laughs if you fancy some comedy!)
Our female lead, Yume, is a die hard fujoshi (she loves her pretty anime boys) and as is required of a true fan, goes out to get her favorite character Hiro's limited edition CD on release day. Unfortunately she gets caught up in a brawl (cue male protagonist Taiyo's entry), and her CD is destroyed! Still mourning of the loss of her treasured CD, Yume is approached by Taiyo at school (he's hella scary y'all). As it turns out, he picked up something she dropped during the brawl and just wanted to give it back! ...and, what's this? Taiyo's voice sounds just like Hiro's! Could this be fate...?
There aren't many legitimately funny mature romance manga about, but this is one of them! Much more light-hearted than your standard drama-filled-flick, this is fun read if you just wanna chill while you read something, but still want it to have a smidgen of spice. Sadly the series hasn't been updated in a long time, but worry not! We have another of the amazing author, Nonda Noda's, mature romance series, "That Unexpected Side to my Childhood Friend -Watch Out for the Animal in Him!-" that you should be sure to check out too!
Darling Enemy
Posted on Jan 20th / Genre: Harlequin
Quin's comment
Teddi, a university student who models to pay for her education, has been in love with her best friend's brother, King, since an incident when she was in high school. King has been very rude to her ever since, despite being generally nice to women. When she's invited to spend summer vacation at their family ranch, she begrudgingly accepts and is forced into close proximity to the man she wants to hate but can't help but love. But why is King so mean to her, and only her? There must be some reason... but you'll have to read to find out! You can also enjoy the beautifully drawn scenery and handsome cowboys, so it's definitely a win-win-win. With beautiful art and a touching story, this really checks all the boxes, so don't miss out!
The Writer's Hand -Life with My Housekeeper-
Posted on Jan 13th / Genre: Shojo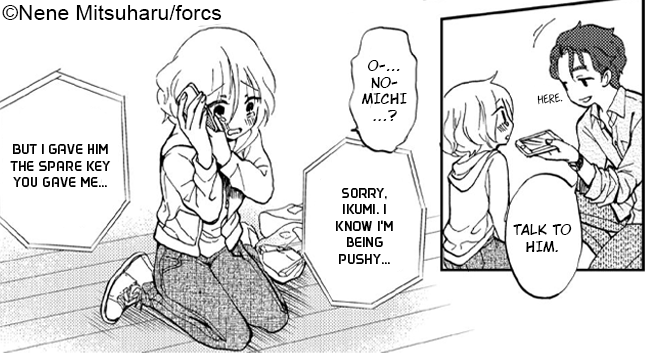 Jo's comment
Ikumi won a prestigious award for her writing and was ready to move on to even bigger and better things. But, that was two years ago, and since her highly-regarded debut novel, she's been stuck with a big old case of writer's block. While she still has the drive and passion to write that next great novel, she's so focused on her work that it's taking a toll on her physical and mental health. Her editor decides to take things into his own hands and asks his friend Renji to start working as Ikumi's housekeeper. That way, she can do all those boring things like eating or sleeping or, like, actually living her life. The only problem with this wonderful plan is that he forgets to inform Ikumi beforehand, so she comes home only to find a strange man has let himself in with the spare key she let her editor borrow. Obviously, this isn't the best way to introduce yourself, so the poor girl is terrified and tells him in no uncertain terms to leave immediately. But, soon after, Ikumi gets sick and passes out, giving herself a nasty hand injury in the process. With her dominant hand out of commission, she has no choice but to accept Renji's help... but she's not gonna like it! Ikumi is super nervous and uncomfortable with her new predicament, but as the story progresses, she and Renji learn to rely on each other more, and Ikumi slowly begins to get over her insecurities. If you like cute stories about personal growth and overcoming misunderstandings small and large, you gotta hand it to Nene Mitsuharu for crafting this lighthearted and fun story!
It Felt Good from the First Touch
Posted on Jan 6th / Genre: Yaoi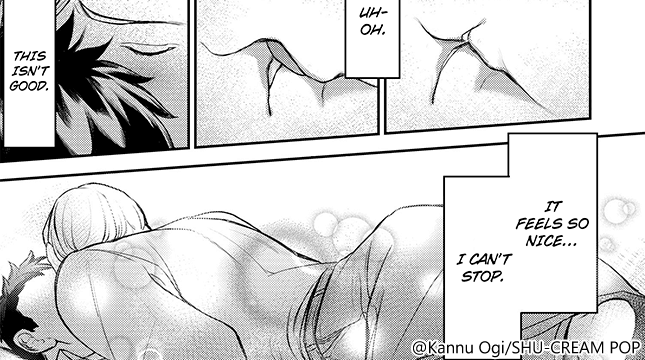 Yao's comment
Part supernatural, part "businessmen in love," It Felt Good from the First Touch is a cute and original story about a man named Okiya who is able to see the 'aura' of those around him. He can tell when his colleagues have a fake smile, or if his significant other is upset and hiding it - not just because he's good at reading people, but because he can literally see and feel the mood surrounding them. This has been a blessing and a curse, because it's made him very skilled in interpersonal situations, but has also made him distrust the way people act at face value. That is, until he meets his colleague Koga. Koga is honest to a fault, sometime saying things that can even be seen as rude or inappropriate. The only thing he seems to hide is an intense affection for Okiya. Okiya likes being around Koga just to bask in the sweet, warm mood surrounding him, and even suggests the possibility of getting closer. But, is Okiya ready for the sincere love that Koga has for him after a lifetime of learning how to read others just by looking at them? Overall, this is a really sweet story about having to learn to be open and communicate with the people you love - because you might not be reading their feelings correctly, even if you think you are.
My Brother's Friend Likes to Flaunt It
Posted on Dec 29th / Genre: Love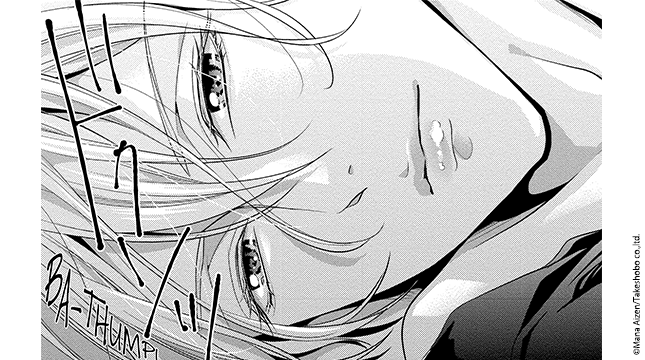 Candi's comment
We've got a sweet anthology this time, with four different couples! The cover illustration features the first couple, Haruka and Iori, and honestly I don't think it does justice to how pretty the art is on the inside! So lets talk a little bit about that first story shall we...?
Haruka has moved out of her parent's place, now that she's in college, and into her brother's apartment. The only thing getting her down is her brother's unusually sexual friend Iori, who keeps coming over (why is he always wearing tank tops!) The definition of a pretty boy, Iori has a sleek but muscular physique that he can't help but show off, and a... suggestive, way with words. Not to mention the detail in which his 'package' is drawn. It turns out that this sexuality of his is enough to win Haruka over, with her being the one to land the first kiss!
My two favorite things about this book are: how sexy and consensual all the smut is, and how the women are portrayed as being strong whilst still being feminine. The relationships are all super wholesome and honestly this is all exactly what this genre needs more of!
Flower Crowns from the Knight
Posted on Dec 23rd / Genre: Harlequin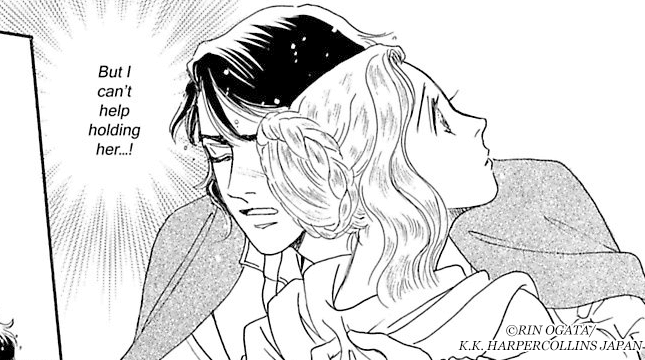 Quin's comment
Donna Bianca and Raul are childhood sweethearts in Florence, but Raul is the son of a knight while she is the daughter of a wealthy and influential merchant. Refusing to allow his daughter to marry a lowly knight, her father breaks up the marriage and arranges for her to marry a wealthy man in Rome. Fearing Raul will attack her father, Donna Bianca acts as if she is breaking off their relationship willingly. Years later, she is single and back in Florence when Raul returns as well, but he is not the same man he once was. Her betrayal affected him deeply, and he became a powerful and cold mercenary. Reunited at last, Donna Bianca tries to break through this new facade and find the man she knew and loved, but is it too late? You'll have to read through the story to find out, but I'm sure you will enjoy it! It's a moving story of lasting love that can overcome the passing of time and various obstacles.
Marriage Makers -Case Study: Mikoto Nagita, Lost Sheep-
Posted on Dec 16th / Genre: Shojo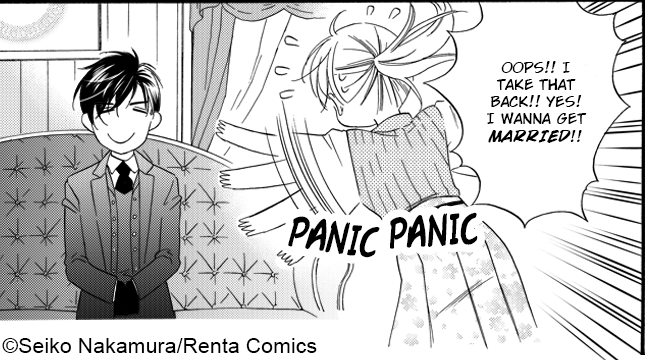 Jo's comment
Ahhh, this story is so cute! At first, I was like, "Oh, another story about a woman who just wants to get married," but for poor Nagisa, her circumstances couldn't be more different! Saddled with all the duties at her small-town bank, she is forced to do hours of overtime while being berated constantly by her newlywed boss. And all the other women work part-time, so they don't even stick around to help her. It just makes you want to shout at the top of your lungs from your balcony about the injustice (which she also does)! But, she can't just quit, because of course then she'd have no money. That's when she hatches a plan: become married so that she can be insured under Category 3 of the National Pension and basically become a dependent of her spouse, so she can work part-time without having to worry about paying pension taxes. There's just one little problem: how is she supposed to find a husband...? That's when she hears about a marriage making service that supposedly 100% guarantees she'll find a partner. With her new personalized Marriage Maker, Atago, she's ready to roll the dice and start her first "marriage simulation" in this lighthearted fantasy comedy. I love the way Nagisa's character is written - down-to-earth, but also accepting of the kind of magical (and not-so-magical) things going around her. If you're looking for a case study in humor and interesting storytelling, you won't be a lost sheep if you check out this story!
You Want to Be Doted On More Than Anyone
Posted on Dec 9th / Genre: Love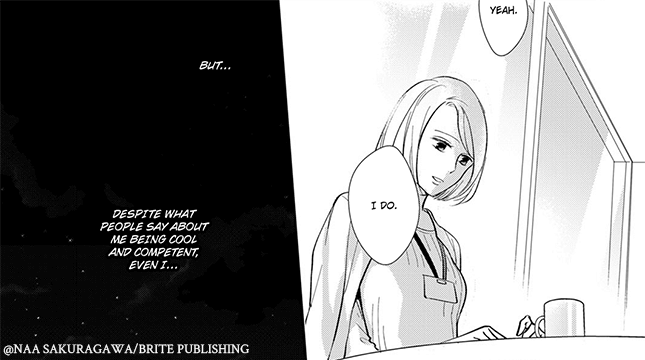 Candi's comment
A sweet and spicy story with a really cute premise! Riko is a brilliant, hard-working business woman who's loved by all her female colleagues for being someone they can rely on?she's not afraid to stand up against sexual harassment, or against the powerful men in her field. Some would even call her "chivalrous?a phrase usually reserved for men. But Riko's whole life, she's harbored a secret: deep down she loves girly, cute, feminine things and has always been desperate for her own prince charming to come sweep her off her feet. When she meets and starts a relationship with an old classmate she's forced to decide: will she continue being the woman she believes he fell in love with, or will he finally allow someone to see her true, authentic self? At its core, this is a story about not judging a book by its cover, and learning to accept yourself for who you really are rather than what the world expects you to be?with plenty of spicy scenes thrown in to mix things up! This book stands out because it turns the trope of the powerful businesswoman on its head, and shows that all people can be multifaceted in both their personalities and interests!
Our House: Love Trouble
Posted on Dec 2nd / Genre: Yaoi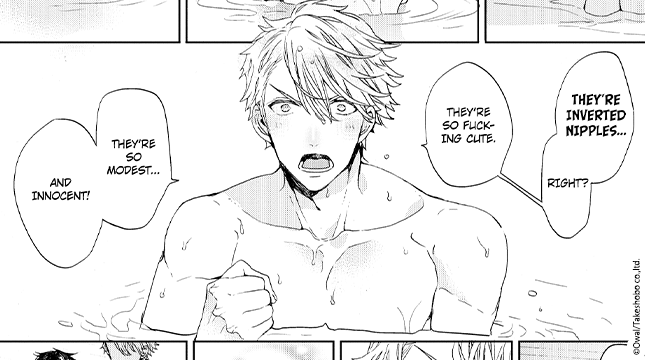 Yao's comment
Mmm ripped men in suits... truly a gift. I see plenty of businessmen in Boys' Love but Owal's art just really hits the spot y'know? Just the right amount of chiseled... Anyway... This manga has hella energy! It never really stops to take a break (not that it needs to) and just keeps going like a record-holding roller coaster. Nonohiko is the pure, innocent, virgin boy who's just entered a house of MEN. I say men, there's really only one man that's out to dirty Nonohiko's purity, and that the beautiful, sex crazed Hibiki.
The story starts off pretty intense, with Hibiki mistaking Nonohiko for a call-boy he ordered, but then they hit the 'oh we actually like each other' part and it gets strangely wholesome (but still hot and sweaty as heck) and you find yourself furiously flipping pages so you can reach the next bang-fest.
"Our House" really manages to pull off a smut heavy story, whilst keeping the relationship sweet and interesting to follow, which a lot of smuttier series struggle to do. Also, inverted nipples. That is all.
Blindside Date
Posted on Nov 25th / Genre: Harlequin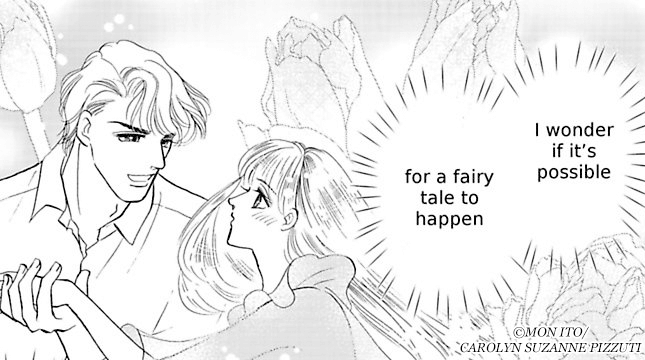 Quin's comment
Jayde and Garrett couldn't be more different. Garrett is a playboy lecturer and partygoer who is always surrounded by women. Jayde is a serious, diligent student who focuses on helping the less fortunate... and she's never been kissed! In contrast to the flirtatious Garrett, Jayde is saving her first kiss for the man she will marry. In a shocking turn, the two of them are invited to appear on a reality show about a blind date, and the promise of a fun raising segment to support Jayde's social work persuades her to take the offer. Throughout the course of the show, the two learn that while they may be complete opposites on the surface, they learn that they have more in common than they initially thought. This story shows that first impressions are not always reliable, and people are much more complicated than initial appearances. It also shows that differences between two people aren't always a deal breaker and can sometimes even help bring people closer together. You will definitely enjoy this story if you enjoy rooting for people to overcome their differences, and their own difficult pasts.
Sorry! Everyone's Favorite Prince Is No Longer Innocent
Posted on Nov 18th / Genre: Shojo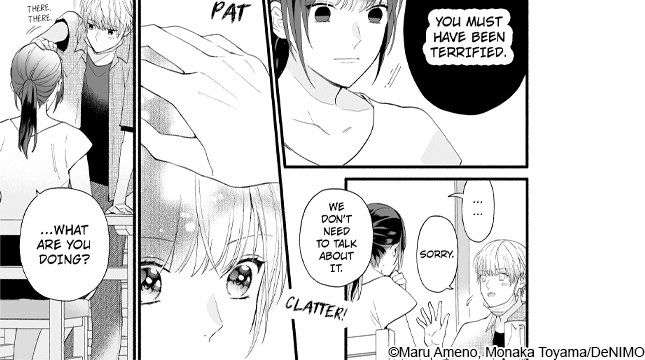 Jo's comment
Yoriko is a talent agent struggling to find new talent for her agency on a lonely Christmas Eve night, and that's when she stumbles upon high schooler Taichi crying alone on a park bench. And he's got the perfect face she was looking for! The pair soon bond over drinks (non-alcoholic in Taichi's case of course!) and Yoriko convinces Taichi to dip his toes into the pool of stardom. However, it's not exactly so easy for either of them. They have their fair share of failures, but they rely on each other through thick and thin. After seven grueling years, Taichi has finally become a household name, and he has Yoriko and her constant advice to thank. There's just one problem: Yoriko made sure that Taichi stayed pure and avoided the dark backroom deals common to the biz. Partly because of that, Taichi's never had his first true experience with a woman! He blames Yoriko for missing out on this important part of his life and wants her to help fix it!

Yoriko and Taichi are both so cute, and watching the two of them grow together through their hardships is really heartwarming! Their will-they-won't-they nature will keep you reading, hoping for something to happen between these two good friends and confidants. This prince may not be innocent, but it doesn't stop this manga from being a sweet read!
View Previous Staff Awards