The Wedding Garden
Posted on Jun 9th / Genre: Classic Romance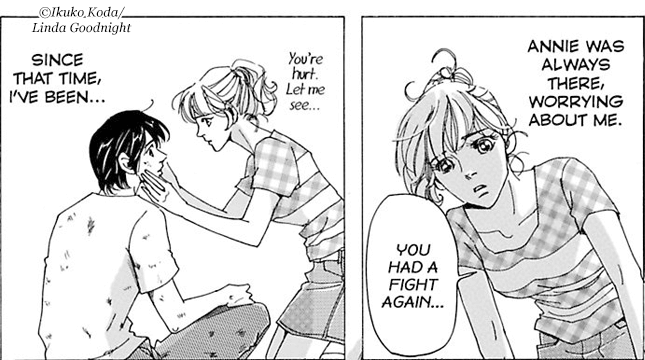 Quin's comment
Sloan's father murdered another man over gambling debts, and the resulting shame and gossip from the townspeople turned him into a bit of a rebel as a teenager. After his mother disappeared, Sloan went to live with his aunt Lydia until he was eighteen, when he left town due to his girlfriend's father, the police chief, threatened him with false legal action if he didn't leave. Twelve years later, Sloan visits his sick aunt and finds that his ex-girlfriend, Annie, is treating her as a nurse. Annie had gotten married and divorced, and has a son named Justin who bears a striking resemblance to Sloan. As Sloan and Justin work on restoring Lydia's garden together, they both begin to wonder about Justin's true father. As Sloan and Annie rekindle their feelings from years ago, Sloan begins to wonder about things from the past, in particular his mother's disappearance. He was told she eloped with a truck driver, but never contacted him afterwards. Sloan's hunt for the truth reveals what happened to his mother and why the police chief hated him so much but threatens to destroy his relationship with Annie and her son... or perhaps their son!
Want to Come to My Place Tonight? -Falling in Love with a Widower-
Posted on Jun 2nd / Genre: Shojo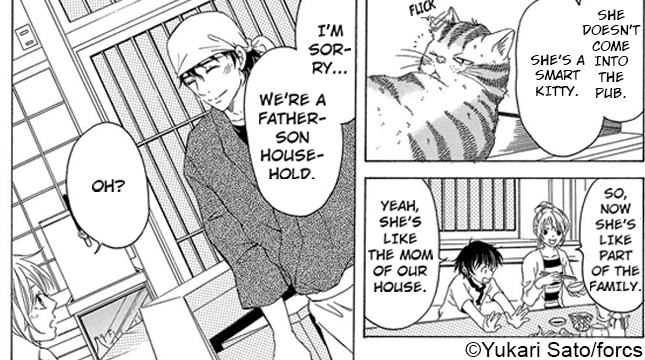 Jo's comment
It's easy to wonder what would happen if one small thing in your life were to change, and the little decisions we make along the way that can lead to huge results. And for Atsuko, she suddenly finds herself making a brand-new friend just by finding a cat lying motionless in the middle of the road. When she tries poking it with a ruler to see if it's alive, she's immediately noticed by the cat's young owner... and mistaken for a cat-napping thief! The boy, Tomo, gets his father, Ryo, and he takes her right to the police station over this huge misunderstanding. Once things are cleared up, Ryo apologizes for the embarrassment he caused and invites Atsuko over to the pub he owns for a meal. It turns out Atsuko is a new kindergarten teacher at the school Tomo went to, and the two of them live alone with Kosuke, their life-changing kitty. And, it also turns out that Ryo is exactly Atsuko's type! Tomo seems to have attached himself to the new teacher as well. But, this isn't just a happy-go-lucky story about a chance meeting. For Tomo and Ryo, losing someone important to them to illness has greatly affected their lives, and the author does a great job of exploring the emotions of loss Ryo and Tomo are going through and how the two of them are coping. Atsuko also must come to terms with whether it's okay for her to just insert herself into the lives of another family. In addition, as Ryo happens to be quite the cook, you can look forward to a new delicious recipe to try every chapter! If you like great writing and more cat matchmaking antics, you'll fall in love with this story!
His Secret Life as a Fake High Schooler
Posted on May 26th / Genre: Yaoi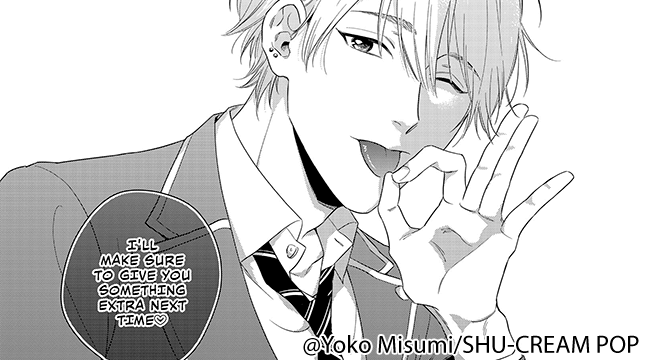 Yao's comment
Everything about Takashiro's life is perfect. He's handsome, has a good job, and is capable and loved by his peers. He has one secret, however, that ruins his facade of being an upstanding adult: he can only get off to high school boys. For this reason he finds a club that offers 'special services' by high schoolers (well, legal adult men dressed as high schoolers) where he meets Haru, and their cat-and-mouse relationship starts there. While on the surface this seems like a very normal dirty yaoi manga centered around its character's fetishes, it actually digs pretty deep into how past trauma affects your preferences and relationships later in life. Both Haru and Takashiro have dealt with pain that has led them to this point--and to meeting each other. This manga has just the right balance of not only eroticism and plot, but also sweet, silly content and heart-wrenching drama. The characters are easy to understand and sympathize with, made even better by Yoko Misumi's highly-skilled and detailed art style. Not a yaoi manga you want to miss.
The Crimson Kitty And The Forest Watchdog
Posted on May 19th / Genre: Mature Romance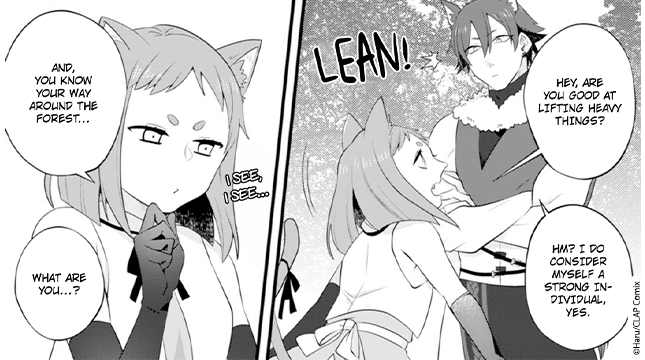 Candi's comment
If you like fantasy romance stories, you might've already read one of our hit series "Hana and the Beast Man", but did you know about one of our other awesome fluffy-eared series? If you like big beast men and cute kitties, then this one's for you!
Misha is a cat girl who's just got herself a new place, though for a new place it's looking a bit run down! She's already started work on fixing her pad up, but renovating a whole house is a bit much for one kitten. While she's out taking a look around the forest next-door, she happens to walk into (get scared half to death by) a passing dog man, Hati, who has no place to stay. Not about to let a potential helping hand get away, Misha offers Hati lodgings in return for his help with the house. Everything seems to be going perfectly! But, Hati starts acting strange one night... and, is that a full moon...?
This series is hella cute, though it does get off to a rougher start than expected in chapter one. Don't let that scare you off though, 'cause romance starts blooming before you know it. It's interesting to see the approach the series takes in regards to the in-universe taboo of interspecies relationships and families, and the heartwarming message of acceptance that the couple and their friends represent. You'll be sad to leave these guys when the story ends, but you'll definitely be glad you joined them for the ride.
The Third Kiss
Posted on May 12th / Genre: Classic Romance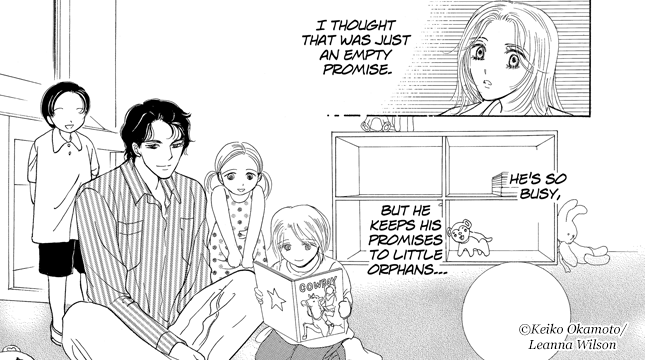 Quin's comment
Brooke Wilson is the lucky one millionth customer at Cutter's, a clothing store in Texas. The CEO, Matt Cutter, presents her with several prizes, which she turns down as she lives a simple life. However, she accepts the final prize, a brand-new convertible, but asks for a van instead. She wants to donate the van to the orphanage she works at, to be able to take children out for picnics. Meanwhile, Matt's grandma is in poor health and wants nothing more than to see him get married and find happiness. Feeling that Brooke wouldn't try to go after his money, Matt devises a plan to enter a fake engagement with her to please his grandma. She initially refuses this offer, but after her mother persistently tries to set her up with men, she agrees to the plan to get her mom off her back. Matt's grandma only has two months to live, so they plan to break up the engagement at that point, but she pushes them to get married as soon as possible! Matt and Brooke must find a way to break off the engagement immediately, but it turns out to be harder than they expected. Furthermore, they are falling in love with each other, unbeknownst to the other party. Will they realize their feelings for each other before it's too late? This story is sure to make your heart race!
Co-meow-nication
Posted on May 7th / Genre: Shojo
Jo's comment
It's no secret that cats make up a large part of the internet economy, and we here at Renta! are not immune to a little squeeing and aww-ing over these cute little furballs (or at least, I'm not...) But, what if our furry friends could not only talk, but walk around and help out around the house? Well, this comic collection sets out to answer that question in the form of short little vignettes primarily starring four different bipedal, clothed cats and their human partners, each with their own very distinct personalities. For example, hard-working businesswoman Mari always has to clean up after her curious and clumsy well-meaning tabby, Shizuka, who can't wait to spend more time with his favorite person. On the other hand, Kyo, a fashionable Norwegian Forest Cat, ends up doing most of the fretting, housework, and decision making for his human housemate, the happy-go-lucky thrill-seeker, Hitomi. Thankfully, for a world inhabited by cat people, the story doesn't take itself overly seriously, and most of the stories revolve around a simple conflict that illustrates the difficulties of being a cat in a human world. But, these cats aren't just pets! They all want to prove that even though they aren't accepted by the world at large, they want to do their best to take care of their less hairy companions! And maybe even... fall in love! If you're looking for a fun fantasy read jam-packed with stories focusing on the everyday life in a "what if?" universe, with a bit of mystery and a whole lot of cuteness for good measure, check out this three-volume series!
Goodbye My Accomplice
Posted on Apr 28th / Genre: Yaoi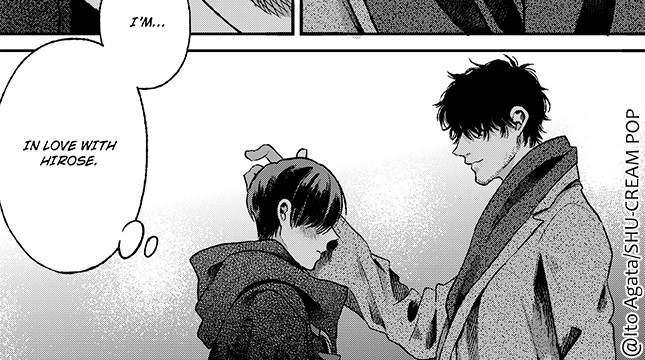 Yao's comment
If you're interested in taboo age-gap love stories with a bit of a dark tone, Goodbye My Accomplice is the perfect choice for you. Hajime is the gifted and polite son of a famous car manufacturer, but for as many awards and as much money as he's had heaped on him his whole life he's known nothing but loneliness. His peers keep him at an arms length, and his teachers soullessly pamper and dote on him, all to make sure they don't cross his father. When he meets a middle-aged man named Hirose squatting in an abandoned apartment complex, he may have found a criminal (who's to say?) but he's also finally found a companion who treats him like a normal human being. As they get closer he finds himself romantically drawn to Hirose, who tries not to let his own feelings get the best of him as he becomes attracted to a boy much younger and much less jaded by the world. So what is he to do when Hajime announces he wants to run away with him? Goodbye My Accomplice is a brilliant slow-burn romance that deals with isolation and social pressure to always play the part assigned to you. Mixed with Ito Agata's lovely, expressive artwork, it's a joy to read even if it can be a bit hard-hitting at times, and she makes she to include just enough sensuality and comedy to lighten the mood when necessary.
Bondage, Discipline, and the Seductive Young Man
Posted on Apr 21st / Genre: Mature Romance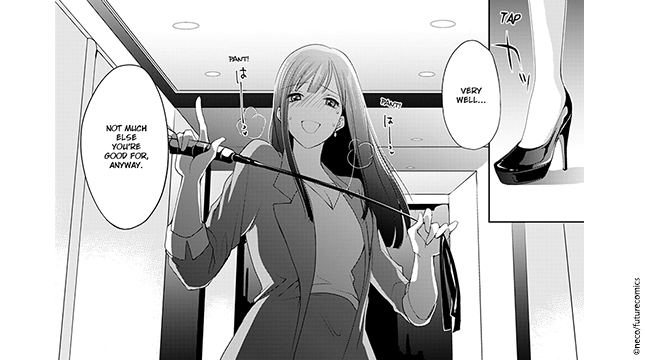 Candi's comment
Well, I guess I'm a masochist now. This series does things to you...
Minato Kashiwagi might seem like a successful, career driven office worker on the outside, but she's got something else going on underneath. With an eye for spotting masochistic guys, Minato is the dominatrix of the office with more than a few men under her thumb. The young, new intern in the office, Towa, seems like he'd be a nice addition to her collection, and she goes in for the kill at his welcome party. It turns out though that this weak looking newbie is quite the wolf in sheep's clothing, and it looks like it's finally Minato's turn to be dominated!
Towa is clearly an expert when it comes to teasing and tempting, and what really got me about this series was how I felt like he wasn't just toying with Minato but toying with me, too. Sometimes he'd just stop in the middle of the hot action and instead of feeling disappointed, I found myself flicking through for my next fix. This is honestly one of the hottest manga I've read in a while and with nice art and some fun little story twists to back it up, I can't recommend this series enough!
Million-Dollar Love-Child
Posted on Apr 14th / Genre: Classic Romance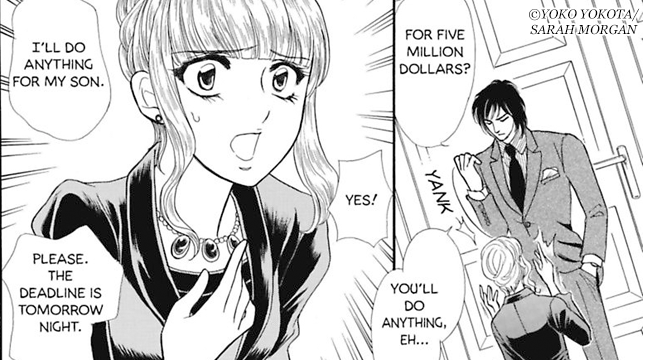 Quin's comment
Oh, what a wild ride this story was! Kimberly and Luciano met in Brazil 7 years ago, and after a short fling they broke up when Kimberly discovered he was seeing other women. However, she later discovered she was pregnant with his child, but he wouldn't give her the time of day to explain the situation. Seven years later, Kimberly receives a threatening letter demanding five million dollars, or the mysterious sender will kidnap her young son. Despite keeping the father's identity secret, the culprit knows that it is Luciano, an extremely wealthy businessman in Brazil. Kimberly travels to Brazil from England to see Luciano and ask for help, finally revealing that they have a child together. Luciano, however, thinks it's a scam and she's just after his money. Finally, he agrees to help, but on one condition; Kimberly must stay with him on a secluded island for two weeks! You can imagine what they'll be up to. She says she'll do anything for her son, but will she do that? You'll have to check it out to find out, but I'm confident it will be worth your time. This story has a lot of depth to it, and I found it to be a very enjoyable read. I'm sure you will, too!
Spring Snow Doesn't Melt
Posted on Apr 7th / Genre: Shojo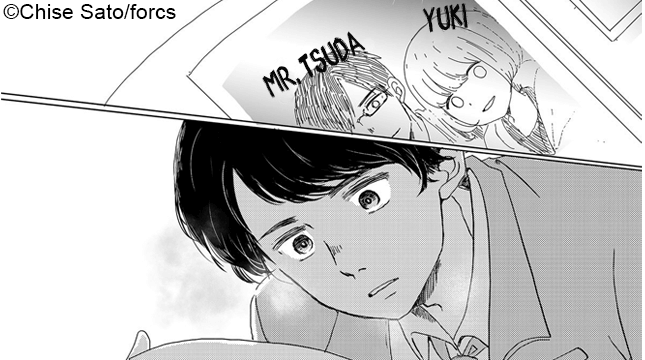 Jo's comment
Are you buckled up nice and tight? Because it's time for a school feels trip! Right off the bat, our story starts in unhappy circumstances, with our heroine, Yuki, coming back to her countryside hometown after getting her teaching license in Tokyo. However, this isn't a friendly call. She's here to mourn the sudden loss of her high school teacher, Mr. Tsuda, who passed away in a car accident. But, Mr. Tsuda left quite an impression on Yuki. Throughout high school, she could barely hold back her crush on him, and he was her reason to want to become a teacher in the first place. And, he also left behind a son, Ritsu, who looks exactly like his father. Ritsu had lost his mother at an even younger age, and now that he's going into high school, he finds himself drawn to Yuki the same way she was drawn to his father. This story is great at showing various reactions to trauma, from Yuki's outward expression of grief to Ritsu becoming more and more emotionally withdrawn. As the story goes on and jumps through different periods, we see how these two characters' paths parallel each other, and diverge over time. If you're looking for a beautifully drawn story perfect for a melancholy rainy day, look no further than "Spring Snow Doesn't Melt."
The Warmth of Those Left Waiting
Posted on Mar 31st / Genre: Yaoi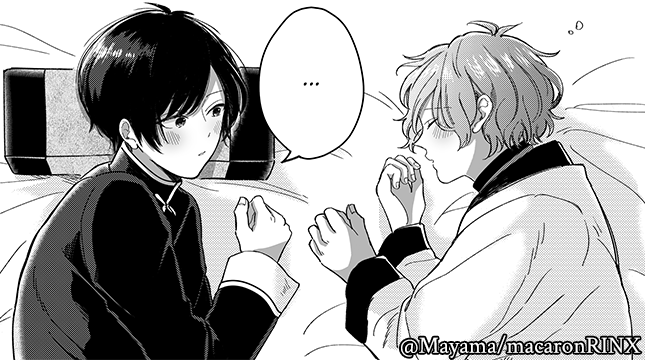 Yao's comment
The Warmth of Those Left Waiting is an incredibly sweet, simple story about two lonely young men finding each other. Suu is from an aristocratic family in the capital, and has never known what it's like to long for anything. He's constantly obedient to his family, and knows little about society and how to socialize, so he's sent to stay with a scholar who'll teach him the ways of the world. Ahn, on the other hand, was orphaned at a young age and spends his days working to support himself. When he delivers goods to Suu's household, Suu's teacher sees it as an opportunity to introduce him to someone his same age to improve his social skills. The two quickly grow close, and develop unexpectedly intense feelings for each other. The story itself is very simple, only grazing the surface of the deeper loneliness both boys have suffered. But I feel that's the appeal?sometimes you just want to read something gentle and easy and fluffy, and this story very much delivers on that front. Mayama's art is lovely, and both Suu and Ahn are such sweet characters that it's hard to not feel touched by their love for each other. The story also has a nice historical setting which adds to the fantastically gentle themes and atmosphere.
An Extramarital Quartet -The Detective and the Wife-
Posted on Mar 24th / Genre: Mature Romance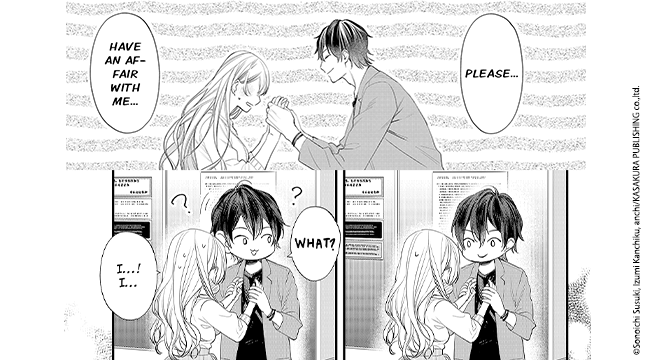 Candi's comment
It's got humor, drama, great characters, and hot (consensual!) sexy times. "An Extramarital Quartet -The Detective and the Wife-" really has the whole package and is for sure one of best mature romance manga I've read.
Not long after marrying a handsome doctor, Mika Asukai has already found herself hiring a private detective... but she doesn't want him to investigate her husband. No, she wants him to sleep with her! But, why on Earth would she want that!? Well that's where the story get's interesting...
You can't say too much about the plot of this series without spoiling it, but hopefully the promise of very twisty twists is enough for you to give it a chance!
Our detective Rei is simultaneously a genius and a loveable dope, and Mika is just the sweetest girl who you can't help but root for. Even the "bad guys" in the series are relatable and come off more as screw-ups than bad people, making the whole story feel very human.
The steamy sex scenes are really just the icing on the cake here.
The Last De Burgh
Posted on Mar 17th / Genre: Classic Romance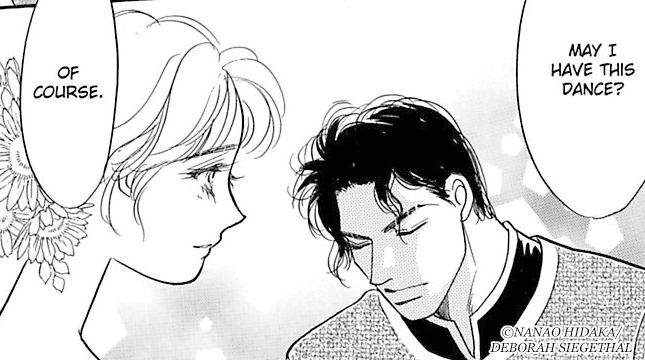 Quin's comment
Nicholas de Burgh is a knight from the powerful de Burgh family. One night, a scuffle breaks out at a sketchy inn he's staying at, and he rushes to the aid of the victim, but he's knocked out by a sneak attack. Curious about what happened, he goes to investigate and meets the victim's twin sister, Emery, who is disguised as a man. They set out together to find her brother, and Nicholas starts to develop feelings for Emery despite thinking she's man, which confuses him. As they learn more about Emery's brother, they learn that he was involved in something much more complicated and dangerous than they originally thought. On top of that, Nicholas has a secret of his own that he can't afford to let slip. How will Nicholas confront his feelings, and will Emery's brother be saved? Give it a read to find out!
Servitude to Master Ur -Auctioned in a Distant Land for a Million Dollars
Posted on Mar 10th / Genre: Shojo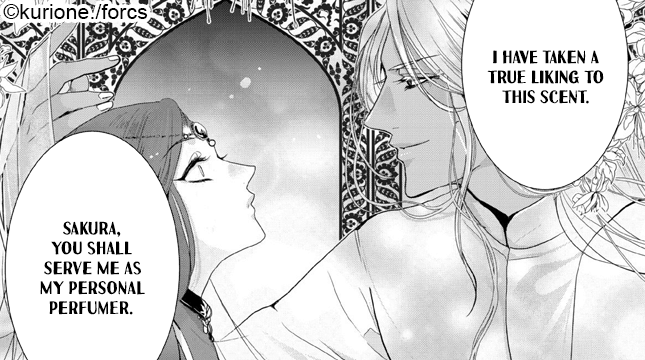 Jo's comment
Sakura just wanted to take a relaxing vacation to Dubai so she could check out the latest in aromatherapies for her beauty therapy business, but her trip couldn't end up going more wrong! When she witnesses a murder at a beauty salon, she's just as suddenly knocked out, kidnapped and auctioned off in Batra, a secret nation somewhere in the Middle East, for the sum of a million dollars (so far just as it says on the tin). And, it seems like Sakura's new owner, Urjiwan (or Ur, as he is known to the people of Batra) is only interested in her for her perfuming abilities. But, for some reason, he can speak Japanese, and Sakura is able to convince him of her talent as a massage therapist. Ur becomes more and more interested in his "Eastern beauty" and Sakura gets to stare a bit more at the tall, dark, and handsome man of mystery that she'll be serving... I guess the deal could be a bit worse. After all, Ur is kind to his servants. But, the land of Batra is lurking with all kinds of danger... This story hits all the right points of action, mystery, and of course, a bit of sensuality. Sakura and Ur's relationship slowly builds up as the two of them learn more about each other, and Sakura figures out how to survive as a stranger in a strange land. Don't forget to check out the detailed, lovingly-drawn backgrounds!
Navy Blue
Posted on Mar 3rd / Genre: Yaoi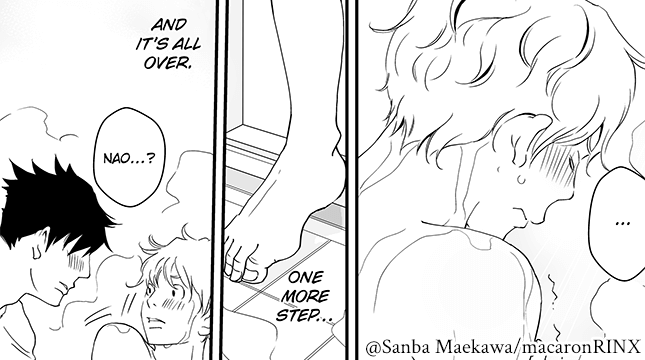 Yao's comment
Navy Blue is the ultimate in sweet, silly slice of life yaoi manga. The series revolves around the lives and relationship of Aki and Nao, two ridiculous high school boys who're childhood friends and have been in 'one-sided' love with each other for as long as they can remember. While it's a long series, it's not a slow-burn?the two confess their feelings early on (in a very cute, shojo-esque way might I add) and the following chapters simply follow their lovey-dovey life in which they try to spend as much time with each other as possible while also navigating the difficulties of being a young, gay couple: not being out to their friends and family, having social obligations outside their lives together, fending off love rivals, going to separate schools, and figuring out their future together. The series has its fair share of drama, and the pair do occasionally have spats, but Sanba Maekawa is good at keeping things sweet and light-hearted and resolving their issues quickly. Maekawa's art is simple and cute, and matches perfectly with the tone of the plot and characters. Definitely an ideal yaoi manga to relax and unwind when real life stress has got you down.
View Previous Staff Awards