Clavay's Keys
Posted on Oct 16th / Genre: Shojo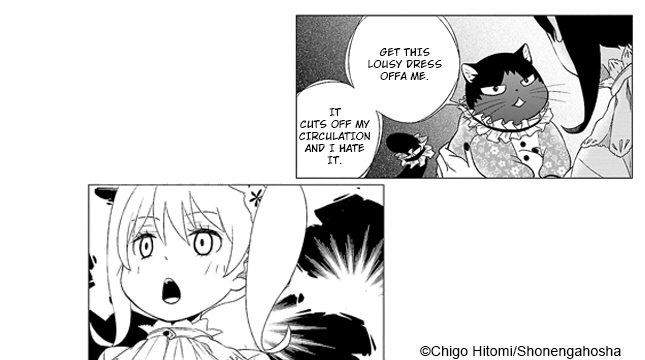 Jo's comment
Do you like cats? Do you like... talking cats!? If the answer is yes, then what are you waiting for? Check out this manga now!!

Okay, I guess I should talk about the story and stuff, too. Anna is a locksmith that lives with her mysterious cat, Clavay. Also, their locksmith shop is in a mystical dimension that only appears to those who need to unlock something. Pretty nice digs, right? Anyway, the manga is split into different short stories, all involving some kind of mystery or problem that somehow needs to be solved with a cat. And a lock, too. But, mostly a cat.
There are all sorts of different stories in this 200+ page volume, ranging from a girl who loves the piano but is jealous of a boy who plays better than her (and who also loves cats), a spoiled cat who hates the frilly dresses his owner puts on him, even a restless spirit who possesses a... well, you get the point. For those of you who prefer a bit of sweet romance, there's also a story of a boy who has a crush on a girl who likes his twin brother (and he has a really cute pet cat). If you like lighthearted adventure comics, check out Clavay's Keys for a story that's paw-sitively sure to unlock your heart and have you going, "Aww!"
Sadistic Boyfriend's Maid -Body Repayment Plan-
Posted on Oct 9th / Genre: Love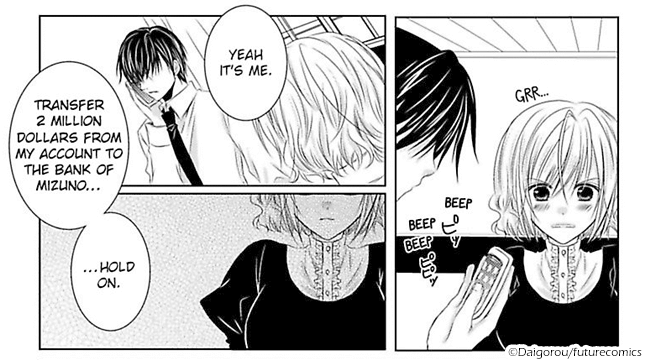 Candi's comment
This spicy one-shot features Rin and her master. Rin's worked odd jobs all her life to help pay off her family's debt. She's now working as a maid to an extremely wealthy, well-toned and attractive young man. One afternoon, he calls her into his private office and offers to pay off her family's debt then and there in full provided she do a little extra work for him...

If you're looking to spice up your manga bookshelf, you won't want to miss this one!
Twilight Vows
Posted on Oct 2nd / Genre: Harlequin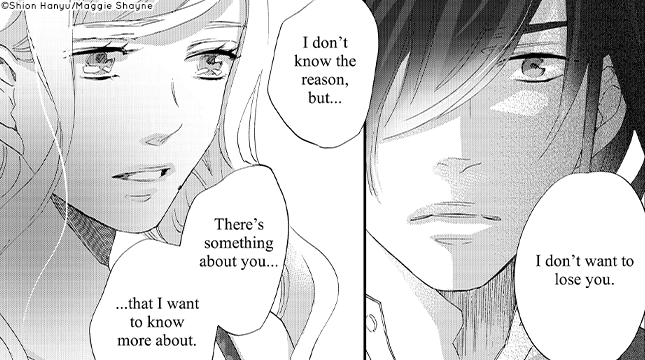 Quin's comment
Don't let the cover fool you! When I hear "vampire romance" I'm expecting something dark and saucy and racy, but this was anything but. I've read a fair share of vampire love stories, but this one surprised me in the best of ways. The story itself is simple and somewhat predictable, about a young woman who returns to her hometown to investigate vampire legends, and discovers that her "guardian angel" was a vampire all along. However, it never lets the reader down or betrays your expectations. It's a wonderfully tender and wistful love story between two people who yearn from a distance, one trying to let go but being unable to, and the other hanging onto anything she can to remember her love.
The female lead is a little bit of a damsel in distress, which is actually a trope I enjoy when it's done well... which it is here! She knows what she wants and is strong in her conviction and dedication, and never asks to be saved. The male lead is your strong-and-silent protector archetype, but not at all broody and possessive. Combined with soft, airy art that matches the dreamy atmosphere of the story, these characters are really hard not to like!
If you are a fan of modern vampire romances with a soft gothic touch and want something that deviates from the the edgy stereotype, you won't want to skip this one!
Star-Crossed Paintbrushes [Plus Digital-Only Bonus]
Posted on Sep 25th / Genre: Yaoi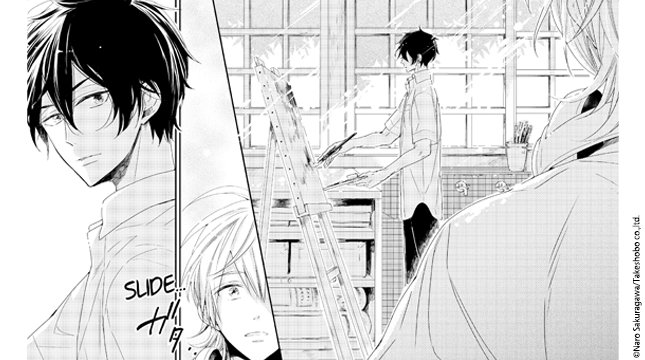 Yao's comment
If you like slow-burners, this one's for you! Although the couple technically get together pretty early on, their relationship doesn't really become whole until the later chapters, leaving us to enjoy the slow build up throughout the story.
This is not a smutty series, but rather an emotional journey for both characters, where we get to see them overcome some serious crap they've got going on, both personally and in their relationship. Though if you're into smuttier stuff, there's some really nice extra chapters at the end of the second volume that you might enjoy!
Although the focus is on the main couple throughout, I appreciated the world building that was present, and the fact that side characters weren't just throw-aways and actually had some presence in the story. It's refreshing to find a series not based in a city as well, and the small island aesthetic really suits the themes of loneliness and finding oneself that are heavily present. Not to mention the fact that the outside scenes really show-off the beautiful artwork!
Summertime Blues
Posted on Sep 18th / Genre: Shojo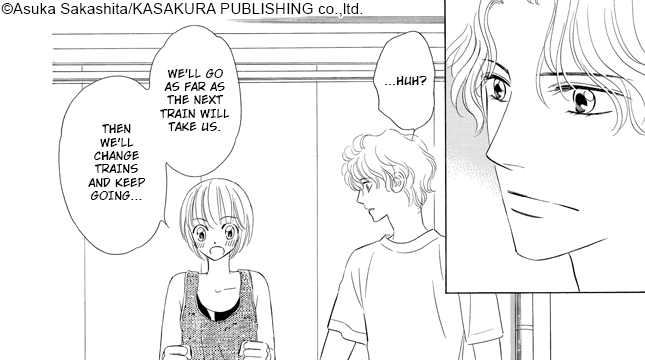 Jo's comment
It's back-to-school time again, and for many people, that means new opportunities, new friendships, and maybe even new love. But, for Chika, when she looks back at her high school memories, all she can think about is the one who got away: Kataru, her classmate and first crush. One summer, she was able to get close to him, but then somehow it all fell apart...
This story takes place with the past and present interspersed. When Chika happens to run into Kataru for the first time six years later, it's as if those summer memories from all those years ago have bubbled up to the surface and are reaching up to a slow boil. And that's exactly what Asuka Sakashita is great at doing in this story! Each chapter starts out leaving you wondering what will come next, and slowly builds up to a heart-pounding climax, only to leave you hanging for the next chapter. I admit I couldn't put it down myself without reading everything in one sitting!
Chika and Kataru, as well as Kataru's younger sister Yuki, are really interesting and fleshed-out characters who react to the manga's themes of love, despair, loss, and change in realistic ways. Both of them deal with sadness and pain differently, and the story takes some surprising turns as their relationship develops! Just because summer is over, it doesn't mean you have to be sad. Check out Summertime Blues and cure your own malaise!
From Booty Call to Girlfriend
Posted on Sep 11th / Genre: Love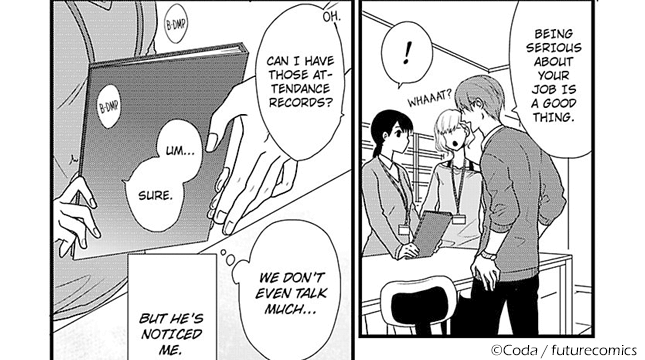 Candi's comment
Aoi Nishino is a part-time professor at a graphic arts and design college. She's earned herself the reputation of being an uptight teacher among the students. Eri Maeda, her newest colleague, tells her to loosen up and dress more casually. Sosuke Miura sticks up for her, and that's when we first find out that Aoi has the hots for him. Sosuke later tells Aoi that he's planning the yearly full-time-staff-only party and wants to invite her this year. Aoi jumps on the opportunity, thinking it'll give her the chance to get to know him better. At the party, Aoi and Sosuke are seated right next to each other and get to talking. Things seem to be going well, but Aoi doesn't get her hopes up. They decide to skip out on the after party, and on the way home, Sosuke admits that he's got a little liquid courage, so he asks Aoi to come back to his place! Will Aoi accept his invitation? Read on and find out in the latest series from Coda, author of bestselling Artist And The Beast!
It Starts from the Inside
Posted on Sep 4th / Genre: Yaoi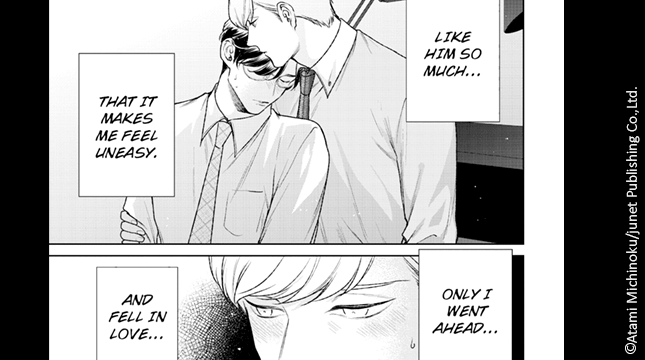 Yao's comment
OH MY %$%$!! I truly regret hopping on the Atami Michinoku wagon so late! This manga was everything I could have asked for! Beautiful art? Check! Amazing, erotic sex scenes? Check! Fleshed out characters with actual personalities and a solid story to match? Check!
The two main characters are colleagues who start off with a physical relationship and the story doesn't take its time to showcase the main fetish of the manga, urethra bougies. The story does admittedly begin in a stereotypical office-yaoi way and visits tropes such as share-a-room-on-a-business-trip, but it soon guides us deeper into the minds of the two protagonists, who dance around their developing feelings.
I love that the bottom seems to have less control in bed, but more control out of bed, and vice versa for the top, and the two have a mature, consensual relationship that they constantly test the boundaries of, for better or for worst. I really found myself rooting for them to end up happy, and I hope you do too!
The Taming of Xander Sterne The Twin Tycoons II
Posted on Aug 28th / Genre: Harlequin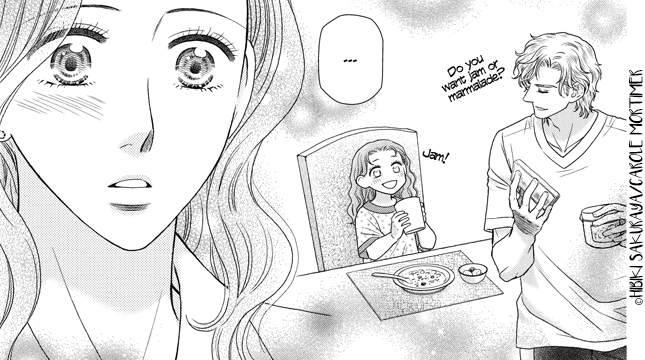 Quin's comment
I reached for this volume despite not having read the previous installment in the series, and I'm really glad I did! Although the protagonists from another book feature as side characters, this story is a stand-alone, so don't let the fact that it's a series discourage you! Something tells me that I'll have to read the previous volume though, seeing as this one exceeded my expectations.
At a glance, this manga seems to be a typical story of a playboy falling in love with an honest and pure-hearted lady, but there's more than a touch of uniqueness to it. Both the hero and the heroine have some heavy burdens to shoulder, and their struggles feel almost uncomfortably realistic. Xander's battle with his childhood trauma and attempts to overcome being a victim of abuse are both heart-wrenching and moving. Sam, on the other hand, is fragile yet strong, willing to do absolutely anything for her daughter. Watching those two come together and observing how they work out their differences is the best part of the reading experience, although the beautiful art certainly makes things even better! Whole-heartedly recommended!
I Hate Romance Comics!
Posted on Aug 21st / Genre: Shojo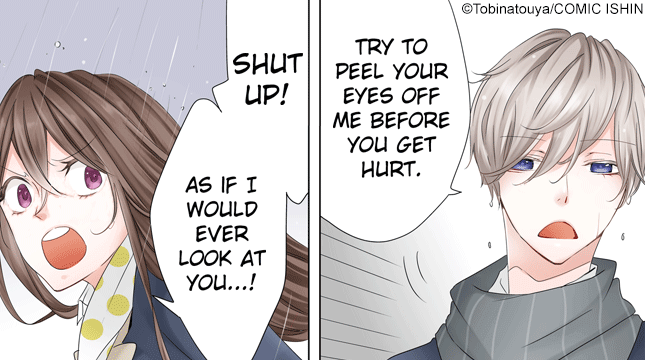 Jo's comment
I'm sure if you try hard enough you could easily name a laundry list of romance tropes: stuck in a sudden rainstorm together with your crush, bumping into him on the street with your half-eaten breakfast, getting stuck at the nurse's office together...

But, Momoko Akashi wants nothing to do with any of that! For her, romance comics are tied in with the worst day of her life. After that horrible day, Momoko swore that she would never touch another romance comic ever again. But, her friend is sick of her constant badmouthing and "curses" her: Momoko is forced to find love in the most "romance comic" way possible with the first boy she sees! It's happily ever after whether she likes it or not! And, guess what, it's none other than Aiji Aoto, the boy she absolutely hates!
Despite all the crazy situations Momoko finds herself in with Aiji, she's determined to stay strong and not lose to her stupid curse. Besides, there's no way the curse is even real, right!? Will she succumb to her sweet happy ending after all? Don't be a hater and check it out for yourself!
Intensive Care
Posted on Aug 14th / Genre: Love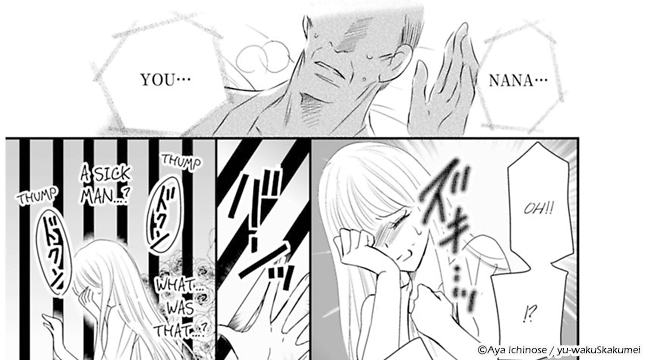 Candi's comment
On her way home from a wedding dress fitting, Nana Hiiragi is involved in a terrible accident in which she loses her memory. When she awakes in the hospital after having a nightmare, she finds herself surrounded by two men she doesn't recognize. One is Dr. Yaotome, and the other is her fianc?, Yusuke Kogami. Nana tries her best to understand how she could've fallen for the rough-around-the-edges Yusuke and can't help but feel afraid of him. One night, a sick man flashes before Nana's eyes. She feels like she knows him from somewhere, but can't recall where. She tries to go out in search of him, but is stopped by Yusuke. Yusuke tells her she's become meeker and that he prefers her this way. What on earth was Yusuke like before she lost her memory? Will Nana recover her memory and discover who the sick man is? Read on and find out!
View Previous Staff Awards