Can't Take My Eyes off of You
Posted on May 27th / Genre: Love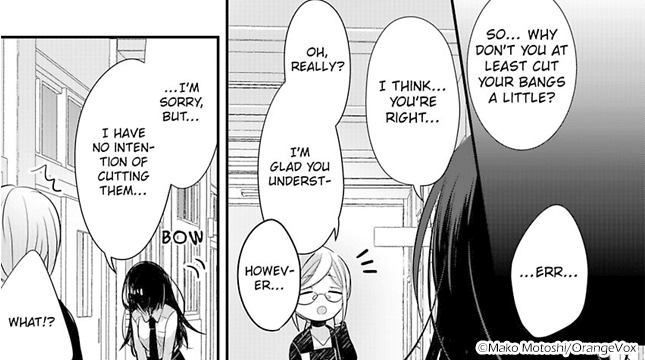 Candi's comment
Satomi finds herself in a new living arrangement when her father remarries and she gains a stepbrother, Yoshikazu. Her relationship with Yoshikazu is rather rocky. They hardly talk to each other at school, let alone at home. Yoshikazu is extremely popular at school, constantly surrounded by friends and classmates, and is always being hit on by girls. Satomi, on the other hand, struggles to even make any friends because she is rather gloomy and hides her eyes with her bangs. When a teacher suggests she try cutting them, Satomi refuses, recalling her father saying she "looked like her." One afternoon, on his way home from school, Yoshikazu and his friend, Maki, are caught in a sudden downpour. Yoshikazu invites Maki back to their place and offers him the shower and a towel. Maki enters the bathroom and hears a thud from inside the shower. He's startled to see Satomi step out wrapped in a towel. He panics and falls on Satomi. He feels something soft, and realizes he's grabbing her... what!? Read on and find out what happens next!
Minor Monster Panic
Posted on May 20th / Genre: Yaoi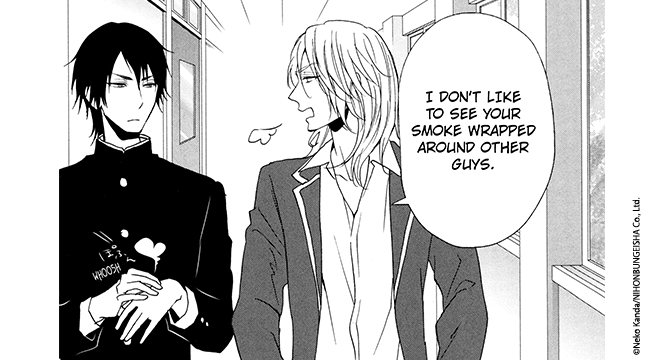 Yao's comment
In this world, humans possess a power known as "Divine Protection." These divine protectors take the form of demons, gods, and spirits, among other things, though they often aren't very powerful. However, some individuals, like Kojiro Suzuki, are particularly strong and attend special schools for kids with powerful protectors. Kojiro's protector is the fire demon god Ifrid, which allows him to manipulate smoke, a power strong enough to get him put on the school's Discipline Monitoring Committee. Alongside him on the committee is Chairman Lauri Asagiri, who's protected by the water god Leviathan, and perhaps more importantly has a huge crush on Kojiro! But when fire and water mix, will things get steamy? There's only one way to find out...!
A sweet rom-com with a fantasy twist, the "Divine Protection" setting not only adds a little more flavor to this school-based story, but also provides an excuse for making flaming hot protagonists! Although there are some sexy scenes towards the end, this is more of a light-hearted read for anyone interested in some beautiful boys and easy laughs.
A Bride for the Holidays
Posted on May 13th / Genre: Harlequin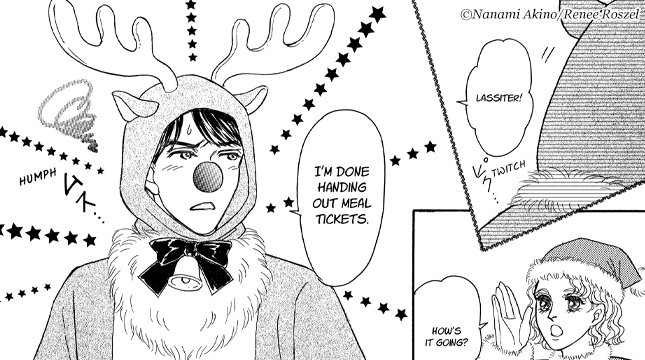 Quin's comment
Have you ever wanted something in life that just seemed too impossibly out of reach? That's the dilemma that our main character, Tricia, finds herself in at the start of this adorable manga. Her dream of one day opening a unique pet grooming service seems unattainable. But, when she accidentally spills coffee on a rich businessman at her waitressing job, her whole world is turned upside down. He needs a fake bride, and she needs a loan for her business. I think you can see where this funny and charming manga is going to go! Along the way the businessman's cold heart begins to thaw and their romance blooms. The main thing I loved about this manga was how it kept things light while also staying serious. For example, there's a hilarious scene where they dress up as Santa and a reindeer to do charity work. It's heartwarming, it's hopeful, and it touches on the fundamental desire we all have to start over and be the best version of ourselves that we can be. Pick up this touching manga and treat yourself!
The Demon's Bride -Marked as His Prey by the Seal on Her Body-
Posted on May 7th / Genre: Shojo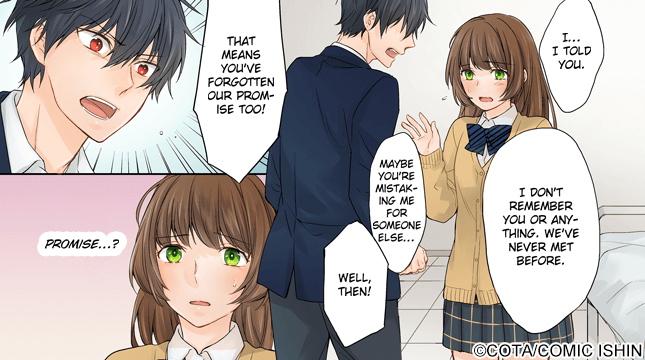 Jo's comment
Sometimes we need a bit of spiciness in our shojo, and this manga is a nice little dab of tabasco on the palate! Our story begins with high schooler Rin, after she wakes up from another recurring dream she has of her childhood. It seems she made a promise with someone, but what was it again...? No time to think about it now, she's gotta get to school! After saying goodbye to her older brother, the only real parental figure left in her life, she makes it to class. Seems there's a new student here today, Suo Kusa, and with his piercing red eyes and forceful demeanor, he doesn't exactly seem like the friendliest guy around. He goes right up to Rin and introduces himself as her fiance, and tells her they're old friends who made a promise to marry when they were young! But, Rin has no recollection of ever knowing anyone like him! Is Suo mistaken about their promise? But, the strange "birthmark" on her neck has been getting darker recently... and her brother seems none too happy to see Suo! What could be the cause of the bad blood between them? Could Suo really be the demon that he says he is!? This beautiful, full-color manga is full of action, suspense, and of course, a pinch of mystery. I guarantee if you read it, you'll fall under its spell just as much as I have!
Pampered by the Young Wolf -It's Your Fault for Seducing Me-
Posted on Apr 30th / Genre: Love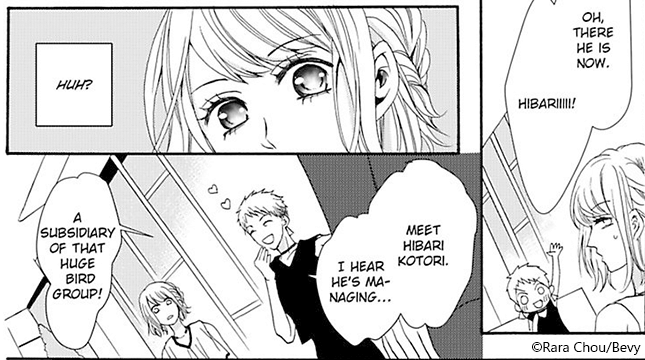 Candi's comment
Kiriko, a 29-year-old office worker, visits her parents every month. Every time they ask her when she'll get married and start a family. She's kept her head down and tried to stay focused on her work. One day, she's approached by a young man on the street who professes his love for her. Afraid it's a marriage scam, she runs away. Later, her mother calls Kiriko and informs her that she and her father have arranged a marriage partner for her. Who should show up to the arranged meeting but Hibari Kotori - the very man who professed his love to her on the street! Kiriko decides to have a night of fun with him, and leave it at that. The next day, she shows up to work in a cheerier mood than usual. Her coworkers notice her change in demeanor and appearance. She's called into a meeting later that day, only to find it's with... Hibari!? What will Kiriko do? Read on and find out!
Bodysuit Fetish [Plus Digital-Only Bonus]
Posted on Apr 22rd / Genre: Yaoi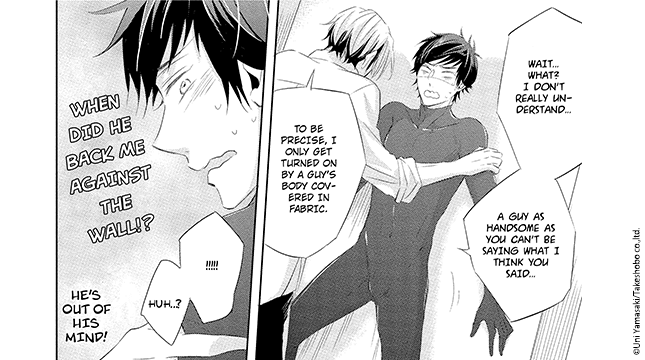 Yao's comment
There are two departments at Mishima Design Academy: "Fashion Design" where the cool kids hang, and "Communication Design" where the the... not cool kids hang? Yoji Kuroe is a graphic design student on the Communication Design side, and as someone who makes his own video games to sell at conventions, he considers himself super-not-cool. In an attempt to raise the sales of their next game, Yoji and his friends plan to get some hot guys from the Fashion Design department to cosplay as the game characters at the next convention. Fortunately, resident hot guy and design genius at the cosplay club, Toma Kishida, agrees to make the costumes, under one condition: Yoji has to "model" for him. Of course, this isn't just any kind of modeling, and as it turns out, Toma has a thing for bodysuits...
Lone Star Prince
Posted on Apr 15th / Genre: Harlequin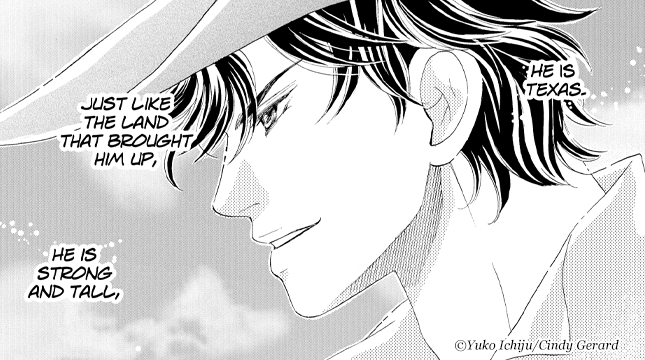 Quin's comment
This story starts out with a bang! The princess of Obersbourg is trapped in her own castle against her will. Suddenly her knight, or should I say cowboy, in shining armor appears to rescue her and her son. Wow. This book is thrilling, and it goes 0 to 60 in no time flat. Anna, the princess, is in hiding to get away from her murderous forced marriage fiancé, and Greg is a lawyer from Texas just trying to do the right thing. We learn about their long gone past together as well as a potential for their future. I loved this story. It's not often when a manga really grips me and won't let go, but this one is definitely a cut above the rest! Even though Anna is a princess, she is very relatable as a character. The things that she wants in life are the things that we all want. Aside from the human story, the action and drama in this manga never let up until the satisfying conclusion. If you're looking for something to warm your heart but also keep you on your toes, I can't recommend Lone Star Prince any more highly.
What's Mine Is Yours
Posted on Apr 8th / Genre: Shojo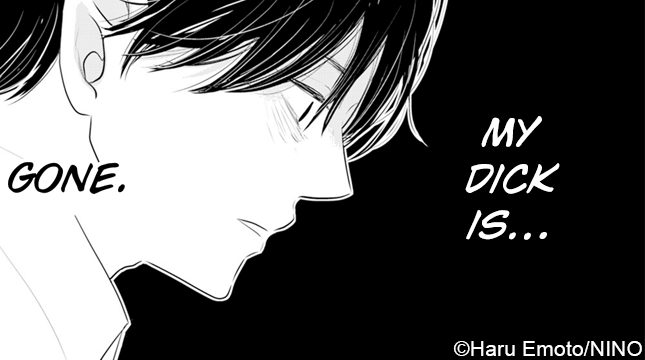 Jo's comment
I'm sure you've seen the fantasy stories where our two heroes switch minds... but how about one where they switch something a bit more personal? Kento is broken-hearted, but in some respects he kind of deserves to be. The two girls that he was dating were a bit surprised to find out that they both didn't have Kento's love to themselves. Meanwhile, Mari is stuck being the side girl for a married man. These two coworkers are basically complete strangers, but on their way to work, these two businesspeople absorbed in their worries absent-mindedly crash into each other in front of a roadside shrine. Later that day, Kento is taking a routine bio break, when he notices something strange... his little Kento is missing, and not only that, it's been replaced with a new part that definitely doesn't belong to him! And, to make matters even weirder, he sees Mari in the men's room... and she seems to have picked up what he dropped! This series is Hilarious with a capital H, but I love that it also knows when to balance serious moments as well. Can these two get used to using their new "toys"? Or will the shock of it all cause these two to stay at home forever? It's not exactly just a case of "finders keepers" here!
Just One Taste Isn't Enough! -Wanna Come Over Again Tonight?-
Posted on Apr 1st / Genre: Love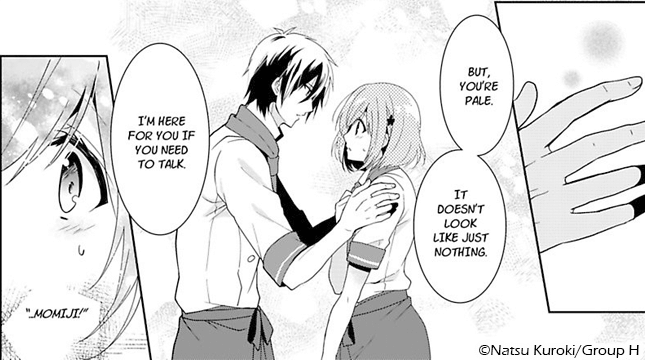 Candi's comment
Momiji Sakura's a run-away college student. She's hopped from job to job (and home to home) in order to survive. After her last job at a convenience store, Momiji begins working at a pastry shop. Momiji's coworkers tell her their boss, Yuu, is shy and moody, but Momiji finds him kind of scary despite his tall stature and good looks. Before she leaves her first day on the job, she decides to tell Yuu goodbye. She steps out onto the terrace and finds him completely absorbed in tending to the buttercup flowers. Momiji recognizes them and whispers their name to herself. She catches Yuu off guard, who turns around and looks at her. Momiji approachs him and tells her she's leaving. Yuu tells her their name means "Radiant Charm" in the language of flowers and adds, "just like you." Momiji's heart skips a beat. One month into the job, Yuu catches Momiji distraught on the phone with her friend. He offers to lend an ear, so Momiji opens up about her friend moving out and her no longer having a place to live. Yuu offers to house her. Momiji reluctantly takes up his offer. After a homecooked meal, Momiji comments on Yuu's flowers and tells him they remind her of him. Yuu jumps on her and kisses her! What will Momiji do next!?
Our After-Hours XXX
Posted on Mar 25th / Genre: Yaoi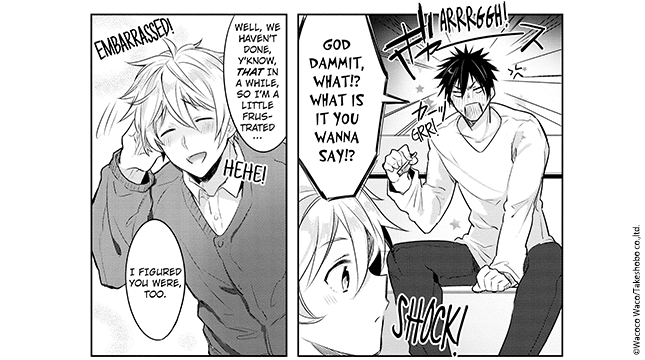 Yao's comment
A lead-programmer at a start-up company, Kaname was hoping that success would bring him girls and riches, but instead, he keeps getting stuck at work with new projects piling up. His only form of release is his co-worker, Yuki, with whom he has a special jerk-off-agreement (of sorts.) As Yuki starts moving around the back though, things start to escalate beyond a friendly ol' tug-of-war. Now, Kaname can't finish by himself, and it's all Yuki's fault! Fortunately, Yuki seems to be well prepared to take responsibility for his actions...
A simple story, but a very cute one! Kaname and Yuki's relationship is very wholesome from the get-go and only becomes more so as they move from being friends, to more than that. Despite his cute appearance, Yuki loves to play around in the bedroom, and the smut scenes are hella hot! (Perfect if you like small, aggressive tops.) There's an additional story at the end of the manga featuring the couple's two co-workers as well, which is just as sweet, and both stories get wrapped up nicely by the end.
Backwards Honeymoon
Posted on Mar 18th / Genre: Harlequin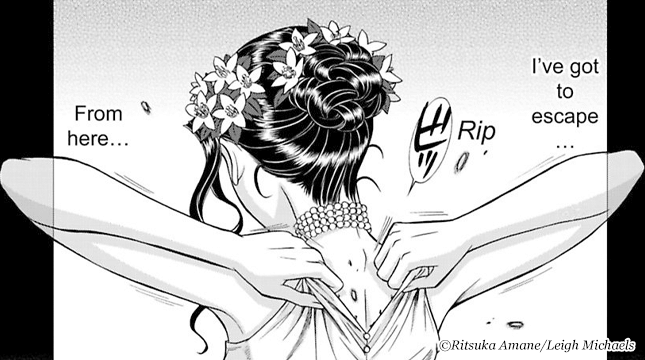 Quin's comment
Backward Honeymoon opens just as a beautiful wedding is about to occur. It is picture perfect, a dream come true. Or, at least that's what it looks like. Katie, the daughter of a very rich CEO is about to marry Douglas, a man who is not what he seems. After discovering that Douglas is marrying her for her money, Katie makes a rash decision and runs away with the son of one of her house staff members. His name is Jonah and he's nothing like what she expected. The two embark on a cross country trip that leads them through America and toward their destiny. Along the way lots of things happen and their relationship blossoms. This manga is a real treat to read! My favorite thing about it was how relatable it is. Both the main characters have things in their childhood that they are working through, they both also deal with money and the problems that come with in in their own way. Through their journey they learn to rely on each other and how to work as a team. They grow, laugh, and cry and remind us what a real connection can look like. The ever-changing locations and the charming people of a rural town restore your faith in humanity and remind you that life can be beautiful. Backward Honeymoon is a breath of fresh air and a must read!
Black Ace
Posted on Mar 11th / Genre: Shojo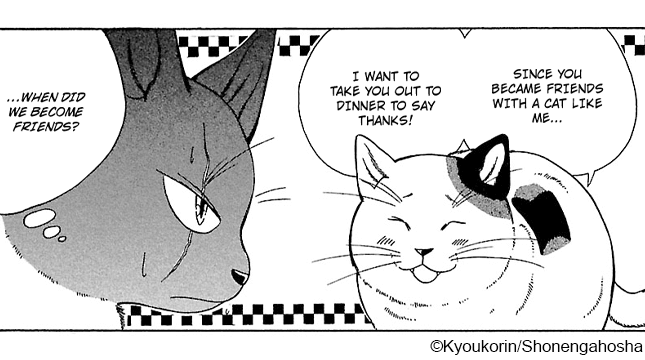 Jo's comment
Renta! continues to prove that they are the number one place to get purr... sorry, pure stories about our feline friends, and Kyoukorin's "Black Ace" is no exception! Our story opens as the stray cat Ace is kicked out of his gang for being too fearsome. And right after that, he gets wounded by a car! But, now that he's on his own, the prideful Ace is too reluctant to rely on humans... after all, are not cats the strongest and most fearsome animals in the world? Well... maybe not, but Ace presses on anyway, unconvinced! Even though he is a wandering stray on an endless journey, the legends of the Black Ace follow him. Throughout Ace's quest, he meets many different cats (and all of them are so cuuuute!) , and helps them solve their problems. From a happy-go-lucky kitten that can't hunt, to a fat cat that wants to show how strong he is, Ace is always willing to fight, but only those who truly deserve it. Ace even has to play the "tough guy with a heart of gold act" to a prim and proper lady house cat! If you're looking for action, drama, and of course, fluffy kitty cuteness, you can't go wrong with Black Ace.
Clumsy Love -Secret Cohabitation with a Younger Guy-
Posted on Mar 4th / Genre: Love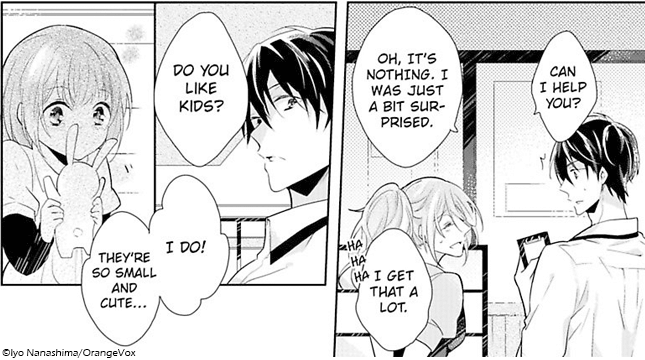 Candi's comment
Hinayo Otose's the target of all of the guys' gossip at her work because she's flashy and comes off as flirtatious. Everyone thinks she's only out to play with guys' hearts, but the only thing she wants is real love and a boyfriend. Who doesn't? One fateful day, she meets her new colleague, Yuzuki Kiyohara. She instantly gets a good vibe from him, but finds him a little intimidating on the surface. Yuzuki's warned about the gossip going around about her and told to keep his distance. Yuzuki sees Hinayo comfort a crying child in their restaurant and is surprised to learn that Hinayo loves children. On his way home from work in the rain, he runs into a shoeless Hinayo sitting in the rain. He carries her back to his place and lets her take a shower and change her clothes. After she's dried off, she cooks him dinner as thanks. Struggling to get back on her feet, Hinayo stays as Yuzuki's place and makes him dinner every night. Yuzuki's coworker tells him Hinayo's just playing him and not serious. Dejected, Yuzuki returns home and hardly speaks a word to Hinayo. He then breaks his silence and asks her if she's dated their coworker. She tells him she has, and before she knows it, she's jumped on him and kissed him! Will Yuzuki return her kiss!?
I'm Straight, But My Friend Gets Me Hard
Posted on Feb 26th / Genre: Yaoi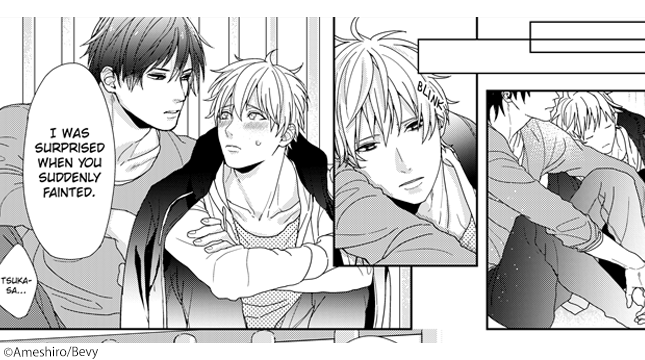 Yao's comment
We've all been there: you're trying to get off but nothing's happening, and then your friend walks in and pow! Like Tokyo Tower in 3 seconds flat. At least, that's the situation Atsushi has found himself in. After disappointing his girlfriend with member limper than string cheese, he's determined to find out what's going wrong with his little friend. While he's in the process of doing so though, his dark and handsome friend Tsukasa walks in and ends up giving him the hand he really needed! And so, begins the romance of one straight guy, and his overly forward friend.
The story is quick to solidify Atsushi and Tsukasa's relationship and move on to other issues the two of them have, like Atsushi dealing with his sexuality and how they explain everything to their mutual friends. The balance of smut to story is very well done, and let me tell you, the smut is HOT! Atsushi might be new to all this, but Tsukasa clearly has no desire to hold back... well, his desire! A yaoi manga that has a bit of everything, be sure to check out "I'm Straight, But My Friend Gets Me Hard."
View Previous Staff Awards