Shojo
The Fluttering Heel
Posted on Jun 30th / Genre: Shojo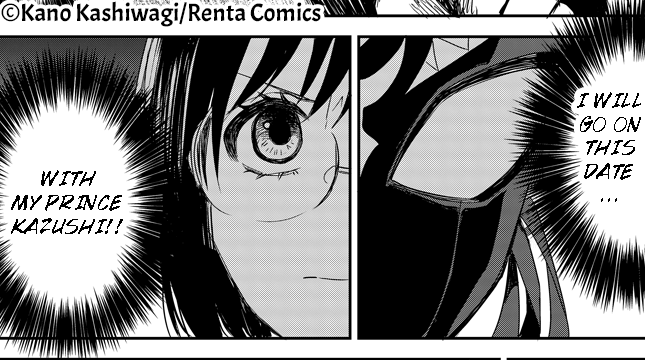 Jo's comment
Sawa has always been charmed by the princely figures in the romance comics she reads, but even though she pines for that kind of idyllic fairytale romance, her real life couldn't be any more different. Sawa actually works part-time as a wrestler, and as a villainous heel character, to boot! Her wrestling persona, Sharktooth SAWA, is a terror in the ring, but at Sawa's other job as a cafe waiter, she spends her time quietly pining for the regular of her dreams, Kazushi. She wants to show him the fantasy princess side from the comics she loves so much, and is determined not to let her secret alter ego slip. But, Kazushi's personality isn't exactly prince-like, himself...
This story turns all the shojo tropes on its head, and Sawa is a great multi-dimensional character whose passion clearly shines through in everything she does, be it her work, hobbies, or love. Like her sharktooth Venus fly trap namesake, she walks a balancing act between plant-like fragility and carnivorous strength. The story does a great job of blending in humor and drama, and the twists and turns will definitely keep you reading! Will Sawa be able to reconcile her romantic ideals with her gritty passion?
Want to Come to My Place Tonight? -Falling in Love with a Widower-
Posted on Jun 2nd / Genre: Shojo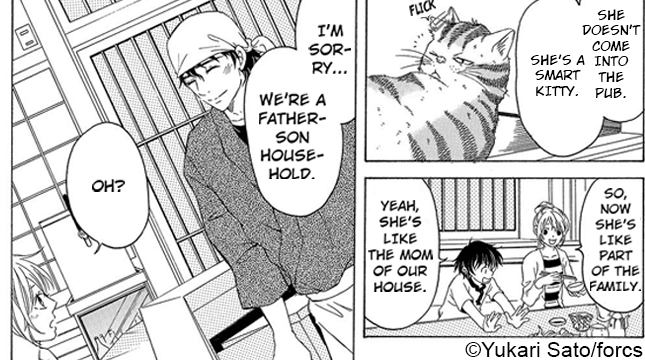 Jo's comment
It's easy to wonder what would happen if one small thing in your life were to change, and the little decisions we make along the way that can lead to huge results. And for Atsuko, she suddenly finds herself making a brand-new friend just by finding a cat lying motionless in the middle of the road. When she tries poking it with a ruler to see if it's alive, she's immediately noticed by the cat's young owner... and mistaken for a cat-napping thief! The boy, Tomo, gets his father, Ryo, and he takes her right to the police station over this huge misunderstanding. Once things are cleared up, Ryo apologizes for the embarrassment he caused and invites Atsuko over to the pub he owns for a meal. It turns out Atsuko is a new kindergarten teacher at the school Tomo went to, and the two of them live alone with Kosuke, their life-changing kitty. And, it also turns out that Ryo is exactly Atsuko's type! Tomo seems to have attached himself to the new teacher as well. But, this isn't just a happy-go-lucky story about a chance meeting. For Tomo and Ryo, losing someone important to them to illness has greatly affected their lives, and the author does a great job of exploring the emotions of loss Ryo and Tomo are going through and how the two of them are coping. Atsuko also must come to terms with whether it's okay for her to just insert herself into the lives of another family. In addition, as Ryo happens to be quite the cook, you can look forward to a new delicious recipe to try every chapter! If you like great writing and more cat matchmaking antics, you'll fall in love with this story!
Co-meow-nication
Posted on May 7th / Genre: Shojo
Jo's comment
It's no secret that cats make up a large part of the internet economy, and we here at Renta! are not immune to a little squeeing and aww-ing over these cute little furballs (or at least, I'm not...) But, what if our furry friends could not only talk, but walk around and help out around the house? Well, this comic collection sets out to answer that question in the form of short little vignettes primarily starring four different bipedal, clothed cats and their human partners, each with their own very distinct personalities. For example, hard-working businesswoman Mari always has to clean up after her curious and clumsy well-meaning tabby, Shizuka, who can't wait to spend more time with his favorite person. On the other hand, Kyo, a fashionable Norwegian Forest Cat, ends up doing most of the fretting, housework, and decision making for his human housemate, the happy-go-lucky thrill-seeker, Hitomi. Thankfully, for a world inhabited by cat people, the story doesn't take itself overly seriously, and most of the stories revolve around a simple conflict that illustrates the difficulties of being a cat in a human world. But, these cats aren't just pets! They all want to prove that even though they aren't accepted by the world at large, they want to do their best to take care of their less hairy companions! And maybe even... fall in love! If you're looking for a fun fantasy read jam-packed with stories focusing on the everyday life in a "what if?" universe, with a bit of mystery and a whole lot of cuteness for good measure, check out this three-volume series!
Spring Snow Doesn't Melt
Posted on Apr 7th / Genre: Shojo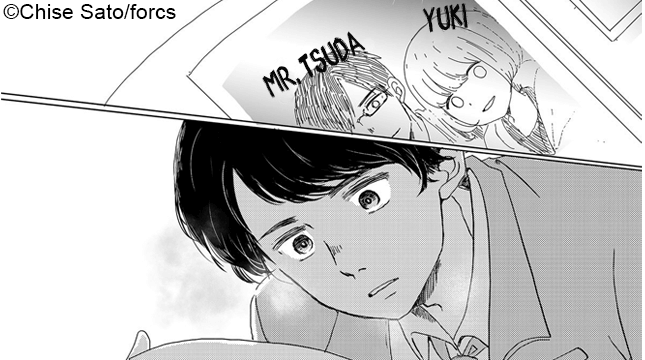 Jo's comment
Are you buckled up nice and tight? Because it's time for a school feels trip! Right off the bat, our story starts in unhappy circumstances, with our heroine, Yuki, coming back to her countryside hometown after getting her teaching license in Tokyo. However, this isn't a friendly call. She's here to mourn the sudden loss of her high school teacher, Mr. Tsuda, who passed away in a car accident. But, Mr. Tsuda left quite an impression on Yuki. Throughout high school, she could barely hold back her crush on him, and he was her reason to want to become a teacher in the first place. And, he also left behind a son, Ritsu, who looks exactly like his father. Ritsu had lost his mother at an even younger age, and now that he's going into high school, he finds himself drawn to Yuki the same way she was drawn to his father. This story is great at showing various reactions to trauma, from Yuki's outward expression of grief to Ritsu becoming more and more emotionally withdrawn. As the story goes on and jumps through different periods, we see how these two characters' paths parallel each other, and diverge over time. If you're looking for a beautifully drawn story perfect for a melancholy rainy day, look no further than "Spring Snow Doesn't Melt."
Servitude to Master Ur -Auctioned in a Distant Land for a Million Dollars
Posted on Mar 10th / Genre: Shojo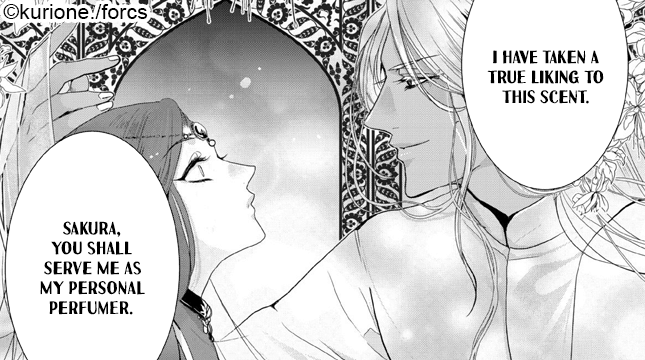 Jo's comment
Sakura just wanted to take a relaxing vacation to Dubai so she could check out the latest in aromatherapies for her beauty therapy business, but her trip couldn't end up going more wrong! When she witnesses a murder at a beauty salon, she's just as suddenly knocked out, kidnapped and auctioned off in Batra, a secret nation somewhere in the Middle East, for the sum of a million dollars (so far just as it says on the tin). And, it seems like Sakura's new owner, Urjiwan (or Ur, as he is known to the people of Batra) is only interested in her for her perfuming abilities. But, for some reason, he can speak Japanese, and Sakura is able to convince him of her talent as a massage therapist. Ur becomes more and more interested in his "Eastern beauty" and Sakura gets to stare a bit more at the tall, dark, and handsome man of mystery that she'll be serving... I guess the deal could be a bit worse. After all, Ur is kind to his servants. But, the land of Batra is lurking with all kinds of danger... This story hits all the right points of action, mystery, and of course, a bit of sensuality. Sakura and Ur's relationship slowly builds up as the two of them learn more about each other, and Sakura figures out how to survive as a stranger in a strange land. Don't forget to check out the detailed, lovingly-drawn backgrounds!
Fantasy Virgin
Posted on Feb 10th / Genre: Shojo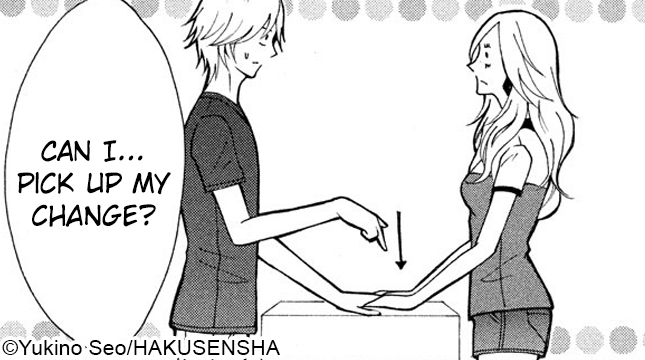 Jo's comment
This is a bit more risqué than some of the other shojo manga I've reviewed, but it's so funny, it's definitely worth the rec! So, our heroine, Jun, dresses a bit more.... openly than most of the other girls on her campus. Because of that, there are plenty of rumors flying around about her supposed promiscuity. But, Jun's real personality couldn't be any more different from the vibe her attire gives off. She's shy, sheltered, afraid to take the lead, and has actually never been with a guy! The only reason she dresses the way she does is because of the advice from her take-charge big sister, who basically tells her exactly what to do. What's more, she's prone to imagining flights of fancy with any hot guy she sees! One day at her part-time job at a convenience store, she falls in love at first sight with a guy who's just her type. And he turns out to be a fellow student and even her next-door neighbor, Kanou! Can Jun graduate from her fantasies and get into a real relationship with the guy of her literal dreams? With the help of her no-nonsense sister and a hilarious cast of supporting characters, she might just have a chance!
Jun is just so lost in her own world and keeps getting into misunderstandings every chapter... you can't help but feel bad for her, but it's honestly kind of relatable. Not only that, Jun's interactions with the supporting cast just make me want to keep reading. This manga is great, and that's no fantasy!
The Writer's Hand -Life with My Housekeeper-
Posted on Jan 13th / Genre: Shojo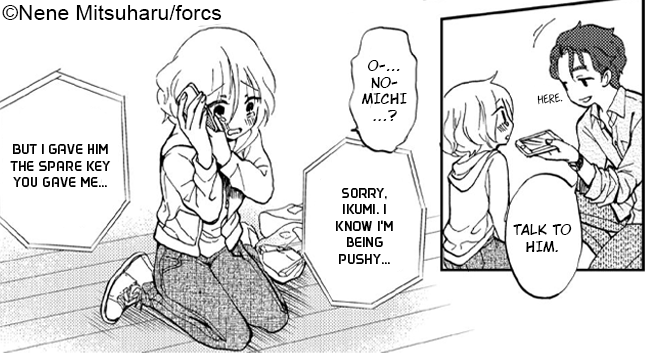 Jo's comment
Ikumi won a prestigious award for her writing and was ready to move on to even bigger and better things. But, that was two years ago, and since her highly-regarded debut novel, she's been stuck with a big old case of writer's block. While she still has the drive and passion to write that next great novel, she's so focused on her work that it's taking a toll on her physical and mental health. Her editor decides to take things into his own hands and asks his friend Renji to start working as Ikumi's housekeeper. That way, she can do all those boring things like eating or sleeping or, like, actually living her life. The only problem with this wonderful plan is that he forgets to inform Ikumi beforehand, so she comes home only to find a strange man has let himself in with the spare key she let her editor borrow. Obviously, this isn't the best way to introduce yourself, so the poor girl is terrified and tells him in no uncertain terms to leave immediately. But, soon after, Ikumi gets sick and passes out, giving herself a nasty hand injury in the process. With her dominant hand out of commission, she has no choice but to accept Renji's help... but she's not gonna like it! Ikumi is super nervous and uncomfortable with her new predicament, but as the story progresses, she and Renji learn to rely on each other more, and Ikumi slowly begins to get over her insecurities. If you like cute stories about personal growth and overcoming misunderstandings small and large, you gotta hand it to Nene Mitsuharu for crafting this lighthearted and fun story!
Marriage Makers -Case Study: Mikoto Nagita, Lost Sheep-
Posted on Dec 16th / Genre: Shojo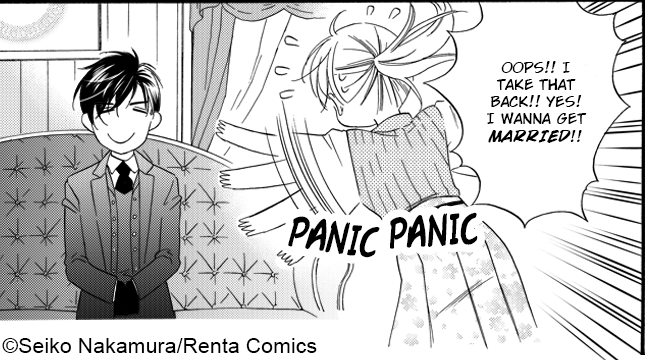 Jo's comment
Ahhh, this story is so cute! At first, I was like, "Oh, another story about a woman who just wants to get married," but for poor Nagisa, her circumstances couldn't be more different! Saddled with all the duties at her small-town bank, she is forced to do hours of overtime while being berated constantly by her newlywed boss. And all the other women work part-time, so they don't even stick around to help her. It just makes you want to shout at the top of your lungs from your balcony about the injustice (which she also does)! But, she can't just quit, because of course then she'd have no money. That's when she hatches a plan: become married so that she can be insured under Category 3 of the National Pension and basically become a dependent of her spouse, so she can work part-time without having to worry about paying pension taxes. There's just one little problem: how is she supposed to find a husband...? That's when she hears about a marriage making service that supposedly 100% guarantees she'll find a partner. With her new personalized Marriage Maker, Atago, she's ready to roll the dice and start her first "marriage simulation" in this lighthearted fantasy comedy. I love the way Nagisa's character is written - down-to-earth, but also accepting of the kind of magical (and not-so-magical) things going around her. If you're looking for a case study in humor and interesting storytelling, you won't be a lost sheep if you check out this story!
Sorry! Everyone's Favorite Prince Is No Longer Innocent
Posted on Nov 18th / Genre: Shojo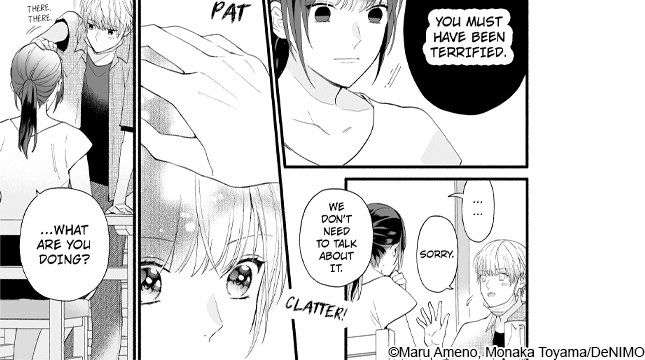 Jo's comment
Yoriko is a talent agent struggling to find new talent for her agency on a lonely Christmas Eve night, and that's when she stumbles upon high schooler Taichi crying alone on a park bench. And he's got the perfect face she was looking for! The pair soon bond over drinks (non-alcoholic in Taichi's case of course!) and Yoriko convinces Taichi to dip his toes into the pool of stardom. However, it's not exactly so easy for either of them. They have their fair share of failures, but they rely on each other through thick and thin. After seven grueling years, Taichi has finally become a household name, and he has Yoriko and her constant advice to thank. There's just one problem: Yoriko made sure that Taichi stayed pure and avoided the dark backroom deals common to the biz. Partly because of that, Taichi's never had his first true experience with a woman! He blames Yoriko for missing out on this important part of his life and wants her to help fix it!

Yoriko and Taichi are both so cute, and watching the two of them grow together through their hardships is really heartwarming! Their will-they-won't-they nature will keep you reading, hoping for something to happen between these two good friends and confidants. This prince may not be innocent, but it doesn't stop this manga from being a sweet read!
After Being Scouted by God, I Ended up in an Alternate Universe. -Domestic Magic Makes for an Easy Life.-
Posted on Oct 21st / Genre: Shojo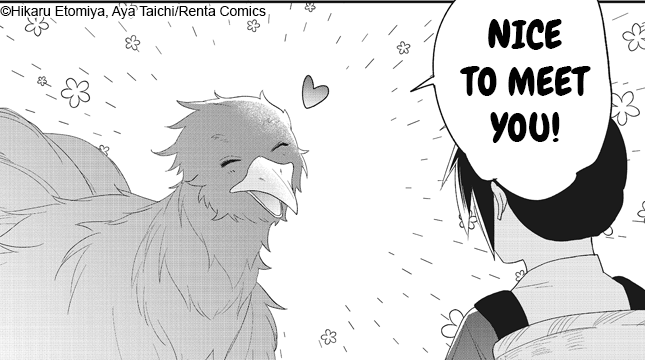 Jo's comment
We're back again with another fluffy isekai story that you should definitely check out if you like magic, talking animal friends, or just bubbly and fun manga in general! As a reward for her long and fruitful life, Towako is granted a second life by God in the war-torn magical world of Astaire. Reincarnated in a new body named Maria, she also receives three magical abilities as well: Domestic Magic, the ability to do household chores with a snap of her fingers; Appraisal, the ability to instantly recognize and learn about any object in the world; and an Item Box that can temporarily stop time. Armed with her new powers and a brand new life, Towako-Maria (or Toa for short) sets out to make a new life for herself. Domestic Magic certainly makes for a carefree life, but that doesn't mean that Toa can rest on her haunches. She still needs to find a place to live and a way to make a living somehow! This story keeps you turning every page wondering what talking mystical creature or magical potion will be coming next. If you enjoy light, carefree stories, you don't have to be scouted by God to read this comic!
I Can't Stand That Senior Guy
Posted on Sep 23rd / Genre: Shojo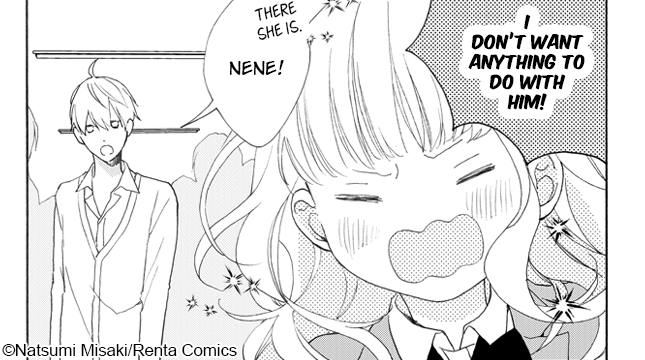 Jo's comment
Nene is so sick of all the boys at her high school fawning over girls and acting like children instead of focusing on their tasks. That's not to say that Nene doesn't want love herself, she just would rather have it with someone more... serious. While traveling between classes, she trips on the stairs and is caught by a senior, Yusuke. Unfortunately, their meet-cute isn't exactly so cute, because while he saves her, he also accidentally ends up with a handful of her breasts! He tries to apologize, but ends up saying something even worse. Argh, what a prick! Nene starts to hate Yusuke's guts, but even though he's really awkward and annoying (and so childish!) sometimes, he seems to be really nice to her at others! What is Yusuke thinking? He's definitely popular with all the girls, but for some reason he won't stop bothering Nene! I love heart-pounding romance as much as anyone, but sometimes it's nice to ditch the complex plots and cleanse your palate with a simple slice-of-life story like this, you know? It's just two students learning to come to terms with each other and themselves, and it's so sweet you've just gotta continue reading to find out what happens next. If you're looking for a classic "will they, won't they" story starring a serious girl and a slightly goofy older boy, you can't stand to go wrong here!
The Antique Cat Shop
Posted on Aug 26th / Genre: Shojo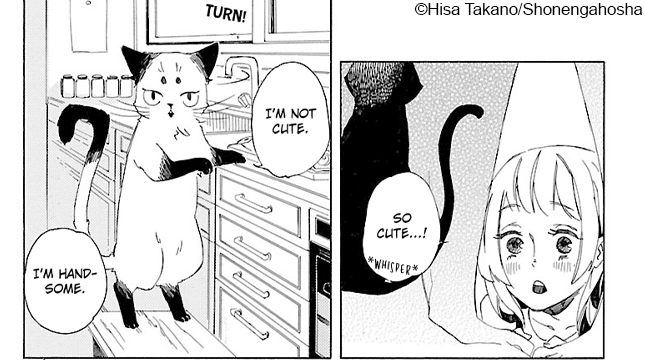 Jo's comment
Talking cats and magic! For me, that's pretty much all I'd need to read before I'm sold on any comic. But, if you're not as much of a cat lover as me, I guess I should write a bit more about this story! This short story collection focuses on a mysterious antique shop run by a man and his talking cat, Bonten. But, talking and making tea (while being really cute) aren't his only specialities! He's also skilled at appraising antiques (while being cute), and knows a few mystical arts to help out his customers (and also he's really cute). Interspersed with the main stories of magical encounters with Bonten and customers, as well as various other talking and working cats, are mini stories between Bonten and the shop owner, where Bonten shows off all the curiosity and haughtiness you would expect from a pet cat who happens to be able to speak. Every chapter of this comic kept me wondering what was going to happen next, and see what cuteness was in store for me this time. If you like stories that will melt your heart and restore your faith in humanity, you should absolutely check out The Antique Cat Shop!
My Princely Servant
Posted on Jul 29th / Genre: Shojo
Jo's comment
Misaki had it all: athletic, top of her class, and basically the class "prince" of her all-girls school. She's enjoying life on top... that is, until her school merges with the nearby all-boys school and her title is usurped by Yamato, a smart (and smart-aleck) genius who studied abroad and sleeps through all the classes he doesn't outright skip. Despite that, he still gets straight A's, and takes the title of "school prince" without even trying. Well, Misaki isn't having any of that! She believes in the value of hard work, and challenges Yamato to a pick-up basketball match. And to make things more interesting, she tells him that the loser has to be the winner's servant! Yamato surprisingly agrees to her challenge, and the battle begins. It's a close match, but in the end the winner is... Misaki! Then, Yamato gets down on one knee, kisses Misaki's hand, and professes his outright servitude! How could winning be so embarrassing!? Misaki just wanted to get Yamato to pay more attention in class, but now she's getting much more than she bargained for! Why is Yamato going above and beyond the call of duty? Is she just royally screwed? If you're looking for a beautiful, full-color story between two strong-willed protagonists, "My Princely Servant" takes the crown!
Beating the Heroine at Her Own Game
Posted on Jul 1st / Genre: Shojo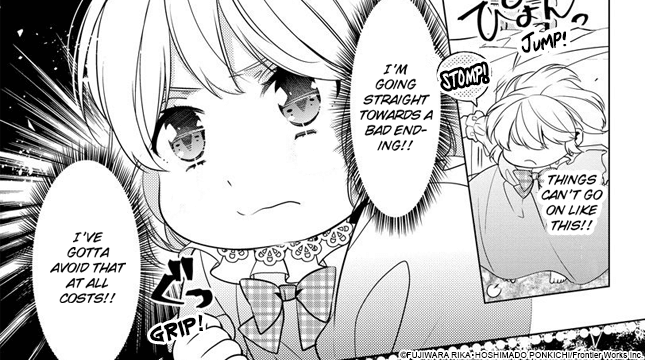 Jo's comment
Seems like every comic wants to tackle the "reincarnated as a romance game character" plot lately. However, this manga tries something a bit different with the formula! Instead of being reincarnated as a popular hero in a fantasy kingdom-themed love sim, Cosette wakes up to find that she's been reincarnated from a 40-year-old housewife into a generic side character, and is "supposed to be" a sycophant for the main heroine's rival! So, she has no chance of getting close to Crown Prince Leonhart, right? And to make matters worse, if she loses a duel and goes to the bad ending, she'll be stuck at a convent with super strict sisters! The "game" starts when she's 16, and she realizes she's been reincarnated when she's 6. That's 10 years to get her crap together and avoid a bad ending, while maybe even befriending Prince Leonhart and his friends themselves! However, there seems to be another reincarnation in the mix... the heroine herself, Angie! And she wants Prince Leonhart all to herself! But, don't think this story is just about love! Double-crossing dukes, revenge-seeking royals, and more political intrigue await in the kingdom of Artoria! Will Cosette avoid the bad ending for her and her friends, and overcome the game's story? It's not just a game for her!
Lazy Cooking for Beginners
Posted on Jun 3rd / Genre: Shojo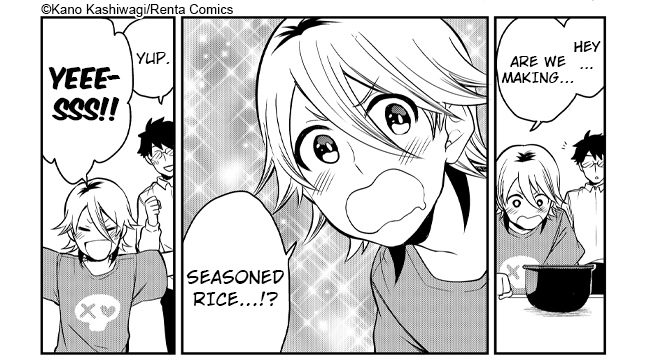 Jo's comment
Looking for something nice and long to sink your teeth into? Well, have I got the perfect morsel for you! Because this manga is 200 pages of humor, a great cast of characters, and of course, lots of delicious, mouth-watering foooood! Our story starts off by introducing Nao and his roommate, Sanshiro. Nao's band has just broken up, and without Ueda, their guitarist slash chef extraordinaire around, they need some nourishment, and a cure for their jobless malaise! With Nao's endless passion and Sanshiro's creative energy, there's nothing they can't make! ...But, maybe they should probably start simple, seeing as neither of them have ever really cooked before. As Nao keeps trying to make a new band, the dishes get more and more extravagant, and the fun new characters keep adding up! I especially love Nao's new neighbor and secret groupie, the hot-and-cold Rinko! Who knows, after reading this manga, maybe you can even find something new to make yourself!? Just remember, this is "lazy" cooking, so don't expect any 5-star meals! But, be careful not to read this on an empty stomach!
The Demon's Bride -Marked as His Prey by the Seal on Her Body-
Posted on May 7th / Genre: Shojo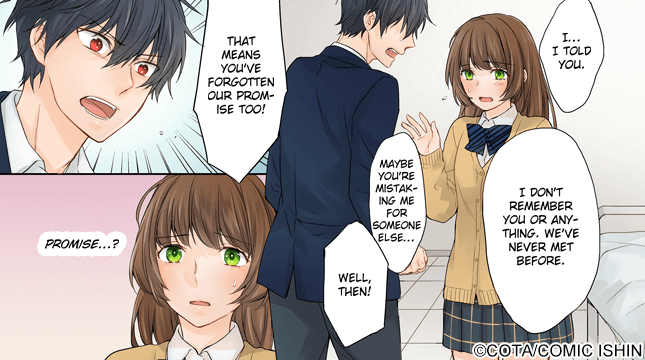 Jo's comment
Sometimes we need a bit of spiciness in our shojo, and this manga is a nice little dab of tabasco on the palate! Our story begins with high schooler Rin, after she wakes up from another recurring dream she has of her childhood. It seems she made a promise with someone, but what was it again...? No time to think about it now, she's gotta get to school! After saying goodbye to her older brother, the only real parental figure left in her life, she makes it to class. Seems there's a new student here today, Suo Kusa, and with his piercing red eyes and forceful demeanor, he doesn't exactly seem like the friendliest guy around. He goes right up to Rin and introduces himself as her fiance, and tells her they're old friends who made a promise to marry when they were young! But, Rin has no recollection of ever knowing anyone like him! Is Suo mistaken about their promise? But, the strange "birthmark" on her neck has been getting darker recently... and her brother seems none too happy to see Suo! What could be the cause of the bad blood between them? Could Suo really be the demon that he says he is!? This beautiful, full-color manga is full of action, suspense, and of course, a pinch of mystery. I guarantee if you read it, you'll fall under its spell just as much as I have!
What's Mine Is Yours
Posted on Apr 8th / Genre: Shojo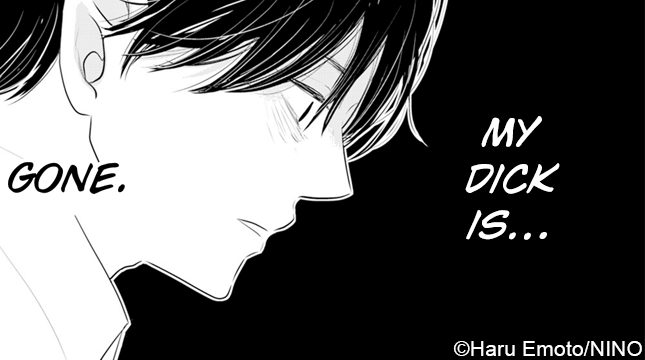 Jo's comment
I'm sure you've seen the fantasy stories where our two heroes switch minds... but how about one where they switch something a bit more personal? Kento is broken-hearted, but in some respects he kind of deserves to be. The two girls that he was dating were a bit surprised to find out that they both didn't have Kento's love to themselves. Meanwhile, Mari is stuck being the side girl for a married man. These two coworkers are basically complete strangers, but on their way to work, these two businesspeople absorbed in their worries absent-mindedly crash into each other in front of a roadside shrine. Later that day, Kento is taking a routine bio break, when he notices something strange... his little Kento is missing, and not only that, it's been replaced with a new part that definitely doesn't belong to him! And, to make matters even weirder, he sees Mari in the men's room... and she seems to have picked up what he dropped! This series is Hilarious with a capital H, but I love that it also knows when to balance serious moments as well. Can these two get used to using their new "toys"? Or will the shock of it all cause these two to stay at home forever? It's not exactly just a case of "finders keepers" here!
Black Ace
Posted on Mar 11th / Genre: Shojo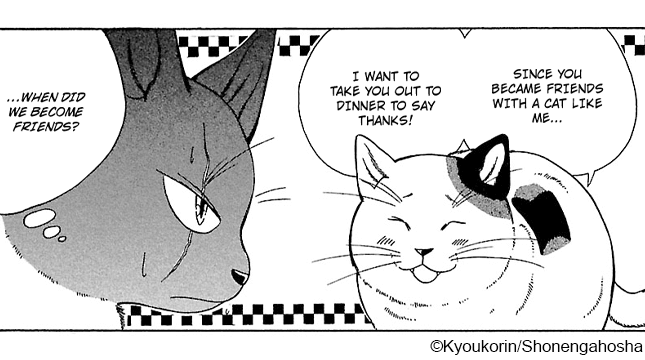 Jo's comment
Renta! continues to prove that they are the number one place to get purr... sorry, pure stories about our feline friends, and Kyoukorin's "Black Ace" is no exception! Our story opens as the stray cat Ace is kicked out of his gang for being too fearsome. And right after that, he gets wounded by a car! But, now that he's on his own, the prideful Ace is too reluctant to rely on humans... after all, are not cats the strongest and most fearsome animals in the world? Well... maybe not, but Ace presses on anyway, unconvinced! Even though he is a wandering stray on an endless journey, the legends of the Black Ace follow him. Throughout Ace's quest, he meets many different cats (and all of them are so cuuuute!) , and helps them solve their problems. From a happy-go-lucky kitten that can't hunt, to a fat cat that wants to show how strong he is, Ace is always willing to fight, but only those who truly deserve it. Ace even has to play the "tough guy with a heart of gold act" to a prim and proper lady house cat! If you're looking for action, drama, and of course, fluffy kitty cuteness, you can't go wrong with Black Ace.
The Kawai Complex Guide To Manors And Hostel Behavior
Posted on Feb 12th / Genre: Shojo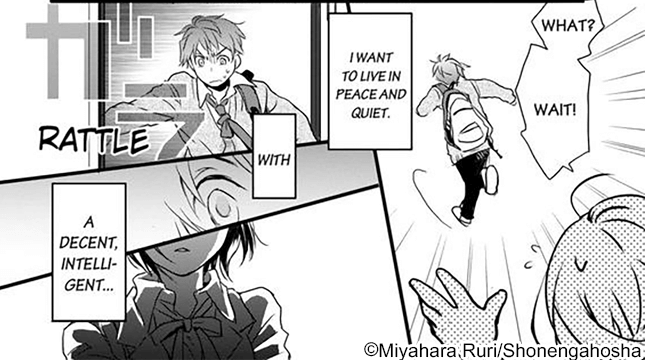 Jo's comment
The world can be a strange and small place, especially when you're just starting high school. And our hero, Usa, is about to find out just how strange it can be, as he is striking out on his own in high school after his parents have moved away. After going through hell in middle school, all he wants now is a bit of peace and quiet, and maybe a beautiful and intelligent girlfriend... but his new sharehouse is filled with the weirdest and wildest people imaginable! He was promised a single, but even before he arrives, he meets his new roommate... staring through a hole in a school fence! Usa can't believe that his new roommate is such a creep, but the landlord assures him he's harmless (...probably). Still, not exactly the best situation for a sound night of sleep, right? Usa is fed up and about to rough it on his own, when who should walk in but his dream girl, accompanied by a chorus of angels. Or, was that just in his head? Will Usa be able to live in this crazy sharehouse with a full cast of wacky characters for the sake of being closer to the permanently cool-headed and stone-faced Ritsu? Or will he give up and head for the hills? Whether you're looking for a bit of laughs or a bit of love, you can find it in this story!
Nekomiya and the Cat Shrine
Posted on Jan 15th / Genre: Shojo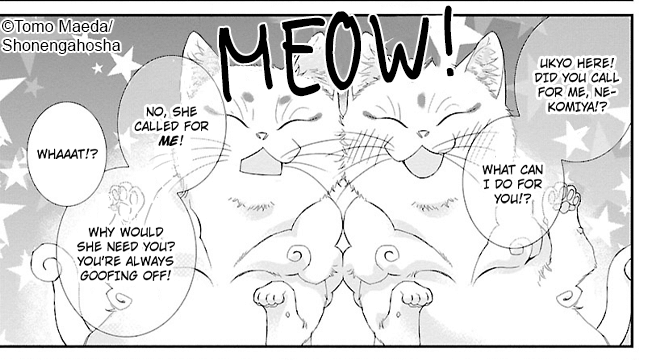 Jo's comment
Everybody knows that cats have nine lives... but what if they actually lived forever? The premise of this cuddly collection of short stories is that cats can't actually die; they just go to Nekomiya's cat shrine and change into a new fur! However, if a human should somehow discover this secret, that cat will forget the most important thing to them. For a cat, that could be anything from their owner's memory, to their love of eating, or even something that makes up their core personality! Each story is filled to the brim with all types of furry feline cuties: loving cats, aloof cats, lonely cats, fighting cats... even a cat who decides she wants to wear "human fur!" And, just when you think it can't get any cuter, another heartwarming panel appears. At first, Nekomiya herself seems angry and mysterious, but she has her reasons, too, and it turns out petting all the cats is only part of her job description...

Since each story is basically self-contained, there's no grandiose plot here. In other words, this manga is the distilled essence of taking a break and looking at cat pictures. If that sounds right up your alley cat, then you owe it to yourself to open up a new tab(by) and scratch that post and that itch with "Nekomiya and the Cat Shrine!"
Coupledom 101
Posted on Dec 11th / Genre: Shojo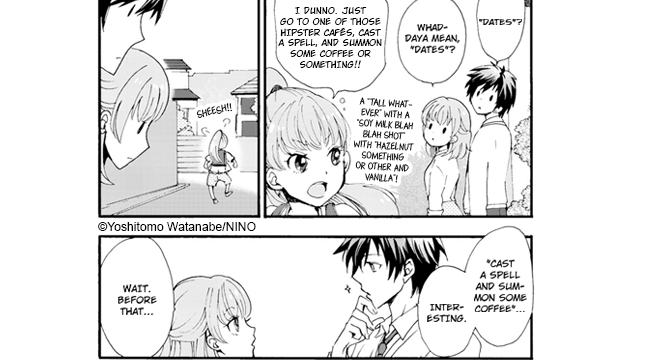 Jo's comment
Mamoru and Miyuki have been together for basically as long as they've been alive, and they're as tight as two peas in a pod. They both collect the same trading cards, they dress with the same fashion sense, and their interests couldn't be more similar. Now that they're in high school, all their friends say they should be a couple, but between the two of them, they know about as much about how to be in love as a fish knows about breathing on land! But, they might as well give this whole "dating" thing a shot, right?
And OMG, both of them are so cute! It's so clear how they're such good friends, but the way they have no idea what they're doing is a real breath of fresh air from the usual "instantly a master of romance" trope! I bet anyone reading this will instantly feel better about their own love life! And even though their attempts to find what love is don't really blossom into a textbook (or comic book in this case) romance, the two of them are such a good pair that you can't help but root for them on their next attempt!
You can do it Mamoru! I believe in you, Miyuki! Please don't mess this up, for all our sakes! Enter the world of coupledom so you don't just become another dumb couple!
Hazakura Junior High Animal Club
Posted on Nov 13th / Genre: Shojo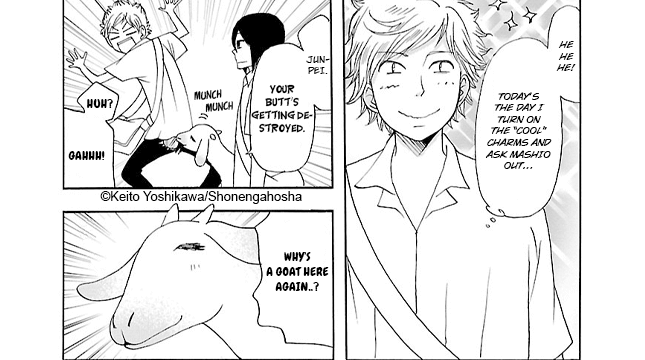 Jo's comment
Junpei just wants a normal life, but he has work to do in his school's animal club! Every day he gets into new misadventures with his clubmates, Shinobu and Mashio. But it's not just chasing chickens around campus and grazing goats on the grounds! The area around Junpei's school is filled with all sorts of creatures, from cute dogs to creepy crawly bugs. Even a spooky ghost story finds its way into these pages! Mystery and adventure await as in each chapter, Junpei deals with a new animal, and a new problem to solve. Farm animals, exotic parrots, bugs, and of course cute dogs all roam the school, and it's the Animal Club's job to clean up their messes, while hopefully not starting any new ones! If you want to take a break from romance with some short, light-hearted stories filled with humor and happiness, you can't go wrong with Keito Yoshikawa's collection of fantastic (but never really unbelievable) tales from the schoolyard. And maybe eventually Junpei will finally be able to ask Mashio out on that date without Shinobu finding some way to interrupt!
Clavay's Keys
Posted on Oct 16th / Genre: Shojo
Jo's comment
Do you like cats? Do you like... talking cats!? If the answer is yes, then what are you waiting for? Check out this manga now!!

Okay, I guess I should talk about the story and stuff, too. Anna is a locksmith that lives with her mysterious cat, Clavay. Also, their locksmith shop is in a mystical dimension that only appears to those who need to unlock something. Pretty nice digs, right? Anyway, the manga is split into different short stories, all involving some kind of mystery or problem that somehow needs to be solved with a cat. And a lock, too. But, mostly a cat.
There are all sorts of different stories in this 200+ page volume, ranging from a girl who loves the piano but is jealous of a boy who plays better than her (and who also loves cats), a spoiled cat who hates the frilly dresses his owner puts on him, even a restless spirit who possesses a... well, you get the point. For those of you who prefer a bit of sweet romance, there's also a story of a boy who has a crush on a girl who likes his twin brother (and he has a really cute pet cat). If you like lighthearted adventure comics, check out Clavay's Keys for a story that's paw-sitively sure to unlock your heart and have you going, "Aww!"
Summertime Blues
Posted on Sep 18th / Genre: Shojo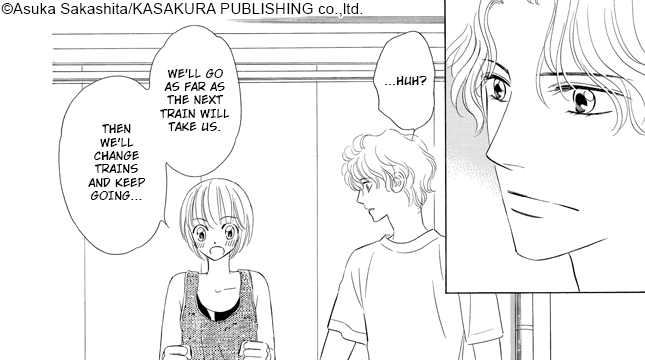 Jo's comment
It's back-to-school time again, and for many people, that means new opportunities, new friendships, and maybe even new love. But, for Chika, when she looks back at her high school memories, all she can think about is the one who got away: Kataru, her classmate and first crush. One summer, she was able to get close to him, but then somehow it all fell apart...
This story takes place with the past and present interspersed. When Chika happens to run into Kataru for the first time six years later, it's as if those summer memories from all those years ago have bubbled up to the surface and are reaching up to a slow boil. And that's exactly what Asuka Sakashita is great at doing in this story! Each chapter starts out leaving you wondering what will come next, and slowly builds up to a heart-pounding climax, only to leave you hanging for the next chapter. I admit I couldn't put it down myself without reading everything in one sitting!
Chika and Kataru, as well as Kataru's younger sister Yuki, are really interesting and fleshed-out characters who react to the manga's themes of love, despair, loss, and change in realistic ways. Both of them deal with sadness and pain differently, and the story takes some surprising turns as their relationship develops! Just because summer is over, it doesn't mean you have to be sad. Check out Summertime Blues and cure your own malaise!
I Hate Romance Comics!
Posted on Aug 21st / Genre: Shojo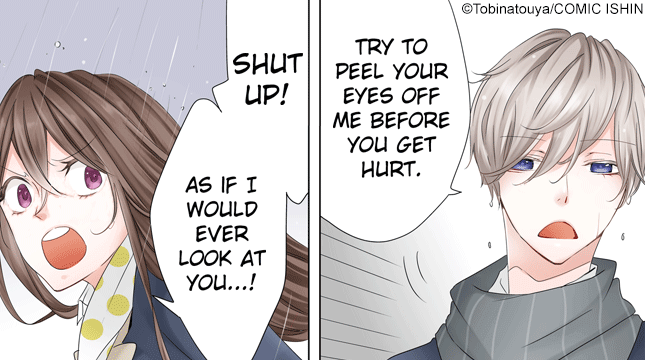 Jo's comment
I'm sure if you try hard enough you could easily name a laundry list of romance tropes: stuck in a sudden rainstorm together with your crush, bumping into him on the street with your half-eaten breakfast, getting stuck at the nurse's office together...

But, Momoko Akashi wants nothing to do with any of that! For her, romance comics are tied in with the worst day of her life. After that horrible day, Momoko swore that she would never touch another romance comic ever again. But, her friend is sick of her constant badmouthing and "curses" her: Momoko is forced to find love in the most "romance comic" way possible with the first boy she sees! It's happily ever after whether she likes it or not! And, guess what, it's none other than Aiji Aoto, the boy she absolutely hates!
Despite all the crazy situations Momoko finds herself in with Aiji, she's determined to stay strong and not lose to her stupid curse. Besides, there's no way the curse is even real, right!? Will she succumb to her sweet happy ending after all? Don't be a hater and check it out for yourself!
The Bittersweet Taste of Love -Bakery and Restaurant-
Posted on July 24th / Genre: Shojo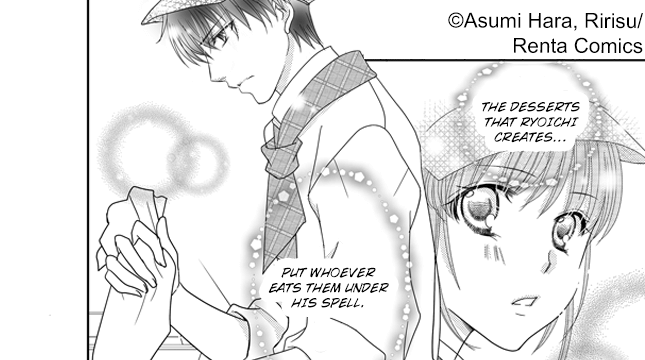 Jo's comment
Ah, on-the-job romance. What could be more glamorous? Well, it turns out that working day-in and day-out in the kitchen at a five-star hotel isn't exactly the best place to get to sit down and have a real heart-to-heart when you have a huge crush on another employee.
Ryoichi is the award-winning head chef at a hotel bakery. Chika has been in love with him ever since she crossed paths with him when her sister, Hazuki, hired him to create her wedding cake four years ago. What better place to fall in love than at a wedding, right? There's just one problem: Chika's sure Ryoichi has a crush on Hazuki due to the amazing intricacy and incredible beauty of the cake topper he created. Oh yeah, and also Ryoichi has no respect for anyone and belittles everyone he meets. Darn. Even their boss isn't safe from his sharp tongue!
But deep down, beneath his rough exterior, Chika knows that Ryoichi has a caring heart, even though she can't bring herself to tell him how she feels. Now that Chika is working at the same hotel, maybe her chance will finally come! Will Ryoichi notice her for who she really is, or will Chika be forever doomed to hiding her sweet feelings behind her sweet creations? Read on for a story of love and dessert so savory you'll be hungry for more!
Want to Sell Me Your Body?
Posted on June 26th / Genre: Shojo
Jo's comment
Our story begins with tragedy. The young student Tsukasa loses her mother in a car accident, and soon after that, her father loses his own job and succumbs to the vices of drugs and alcohol. Fast forward three years and now even her father has run away from home. As she is sitting down for dinner, there's a knock on her door. She is shocked to find a beautiful woman on the other side, but not as much as when she hears about the debt that her father racked up: a whopping $30,000! While she's still reeling from shock, the woman lets herself in and starts helping herself to Tsukasa's food... and then Tsukasa herself! Unfortunately, more debt collectors show up, this time demanding $70,000! This really isn't Tsukasa's day, huh? They are about to kidnap her, when the lady from earlier slams the collector to the ground and slaps a check for the money in his face. This woman, who introduces herself as Reiko, makes Tsukasa a counter-offer: if Tsukasa sells her body to Reiko, she can consider her debt taken care of. Wait... sell her body to Reiko? What the heck does that mean? And, why is she talking about "night duty "? Reiko seems so nice, but what does she want? Why would Reiko want to sleep together with Tsukasa in her tiny apartment? Throughout the course of the series, you can see the bonds between Tsukasa and Reiko blossom, as both of them help the other grow as people through their own trials. This story is amazingly sweet, and you definitely won't regret reading it if you're a fan of sweet, lovely yuri relationships!
That's the Hottest Restaurant in Enoshima
Posted on May 29th / Genre: Shojo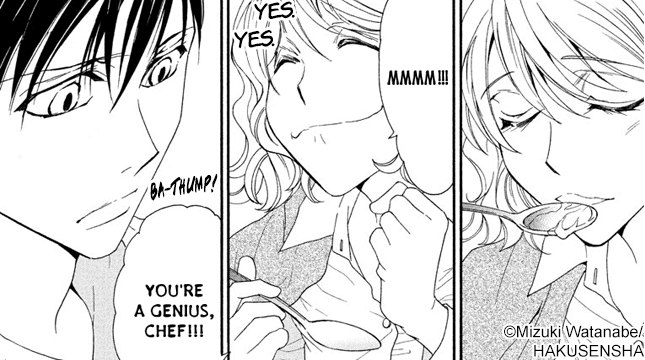 Jo's comment
Iori Tachibana is broke, jobless, and has nothing to look forward to in her life. After failing yet another interview, she goes for a walk and ends up in front of a famous restaurant run by the world-class chef, Tsubaki Shiratori. Although she is initially turned away by the manager, an attractive chef takes pity on the poor girl and offers her a table. As expected, Chef Shiratori's meal is so good, Iori can't help but get lost in the amazing taste. She leans back in her chair to savor the flavors... and accidentally knocks over a priceless vase! It's really not Iori's day, is it? The same hot chef from before once again comes to her aid, and it turns out he's none other than Chef Shiratori himself! Iori vows to do odd jobs at the restaurant until the debt is paid off. The rest of his staff doesn't seem to share her work ethic and devotion though, and they all decide to quit at the same time, just before a huge Valentine's Day banquet! How terrible of a person do you even have to be to do that!? Will Iori and Chef Shiratori be able to salvage the restaurant they love in time for a full crowd?
While reading this story, you can tell the author did a lot of research on French cuisine, and put just as much effort into drawing it! Everything looks so good, just reading this manga makes me hungry. If reading about delicious food isn't good enough to sate your appetite, the touching love story with a full-color ending is the perfect pairing that's guaranteed to leave you stuffed to the brim, yet still wishing for more!
Running a Love Hotel with My Math Teacher
Posted on Apr 24th / Genre: Shojo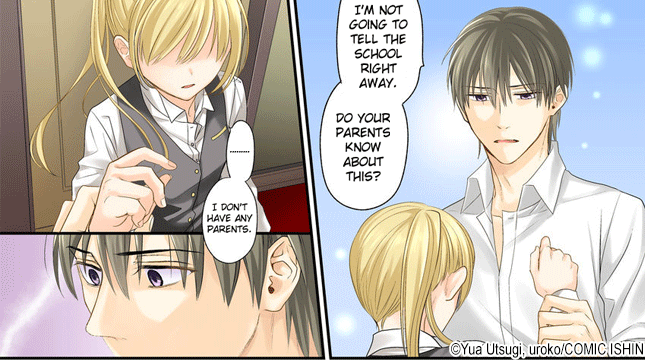 Jo's comment
Kana is a busy high schooler, but she has slightly different problems than her friends. While they worry about juggling clubs, schoolwork, and blossoming love, Kana is busy with a different kind of work: secretly managing an after-hours hotel by herself! Since her parents passed away in an accident midway through her freshman year, she has been forced to take over their more-than-slightly unsettling family business, and with staff dwindling, it's been taking up more and more of her time. Naturally, her lack of free time and sleep has drastically impacted her studies, and the last thing she wants is to be held back a year. Thankfully, her math teacher, Mr. Saitou, has been kind enough to give her extra lessons. Not the worst punishment in the world, as Mr. Saitou is the most popular teacher at Kana's school! Lucky Kana gets to be next to her crush for a few hours every day, but of course, manga characters can't be truly happy for more than a few pages at most. One late night working reception at the hotel, she gets a call to fix the A/C in the most popular and expensive room, and I bet you can guess just who she finds there... none other than Mr. Saitou! Having a part-time job is already against her school's rules, and at a love hotel too! Why is such a nice and friendly guy like Mr. Saitou even there in the first place? What will happen between Kana and Mr. Saitou (besides the situation in the title)? This long-running, beautiful full-color series full of all kinds of twists and turns is a big hit, and you don't have to be a love hotel manager yourself to see why!
Instant Lovers
Posted on Mar 27th / Genre: Shojo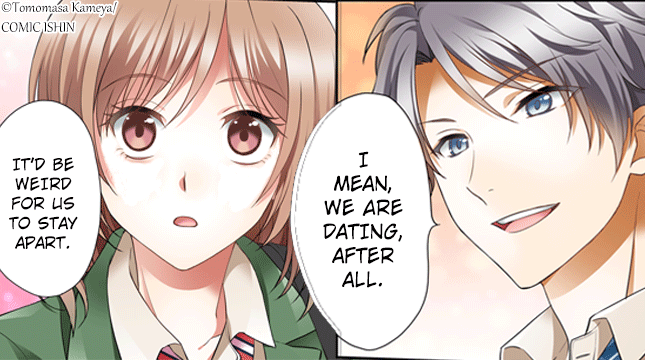 Jo's comment
High school can be a tough time for everyone, and for Aki Maihara, that's no different. After her crush ends up dating one of her classmates, she comes to a sudden realization: if she doesn't speak up and share her feelings for the guy she likes right away, she might end up regretting it for the rest of her life. However, after six months and ten failed confessions to ten different guys, her new shotgun approach to love doesn't really seem to be working... until one day. Aki bumps into a handsome boy on the street, and knowing she might not ever see him again, she takes the plunge and asks him out without even knowing his name. And, to her surprise, he says yes! Is this a joke!? He seems to be serious about it because they even exchange numbers and everything! In order to get to know her new boyfriend Haruto better, she goes to meet him at his school, and finds out that he's a charming and sweet person. But, before she knows it, he steals her first kiss and invites her up into his room! When they get to his house, why is he suddenly in such a bad mood and acting so aggressively? It seems Haruto has a secret of his own that he can't even share with his girlfriend he's known for ten whole minutes! I really enjoy the dynamic between the naive yet optimistic Aki and the quiet but charming Haruto. Despite their interesting circumstances, they both seem to make the best of each other's company, and want nothing but the happiest possible outcome. The full-color artwork is really gorgeous too and the characters really pop out! Within seconds of reading this story, I think you'll be able to instantly declare your love for Instant Lovers as well!
First Time with the Boy Next-Door
Posted on Feb 27th / Genre: Shojo
Jo's comment
Chisato and Riku have been childhood friends since Chisato's family moved next door in elementary school. The two grew up together and remained good friends all the way through high school, so their parents suggested that when they move out for college, they find apartments next door to each other as well. That way, even though they would be living alone, they could keep each other safe. Riku often comes over to play video games and chat over a meal, and their relationship has always been strictly platonic. However, now that they're both maturing into adults, Riku wants to transition into becoming something more. But, throughout their entire childhood together, Riku never even gave a single hint that he was interested! Where did this sudden declaration come from!? And, why is Riku so touchy all of a sudden!? Chisato just wants things to be the same and hang out with her friend, but now that Riku's made things awkward, she might never be able to talk to him again! This manga has a cute art style and the characters are also well-written. Chisato isn't a generic, cookie-cutter female stereotype, and her tomboyish nature is really refreshing. She has a nice sense of humor and you can really tell that she is comfortable and happy to be around Riku. Riku is a bit forward, but knows when to back off and isn't too pushy. He acts like a true friend and it's clear that he only wants the best for him and Chisato. Will the two of them end up together, or will college mark the end of their long friendship?
Loving You!
Posted on Jan 30th / Genre: Shojo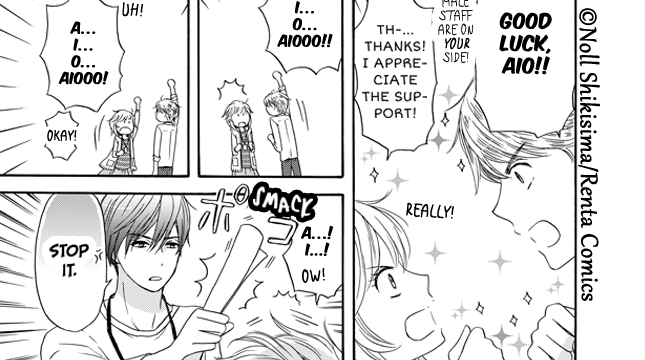 Jo's comment
Sometimes you run into a story that is just so cute you want to share it with everyone, and Loving You! is definitely one of them. All of the characters feel like real people, from the cheerful optimism and persistence of the heroine, Aio, to the melancholic and down-to-earth realism of her crush, Yuri, who acts as her boss and the head of General Affairs. While all the other girls around the ad agency where she works are scared of Yuri's cold and impersonal nature, only Aio sees the nice and hard-working guy who really cares for his company and coworkers underneath. Even though for two years, Yuri has constantly spurned Aio's requests to go out with her, the two still have a good working relationship and play really well off each other. Through her conversations with her friends, it's easy to tell that Aio is young and inexperienced with love, but she never acts like an overly naive caricature of a human. All of the side characters are also interesting, and they naturally drive the story forward without seeming like soulless plot devices. Noll Shikisima's art style is also wonderful, perfect at capturing both the drama of serious moments as well as charmingly cute asides. After reading this story, I'm really rooting for Aio in the end! If you love stories that are cute and will get you hooked from start to finish, you'll love Loving You!, available exclusively on Renta!
Puppy Love
Posted on Jan 16th / Genre: Shojo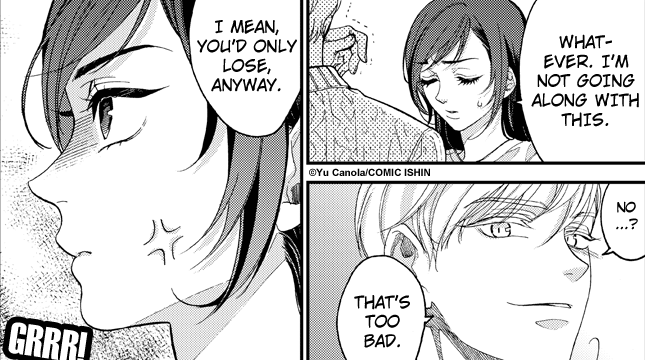 Jo's comment
It's hiring season at Yuki's company, and some of the new hires are pretty handsome! The young Nobuteru acts like a younger brother, while Hirotaka is hard-working and diligent. At the company party, Yuki gets swept up in the moment and has a few drinks too many. The next morning, she wakes up in Nobuteru's bed! If only she could remember what exactly happened last night...! Did she do anything with him? Nobuteru is definitely handsome and kind, but he's five years younger than her! Will they be able to put aside their feelings and have a normal working relationship after this? Or is this the start of a budding office romance?
View Previous Staff Awards