Mature Romance
A Chubby Girlfriend and Her Sweet-Toothed Boyfriend -Soft, Syrupy Exercise With You-
Posted on Jun 16th / Genre: Mature Romance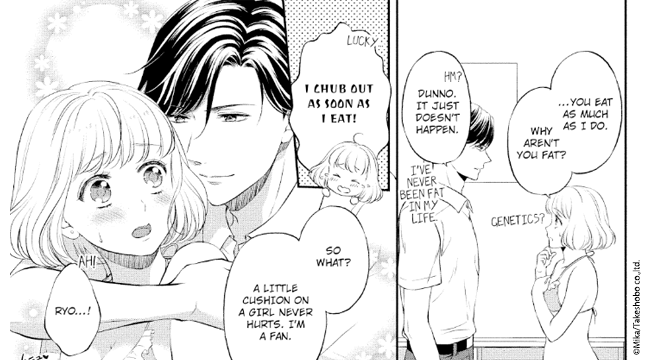 Candi's comment
Interesting title, is it not? Even in the world of manga there's no counting the number of super cute, super slim girls we're supposed to relate to, so it's awesome to see a title that's trying to challenge that norm.
Mayu and her boyfriend Ryo both love eating sweets. In fact, that's how they met! Ryo tried his best to hide his sweet tooth from their co-workers, but when Mayu caught him reaching for a chocolate tart, he couldn't hide it from her any longer! A fateful meeting indeed...
With the two of them going out to eat delicious desserts so often Mayu has put on a bit of weight, and she's none too happy about it! With the office beach party coming up, she's determined to slim down so she doesn't get embarrassed in her bikini. After dropping the pounds though, Mayu starts attracting attention from all the wrong people...
There are actually three stories in this volume, with the first being about out syrupy sweet couple Mayu and Ryo. Each story is equally as wholesome, with Mayu's focusing on loving yourself as you are, the second story talking about not judging other's on where they came from, and the final story being about enjoying yourself in the moment. This collection might be a little cheesy at times, but it's sure to leave you with smile on your face!
The Crimson Kitty And The Forest Watchdog
Posted on May 19th / Genre: Mature Romance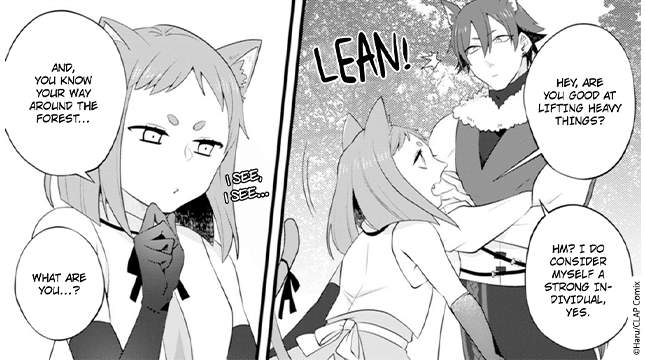 Candi's comment
If you like fantasy romance stories, you might've already read one of our hit series "Hana and the Beast Man", but did you know about one of our other awesome fluffy-eared series? If you like big beast men and cute kitties, then this one's for you!
Misha is a cat girl who's just got herself a new place, though for a new place it's looking a bit run down! She's already started work on fixing her pad up, but renovating a whole house is a bit much for one kitten. While she's out taking a look around the forest next-door, she happens to walk into (get scared half to death by) a passing dog man, Hati, who has no place to stay. Not about to let a potential helping hand get away, Misha offers Hati lodgings in return for his help with the house. Everything seems to be going perfectly! But, Hati starts acting strange one night... and, is that a full moon...?
This series is hella cute, though it does get off to a rougher start than expected in chapter one. Don't let that scare you off though, 'cause romance starts blooming before you know it. It's interesting to see the approach the series takes in regards to the in-universe taboo of interspecies relationships and families, and the heartwarming message of acceptance that the couple and their friends represent. You'll be sad to leave these guys when the story ends, but you'll definitely be glad you joined them for the ride.
Bondage, Discipline, and the Seductive Young Man
Posted on Apr 21st / Genre: Mature Romance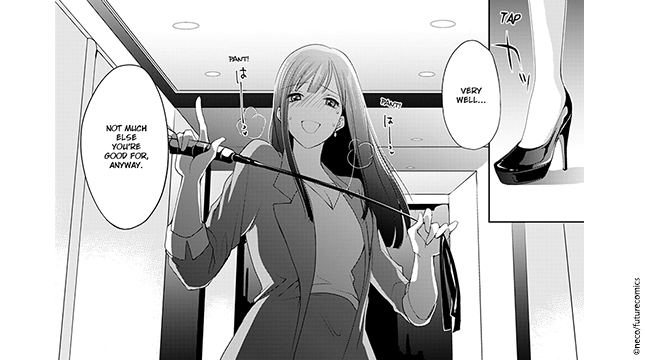 Candi's comment
Well, I guess I'm a masochist now. This series does things to you...
Minato Kashiwagi might seem like a successful, career driven office worker on the outside, but she's got something else going on underneath. With an eye for spotting masochistic guys, Minato is the dominatrix of the office with more than a few men under her thumb. The young, new intern in the office, Towa, seems like he'd be a nice addition to her collection, and she goes in for the kill at his welcome party. It turns out though that this weak looking newbie is quite the wolf in sheep's clothing, and it looks like it's finally Minato's turn to be dominated!
Towa is clearly an expert when it comes to teasing and tempting, and what really got me about this series was how I felt like he wasn't just toying with Minato but toying with me, too. Sometimes he'd just stop in the middle of the hot action and instead of feeling disappointed, I found myself flicking through for my next fix. This is honestly one of the hottest manga I've read in a while and with nice art and some fun little story twists to back it up, I can't recommend this series enough!
An Extramarital Quartet -The Detective and the Wife-
Posted on Mar 24th / Genre: Mature Romance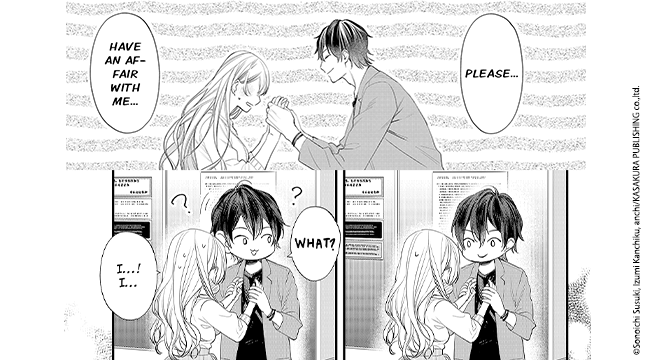 Candi's comment
It's got humor, drama, great characters, and hot (consensual!) sexy times. "An Extramarital Quartet -The Detective and the Wife-" really has the whole package and is for sure one of best mature romance manga I've read.
Not long after marrying a handsome doctor, Mika Asukai has already found herself hiring a private detective... but she doesn't want him to investigate her husband. No, she wants him to sleep with her! But, why on Earth would she want that!? Well that's where the story get's interesting...
You can't say too much about the plot of this series without spoiling it, but hopefully the promise of very twisty twists is enough for you to give it a chance!
Our detective Rei is simultaneously a genius and a loveable dope, and Mika is just the sweetest girl who you can't help but root for. Even the "bad guys" in the series are relatable and come off more as screw-ups than bad people, making the whole story feel very human.
The steamy sex scenes are really just the icing on the cake here.
Steamy Love -My First Crush Is Now My Boss!-
Posted on Feb 24th / Genre: Mature Romance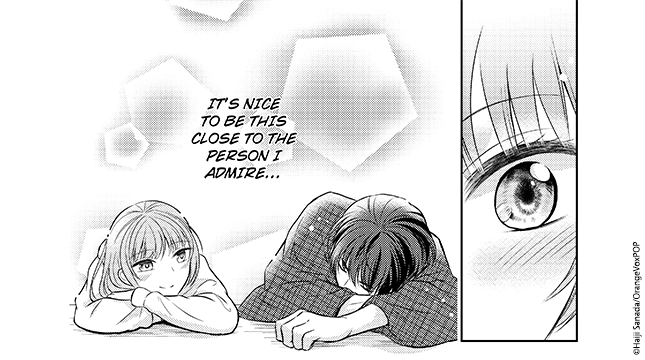 Candi's comment
Haiji Sanada does a fantastic job of combining cute and sexy in her stories, and this series is no different!
"Steamy Love" is (unsurprisingly) set at a beautiful hot spring resort where our girl Aoko has just started working. After visiting the resort as a kid, she always wanted to go back and work there, so we're off to a good start with dreams literally coming true! Just as importantly though, she wanted to meet the kind man she spoke to when she stayed there before. As it turns out, that man, Soji, is still working at the hot spring! ...Though the way they're reunited is quite... awkward, and it seems like he's not the nice guy she remembers him being! What happened during the time Aoko was gone...?
I loved how much character development fit in this short three-chapter story, that somehow managed to believably take Soji from being a jerk, to someone we trust to look after our sweet Aoko. The setting itself is a nice change from the standard city-based romance, with some beautiful countryside scenery and of course the hot springs themselves. Overall, this is just a really comfy read!
Your Moans Are Mine Alone -Is It Okay for a Yaoi Fangirl to Be Popular?-
Posted on Jan 27th / Genre: Mature Romance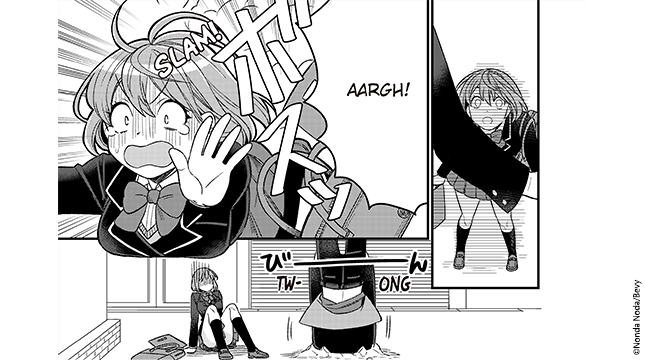 Candi's comment
So, this one's more of a shojo series + sexy bits! (+ a lot of laughs if you fancy some comedy!)
Our female lead, Yume, is a die hard fujoshi (she loves her pretty anime boys) and as is required of a true fan, goes out to get her favorite character Hiro's limited edition CD on release day. Unfortunately she gets caught up in a brawl (cue male protagonist Taiyo's entry), and her CD is destroyed! Still mourning of the loss of her treasured CD, Yume is approached by Taiyo at school (he's hella scary y'all). As it turns out, he picked up something she dropped during the brawl and just wanted to give it back! ...and, what's this? Taiyo's voice sounds just like Hiro's! Could this be fate...?
There aren't many legitimately funny mature romance manga about, but this is one of them! Much more light-hearted than your standard drama-filled-flick, this is fun read if you just wanna chill while you read something, but still want it to have a smidgen of spice. Sadly the series hasn't been updated in a long time, but worry not! We have another of the amazing author, Nonda Noda's, mature romance series, "That Unexpected Side to my Childhood Friend -Watch Out for the Animal in Him!-" that you should be sure to check out too!
My Brother's Friend Likes to Flaunt It
Posted on Dec 29th / Genre: Mature Romance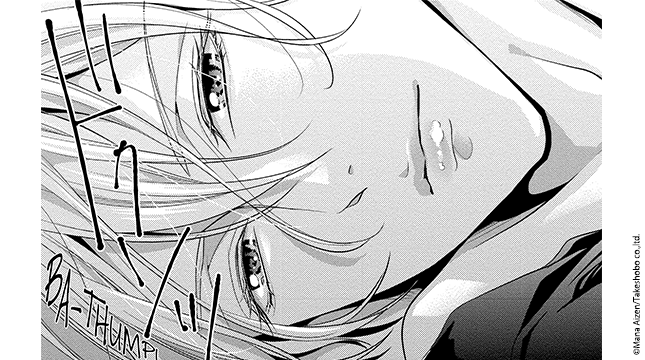 Candi's comment
We've got a sweet anthology this time, with four different couples! The cover illustration features the first couple, Haruka and Iori, and honestly I don't think it does justice to how pretty the art is on the inside! So lets talk a little bit about that first story shall we...?
Haruka has moved out of her parent's place, now that she's in college, and into her brother's apartment. The only thing getting her down is her brother's unusually sexual friend Iori, who keeps coming over (why is he always wearing tank tops!) The definition of a pretty boy, Iori has a sleek but muscular physique that he can't help but show off, and a... suggestive, way with words. Not to mention the detail in which his 'package' is drawn. It turns out that this sexuality of his is enough to win Haruka over, with her being the one to land the first kiss!
My two favorite things about this book are: how sexy and consensual all the smut is, and how the women are portrayed as being strong whilst still being feminine. The relationships are all super wholesome and honestly this is all exactly what this genre needs more of!
You Want to Be Doted On More Than Anyone
Posted on Dec 9th / Genre: Mature Romance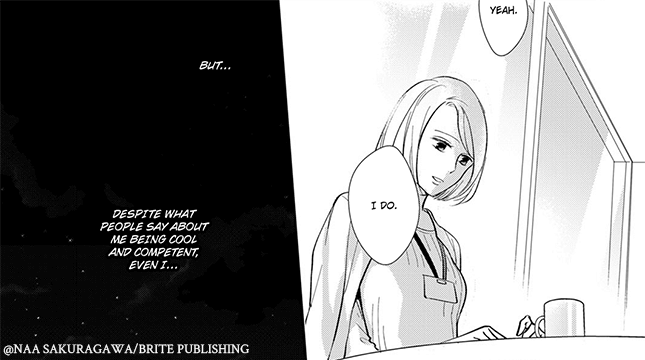 Candi's comment
A sweet and spicy story with a really cute premise! Riko is a brilliant, hard-working business woman who's loved by all her female colleagues for being someone they can rely on?she's not afraid to stand up against sexual harassment, or against the powerful men in her field. Some would even call her "chivalrous?a phrase usually reserved for men. But Riko's whole life, she's harbored a secret: deep down she loves girly, cute, feminine things and has always been desperate for her own prince charming to come sweep her off her feet. When she meets and starts a relationship with an old classmate she's forced to decide: will she continue being the woman she believes he fell in love with, or will he finally allow someone to see her true, authentic self? At its core, this is a story about not judging a book by its cover, and learning to accept yourself for who you really are rather than what the world expects you to be?with plenty of spicy scenes thrown in to mix things up! This book stands out because it turns the trope of the powerful businesswoman on its head, and shows that all people can be multifaceted in both their personalities and interests!
Bride of the Zaitsu Family
Posted on Nov 11th / Genre: Mature Romance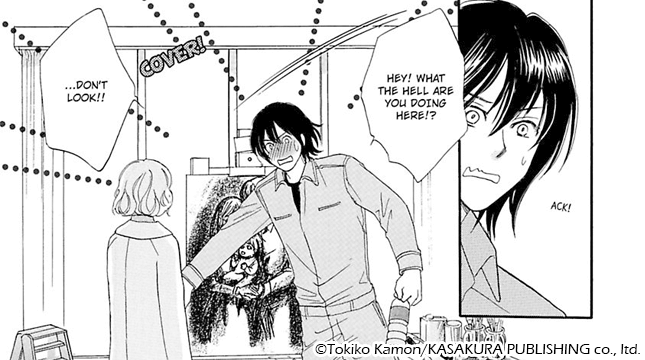 Candi's comment
This anthology includes two stories: Bride of the Zaitsu Family and I'm the Master.

In Bride of the Zaitsu, Choko Kojima moves in with her fiance, Eiichi Zaitsu. Eiichi's 19-year-old son, Sai, refuses to open up to Choko, asking her if she's just moved in because she did the deed with his dad and even flips her off. Frustrated but determined to get Sai to open up to her, Choko starts cooking meals for him and his father. Disinterested in her efforts, Sai closes himself up in a cabin within walking distance of his father's mansion. Choko cooks a meal and decides to take it to Sai and at least win over his stomach. On the way there, however, she's nearly attacked by a bear! She trips and falls, and when she wakes up she's in bed next to Sai and barely clad! She jumps out of bed and runs out of the bedroom and into his studio. There, she sees all of his beautiful paintings! Could she have misunderstood Sai from the get-go?

In I'm the Master, Aoi Katase is a workaholic who treats herself to a home cleaning service once a month with her favorite cleaner, Yuma Maki. Yuma usually comes to clean her place and cook her dinner while she's gone at work, so she's never met them, but she imagines Yuma's a sweet old lady. On one Friday after work, Aoi calls and requests Yuma while she unwinds with a beer. The service informs her that Yuma will only be available the next morning. Aoi asks them to send Yuma anyway. The next morning, her doorbell rings. In her glasses, pajamas, and with no makeup on, she answers the door and finds a man in a suit and tie at her doorstep. Assuming he's there to sell her something, she turns him away, but he hands her his business card. It turns out the sweet old lady she pictured was Yuma is him! She reluctantly lets him in, and so begins their adventure in getting to know each other!

If you're looking for a funny but sweet anthology to cozy up with by the fireplace, you won't want to miss this!
I'll Teach You How to Behave -My Yakuza Boyfriend's Sensual Touch-
Posted on Oct 14th / Genre: Mature Romance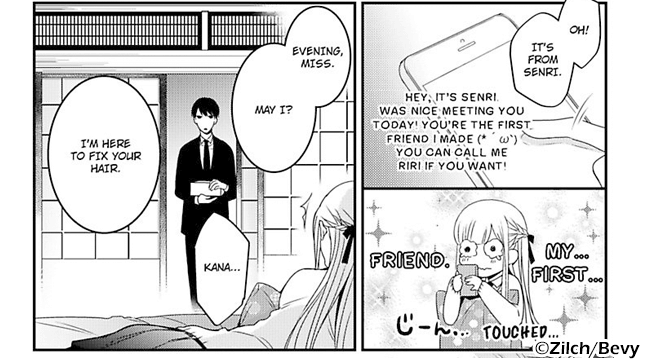 Candi's comment
Sakurako Tohdo is starting her first day at her new school and wants to show up looking perfect. She's running late, so Kana, her personal servant and chauffeur, helps style her and see her off to school. Sakurako's desperate to make new friends, so before Kana drops her off, she goes over a list of rules about how to behave in front of her friends: no calling her "Miss," no picking her up in a limo, and no black suits. Sakurako leaves school that day depressed no one talked to her at all. She's transferred to a school on the other side of town because everyone at her old one knew her family had ties to organized crime and she wanted a fresh start. Just then, a boy calls out to her, "Sakura!" Startled, she turns around sees Senri Hanada, her classmate, picking a cherry blossom petal out of her hair. Senri tells Sakurako how he wanted to approach her because she was so pretty, but couldn't work up the courage until then. He asks her to be his friend and to exchange her username with him. Kana catches Sakurako talking to Senri and drags her off campus, saying her dad wanted to see her immediately. In the car, Kana scolds Sakurako for being too defenseless and... kisses her!? She finds herself enjoying it more than she should, but quickly comes to her senses and pushes Kana off. They head inside and see her father, who tells her he's promised her hand in marriage to one of the sons of the Karyu gang! Sakurako runs to her room and holes herself up there, but Kana comes by to help her change out of her uniform and brush her hair. Sakurako then confesses that she wants Kana to see her as a woman. Kana flips her over on her bed and asks her if she knows what she's asking for! Will Kana go all the way with Sakurako? Read on and find out!
My Best Friend Only Gives Me Poison
Posted on Sep 16th / Genre: Mature Romance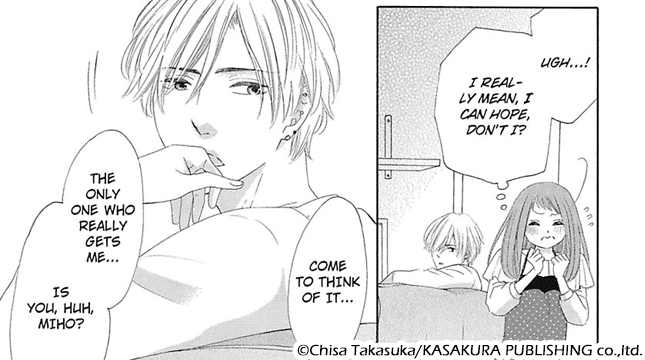 Candi's comment
Miho's best friend since childhood, Yuma, is a total playboy. He leaves a trail of broken-hearted girls behind him wherever he goes. The only reason Miho's been allowed to stay so close to him was because she never crossed their friendship line, despite being secretly in love with Yuma herself. Things change one night after Yuma returns to his apartment, famished, and tells Miho about the latest girl whose heart he's broken while wolfing down a bowl of strawberries Miho planned to use for dessert. Miho defends all the girls he's been with, chewing Yuma out for his behavior. It dawns on Yuma then that Miho's the only girl he's ever been the closest to, and casually suggests they test their chemistry. Yuma grabs Miho, and... kisses her!? Startled, Miho shoves Yuma off of her and tells him it'll never happen. The next day at school, things are back to normal: Yuma shows up in class with a new girl wrapped around his arm and asks Miho to move over so they can sit next to her. Once seated, Yuma's hand brushes on Miho's thigh! Miho jolts right out of her seat and asks the professor if she can change seats. After class, Miho goes to Yuma's apartment out of habit. Just as she's about to open the door, Yuma walks up behind her with her favorite treat, but really wants Miho for dessert! Will Miho give in and test her chemistry with Yuma?
Wolves in Lab Coats -Examined Behind Closed Doors-
Posted on Aug 19th / Genre: Mature Romance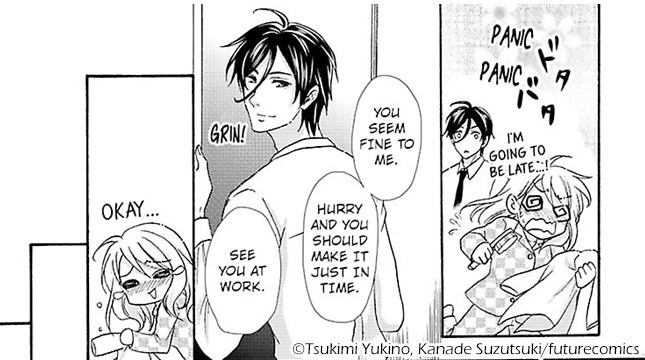 Candi's comment
Natsuna's mother, Kanade, remarries. Her stepfather, Takao, is a successful doctor who brings his two sons, Hideo and Akihide, with him. Hideo and Akahide are also aspiring doctors. In fact, six years after they become a new family, they have completed their residency and are on their ways to becoming full-fledged doctors. Takao takes Kanade to the U.S. to see how his E.R. is doing and leaves Hideo and Akahide alone with Natsuna for one year! Not wanting to be an outcast, Natsuna begins studying to become a certified E.R. nurse. She pulls all-nighters to catch up with everyone else. Hideo admonishes Natsuna for her constant late nights. However, Natsuna is only more determined than ever to complete her studies and continues to burn the midnight oil. On one fateful day, Hideo comes into Natsuna's room to wake her up. She's overslept and is about to be late to work! Natsuna drowsily makes her rounds and passes by an empty exam room. She hears voices coming from inside, so she steps in to see who's there. There, she finds Dr. Kurosaki with another nurse! Startled, she tries to flee, but Dr. Kurosaki pins her down to examine her. Just then, Akihide walks in and shoos Dr. Kurosaki away. He proceeds to give Natsuna a follow-up exam, but things take an unexpected turn when he tells her neither he nor Hideo view her as their sister! Read on to find out what happens to Natsuna next!
Do You Want to Be Spoiled? -Bound by My Hoodlum Boyfriend-
Posted on Jul 22rd / Genre: Mature Romance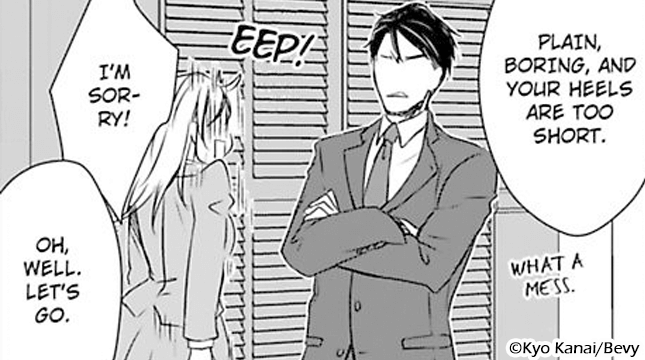 Candi's comment
Hana Ooyagi, 25, is in the middle of a quarter-life crisis. Her company's gone bankrupt and, to top it off, she's been evicted from her apartment. As she drags her luggage out of her apartment and crosses the street, she sees a car coming and steps in front of it! Out of fear of dramaging the expensive-looking car, however, she jumps out of the way and blacks out. When Hana comes to, she finds herself in a fluffy bed and with a hot, somewhat intimidating man standing at the end of the bed. The man asks Hana what she wants. Hana blurts out, "to marry you!" but later retracts the statement, saying she would like to marry a man LIKE him. The man has his way with her to test out their compatibility. Pleased with how Hana performs, he rushes her to get dressed and whisks her off to a fancy house and introduces Hana as his fiancee to his parents! Hana gets the feeling she'll be marrying into the underbelly of the world, and her suspicions are confirmed when Ryogo Shirakawa's (the man's name, as she then learns) cousin, Yosuke Kamiya comes to her rescue. Will Hana go through with her marriage to Ryogo?
Love Debut
Posted on Jun 24th / Genre: Mature Romance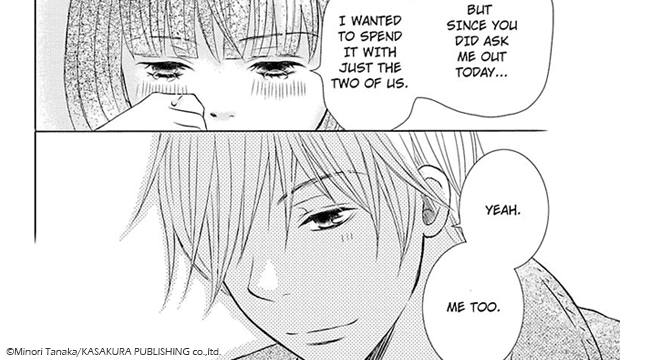 Candi's comment
Suzuki is captain of the soccer team and the most popular guy in school. Hina's always had a crush on him, but has never had the courage to ask him out... until graduation! Hina makes a bet with her friend and loses. In front of a line of girls waiting to ask Suzuki out, Hina professes her love for him and asks him out. "Okay. Sure," he responds calmly. The girls in line scream at him about how they have no connection whatsoever and demand an explanation. Suzuki says he'd never expected Hina to ask him out and thinks it might be fun. Hina's never dated before, so she doesn't know how to get closer to him. She's so awkward that on their first date she even orders the wrong drink for herself! What will she do if Suzuki decides she's not as fun as he thought she'd be!?
Can't Take My Eyes off of You
Posted on May 27th / Genre: Mature Romance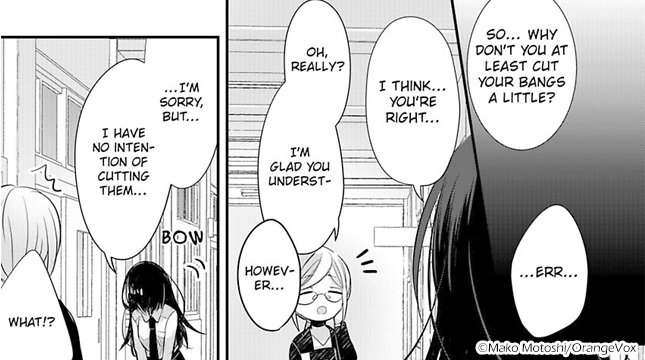 Candi's comment
Satomi finds herself in a new living arrangement when her father remarries and she gains a stepbrother, Yoshikazu. Her relationship with Yoshikazu is rather rocky. They hardly talk to each other at school, let alone at home. Yoshikazu is extremely popular at school, constantly surrounded by friends and classmates, and is always being hit on by girls. Satomi, on the other hand, struggles to even make any friends because she is rather gloomy and hides her eyes with her bangs. When a teacher suggests she try cutting them, Satomi refuses, recalling her father saying she "looked like her." One afternoon, on his way home from school, Yoshikazu and his friend, Maki, are caught in a sudden downpour. Yoshikazu invites Maki back to their place and offers him the shower and a towel. Maki enters the bathroom and hears a thud from inside the shower. He's startled to see Satomi step out wrapped in a towel. He panics and falls on Satomi. He feels something soft, and realizes he's grabbing her... what!? Read on and find out what happens next!
Pampered by the Young Wolf -It's Your Fault for Seducing Me-
Posted on Apr 30th / Genre: Mature Romance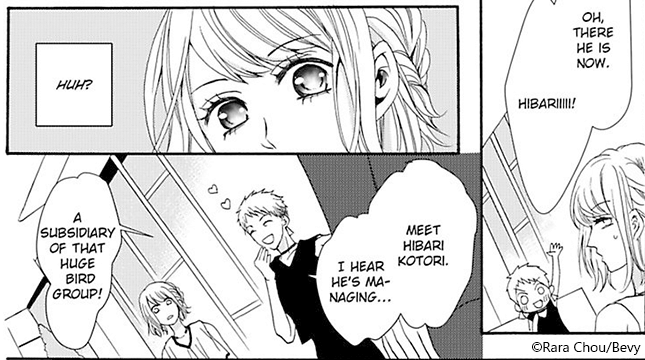 Candi's comment
Kiriko, a 29-year-old office worker, visits her parents every month. Every time they ask her when she'll get married and start a family. She's kept her head down and tried to stay focused on her work. One day, she's approached by a young man on the street who professes his love for her. Afraid it's a marriage scam, she runs away. Later, her mother calls Kiriko and informs her that she and her father have arranged a marriage partner for her. Who should show up to the arranged meeting but Hibari Kotori - the very man who professed his love to her on the street! Kiriko decides to have a night of fun with him, and leave it at that. The next day, she shows up to work in a cheerier mood than usual. Her coworkers notice her change in demeanor and appearance. She's called into a meeting later that day, only to find it's with... Hibari!? What will Kiriko do? Read on and find out!
Just One Taste Isn't Enough! -Wanna Come Over Again Tonight?-
Posted on Apr 1st / Genre: Mature Romance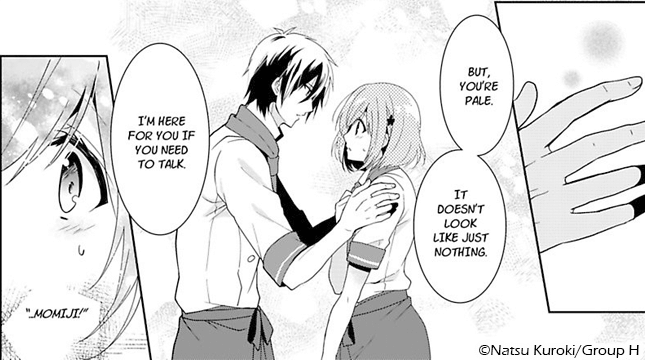 Candi's comment
Momiji Sakura's a run-away college student. She's hopped from job to job (and home to home) in order to survive. After her last job at a convenience store, Momiji begins working at a pastry shop. Momiji's coworkers tell her their boss, Yuu, is shy and moody, but Momiji finds him kind of scary despite his tall stature and good looks. Before she leaves her first day on the job, she decides to tell Yuu goodbye. She steps out onto the terrace and finds him completely absorbed in tending to the buttercup flowers. Momiji recognizes them and whispers their name to herself. She catches Yuu off guard, who turns around and looks at her. Momiji approachs him and tells her she's leaving. Yuu tells her their name means "Radiant Charm" in the language of flowers and adds, "just like you." Momiji's heart skips a beat. One month into the job, Yuu catches Momiji distraught on the phone with her friend. He offers to lend an ear, so Momiji opens up about her friend moving out and her no longer having a place to live. Yuu offers to house her. Momiji reluctantly takes up his offer. After a homecooked meal, Momiji comments on Yuu's flowers and tells him they remind her of him. Yuu jumps on her and kisses her! What will Momiji do next!?
Clumsy Love -Secret Cohabitation with a Younger Guy-
Posted on Mar 4th / Genre: Mature Romance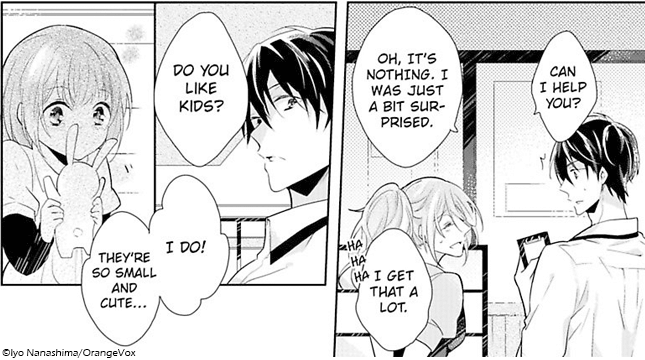 Candi's comment
Hinayo Otose's the target of all of the guys' gossip at her work because she's flashy and comes off as flirtatious. Everyone thinks she's only out to play with guys' hearts, but the only thing she wants is real love and a boyfriend. Who doesn't? One fateful day, she meets her new colleague, Yuzuki Kiyohara. She instantly gets a good vibe from him, but finds him a little intimidating on the surface. Yuzuki's warned about the gossip going around about her and told to keep his distance. Yuzuki sees Hinayo comfort a crying child in their restaurant and is surprised to learn that Hinayo loves children. On his way home from work in the rain, he runs into a shoeless Hinayo sitting in the rain. He carries her back to his place and lets her take a shower and change her clothes. After she's dried off, she cooks him dinner as thanks. Struggling to get back on her feet, Hinayo stays as Yuzuki's place and makes him dinner every night. Yuzuki's coworker tells him Hinayo's just playing him and not serious. Dejected, Yuzuki returns home and hardly speaks a word to Hinayo. He then breaks his silence and asks her if she's dated their coworker. She tells him she has, and before she knows it, she's jumped on him and kissed him! Will Yuzuki return her kiss!?
Coffee Lover
Posted on Feb 5th / Genre: Mature Romance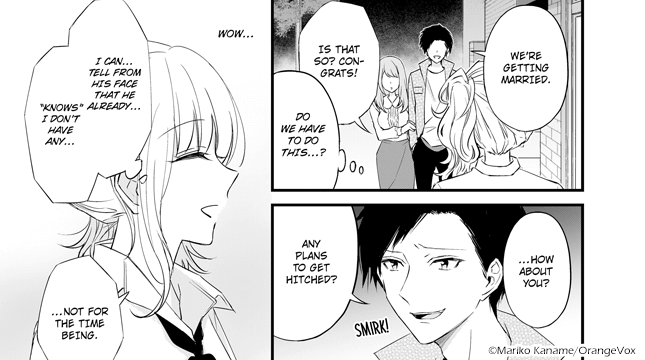 Candi's comment
Sakura Shiromine is a barista at Cafe Lunetta. As a college student, she fell in love with coffee and worked her butt off to get where she's at. Now, her dream is to open her own coffee shop. Of course, she hasn't given up on love, despite being dumped by her ex for being "too independent" and "career-oriented." she's intrigued by the regular at Cafe Lunetta, hot college student Takashi Matsuoka. Takashi's irresistible and always sits at the counter where he can watch Sakura make coffees and hit on her. He started coming to Cafe Lunetta after Sakura took care of his little brother on an awfully rainy night. One night, Sakura's ex shows up at the shop to rub his engagement in her face. Takashi swoops in to the rescue and then invites Sakura to his place for a coffee. She reluctantly accepts his offer, makes him coffee with the machine he bought just for the occasion, and then informs him it will be the first and last time she visits his place. Takashi tries to ease her by offering her ice cream with affogato (which means, "to drown" in Italian, by the way). An ice cream and several drinks and tears later, Sakura's reassured by Takashi that she's not alone and that her ex is in the wrong. He pulls her close and offers to... kiss her!? Will Sakura drown in Takashi's love? Read on and find out!
Only Be Yourself with Me
Posted on Dec 25th / Genre: Mature Romance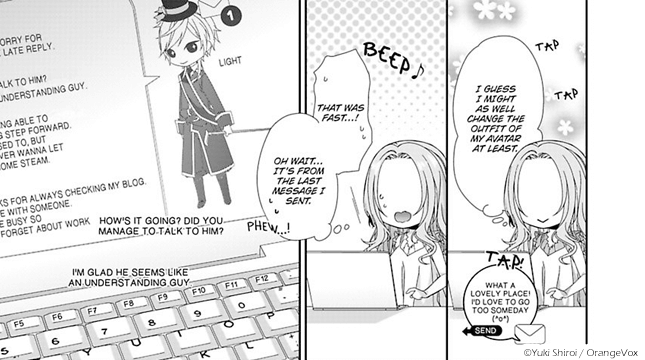 Candi's comment
Mei Narimiya is the heir to the exclusive kimono store, Narimiya. She's always struggled to connect with others and finds it easiest to be and express herself online. Worried that she'll end up alone for the rest of her life, her parents arrange a marriage with the recently repatriated young and handsome bachelor, Kou Hino. At their first meeting, however, Mei can hardly strike up a conversation with him and spills tea all over the table. She nearly cries in front of Kou, but he assures her that there's no pressure for her to force a conversation and asks to meet her again. The next time Kou comes to see Mei, he offers to chat with her through their cell phones and Mei begins to open up to him. Walking on cloud nine the next day, Mei goes out to run errands, but bumps into a guy on the street. The guy apologizes and Mei can hardly mumble a word to him! "She's hot, but kind of creepy! No thanks! Hahaha!" he comments to his friend as they walk off. Dejected, Mei decides to make the next time she sees Kou their final meeting. She breaks the news to him the following week, gets up to leave, but trips and falls. Kou goes to catch her, but falls on top of her and... kisses her!? Will Mei change her mind about Kou? Read on and find out!
First Love Reset
Posted on Nov 27th / Genre: Mature Romance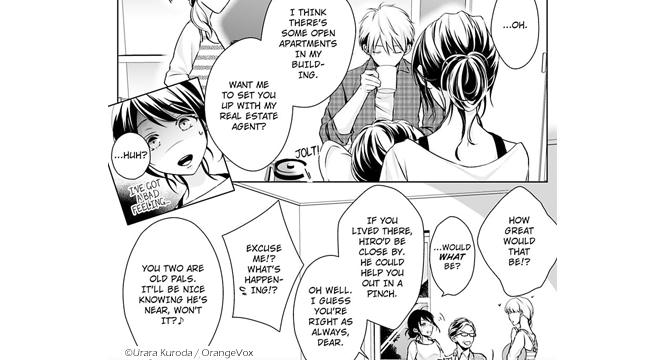 Candi's comment
Ako Fujima, 25, is desperately trying to convince her parents to let her move out and "spread her wings." All she wants is a pet cat and freedom like her other friends. Ako's discussed it before with her mother, who wholeheartedly agrees. Ako's father, on the other hand, thinks that she's flaky and that it's not right for someone her age to move out yet. Just then, the doorbell rings. Who should it be but her childhood friend, Hiro. Ako, or Ann as he affectionately called her, and Hiro were inseparable. Ako asked him out in high school, but Hiro shot her down. Ten years later, the thorn from that rejection is still stuck in her heart. Hiro mentions that there are open apartments in his building and offers to help get her one. Ako ends up moving into his building and living two floors below him. After she realizes she forgot to call the gas company to turn on her water heater, she heads up to Hiro's room to borrow his shower. Ako sits with Hiro for a beer afterwards and ends up drunker than she expected. She nearly falls down, but Hiro grabs her...! His feelings for her come rushing back to him! What will Hiro do next!?
When Destiny Calls!
Posted on Nov 6th / Genre: Mature Romance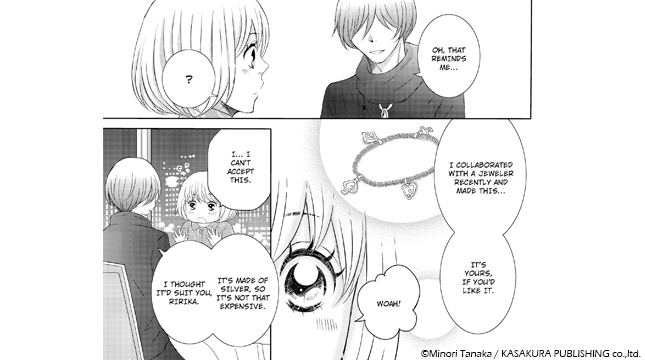 Candi's comment
Ririka's passionate about fortune-telling, especially her own fortune. She wants to meet her knight-in-shining armor desperately, but still hasn't had any luck. One fateful day on the train, she locks guys with a hottie standing by the doors. Just then, the train takes a sharp turn and her bag falls on the floor, spilling out all of her lucky charms. The guy laughs and exits the train at the next stop. Depressed, Ririka expresses her woes to her best friend who predicts that she will meet her knight-in-shining armor... that SAME day. Half-filled with doubt, she walks over to the art club after class where she meets Kyoichi Tono, a world-renowned sculpture and alumnus of her college. He invites her to his show. Ririka, walking on cloud nine, rambles on and on about how handsome, (probably) rich, and amazing Kyoichi is to her best friend since middle school, Shu. "Bullshit!" Shu screams as he pulls Ririka toward him and... kisses her!? Ririka's torn between two guys! Who will she choose? Read on and find out!
Sadistic Boyfriend's Maid -Body Repayment Plan-
Posted on Oct 9th / Genre: Mature Romance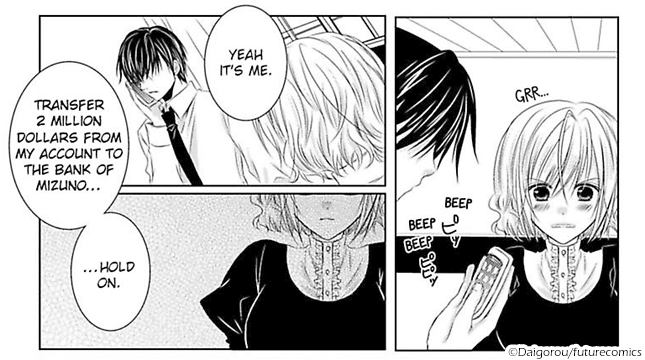 Candi's comment
This spicy one-shot features Rin and her master. Rin's worked odd jobs all her life to help pay off her family's debt. She's now working as a maid to an extremely wealthy, well-toned and attractive young man. One afternoon, he calls her into his private office and offers to pay off her family's debt then and there in full provided she do a little extra work for him...

If you're looking to spice up your manga bookshelf, you won't want to miss this one!
From Booty Call to Girlfriend
Posted on Sep 11th / Genre: Mature Romance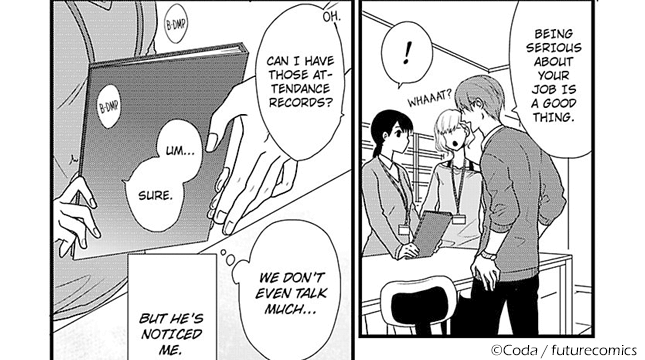 Candi's comment
Aoi Nishino is a part-time professor at a graphic arts and design college. She's earned herself the reputation of being an uptight teacher among the students. Eri Maeda, her newest colleague, tells her to loosen up and dress more casually. Sosuke Miura sticks up for her, and that's when we first find out that Aoi has the hots for him. Sosuke later tells Aoi that he's planning the yearly full-time-staff-only party and wants to invite her this year. Aoi jumps on the opportunity, thinking it'll give her the chance to get to know him better. At the party, Aoi and Sosuke are seated right next to each other and get to talking. Things seem to be going well, but Aoi doesn't get her hopes up. They decide to skip out on the after party, and on the way home, Sosuke admits that he's got a little liquid courage, so he asks Aoi to come back to his place! Will Aoi accept his invitation? Read on and find out in the latest series from Coda, author of bestselling Artist And The Beast!
Intensive Care
Posted on Aug 14th / Genre: Mature Romance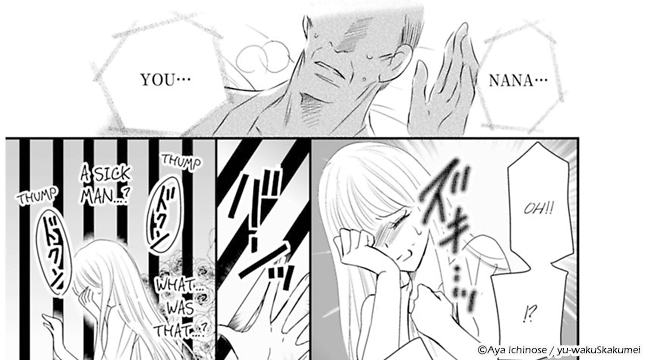 Candi's comment
On her way home from a wedding dress fitting, Nana Hiiragi is involved in a terrible accident in which she loses her memory. When she awakes in the hospital after having a nightmare, she finds herself surrounded by two men she doesn't recognize. One is Dr. Yaotome, and the other is her fianc?, Yusuke Kogami. Nana tries her best to understand how she could've fallen for the rough-around-the-edges Yusuke and can't help but feel afraid of him. One night, a sick man flashes before Nana's eyes. She feels like she knows him from somewhere, but can't recall where. She tries to go out in search of him, but is stopped by Yusuke. Yusuke tells her she's become meeker and that he prefers her this way. What on earth was Yusuke like before she lost her memory? Will Nana recover her memory and discover who the sick man is? Read on and find out!
Love in the Fujinami Household -A New Romance Begins in the Family!?-
Posted on July 17th / Genre: Mature Romance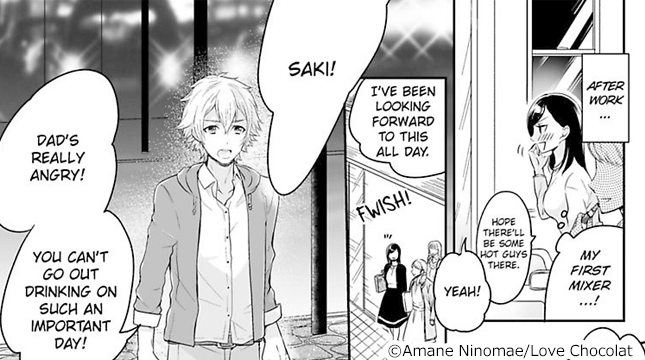 Candi's comment
Saki Fujinami's father remarried when she was 10 years old. Her mother passed away when she was 14. Ever since then, she's been living with her brothers who are so over-protective that they don't even let her go to a simple mixer. It's understandable, though. On her way home from school, she ran into a flasher, and her brothers insisted on dropping her off and picking her up from school. When the story begins, Mitsuki, her youngest brother, asks her to go to a caf? with him. Saki refuses, saying she's got another work dinner, but Shinobu drills her about it. She gives in and confesses that she's going to a mixer. Despite their efforts to stop her, Saki heads off to the mixer anyway! Just as she's leaving work with her friends, Mitsuki shows up and tells her their father's angry she blew off Mitsuki. Her friends insist that she prioritize her family and skip the mixer. Mitsuki drags her back home where they watch Takaomi's films. Right before the juicy part, Takaomi turns off the TV. Saki laments that she's stuck at home, unable to find a husband when her brother's character is getting all the action.

"If you want a husband, there's one right here," Takaomi says nonchalantly.
"...Huh? Where?" Saki asks.
"You shouldn't be so rude to your husband," Takaomi responds, as he leans in to Saki...

Hold up...! Takaomi can't be serious...!? Read on today and find out what happens next!
The Line Between Love And Play
Posted on June 19th / Genre: Mature Romance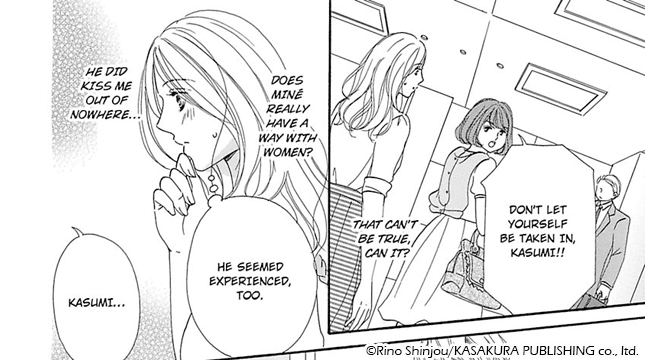 Candi's comment
Kasumi's secretly in love with her coworker, Miné. One night when she's doing overtime alone in the office, Miné brings her food and offers to help her. As she's eating and watching Miné, noting his long eyelashes and his soft and smooth-looking skin. "You look at me a lot, Kasumi," he casually mentions. Kasumi blushes, but brushes it off and tries to escape to the bathroom. Miné grabs her arm and asks her why she's running away. He pulls her close to him and kisses her! Just when they're heating up, Satoda, their coworker, comes back into the office to get her phone. The next morning, Satoda approaches Kasumi and asks her just what she was doing with Miné. "You should be careful with Miné. I've known Miné since college. He's got a way with girls," she warns Kasumi. Kasumi starts to doubt Miné's true intentions with her. Will they end up together, or was Kasumi just a fling? Read on and find out!
Hot Communication
Posted on Apr 17th / Genre: Mature Romance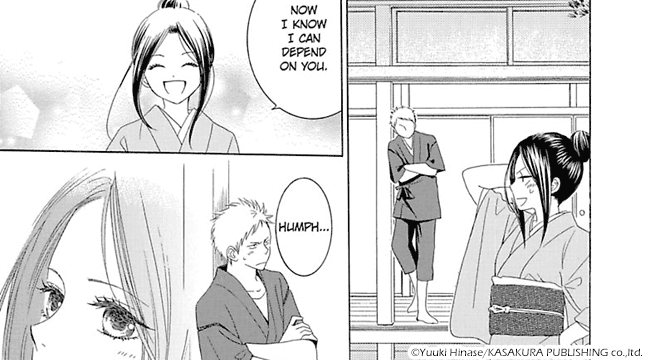 Candi's comment
Kagura Takeshiba, a.k.a. Kabu, began working at the Matsuya hot spring inn after he was expelled from school for picking a fight. The Matsuyas warmly welcome him to the team, but Kabu won't have any of it. He spits in their face, so Kozue, the inn's poster daughter, takes off her slipper, whacks him on the head with it, and drags him off to start working. Kabu's pretty fearless, but he might have just met his equal! They clean a room after the guest checks out and Kabu discovers a pair of glasses left behind. Kozue takes Kabu with her, jumps on the inn's scooter, and chases the guests down to return their glasses. On the way back, she stops to shop for groceries to take back to the inn and Kabu runs into the gang of delinquents that got him expelled. They're about to pick a fight when Kozue approaches them, thwacks Kabu on the back of the head (again) with a red snapper she just bought, and drags him back to their scooter. Later, when they're cleaning up the outdoor hot spring bath, Kabu asks Kozue why she butted in and if she was afraid of being attacked. "Won't you save me if that happens?" she teasingly replies. Pissed off, Kabu turns the hose on her and sprays her with it! He thinks it'll put her in her place since her kimono is so thin he can see through it, but she proudly takes off her kimono and shows off her polka-dot underwear! "Isn't it cute? It's my favorite underwear!" she taunts. Later that night, she takes another round of drinks to a room where a group of loud and drunk businessmen are having dinner. They insist that she pour them their drinks and try to cop a feel. She tries to push them off, but can't! Just then, Kabu kicks the door open and threatens to call the police on them if they don't stop. As a thank you for resucing her, Kozue pours him a glass of the alcohol she stole from the guests in all the commotion. Some time later, Kabu earns his first paycheck and is readmitted to school. Kozue asks him to take her out for fast food, karaoke, and games to celebrate. At the arcade, she steps out to go to the bathroom and when she returns, Kabu's gone! She realizes the gang they ran into on his first day at the inn have probably taken him away to get their revenge on him! She chases after them and sees Kabu lying on the ground, beaten up pretty badly. She keeps some distance and eavesdrops on their conversation. They reveal that they're planning to burn down the inn if Kabu doesn't steal their money and give it to them! Will Kabu steal their money? Will Kozue work up the courage to rescue him again? Read on and find out!
Little Devil Switch
Posted on Mar 20th / Genre: Mature Romance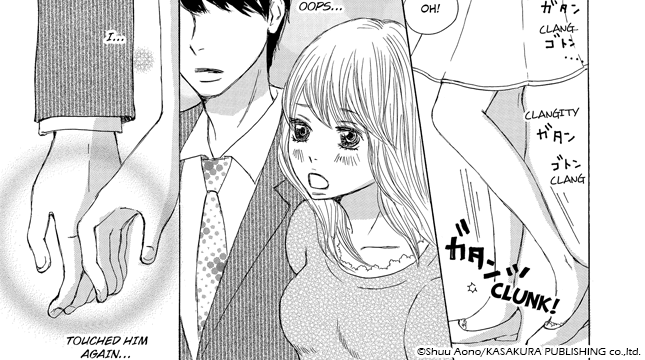 Candi's comment
This anthology features four stories about women with vastly different vices. The first story, The Touchy Businesswoman, is my favorite and is about the 26-year-old office worker, Hana Sumoto. Hana's been with the company for four years and has seen her share of female colleagues leave the company with their golden marriage ticket. She denies wanting to find her own husband-material so she can leave the company, but secretly wishes for it. Despite countless weekends going to speed dating events, she's had zero luck. Her only pleasure in life is riding the morning commuter train with the handsome, young businessman who always sits in the same seat. On one fateful day, she rides the usual train and expects to see him in his seat. However, there's an old man sitting there. Wondering where he went, she looks to her side and sees him standing really close to her! Her heart starts beating faster. Thinking this is her only chance, she tests the water by brushing her hand against his. But, he doesn't respond as she'd hoped! Just when she's on the verge of giving up on her love life, she runs into him on a blind date! Will he return his feelings for her?
If you're in the mood to indulge your vices, I highly recommend Little Devil Switch! You might also like the last story, Depraved Wife.
Thrill Me with Your Voice
Posted on Feb 20th / Genre: Mature Romance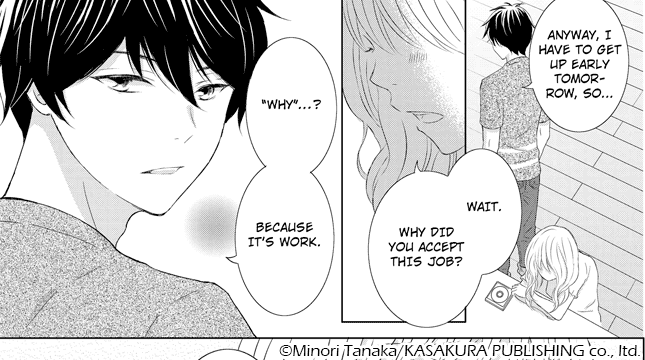 Candi's comment
Office worker Sumika lives with her boyfriend of three years, Kaito, whom she met after she got sick in the karaoke bar he was working part-time at. Kaito is now an aspiring voice actor whose work comes in at sporadic times. Whenever they try to make plans to do something, Kaito always gets a job at the last minute and they have to cancel their plans. On top of that, he always comes home late whenever he's working. Sumika's frustrated, but can't bring herself to voice her frustrations to Kaito since she was the one who pushed him into voice acting. One night, Kaito comes home at a decent hour. She invites him to see the latest movie he's done voice acting for, but he suggests she go with her coworkers instead. Exhausted, he passes out right there in the kitchen. Sumika moves him to the bedroom and goes back to the kitchen. There, she finds a demo CD of one of his voice recordings. She figures it wouldn't hurt to listen to it. She puts it into a CD player, puts on some headphones, and is shocked by what she hears! She was told it was for a video game, but didn't expect it to be THIS kind of a video game! She finds herself aroused by his voice, but can't wake Kaito up to fulfill her urge, so she decides to get the job done herself. She's so enveloped in his voice and her pleasure that she doesn't notice Kaito standing behind her until he yanks the head phones from her head. What will he do next!? Read on and find out!
I Can't Help But Love Him.
Posted on Jan 23rd / Genre: Mature Romance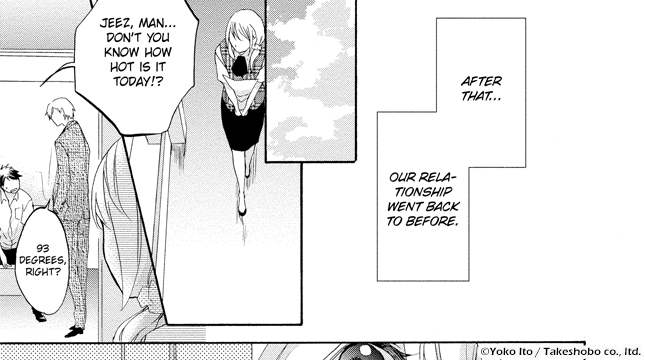 Candi's comment
Sako is just your run-of-the-mill office worker. Eiji, on the other hand, is the office's hotshot salesman. One fateful afternoon in the file room, Sako peeks through the gaps in the bookshelf as she's putting files away, hoping to get a glimpse of him. But, he's disappeared! She hears footsteps beside her and turns to look. It's Eiji, and he's giving her a good lashing. Does some lowly, pathetic office worker think she's got a chance with someone as handsome and elite as him? Hah! As if! Sako apologizes, then grabs his face and starts squishing it! She tells him she couldn't give a crap about his looks - what she's really into is his suit! That's right, folks: Sako's got a major thing for suits - especially the ones that Eiji wears! After that, Eiji and Sako start hanging out. For the life of him, Eiji can't figure out why Sako's the only woman who's not interested in his looks. All the women in the office fawn over his face. Both hate to back down, so they decide to go to a hotel and prove their real intentions. The next morning, Sako awakes from her drunken stupor and realizes what they've done! She can't bring herself to talk to him, let alone look in his direction. Things suddenly take a spicy turn when they end up on the same company trip! Where will they go next!? Read on and find out in this latest addition to Renta! from Yoko Ito, author of the best-selling Allergic To Love!
Puppy Love
Posted on Dec 26th / Genre: Mature Romance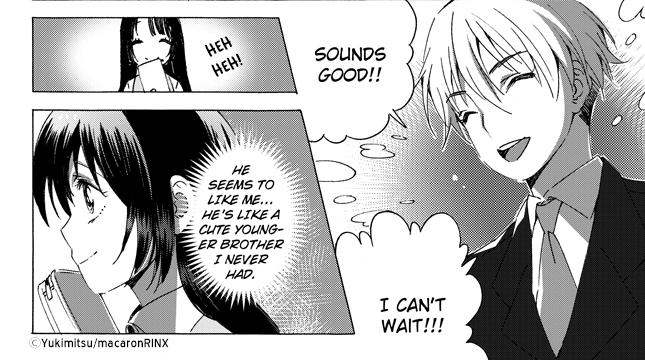 Candi's comment
It's hiring season at Yuki's company, and some of the new hires are pretty handsome! The young Nobuteru acts like a younger brother, while Hirotaka is hard-working and diligent. At the company party, Yuki gets swept up in the moment and has a few drinks too many. The next morning, she wakes up in Nobuteru's bed! If only she could remember what exactly happened last night...! Did she do anything with him? Nobuteru is definitely handsome and kind, but he's five years younger than her! Will they be able to put aside their feelings and have a normal working relationship after this? Or is this the start of a budding office romance?
Unspoken Truths
Posted on Dec 19th / Genre: Mature Romance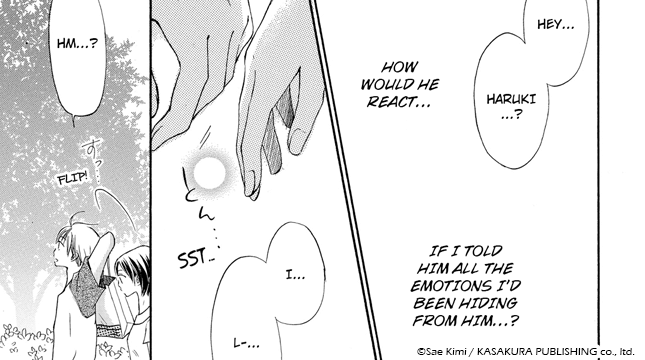 Candi's comment
Kumiko's father and Haruki's mother married each other when Kumiko and Haruki were just children. Haruki's cheerful demeanor made Kumiko fall deeply in love with him. She knows that Haruki's already in love with the school nurse, and that they couldn't possibly be together, even if they are step-siblings. One afternoon, Haruki begs Kumiko to go with him to see the school nurse. When they show up in the nurse's office, no one is there. Haruki starts rummaging through the papers on her desk and discovers that the nurse's dating Mr. Nakano, the P.E. teacher. Heartbroken, Haruki shuts himself up in his room and cries himself to sleep. Unable to stand the pain Haruki's going through, Kumiko goes into his room to comfort him, but can't seem to hold back her own feelings. Will Haruki respond in the like? Read on and find out!
The Manga Artist and the Ditz
Posted on Nov 21st / Genre: Mature Romance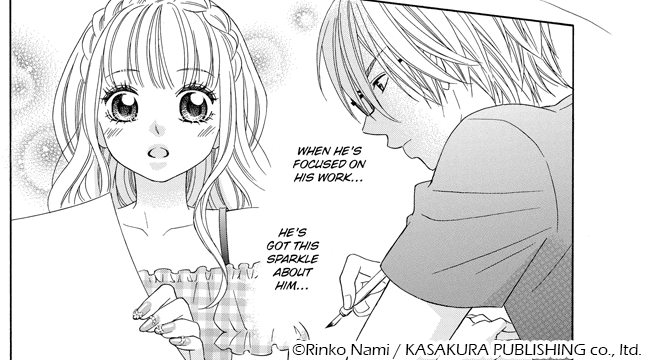 Candi's comment
Sumire is just your average woman who works in a convenience store. However, there is one customer, Naohito, who always avoids her - even if her register is the only one open! On one particularly fateful day, Naohito comes down to buy lunch. Just as she's about to call him over to her register, he heads right over to her boss's register! Furious, Sumire decides to go work on inventory. Just as she turns away, she hears a loud thud. She turns back to look and finds Naohito passed out on the floor! Being the only young and able-bodied person on shift, she's made by her boss to carry him back to his apartment in the complex above her store. She lugs him into his apartment, tosses him on the floor, and sees piles of trash all over the place. A paper catches her eye. She picks it up and realizes he's a manga artist! Sumire's always dreamed of being a manicurist, but her parents opposed it and had her go to college. Unable to give up her dream entirely, she does her own nails in elaborate designs instead. When Naohito comes to, he sees Sumire's well-polished nails and asks her to help him. Will Sumire accept his offer? Will she ever become more than just his assistant? Read this sweet and heartwarming manga to find out!
Buckle up, Captain! -Animal Instinct Flies First Class-
Posted on Oct 31st / Genre: Mature Romance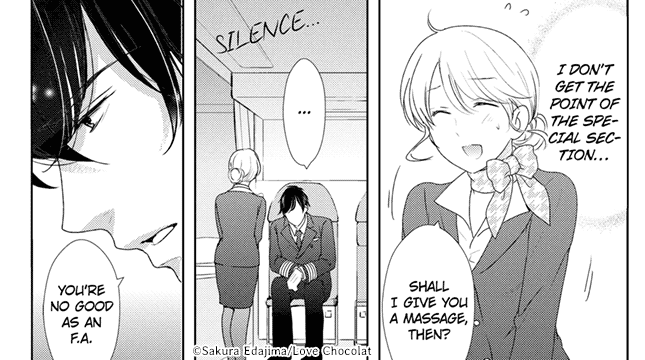 Candi's comment
Anna is excited for her first assignment after finishing the flight attendant training. She made sure she got on the same flight as the hot pilot she met earlier and on top of that, because of her low grades and lack of experience, other flight attendants won't let her interact with the passengers. Instead, she's assigned to the "special section" and has to take care of the pilots. This should be a punishment, but she actually couldn't be happier... When the pilots ask her to bring them some coffee, however, it turns out that isn't the only thing they expect of her.
Come out from the Toy Box
Posted on Oct 24th / Genre: Mature Romance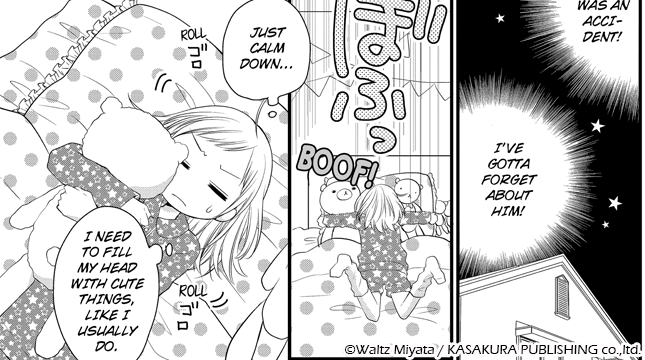 Candi's comment
Hinako's madly in love with Sakuya, her perfect prince charming (or so she believes). Her glittery and fluffy world full of cute things is totally turned upside down one night on her walk home. She stumbles upon an old, white house - or as she imagines it, an abandoned castle - and notices a gap in the fence that's just wide enough for her to slide through. The house is a little dusty on the inside, but the furniture is in nice condition. Hinako takes out her camera and begins snapping photos. Suddenly, a clattering sound rings out behind her. Startled, she turns around and finds Sakuya sleeping on the couch! She tries to get a photo of him sleeping from afar, but the lens isn't strong enough. She tiptoes over to the couch. Her heart's pounding so loudly she's sure Sakuya will wake up. Just then, a voice calls out to her. "Hey... who... are you...?" Hinako jumps back in fear. It's Sakuya and he's staring her right in the face! Hinako tries to flee the scene, but Sakuya pulls her close and asks her to satisfy him! Wait... is that really a princely thing to say!? Read on and find out if Hinako's prince is really all she cracked him up to be!
Pay with Your Body -Adventures in After-Hours Service-
Posted on Oct 3rd / Genre: Mature Romance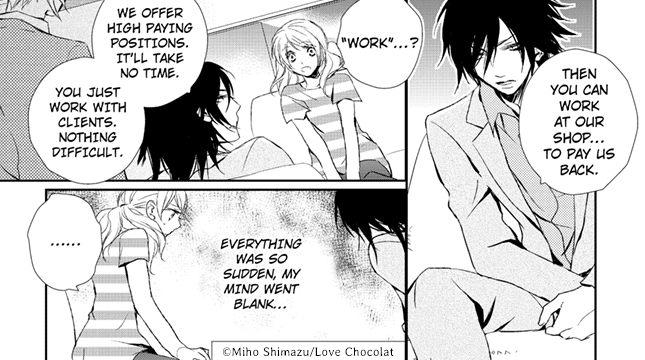 Candi's comment
One day, two guys come to Miyabi's house and tell her that her late father owed them a hefty amount of money. When they find out that there is no way Miyabi could come up with that kind of money, they suggest that she could work at their club instead, and Miyabi can't really turn down this offer. Reluctantly, she becomes a hostess at their club, but it turns out that the place is just as shady as she had feared. Nevertheless, when a client gets too grabby, one of the guys who came to her house comes to her rescue... Only to start her training, though...
Honey Wolf, Come Here.
Posted on Sep 26th / Genre: Mature Romance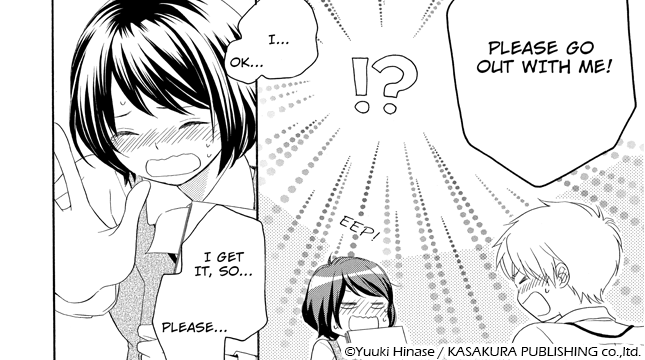 Candi's comment
Ai Nitobe is madly in love with her boss, Kazushi Soejima. However, she doesn't have the courage to tell him how she really feels. Moe Kimizuka, her best friend, decides to take matters into her own hands and approaches Kazushi about Ai's love. But, Kazushi ends up professing his love for Moe! Moe and Kazushi start dating and Moe hides it from Ai - until one day when she confesses everything to Ai. Heartbroken, Ai sits on a bench in the park on her lunch break with her lunch in hand but doesn't touch it. Kotaro Mochizuki, carrying just bread, approaches Ai and asks her if she's okay. She tells Kotaro she just isn't feeling hungry and offers him her lunch. She finds herself distracted with thoughts of Kazushi. Tears well up in her eyes. Kotaro holds Ai's lunch box back to her and apologizes for eating the entire lunch. Ai laughs. Kotaro wolfed down her lunch like a cute puppy. The next day, Ai's coworker tells her the temps are in the office and ready to work. Ai heads down to greet them and is shocked to find Kotaro from the day before! Could Kotaro be Ai's fated love? Read on and find out!
I'll Show You Everything -Train Me, Mr. Yoshizaki-
Posted on Sep 5th / Genre: Mature Romance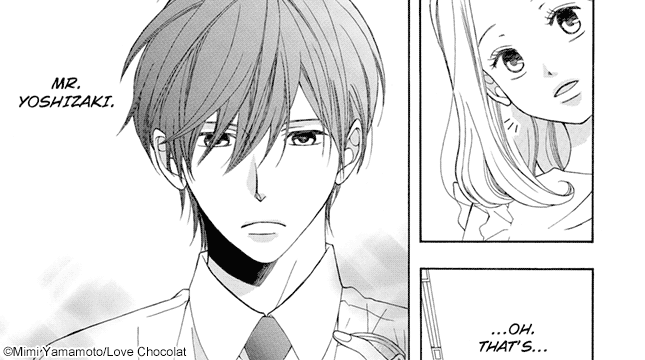 Candi's comment
The 29-year-old Yuriko never had much luck with men, so she's still a virgin. On top of that, she's a very kind person who finds it hard to turn people down when they ask for help, so her coworkers keep taking advantage of her. Finally, Yuriko decides to turn her life around and applies for a company-sponsored adult tutoring course. Nevertheless, when she goes to the first tutoring session, she finds herself alone in a room with no other than her boss. He asks her to fill out a form, but the questions on it keep getting more and more personal...
Frozen Terrain
Posted on Aug 29th / Genre: Mature Romance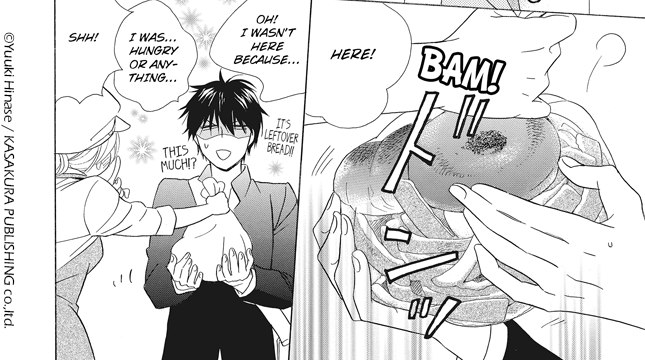 Candi's comment
Iroha and Ippei work in the bakery that Iroha's family runs downtown. Iroha is always smiling and friendly to others. Ippei, on the other hand, hardly ever smiles and is even quite scary-looking. Despite that, he's actually a total sweetheart. Iroha should know. They first met when Ippei showed up for an interview with bangs so long they covered his eyes. At the end of the interview, Iroha informs Ippei that he should either tie up or cut off his hair. Ippei mumbles, "I don't like my eyes" and quietly leaves. Iroha was certain that that'd be the last she'd ever see of him... until he shows up the next day all cleaned up! It was then that she fell in love with him and knew he'd be a perfect fit for the bakery. Ippei's also always had feelings for Iroha, but her outwardly friendly attitude and permanent smile on her face makes it impossible to know what she's thinking or feeling, so he's never had the chance to confess his feelings. One day, Ippei's brother shows up at the bakery to check on him and reveals that Ippei still hasn't finished school because he has always struggled with getting close to others. Iroha feels a twinge of pain. She can relate. She'd never wanted to let anyone in to her world due to family issues. She works up the courage to share the secret she'd always kept and the reason for her distance from others with Ippei. How will Ippei react? Read on and have your heart warmed!
Forbidden Training -She's So Wet!-
Posted on Aug 8th / Genre: Mature Romance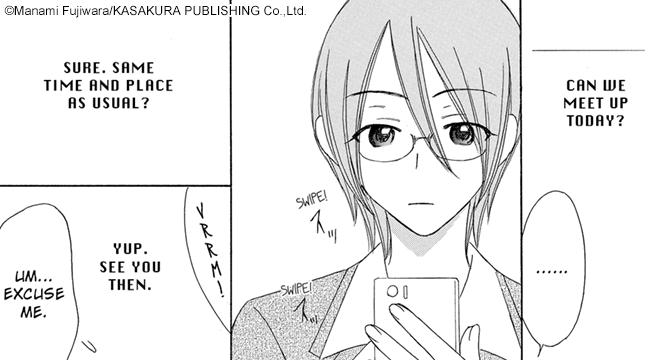 Candi's comment
Yuka is having an affair with her married supervisor Todo, who had to leave his family behind when he relocated for work. They have been seeing each other for three years now and even though Todo seems to like Yuka quite a lot, it is him who suggests that she should train the new employee, who happens to be the son of their CEO. The man seems nice at first, but very soon things take a sudden turn...
First Comes Marriage, Second Comes Love...?
Posted on Aug 1st / Genre: Mature Romance
Candi's comment
Rika Ando is upset to find out that her once friend Akari is getting married. However, she's not upset at the fact that Akari's getting married before her, but rather, at the fact that the man Akari's marrying is her ex-boyfriend, Yuya! One year ago, Yuya brought Akari over and told Rika that he'd fallen in love with Akari. Upset, Rika ran out without saying anything other than, "It's all right. Let's break up." She actually had so much that she wanted to say, but never had a chance to say it and get proper closure. Now, she's been invited to a speed dating party for rich single men. She wonders if this is her chance at happiness and closure! The night of the party, Rika's running late. She dashes out of the office to call the event and see if she can still participate, but bumps right into the Vice President of her company, Mr. Hayase! She drops her phone and the flyer! Mr. Hayase picks up the flyer for the party! Intrigued, he proposes being her boyfriend! Will Rika accept his proposal? Read on and find out!
Hey, Wanna Do Me Too? -The Loving Beast and the Rival-
Posted on July 11th / Genre: Mature Romance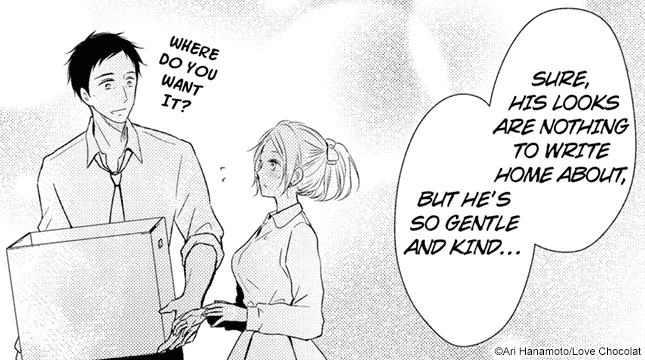 Candi's comment
Tsukasa really likes her kind and quiet co-worker Mr. Suga, who helped her a lot when she started working at her current company. He isn't too popular with women, but to her he's the most charming man on Earth. It is thus no wonder that she's very excited to learn that they'll be working together on the same project. Yet, life is never that easy... There is another person on their team, and he's one of the hottest guys in the office. Before long, the new guy makes a move on Tsukasa. But, is it really her that he's interested in...!?
Sweet Cage
Posted on July 4th / Genre: Mature Romance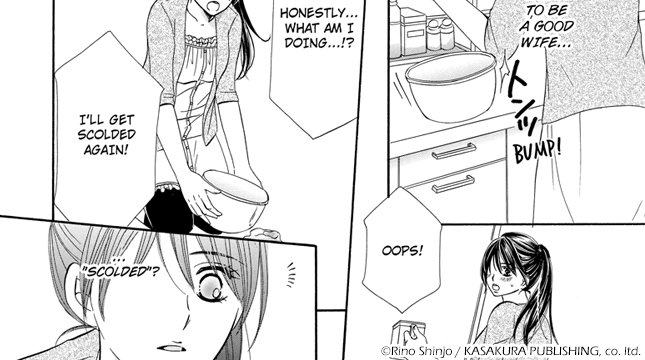 Candi's comment
Although Sweet Cage includes two stories, the longer, two-chapter Only You Know is really what drew me in. Riko's been in a terrible accident. She cannot remember anything from the past six months of her life. She occasionally has flashbacks of a strange woman in a house she barely recognizes. Driven by her impulse to discover if they're from her past, she picks up a copy of her residence registry and heads over to the last registered address. Just as she's passing in front of a beautiful mansion, she hears a woman scolding a maid--just like in her flashbacks! That night, Touma, her boyfriend, offers to help her remember her past. Right after he leaves for work the next morning, Riko runs out to give him the wallet he's forgotten, but bumps right into the woman from the mansion! Who on earth could she be!? Why does Riko keep on seeing her in her flashbacks!? Read on and find out!
The Gangster, the Girl, and the Scent of Love and Money
Posted on June 13th / Genre: Mature Romance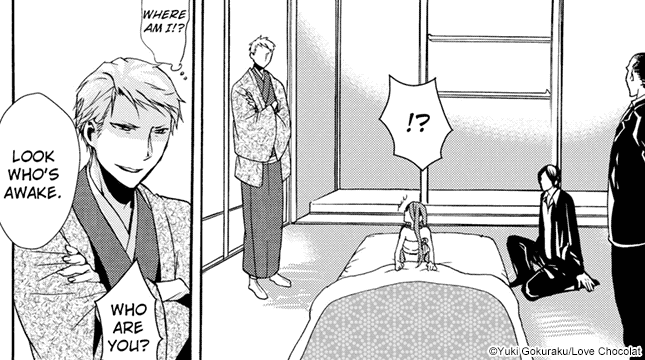 Candi's comment
It was supposed to be the best day of her life, but when her fiance didn't show up to their wedding, Tsubaki realized that she's been scammed. She gave all of her savings to her boyfriend and now that he's run off, she's completely penniless. On top of that, she even quit her job... Completely devastated, Tsubaki chugs down a bottle of wine and decides to end it all by jumping in front of a car. Luckily, the driver notices her and manages to stop just in time, damaging only the car. (Un?)fortunately for our heroine, though, it's not just anybody riding in that car, but a mafia boss... And just like that, Tsubaki suddenly finds herself in a completely different world.
Could You Call This "Love"?
Posted on June 6th / Genre: Mature Romance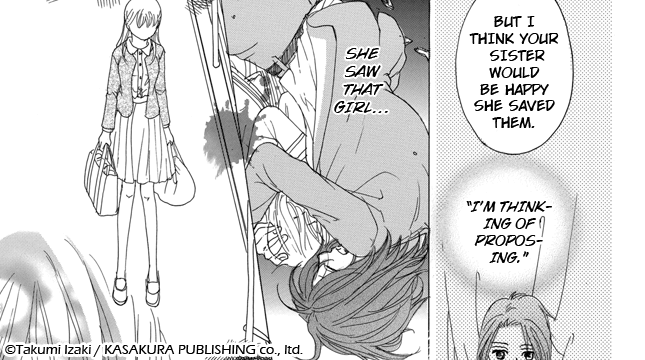 Candi's comment
Kazuki's left her parents to live with her cop sister, Toko, while she studies to be a nurse. Toko confesses to Kazuki that she's in love with her colleague, Atsuto Inui, and is thinking of proposing to him. The first time Atsuto comes over for dinner, Kazuki instantly senses their perfect chemistry. Everything seems to be going well in their lives... until Toko is killed in a hit-and-run accident trying to save a child days later. Kazuki witnesses first-hand the loss of the only person she's ever loved. How will she go on? Atsuto takes her home from the mortuary, grabs her, and kisses her passionately. He promises to catch the driver. Kazuki is torn with guilt. Although she didn't initiate the kiss with Atsuto, she feels like she's betrayed her deceased sister. What will happen next!? Will Atsuto catch the perp!? Read on and find out!
Give Me Naughty and Nice Care -An Enchanting Night at the Heartbreak Bar-
Posted on May 16th / Genre: Mature Romance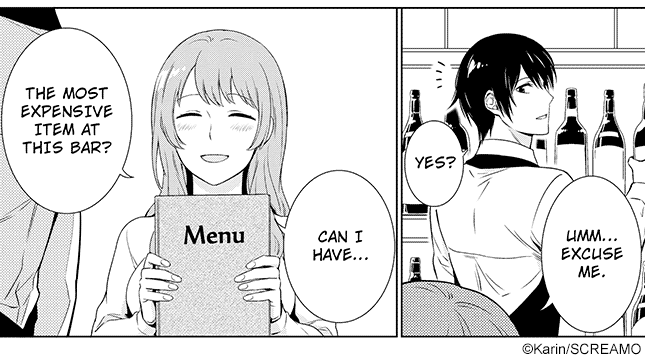 Candi's comment
Sakurako just got dumped and really needs something to cheer her up, so when she gets a flyer for a bar that claims to heal broken hearts, she decides to check out the place and treat herself to the best course they can offer. Little does she know that includes a little more than a meal and a few drinks...

This manga is very spicy, but at the same time cute and funny. Especially, the menu at the bar. You'd think she could guess what the main course would be after seeing the appetizers.
I LIKE YOU, BUT THERE'S A PROBLEM!
Posted on May 9th / Genre: Mature Romance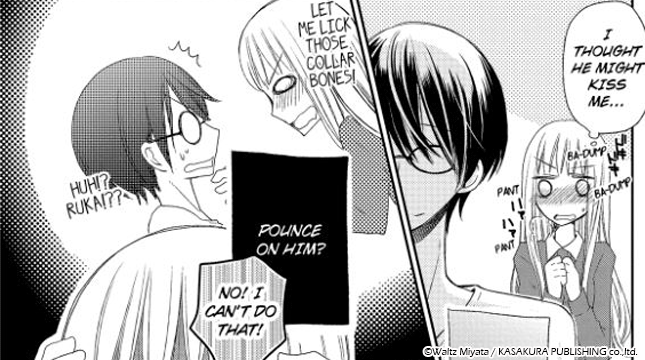 Candi's comment
Ruka Senou is dating Yuuichi. Yuuichi is her perfect gentleman of a boyfriend. She tries to reciprocate by being a proper girl, the kind any boyfriend would love to take home to his mother. However, she's about to face her biggest trial: Yuuichi's invited her to stop by his place after work. They've only been together for two months, but Ruka's starting to feel she has needs. She shows up at his place to find him freshly out of the shower. He's glowing with moisture. His skin is slipping out of his casual clothes. She fantasizes about pouncing him and licking his... collar bones!? Will Ruka be able to control herself for her first time at her boyfriend's place? Read on and find out!
Please Don't Take off My Towel...!!
Posted on April 18th / Genre: Mature Romance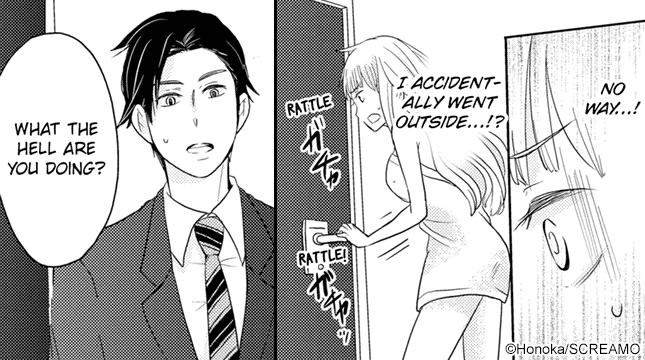 Candi's comment
You know how sometimes you see two people that are constantly fighting and it's clear as a day that they actually like each other? Well, sometimes it's really hard to see this if you actually find yourself in such a relationship. This is exactly the case with our heroine, who thinks her mean boss just won't stop teasing her. To make matters worse, during a weekend event, she locks herself out of her hotel room wearing nothing but a bath towel... Can you guess who she's going to meet in the hallway?
MY RENTAL BOYFRIEND'S SECRET SADISTIC SERVICE
Posted on March 20th / Genre: Mature Romance
Candi's comment
Things are going quite well for our heroine. She's been working at the same company for a few years now, so she finally got to mentor a new employee. The whole process seems to be going smoothly, until one evening the guy appears at her doorstep, and starts kissing and caressing her the moment she opens the door. What!? She never ordered a rental boyfriend!

This manga is full of unexpected twists, hilarious misunderstandings, and hot office romance, so if you like those, you should definitely give this one a try!
MY BOSS IS A SWEET SEDUCER
Posted on March 14th / Genre: Mature Romance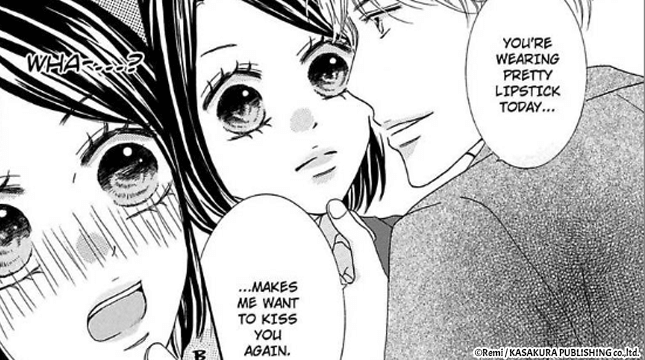 Candi's comment
Mizuno has a huge crush on her boss, Mr. Katagiri. He's the perfect gentleman, a talented CEO, and extremely popular with other women. How could he ever have eyes for Mizuno? She's just his plain-old, boring secretary. After successfully negotiating a tough contract, Mr. Katagiri invites Mizuno out for dinner to an upscale restaurant. She enjoys the food, but feels extremely out of place. It's written all over her face. He asks her to take him to her favorite restaurant. They end up at a more casual okonomiyaki restaurant. She worries he'll hate it, but is pleasantly surprised after he smiles and compliments the okonomiyaki she cooked for him! They drink late into the night. Mr. Katagiri gets so he drunk he can't get home by himself. Mizuno walks him to his place, lies him on the couch, and prepares medicine, water and a wet towel for his forehead. The next morning, she awakes on the couch where she lied him down, blanket over her and everything. She looks across the room and sees Mr. Katagiri sleeping at his desk. Later that morning, she sees him parting ways with a beautiful woman. He arrives at work and they get a phone call from an important client. Mr. Katagiri is late to his negotiation with them! They called Mizuno yesterday to reschedule the negotiation, but it totally slipped her mind! Will they make it!? Will Mr. Katagiri fire her for her carelessness!? Will Mr. Katagiri ever return Mizuno's feelings!? Read on and find out!
HOLD ME, BABY, AS A LADY... -FIRST LOVE AGAIN IN THE BODY OF A WOMAN.-
Posted on Feb. 21 / Genre: Mature Romance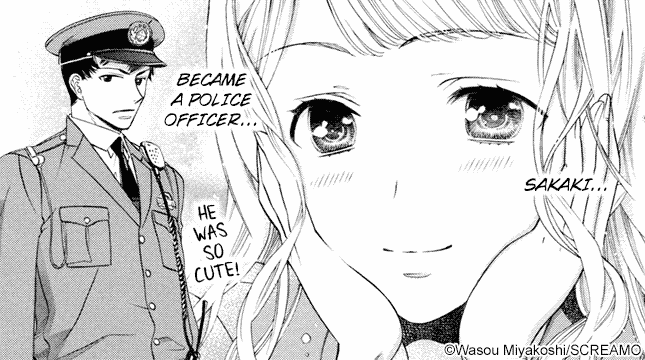 Candi's comment
This sure is one nice and heartwarming story. Our heroine isn't particularly lucky when it comes to relationships and gets dumped by her boyfriend right at the beginning of the story, as soon as he finds out that she used to be a guy until college. To make matters worse, the very next day some thug steals her purse and now she doesn't even have the keys to her own apartment. What is she supposed to do? But wait... Why does this handsome police officer look so familiar?

Give this cute story a try and see if our heroine can finally find a nice guy! And here's a heads up, this manga is very hot.
DON'T BE KIND
Posted on February 14th / Genre: Mature Romance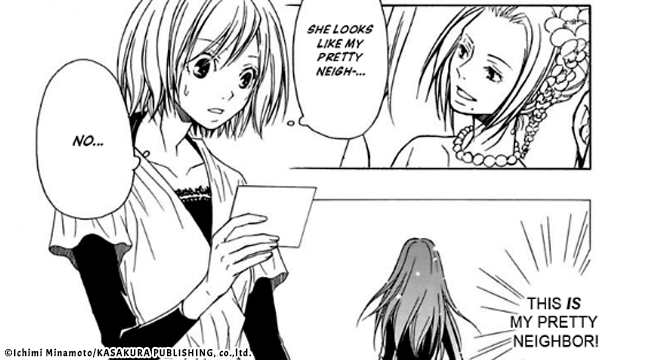 Candi's comment
Mr. Yoshikawa is good-looking, charming and kind. Yui Mochizuki is so in love with him! She won't admit it, though. Her ex-boyfriend dumped her out of the blue, saying he only spent time with her because he pitied her and told her to "look in the mirror"! Forget her chance with Mr. Yoshikawa - she's completely given up on love. That is, until Mr. Yoshikawa invites her out for drinks after work one day! The next day, Yui receives a message from him. He says he'd love to see her again. She jumps for joy. Just around the corner she overhears colleagues talking. "Oh, is that Mr. Yoshikawa's wife? Has he found her yet?" What!? He's married!? She asks to see his wife's picture and realizes she's her next-door neighbor who constantly has loud sex and bickers with her roommate! Read on to find out what happens!!
SHARING A BED! LIVING WITH A PHONY FIANCE STILL MEANS GETTING BUSY
Posted on January 24th / Genre: Mature Romance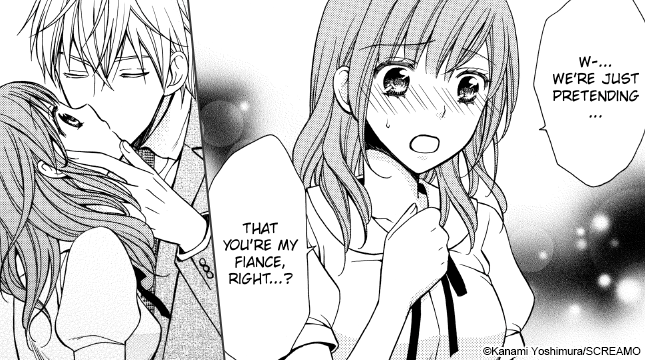 Candi's comment
This story is so cute! One day, our heroine comes back home just to find out that her fiancé packed up all of his stuff and ran away while she was at work. Doesn't sound like the best way to start an evening, especially since she promised to introduce the guy to her parents and they're all hyped up to meet him. Well, luckily for her the super handsome guy who constantly teases her at work overheard the conversation she had with her mom and offered to be her fake fiancé for a while. But it's not like they have to get physical, right? Right!?

The art in this manga is extremely good and interactions between the two main characters are pure gold. Also, did I mention the guy is just hot? Well, he sure is...
SUGAR & SPICE
Posted on January 17th / Genre: Mature Romance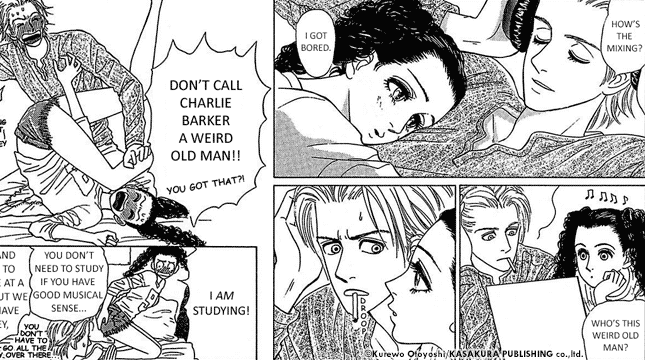 Candi's comment
Izumi is so hot. Really. He's got so much sex appeal. I'd never thought a man could be so seductive until now. I feel like my knees would buckle under me if he looked my way. Good thing Izumi isn't real. Women would pass out as he walked right by them. Really, it's a good thing that Izumi exists only in 2D... You might think I'm overreacting here, but it's the truth!! You would definitely love this if you read it!! The cover might be a little off-putting, but the story is fantastic. It's got love, life and song. Fall in love with Izumi with China.
DEBAUCHED ON THE NIGHT BUS -A SLEEPLESS NIGHT WITH A GUY BESIDE ME...-
Posted on December 27th / Genre: Mature Romance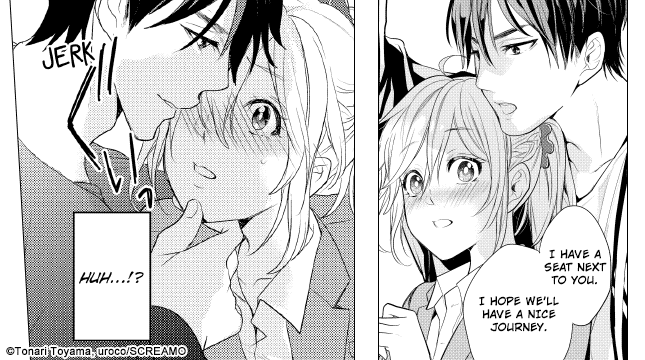 Candi's comment
Now, here's a story I think quite a few of us can relate to... Say, you have a big day ahead of you. Whether you want it or not, you'll get a bit nervous, right? And what if you have to get on an overnight bus to get to the place too? Sucks, doesn't it? Well, it's even worse for our heroine, because it's the very first time she's taking an overnight bus. But at least the guy next to her seems nice... or so she thought, because as soon as the lights go out, he starts kissing her. And the story doesn't end there, because even though the guy is gone by the time our heroine wakes up in the morning, she will run into the same stranger once again (okay, maybe not once).

This premise might not sound very romantic, but the story is actually very nice and slowly turns into an office romance. The heroine is super cute and actually relatable, and the art is just beautiful. And most of all, the facial expressions of the protagonist are just priceless! So, if pushy guys and unexpected turns of events are your thing, I would definitely recommend giving this story a try.
TEACH ME EVERYTHING NAUGHTY -STEAMY EMPLOYEE-TRAINING IN SESSION-
Posted on December 20th / Genre: Mature Romance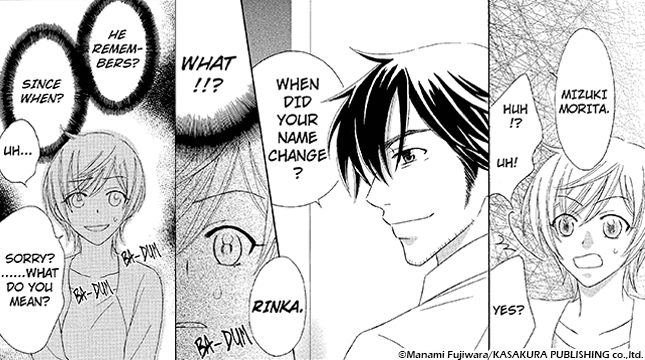 Candi's comment
"NO WAY. THE INTERVIEWER IS THAT GUY FROM...!" College senior Mizuki Morita steps into an interview to find Reiji Kurata, the man she met on a dating site and slept with after she found her then boyfriend was cheating on her six months earlier. Reiji blows her off in the interview. Was it because she was in a suit or because of her new hairstyle? Or maybe it was because she went by an anime character's name, Rinka, on their date? Whatever the reason was, she is relieved he doesn't recognize her. She joins his company the following spring and is assigned to Reiji's division. The next morning, the elevator doors open to reveal... Reiji. She gets on. "No... we're all alone..." She feels a sense of dread in the pit of her stomach. He turns to her and casually asks her when she changed her name. "WHAT!!? He remembers!? Since when?" she thinks to herself. He stops the elevator and moves close to her. "I can tell it's you, even if you've changed a little... especially since I slept with you." He presses his lips against hers...!

Unlike the previous Sweet Love title by the same author, TEACH ME EVERYTHING NAUGHTY -STEAMY EMPLOYEE-TRAINING IN SESSION- features a college graduate meek in affairs of the heart, looking to get back at her ex-boyfriend but who ends up falling for her former one-night-stand and current boss. Will their love be mutual?

You should definitely check this one out if steamy office and elevator sex is your thing!
NO ONE SAID MY ROOMMATE WOULD BE A GUY!
Posted on November 29th / Genre: Mature Romance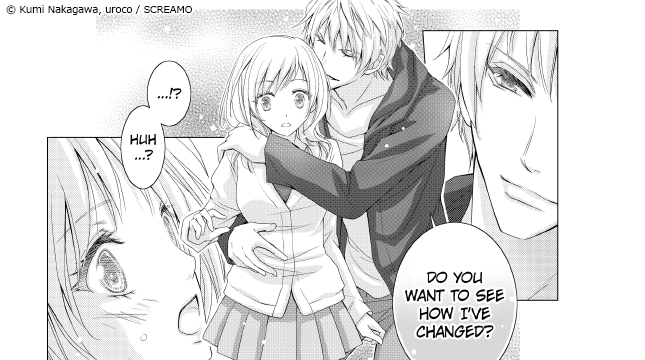 Candi's comment
So, you get into a college in Tokyo and decide to move in with your cousin, since you used to be very close when you were kids and now she lives alone in the city. Nothing wrong with that, right? Well, the protagonist of this book is about get much more than she bargained for... which doesn't necessarily have to be a bad thing, though.

Chika always thought that her cousin Kaoru was a girl, but it turns out she couldn't be more wrong. Pretty much as soon as she opens the door of her new apartment, it hits her that her cousin is a handsome young man... in a passionate embrace of another girl. The latter, naturally, storms out of the apartment, thinking that Chika is yet another one of Kaoru's girlfriends and you can't really blame her for that, as it turns out Kaoru is, in fact, quite the womanizer. And now, the half-naked Kaoru is going to show his cousin just how much he's changed over the years...

So, if you're in the mood for a spicy love story with a pushy, yet caring male protagonist, you surely won't be disappointed by this one!
HOLD ME, LOVE ME
Posted on November 22nd / Genre: Mature Romance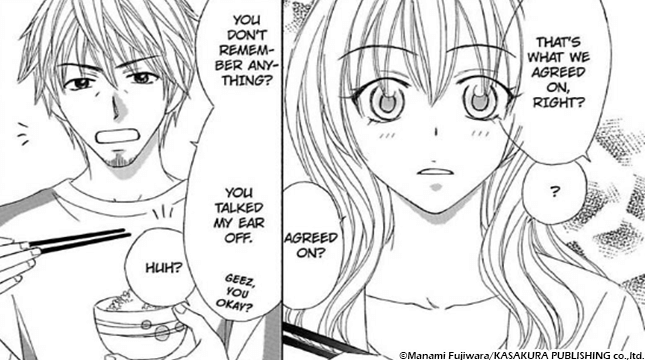 Candi's comment
I was drawn to this anthology after reading the first story, Sunshine After The Rain, starring 21-year-old heartbroken Hare and 37-year-old stern lawyer Koji (also on the cover). After losing her job, getting dumped by her ex Kento and kicked out of her apartment, Hare drowns her sorrows at the local bar. The next morning she wakes up to a ladle-whack to the head in an unfamiliar apartment. Koji, her new roommate, refreshes her memory over breakfast. He then gives her $300 and two options: take care of him and earn the money, or run back to Kento. She contemplates crashing at an internet café, but ends up surprising Koji with a home-cooked meal that night. Despite his tough exterior, Hare learns Koji is actually a big kid with an even bigger sweet tooth when he wolves down five homemade cream puffs in a row! Could he be her happily-ever-after?

I also loved the third story, What You Taught Me. Soichiro transfers to Yui's department after a rumored violent incident involving a female employee at HQ. Yui organizes his disaster of a welcome dinner. Feeling sorry, she invites him out for drinks. Soichiro is baffled. She didn't drink earlier, so why now? Yui reveals that she gets horny when she drinks. Three sheets to the wind later, they're between the sheets. Yui's feelings for Soichiro transform as the story and rumors unravel.

All five stories spotlight bereft protagonists swearing off relationships for good and clinging to preconceived notions about people and love. If you're in the mood for some heartwarming yet sweet love and fairly steamy sex, this one's for you.
GEMINI'S NASTY PRANK -SEX WITH MY FIANCE'S BROTHER-
Posted on November 1st / Genre: Mature Romance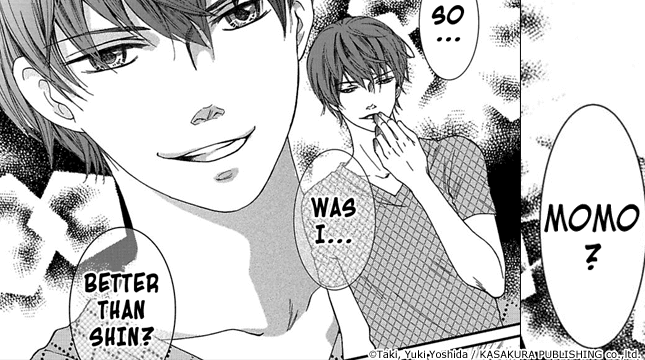 Candi's comment
This is a delightfully naughty manga about, as you might have guessed from the subtitle, a woman who has sex with her fiancé 's brother. The brother in question steals the show, and manages to be both really creepy and really hot at the same time. He's kind of like a good Hollywood villain in that you like him because you hate him. Like many manga that involve women cheating on their partners, the main character in this story is constantly telling herself no, but getting turned on anyway, which can get a little irritating to be honest, but the sex scenes are really good, especially at the end of the first chapter where she's getting busy with the brother right in front of her sleeping fiancé .
TRAIN SEX
Posted on October 25th / Genre: Mature Romance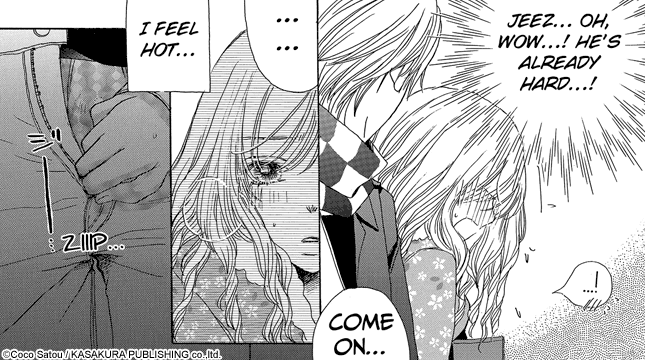 Candi's comment
This is an anthology featuring three different stories. The first one is the story featured on the cover, and the one that the anthology is named after. Much like the movie Snakes on a Plane, the title of this story tells you all you need to know about the plot. Just as you would expect with a manga called "Train Sex", there are a lot of explicit scenes, so steer clear if that bothers you. However, unlike a lot of manga, where the men almost force themselves on the female character, in this manga it's the other way around. The female characters are unabashedly pervy, and even fantasize about having sex with their crushes, which makes for a refreshing change. Also, as I've mentioned in previous reviews of Coco Satou's work, her characters are almost all unique, so, unlike many authors, you rarely find yourself reading a story where you feel like you've seen exactly the same character before.
MY SADISTIC PET: DISCIPLINE ME IMPROPERLY
Posted on October 4th / Genre: Mature Romance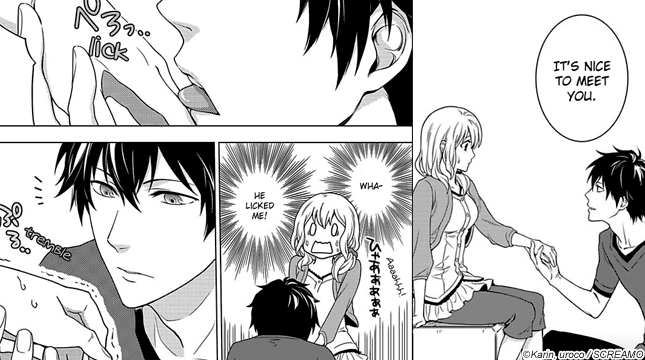 Candi's comment
Like many spicy manga, when reading My Sadistic Pet, I often found myself asking the question "Why is this happening?". The main character, Yuri, comes into some money, and decides to spend it on a pet to keep her company. However, the pet shop she walks into is no ordinary pet shop. It's a pet shop that sells handsome guys. She then somehow gets roped into buying "Yuki", a sexy tsundere who's just been returned by his previous owner. At this point the plot was getting a little bizarre, even for my tastes. Fortunately, however, the brilliant artwork and super erotic sex scenes instantly made me forget any problems I had with the story. The main characters do it several times in the first volume alone, and they waste no time getting started. They literally get it on the minute Yuri brings Yuki home. Yuki is slightly on the forceful side, so if that's not your thing, then you may want to give this one a miss. However, if you like your spicy manga to be really spicy, then this is the one for you.
MY DANGEROUS PET BOY
Posted on September 27th / Genre: Mature Romance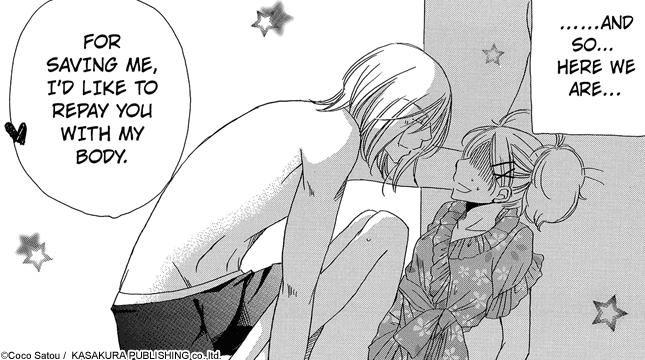 Candi's comment
I'm quite fond of this artist's work. I like her art style, and her stories tend to be a little on the saucy side with a good amount of sex scenes. In this story, Yuiko, the heroine discovers the hero Mashiro lying in the street after just getting beaten up. She sees he's pretty hot, so takes him up to her apartment to take care of him, and in return he offers to "take care" of her. One of the things I like about this story is how much the two main characters have changed by the end. Yuiko starts out as an innocent country bumpkin who's never had a boyfriend before, but by the end she's the one asking Mashiro to have his way with her. Mashiro, on the other hand, starts out as this gigolo who just goes from girl to girl without committing to anyone, and basically sponging off of the women he sleeps with, but by the end he's in a proper relationship with Yuiko and is holding down a steady job. Also, it's a small point, but I like the effort that the artist goes to with the appearance of the main characters. For example, Yuiko's hairstyle changes several times throughout the manga. It's those kind of extra details that make you want to spend more time just looking at the artwork, and it adds a whole layer of enjoyment to reading manga.
THE SEXORCIST
Posted on September 6th / Genre: Mature Romance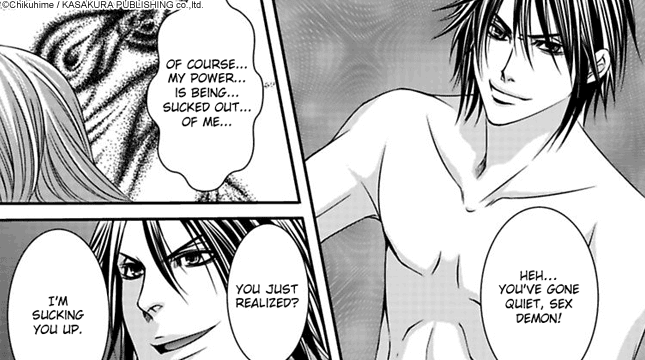 Candi's comment
This is one of those series where the premise alone is enough to make you want to read it. Seishiro Abe, the male lead, is an exorcist with a rather unusual way of exorcising demons. Basically he gets the demon sexually aroused and then sucks it out of the possessed's body with his penis. Yup, you read that right. He uses his penis to suck up demons (The power of cock compels you!). If you're looking for an intricate plot or good character development, then this isn't the one for you. However, if you want to read a sex-demon filled story with magical demon-sucking penises (and why wouldn't you?), then look no further.
PUPPY BOYS
Posted on August 30th / Genre: Mature Romance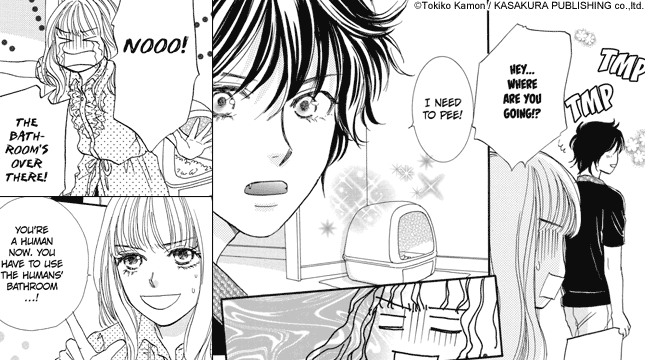 Candi's comment
This is an anthology featuring three different stories. The first one, which is also the main story, is about a girl whose cat goes missing and comes back to her as a human. It's not that unusual as stories go (I can't believe I just said a cat turning into a human isn't unusual.), but there's a twist at the end that helps it stand out from the crowd. The second story is about a high-school couple who get back together after being apart for six months. The female character has to cope with the fact that her boyfriend has changed a lot and is now super popular with the other girls. The last story, which is pretty short is about a couple out on a date. All of the guys display "puppy-like" cute qualities, which is why the anthology is called Puppy Boys. However, it does seem odd to call it puppy boys seeing as the love interest in the first story is a cat boy. Like I said, the twist at the end of the first story was interesting, so I recommend you give it a read.
SADISTS IN UNIFORMS -OBEY ME!-
Posted on August 9th / Genre: Mature Romance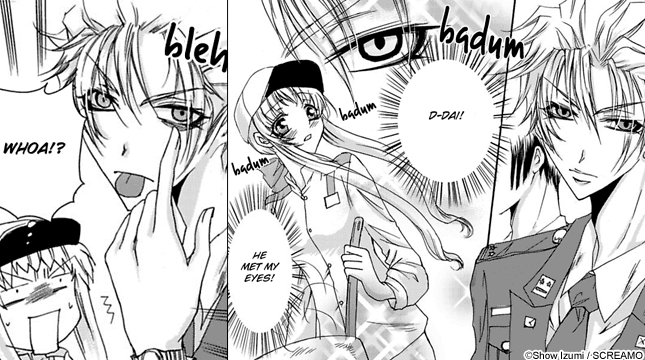 Candi's comment
Like Top Gun? Like ultra-cheesy dialogue? If your answer to those questions is yes (and if you answered yes to the first one, then the second one is a given), you'll love this manga. The story revolves around Miruku, a new cook stationed at Air base "H", and her love affair with the two hunky, hotshot pilots, Dai and Nagu. The aforementioned pilots have scores of women chasing after them, but are unable to resist Miruku because of her "sexy voice". The series' strongest point is definitely its humor. It's very tongue-in-cheek. For example, there's one scene where Miruku is with Nagu in the back of a truck, and Nagu is talking to the driver about what it feels like to shoot down an enemy plane with a cannon, whilst simultaneously "shooting down" Miruku with his "cannon" (The whole cannon/penis joke comes up quite a lot). Also, $4 for about 70 pages might sound like a lot, but this manga is absolutely packed with text, so you're definitely getting your money's worth.

Throughout the series Miruku's constantly flip-flopping between the two of them, which can get a little annoying after a while, but it makes for a dramatic ending when she finally chooses one of them. You'll have to read all the way to the end if you want to find out who she ends up with.
BEAST SYNDROME
Posted on August 2nd / Genre: Mature Romance
Candi's comment
I love how ridiculous the setup for this manga is. Basically, there was an explosion at a research lab several years before the start of the story, which caused a number of people to grow ears and tails. That's all. No superpowers. No viruses. Just ears and a tail. That has to be one of the most bizarre plot devices I've ever heard of. What on earth were they researching? Well, anyway, the story really has nothing to do with that, and the incident is only briefly mentioned at the start of the first chapter. The actual story is about various "beasts" (The people who've grown ears and tails) finding love at their respective workplaces. The art style is nice and clean. The artist doesn't try to cram a million things into each panel like some artists do, but it doesn't feel sparse. I would have preferred it if they focused on one couple per book, because it would have allowed for more plot development, but it was interesting to see the different "beasts". My favorite was the aptly named Mr Kumada. Kuma means bear in Japanese. I bet you can't guess what ears he ended up with...
THE BEAST BENEATH THE SKIRT
Posted on July 12th / Genre: Mature Romance
Candi's comment
So I'm gonna be honest with you, when I first saw the cover for this manga, I thought, "Hey, wow, we're finally getting some yuri on the site like some readers requested!", and then I read the first chapter and it turned out to be another spicy love manga (which isn't a bad thing!) with a great twist! The main character, Shizuka, is a little socially awkward and especially bad around men, but she ends up going to a party with her friend and meeting a girl who, of course, turns out to be a man named Ryou. He dresses like a woman because *spoilers*, and it turns into quite the cute and steamy relationship. I've yet to meet a man who can convincingly dress like a woman, but lately, beauty salons specifically for men are popping up in Japan, where they can go and get their eyelashes and nails done. It's such a trope in Japanese media, but I really hope I can actually meet a guy who can fool me by dressing up as a girl! And maybe he'll be my own beast in a skirt! *wink*
SELFISHNESS, PASSION & HICKEYS
Posted on July 5th / Genre: Mature Romance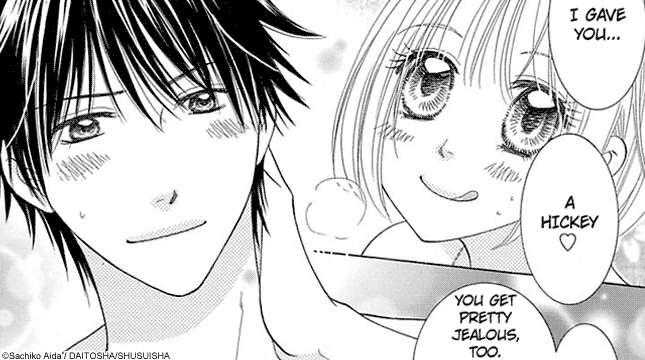 Candi's comment
This is a really nice and entertaining series about an ordinary couple (Technically Ichika, the female lead, turns out to be not so average after all, but she's still pretty down to earth). It does kind of have an overarching story line, but it's not that important, and doesn't really come into the picture until the later volumes. The majority of the manga is a series of short stories featuring the same couple. I feel like a lot of people get put off this series because the cover looks almost shojo-like. It's hard to imagine those two characters on the getting down and dirty, but they do (and often!). The sex scenes are always really well drawn and feature no forcefulness. There's also a lot of humor and the supporting cast is really well fleshed out. In fact I would say that this is probably the series' strongest point. A lot of the manga on Renta! either don't have any supporting characters, or if they do, they're completely unmemorable, but this manga has a whole bunch of them. I think one of the best has to be Chikara. He's a lolicon, and therefore not a very likeable character, but there's a great running gag about him being in love with Ichika's dad, who he thinks is a teenage girl. As of the seventh volume he still hasn't found out:)
THE SERIOUS CASE OF MR. LEONHARD'S DYSFUNCTION
Posted on June 14th / Genre: Mature Romance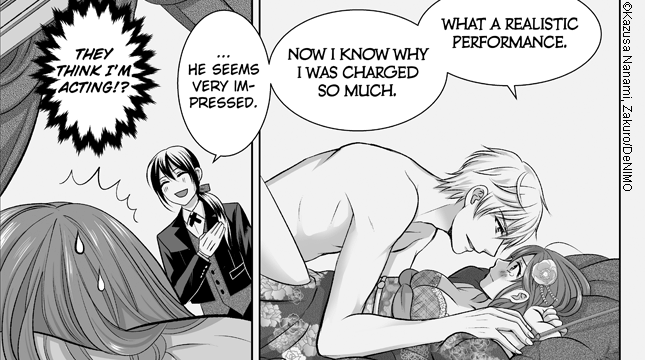 Candi's comment
It's incredibly refreshing to have a dose of comedy on top of your spicy manga! This week's pick is one of my favorites! Through a series of misunderstandings and miscommunication, Haruka ends up almost being devoured (not literally, of course) by a very handsome foreigner named Mr. Leonhard. My favorite parts are delivered through his interpreter and butler, A.J., who also happens to be quite handsome (of course). The banter between Haruka, Mr. Leonhard, and A.J. really set the tone and make this a breath of fresh air compared to other series and their heavy doses of love and seriousness. I'm sure you can tell from the title what Mr. Leonhard's "dysfunction" is, haha. If this was a super serious manga, the premise would be really weird, but as a comedy, it completely works! The series is still going on (even in Japan) but it's actually based on a novel. One of these days, I'm going to get tired of waiting for the next chapter to come out and just go read the novel...
LOVE LABORATORY
Posted on June 7th / Genre: Mature Romance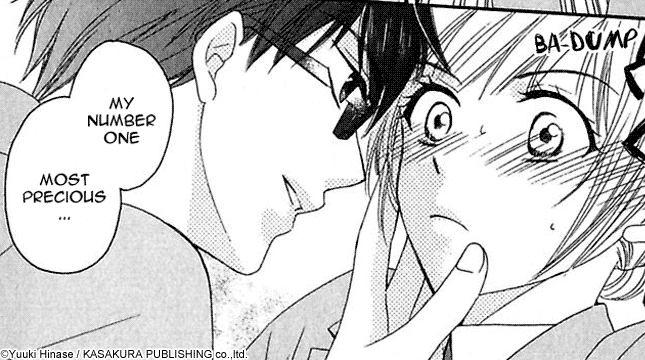 Candi's comment
This is a nice little anthology containing three different stories. The second story is about a Japanese woman and an Englishman, and the third story is a super-short one about two students. Both of them are pretty decent, but the first story is the main and best one. It's about two members of a school science club. The guy, Shuu, is a sadistic genius who's constantly trying out his latest wacky inventions on Minato, the unfortunate female lead. There's plenty of humor and the art is clean and crisp, like all of Yuuki Hinase's work. There're also a lot of spicy scenes if you're into that sort of thing. To be honest I wasn't that keen on Shuu at first because he was a little too pushy, but he redeems himself later on in the story (especially in the last chapter). I also really liked the scene at the end which shows the happy couple xx years in the future.
PUT A COLLAR ON IT -HUMILIATED BY MY MASTER-
Posted on May 17th / Genre: Mature Romance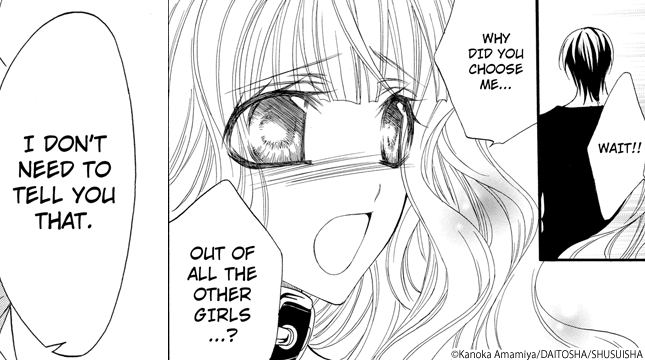 Candi's comment
I helped translate and edit this manga, so it's kind of not fair that I'm reviewing it, but I thought it'd be nice to have some deeper insight into how it was made along with the review. I have to admit, at the time I was getting kinda tired of these "business marriage" types of premises. However, the ones I read are usually short stories with little time for character development and growth, so it was nice having a full volume dedicated to showing how their relationship grows. I put a lot of time in this manga trying to get all the nuances of their relationship across in the translation, so I apologize if it didn't turn out that way! Ryouya starts off as a jerk, but I think the story really shines when Shion stands up for him and shows her strength of character. The Japanese title literally translates to something along the lines of "The Collar the Connects Us" but it didn't seem catchy enough to me, and that's when a certain song about ladies who are single by a certain queen of music popped into my head, so that's how the title was born. I really worked hard on this translation so I hope everyone enjoys it!
THE DEMON'S KISS UNDER THE FULL MOON
Posted on May 10th / Genre: Mature Romance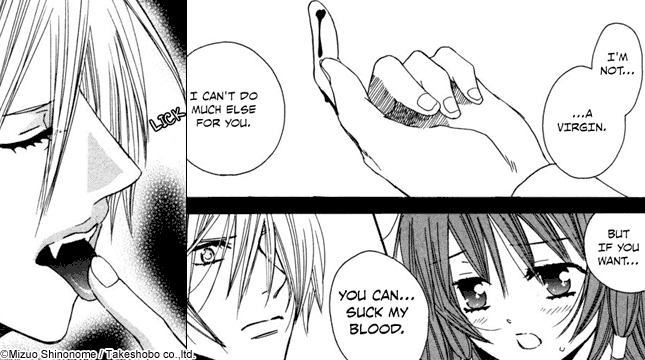 Candi's comment
This manga is so sweet and funny. It's about a high-school girl (Mei) and a vampire (Aldi) that fall in love. Aldi is really arrogant, but has these little quirks that make him endearing, like his weakness to the breath of people who have been eating garlic. The art style probably isn't to everyone's taste, but I think it works well with the comical tone of the manga. Also, spicy lovers need not worry, it's not all comedy. There's a bunch of spicy scenes like the one in the picture. A couple of supernatural love rivals appear midway through (one for Aldi and one for Mei), and they really add to the comedy. I particularly like the male love rival, who, like Aldi, turns into a cute little animal. It's a great read, and I highly recommend it!
FINGERTIP PRINCE -WHERE DO YOU WANNA BE TOUCHED?-
Posted on April 19th / Genre: Mature Romance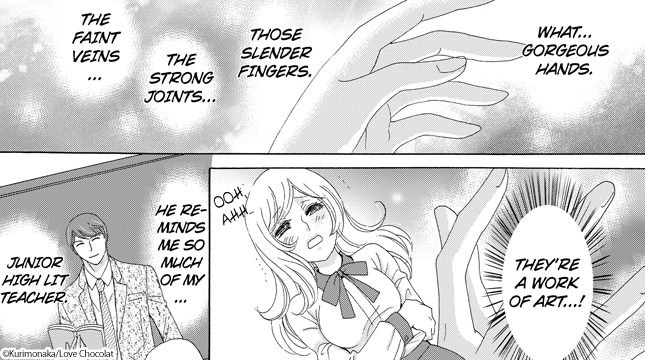 Candi's comment
So I was curious about this manga because my co-worker had been checking and editing the English version, and she told me about how crazy this manga is. I mean, the hand-fetish heroine has a 3D-printed model of her boss's hand!! It's so hilarious and out there that I loved every bit of this manga I've read so far. Sure, it's a bit stalker-ish how she takes pictures of his hand from different angles and has a whole collection of them, and you kinda wonder how she was able to 3D print an accurate model of his hand, but her interactions with her boss are hilarious! Especially when he starts using his real hands on her. It's pretty crazy but extremely entertaining to read. Deep down, we're all a little crazy, aren't we? Or in the words of a certain cat of the cheshire variety, 'We're all mad here. I'm mad. You're mad.'
THE ANGRY VIRGIN -MY YOUNGER BOYFRIEND IS A WOLF IN SHEEP'S CLOTHING-
Posted on April 12th / Genre: Mature Romance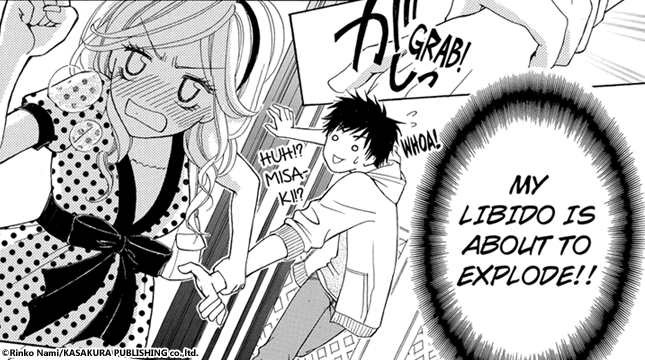 Candi's comment
The female leads in this manga are so strong. It's such a refreshing change. I love the art style, and think all the stories are great rom-coms. I particularly enjoyed the third story. The main character really wants to lose her virginity, and tries all sorts of tricks to get her boyfriend into bed, but he completely ignores all her attempts. Just when she starts thinking he might be cheating on her, she happens to see him to his part-time job. To her surprise she finds him working at a bar where the all-male staff are hitting on each other. 'Maybe it's not a girl on the side, but a boy.' she says to herself, with impeccable comic timing. In most manga, after a revelation like this, the main character would be super depressed and worried, but what does she do? She drags her boyfriend into her house, yells 'How dare you date me just to hide the fact that you're gay!!', and pushes him onto her bed. If you want to see whether or not she succeeds in losing her virginity, you'll have to read it to find out.
THE MAID AND THE BEAST
Posted on March 22nd / Genre: Mature Romance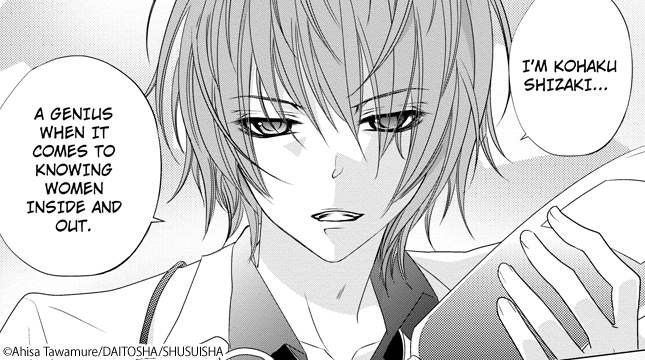 Candi's comment
Did anyone have parents who watched those daytime hospital soap operas while growing up? Y'know, the ones with dark family secrets and stuff that go on and on forever. Well this manga is like that, except it doesn't go on forever and has a proper ending. Mitsumi's mom gets sick and has to stay in the hospital, so to help pay the bills, her mom's doctor offers to hire Mitsumi as a maid for his super fancy mansion. There, she meets his super hot playboy son who also happens to be a doctor. I didn't think I was into doctors, but the white coat look is much hotter than expected. I think I developed a thing for doctors after reading this manga... The dark family plot doesn't really develop until later, so keep reading on if you want to find out what happens!
MY BOSS & OUR WILD STUDIO APARTMENT!? -LIVING TOGETHER IN TOTAL SECRECY
Posted on March 15th / Genre: Mature Romance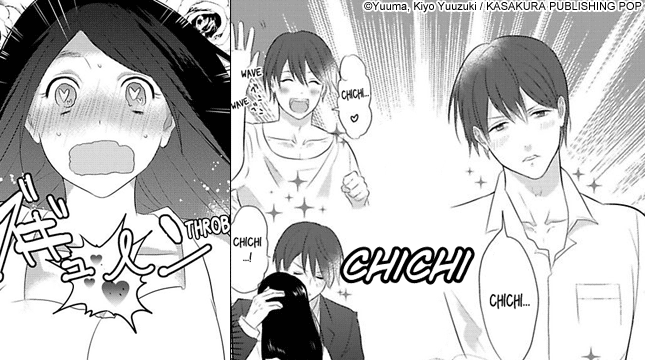 Candi's comment
There are a lot of things to like about this series. Firstly, the art is great. It manages to be cute, but clean at the same time. The two love interests are drawn really sexily, and the author does a good job of making the main the main character, Chiyuki, look attractive but dorky. There's also a lot of humor to be had, especially from Chiyuki, who is often freaking out about something cute her boss did. She's a super likeable character. I find her pretty relatable in that she's not one of the popular women at work, and she's pretty geeky. However, what I really like about her is that she never lets any of her problems get her down. Even when she's sad, she seems very cheerful compared to the characters in a lot of manga. For example, at the start of the story she overhears her coworkers making fun of her, but instead of launching into an inner monologue about how bad her life is, she just goes "Well, this is awkward.". In my opinion, there's nothing worse than a mopey heroine, and Chiyuki's cheerful attitude keeps the story upbeat (but still with plenty of feels). If you're looking for something light, entertaining and sexy, this manga is for you.
SILENT SUBMISSION
Posted on Feb 22nd / Genre: Mature Romance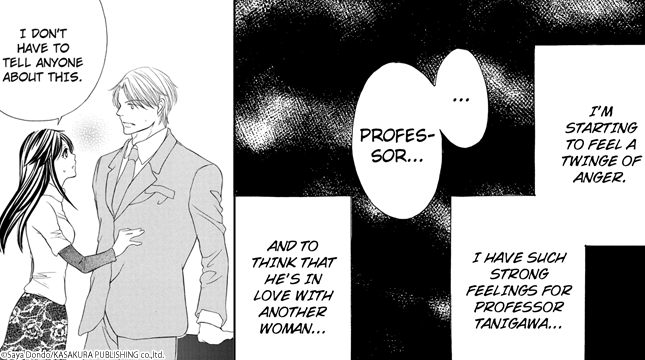 Candi's comment
Good ol' college days... I miss the days of being able to sleep in and go to class whenever I felt like it... I guess that means I'm properly adulting... Anyway, this manga revolves around Michiko, college student who's in love with her professor... It's all going well until one day when she catches him rubbing one off! It's a funny twist to the typical student-teacher relationships in love manga. I like how more assertive she is than most other heroines and goes after what she wants! There's another funny twist at the end that was really hard to translate... Japanese language and gags are so hard to put into English! I can totally see a twist like that happening in real life though (read to find out what it is!). It's nice for a quick read and may end too abruptly for some people, but if you need a quick jolt of spice to get through your day, check this one out!
ARROGANT EROTICA
Posted on Feb 15th / Genre: Mature Romance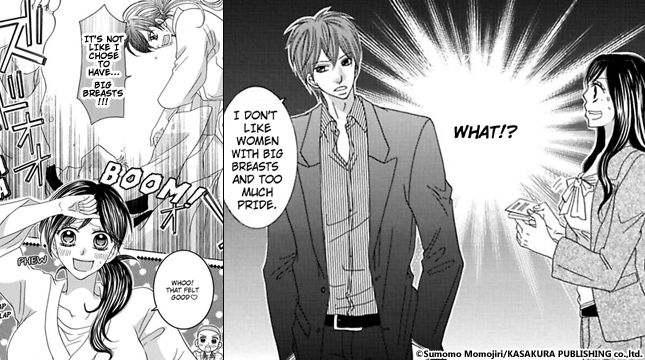 Candi's comment
At first these two really hate each other. However, after working with each other day in day out they gradually grow closer... Okay, so it isn't exactly the most original premise, but both the main characters are just so darn good together. On the one hand you have a short-tempered, busty, badass female judoka, and on the other hand you have a bad-mouthing, self-obsessed asshole, who is amazing at his job, but hopeless when it comes to love. Nao, the honest and tomboyish heroine is immediately likeable. However, Kyoya, the male lead, seems like a jerk at first, but really grows on you. He initially seems super cynical (and brutally honest), but as the story progresses you realize that a lot of what he says is just putting on a front, and that really he's super insecure, and is afraid to say how he actually feels.

The first chapter is about the two of them growing closer to each other at work and finally getting together, and the rest of the chapters are about them after they've started dating. My favorite chapter is the third one; it brings a love rival into the picture. Usually when a love rival appears the male lead will get jealous and say something like 'I won't let you take her!' or 'Stay away from my girl!' etc., but Kyoya, even though he's worried, keeps everything to himself and suffers in silence. He's just so awkward that it triggers my maternal instincts. This is a great read and I highly recommend it.
THE EPHEMERAL LOVE OF A HOSTESS -HOLD ME BEFORE I GO MAD!-
Posted on Jan 25th / Genre: Mature Romance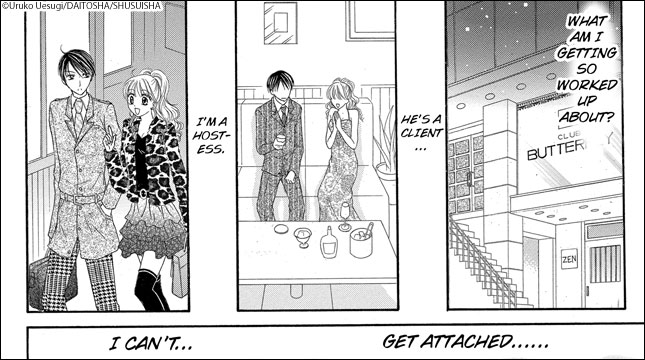 Candi's comment
We don't really have the concept of hostess clubs in the West, do we? They're establishments where women serve up drinks and chat with their male customers. I've heard that people sometimes do business deals there or bring their underlings there for a night out. I have a few Japanese friends who used to work as hostesses and it's a quick way to make money if your clients like you. You get more money the more they like you, which can also involve hanging out with them outside of work as way of building a relationship with your clients. In the end though, it's still a business relationship, which means no getting attached. In the cover story, Yurika works as a hostess and gets off on the wrong foot with a new client. On her way home, she gets attacked by a stalker and her fussy client, Mr. Fujiki, happens to come to her rescue. She repays him with dates here and there, but eventually she falls for him. I just love forbidden romance (but not too forbidden if you know what I mean)!
A CLUMSY CINDERELLA
Posted on Jan 18th / Genre: Mature Romance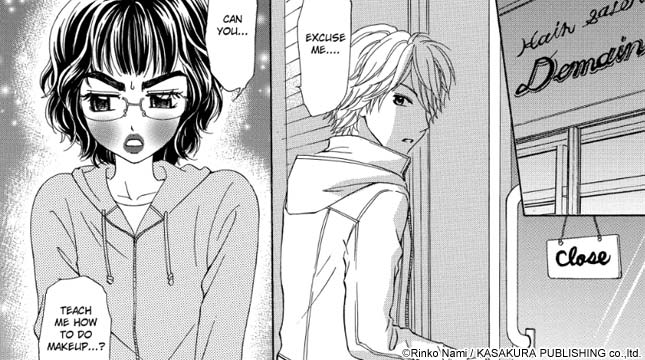 Candi's comment
This has to be one of the funniest and sweetest love manga I've read in a long while. It's an anthology featuring four different stories. I liked all of them, but I would have to say that the first one, which is the titular "A Clumsy Cinderella" was my favorite. The main character is a girl who's really self-conscious, gloomy and likes to keep to herself. To make matters worse her name's Hime, which means princess in Japanese, and is a stark contrast to her dull, quiet and grumpy image. One day she bumps into this totally hot guy who all of a sudden declares his love for her. Of course, Hime thinks he must be trying to play some cruel joke on her and runs away, but he steals her notebook to force her to get a haircut and turn her life around. It's a really heartwarming story, because not only does she find love with her mysterious Prince Charming, but thanks to him she also manages to improve her social skills and make some friends. There are also plenty of laugh-out-loud funny moments, like the one in the picture above, where Hime tries putting on makeup for the first time and fails miserably. In addition the artwork is great, and does a brilliant job of making an already funny manga even more hilarious. If you're looking for a great romantic comedy this is for you.
VIRGIN X MAID FETISH -THREATEN ME, PLEASE ME-
Posted on Dec 28th, 2016 / Genre: Mature Romance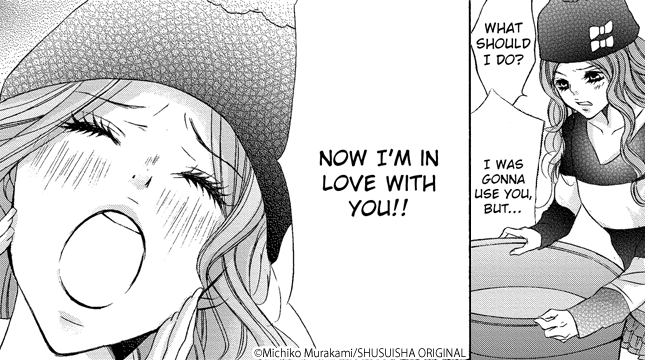 Candi's comment
Blackmail gone wrong is always a beautiful disaster, don't you think? Chika is well-known amongst her friends as a master of the nightly arts of pleasure and they always come to her for advice. Her supposed mastery comes from just reading magazines though, and she always feels guilty about lying and confesses to a school toilet (not the most sanitary confession room). She finds out one of her hot classmates is super into maids though and tries blackmailing him into sleeping with her, but she ends up falling for him instead. The second story is a continuation of the first one and shows how the two deal with a new rival appearing on the scene. This one is more about their relationship and I liked seeing how their relationship grew into something more than what it started as. It definitely loses the humor of the first one but I enjoyed both stories for the different sides of the characters they showed. The last story is unrelated but it has an adorable heroine who just wants some and a boyfriend who seems to only like studying. The expressions she makes are so funny! If you need some lovely spiciness mixed with a healthy dose of humor, I highly recommend this manga!
SUNNY DREAMS
Posted on Dec 21st, 2016 / Genre: Mature Romance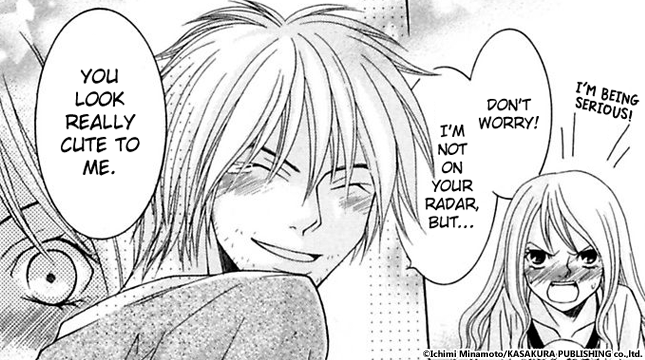 Candi's comment
Sunny Dreams is the perfect title for this anthology packed full of heart-warming love stories. Ichimi Minamoto likes to write stories about office romances, but the different stories often feature characters from the same company, so you can read them like a series. The first and second stories in this manga also feature different characters working at the same company, so it's more like one story than two separate ones. The main characters in the first story are both very laid-back and have a really great relationship. It was a really soothing manga. The second story is the complete opposite of the first. The main character is a pretty awful woman who's desperate for a handsome boyfriend, goes to mixers every day, forces her work on to other people, and takes her problems out on other people. In the first story, she plays a supporting role as a love rival, and comes across as a complete bitch. However, whilst reading the second story you find yourself unable to hate her. In fact, by the end of the story I found myself liking her so much that she might even be my favorite character in any manga. She might look like she's being selfish for no good reason, but she's really insecure and hurting on the inside. I quite like this kind of character. After I finished reading this manga, it left me feeling all warm and fuzzy. I highly recommend it to all of you that are feeling a little tired and fed up right now.
MY SERIOUS BOSS TURNS INTO A WILD BEAST WHEN HE'S DRUNK!
Posted on Nov 30th, 2016 / Genre: Mature Romance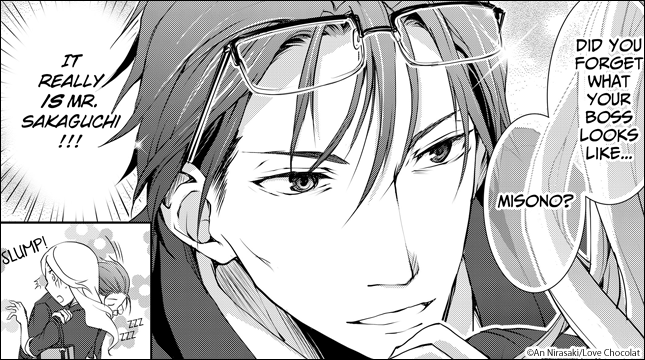 Candi's comment
Back in the day, I was never really into the intelligent-and-cool glasses look. The hot-and-wild look was more my thing, but as I've gotten older I've come to appreciate glasses. I mean, not when the glasses are on, which is hot by itself, but when guys take their glasses off... It's like you get to have your cake AND eat it too. In this manga, Mr. Sakaguchi is your typical hard-working glasses man. Pretty cool, not bad looking. Wearing a suit is a plus. But once he drinks even a small sip of alcohol, off come the glasses and out comes the beast slumbering within. That's what Momoko finds out when she goes back to a bar after a staff party to get her phone and finds Mr. Sakaguchi sleeping drunk. She's always found him attractive but a little too passive. But once she's had a taste of the beast, she can't go back!
MY PASSIVE BOYFRIEND
Posted on Nov 22nd, 2016 / Genre: Mature Romance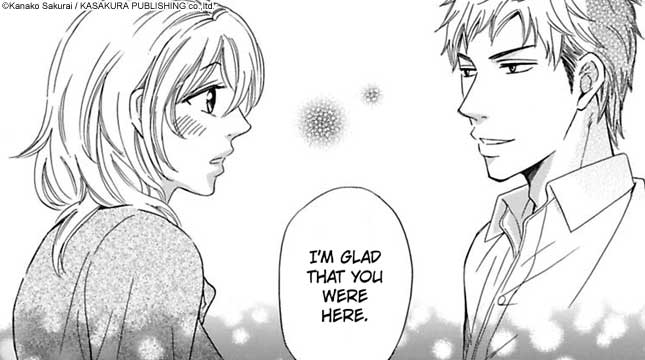 Candi's comment
Most of the manga on Renta! feature guys that are very confident around women; they know that they're hot and they have no qualms about using their charms on women to get sex. It's nice to read a story every now and then that throws something different at you. As the title would suggest, the male lead in this manga isn't the most confident of guys, his ex-girlfriend didn't enjoy having sex with him, leaving him unable to perform at all in the bedroom. Unfortunately for him, he is heard revealing all of this to one of his coworkers at a bar by Chihana, the female lead. Personally I found it hard to believe that he'd just be casually discussing his erectile dysfunction with one of his workmates, but that's a relatively minor complaint. Chihana moves in with Kousuke because she's got no place to stay, and he (refreshingly) doesn't make any kind of move on her. The two of them gradually become closer until Chihana realizes she's fallen for him. The art is clean and crisp throughout and the panels are a good size; it doesn't try to fit too much into one page like some manga. The sex scenes (Yes, he does manage to get it up at the end) are really beautifully drawn without an overuse of SFX. As I said at the start, Kousuke isn't like most guys in love manga, so he may be a little lacking in sexiness for some readers. However, I personally found this to be a nice change and think he more than makes up in cuteness what he lacks in sexiness. The other three stories in this anthology also feature more slightly more "passive" guys, but none of them are quite as passive or cute as Kousuke. I highly recommend this manga.
DO YOU WANT ME TO UNDRESS YOU? -THE DOMINEERING DIRECTOR AND THE CONFINING CONTRACT-
Posted on Nov 2nd, 2016 / Genre: Mature Romance
Candi's comment
A poor but hard-working heroine! Selfish billionaires! A familiar but mysterious face! Corporate espionage! And of course, steamy love scenes! This manga has got it all! Mio has been slaving away at a restaurant to help pay her brother's tuition when a young guy in a suit suddenly grabs her and declares that she's his lover. He's trying to escape a marriage arranged by his family and offers to give her so much money that she'll never have to work again... as long as she acts as his lover. I actually like my handsome manga guys as the selfish, pushy types, cause we all know that deep down inside, they just need some loving, right? I wish someone would offer me a bunch of money too... Then I could just read manga and hibernate until spring...
FROM THE BEAST,WITH LOVE
Posted on Oct 26th, 2016 / Genre: Mature Romance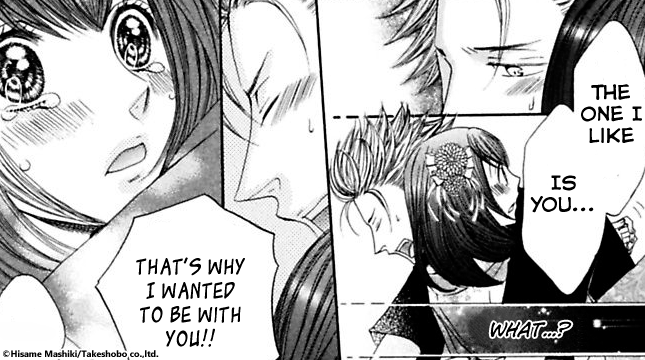 Candi's comment
This week's recommendation is an anthology featuring four sweet-love filled stories. All four stories have a different main character, but each character is from the same family, and they all make cameos in each other's stories, making the manga feel like one big story rather than four separate ones. My favorite out of all the stories is the fourth one; it's about two childhood friends, who are both unaware that the other has feelings for them. As plots go, it's been done before, but the artist's illustrations are so beautiful and add so much emotional depth to the story that you can't help but be moved. The male character is a little rough around the edges, but it's adorable the way he overthinks everything the female character does; I just love the way that they interact with each other. There aren't many anthologies where all the characters are connected, so I found this manga really refreshing. In addition all of the supporting characters are really funny, (as is often the case in this author's manga) so be sure to look out for them.
NAKED AT THE MATCH-MAKING RETREAT -PHYSICAL-COMPATIBILITY CHECKS IN OUR ROOMS!?-
Posted on Oct 5th, 2016 / Genre: Mature Romance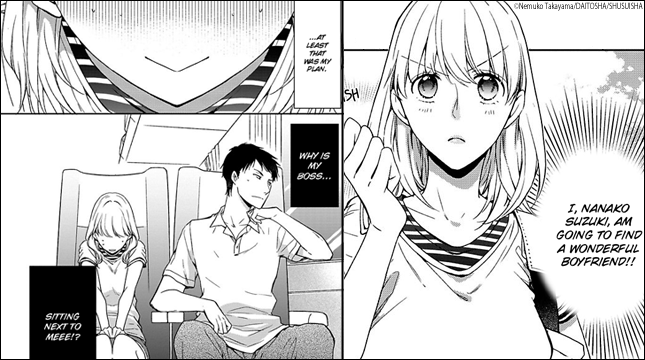 Candi's comment
I haven't watched American TV shows in years, but does anyone remember all those reality TV matchmaking shows in the early 2000's where a bunch of men and women live together to find their match? This short series is kinda like that, except without all the cameras and with all the more spice! Nanako's at the age where all her friends are off getting married and she's getting left behind, so she decideds to participate in a three-day getaway to find a boyfriend! Except the first person she meets ends up being her boss from work...! Of course we all know that looks aren't everything, right? Bodily compatilibility is a must! And of course those old TV shows couldn't show any of that funky stuff on or off camera, which is where manga comes in, right!? Who is Nanako's body compatible with!?
IF YOUR EYES SPEAK OF LOVE
Posted on Sep 28th, 2016 / Genre: Mature Romance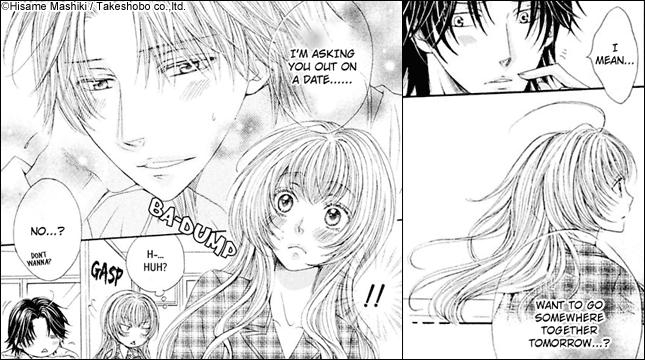 Candi's comment
This book is so sweet! It features four stories. The first two are about two childhood friends. The last two are separate stories about two different couples, where the guys in both cases are trying their hardest to convince the girl to go out with them. The third story is my favorite. It's the one on the cover (I have no idea why the cover story is the third story). It features Misao, a beautiful girl that's just started high school, and Oribe, who's a wealthy, popular third year. Oribe falls for Misao the moment he lays eyes on her, but Misao isn't exactly fond of poor Oribe. It's really funny to watch him try and get close to Miaso, only to have her reject him every single time. This doesn't put Oribe off though, who stays true to the maxim "If at first you don't succeed, try, try, try again." and eventually, after much persistence, he is able to win her heart. It's a real feel-good story with plenty of humor. Although Misao might seem like a big sour puss at first, she has her reasons for rejecting Oribe, and she manages to come out of things in quite a positive light. It's also set at the same school as the previous two stories, and there's a cameo from the two main characters.
THE SECRET LOVE CONTRACT
Posted on Sep 14th, 2016 / Genre: Mature Romance

Candi's comment
This time I have an anthology for you all. I love anthologies because you get short, sweet (or should I say, spicy?) bites of lots of different stories, kind of like a sample course at a restaurant! My favorite story in this bunch is MY BOYFRIEND IS ALL WRONG. Rie likes talkative guys who take the lead, but at a mixer she gets paired up with Shinji, a quiet, video game-loving nerd and rejects all of his advances. It's all about falling for someone you thought you'd never fall for. Life is kind of like that, don't you think? It's important to have ideals and standards, but if you keep them up too high, you may miss out on the perfect chance for love!
HANDS OFF MY PUSSYCAT
Posted on Aug 24th, 2016 / Genre: Mature Romance

Candi's comment
This time I picked a manga by Sachiko Aida whose every work is always a hit whenever it appears on the site. I'm a big fan of Sachiko Aida's art and storylines just like you guys, and I think this one might just be my favorite yet! A love story between a bad boy and a good girl is a well-worn cliché in shojo manga, but although my head can see right through that, my heart can't help beating faster when I see the bad boy behave so differently when he's in love for real. Watching him go crazy in a fight and then melting around a girl he loves... nom! All of Sachiko Aida's manga series are funny and pleasant to read and this one too has many hilarious situations where a pure-hearted bad boy gets pushed around by a princess who's also an airhead. You'll be sure to die laughing just like I did! You definitely can't miss how the hero saves his damsel in distress from the paws of evil guys! Another great thing about this manga is supporting characters. The protagonist's friend, Tsubaki, and the cat, Mr. Yukichi, really add a special something to an already awesome series. I'm sure you'll enjoy it all!
PLEASURE CONTRACT - I'M A NAUGHTY, WET PRODUCT FOR SALE -
Posted on Aug 31st, 2016 / Genre: Mature Romance

Candi's comment
One thing I really like about spicy love stories is that no matter how crazy or unrealistic the situations are, there's always love to be found. Yui's a sweet girl who just wanted to do anything to make the man she loved happy, which included lending him money and being his guarantor... And being the jerk that he is, he bails out on her, leaving a debt collector named Andou to come and collect the money from Yui. What really struck me was just how sad she was, knowing that her boyfriend wasn't coming back and taking responsibility. When worst comes to worst, sometimes you just gotta buckle down and work it out with whatever you got. And you just might find love along the way!
A FLEETING VOW
Posted on Jul 27th, 2016 / Genre: Mature Romance

Candi's comment
So I got a confession here to make. I've always liked bad boys. Like gangster type bad boys. But not too bad. I mean the ones with a heart of gold but still tough as nails, willing to protect the woman they love. That's what happens to Beni, who loses her only remaining family, her grandmother, and then finds out that her grandfather and father were gangsters! She becomes heiress to the gang and is forced to marry Udou, the leader of a different gang, in order for their gangs' survival. He's rough around the edges but soooooo cute when he's worried about Beni and runs to her rescue. Who needs a knight in shining armor when you got a smoking-hot gangster in a dark suit!?
PRINCESS OF THE NIGHT -IMMORAL AND FORBIDDEN LOVERS-
Posted on Aug 3rd, 2016 / Genre: Mature Romance
Candi's comment
Kazuma, an average, everyday hair stylist, gets called for an at-home appointment, which turns out to be more of an at-shady-mansion appointment. There he meets the mysterious owner of the mansion, Akihito, and the client, a scantily-clad, enigmatic woman named Sakura. While doing her hair several times a week and rebuffing her advances (at the risk of death by Akihito), Kazuma starts to fall for the mysterious Sakura and slowly uncovers the secrets of the mansion and the relationship between Akihito, Sakura, and the dark business they're involved in. If you need some darkness and mystery in the middle of summer, I highly recommend this title!
A LONG ROAD TO LOVE
Posted on Jun 22nd, 2016 / Genre: Mature Romance

Candi's comment
This is another great story about childhood friends in love from Mitsuru Wakana. There's a nice contrast between the two main characters, with the guy, Hajime, being uptight and a worry wart, and the girl, Erina, being a huge ditz. There are some really good comedy moments as well, like in the picture above where Hajime learns that Erina was intimate with her ex-boyfriend. Hajime spends a lot of the manga pretending that he isn't interested in Erina, that he's just worried about her safety, but it's obvious to everyone (except Erina LOL) that's not true. I highly recommend this absolutely adorable manga.
WHEN HE EMBRACED ME...
Posted on Jul 13th, 2016 / Genre: Mature Romance

Candi's comment
I had quite a few crushes back in high school. Nothing ever came of them because I was too shy to say anything to them, but if I had a second chance now, how would things turn out? That's what happens with Sanae and Fumiaki, how would things turn out? That's what happens with Sanae and Fumiaki, who were knew each other through high school and ended up in the same company. Sanae only remembers him as a little brother-like figure, but Fumiaki has deep feelings for her he's been keeping for all these years. At a welcoming party for new co-workers, she decides to break the tension between them with some "liquid courage" (one of my favorite lines ever) which gets her a little tipsy, and one thing leads to another (in typical manga fashion!). It's fun seeing a reunion spark something new. In a few years it'll be time for my own high school reunion, so I hope I can make sparks with liquid courage then too!
SECRET GARDEN
Posted on May 18th, 2016 / Genre: Mature Romance

Candi's comment
Stories about girls dressing up as boys, and going to an all-boys school are pretty common in shojo manga. However, this manga turns things on their head by having a popular actor dress up as a girl, and go to an all-girls school. The guy and the girl on the cover are in fact the same person! Like many high school romantic comedies, the main characters initially argue all the time, but secretly like each other. The sadistic nature of Hiroto, the cross-dressing actor, and his interplay with the female lead, Yurika, are really entertaining, and because he looks like a girl, the supportive way that the other female students react to what they assume to be a lesbian relationship is really funny. I particularly enjoyed the bits with Hiroto's female cousin. She's just as sadistic as Hiroto, and has a lot of fun messing with Yurika.
BONDAGE ADDICTION -THE PET GIRL'S IMPRISONMENT- (1)
Posted on Jun 8th, 2016 / Genre: Mature Romance

Candi's comment
Don't let your eyes fool you. Although there are a lot of steamy sex scenes, there's also a touching story behind it all! The heroine is the daughter of a CEO and lived her life in luxury until her father's business went bust. Now she works as a hostess and sells her body to make ends meet. One night, she meets a CEO who turns out to be her former servant (and her first love!). This manga is perfect for those looking for both smut and a charming story about turning life around through love.
ENGULFED BY A SEA OF HOT SAND
Posted on Apr 27th, 2016 / Genre: Mature Romance

Candi's comment
This epic saga about an average Japanese girl and a sheikh has to be one of the most romantic series available on Renta! It starts of like many sheikh stories: with a kidnapping. The main character, Sakura, and her father are abducted by Far, the prince of a faraway kingdom. At first, Sakura despises Far, but once she learns the motivation for his actions, she finds herself falling in love with him. The two of them are really suited two each other, and are very much in love, but they are constantly faced with obstacles which they have to overcome. However, their love never wavers, and they always manage to stay together. This is a must for those among you that love a happy ending, and at four volumes, it should keep you going for a while.
MORE THAN A ONE-NIGHT STAND? -SWEET LESSONS FROM A CRAFTY BOSS-
Posted on May 25th, 2016 / Genre: Mature Romance

Candi's comment
I recommend this to those spicy manga fans that enjoy a bit of story with their smut. A girl drinking away her sorrows at a bar after getting dumped has a one-night stand with a handsome man. However, the man she slept with turned out to be her new boss. The emotions of the female lead, who after what was supposed to be a one-time thing, finds herself falling deeply in love, are brilliantly depicted. I really recommend this if you like to get inside the heads of the characters.
COLORS.
Posted on Mar 23rd, 2016 / Genre: Mature Romance

Candi's comment
The cover for this manga is fantastic! It's so good I wish I could get a copy to stick on my wall. Fortunately, the manga itself is also a great read. It's an anthology which contains three stories about young love; my favorites were the first and second stories. The first story is about a well-to-do girl from a wealthy family and a boy on the soccer team. The girl has a surprisingly sharp tongue and is strong-willed, which is an uncommon trait in well-to-do female manga characters. The interplay between her and the soccer team guy is really funny, and the way he's always so frank with her is really cool. The scene where he tells her he loves her is so sweet that you'll squee yourself to death, making this manga a must for the girls. The second story is about the love between a different (and less strong-willed) well-to-do girl and her childhood friend. It starts off as a cute and innocent love story, but the ending is so bittersweet that it's guaranteed to make you cry.
A TASTE OF ADULTERY
Posted on May 2nd, 2016 / Genre: Mature Romance
Candi's comment
This manga isn't perfect, but its great spicy scenes make this a must read! I do wish that there were a few more scenes showing the affair between the Akito and Riko, but the twist at the end took me by surprise, and I felt it worked really well. By the way, affairs are something of a hot topic recently in Japan. There have been a number of scandals involving high-profile celebrities. I had thought that Japan was quite a free and open country, but considering how everyone's been reacting to these stories, maybe I was wrong. I don't know whether some other women genuinely do hope to have an affair or not, but I do know that there are a lot of spicy manga, like this one, that cover the subject.
HE TAUGHT ME FIRST LOVE
Posted on Feb 24th, 2016 / Genre: Mature Romance

Candi's comment
My favorite thing about this manga has to be the art. It's really clean and well-shaded. I feel like you can really see how Wakana-sensei's work has improved compared to some of her earlier manga; I especially like the cover. For those of you who haven't read a manga by wakana-sensei before, you should know that her female characters are slightly chunkier than the average manga character, which makes a nice change. I'm a big fan of Saburo, the male lead in this story. He just can't keep his hands to himself (in a good way) and although he's very possessive of Mai, I can't help but be jealous of her for having someone that's so into her. There's also a cameo appearance by Reiya, who you can read about in "I LOVE YOU. I HATE YOU. NO WAIT... I LOVE YOU" and in addition to the main story, there's a chapter about Katsumi and Kyoji, who feature in "MY BELOVED TEACHER".
HUH? ROOM FOR RENT, BOYFRIEND INCLUDED?!
Posted on Apr 13th, 2016 / Genre: Mature Romance

Candi's comment
I'm always really cautious when it comes to renting a new place, which is probably why I haven't had much luck with moving. Every time I go to look at a new apartment, I think, "If only there was something special about this place." and end up staying put. If the apartments I looked at were more like the one in this manga, I would move in a heartbeat.

The girl in this story rents an apartment, only to find that it comes with a guy who says he's her boyfriend. She already has a childhood friend that she has a crush on, but the "boyfriend" is really hot and such a nice guy that she finds herself starting to believe that he really is her boyfriend.

There are lots of saucy scenes for you to enjoy, but I'd say that the real draw of this manga are the soothing scenes where the main character is all lovey-dovey with her boyfriend. If you ever find yourself struggling to choose a new place to rent, why don't you try giving this a read? You might find it useful.
HAPPY HONEY HOLIDAY
Posted on Jan 20th, 2016 / Genre: Mature Romance

Candi's comment
This week's recommendation is one of Yuuki Hinase's manga. It's an anthology featuring three main stories and one spinoff. The first story is a staple of the shojo genre: a reverse harem story about a girl dressing up as a boy, and going to an all-boys school. However, it's the second story that I really want to recommend to you. Yuuki Hinase has drawn a lot of heartwarming manga in her time, but this one takes the cake. The heroine is a feisty girl who keeps rushing into things without thinking, and having nothing go her way. Hence the title, "Unlucky Girl". Here are a few examples to show how unlucky she is:
1. After her boyfriend cheats on her, she throws her phone in a rage and breaks it.
2. Just when she decides to work a few extra hours at her part-time job to save up money for a new phone, the place where she works closes down.
3. She gets dolled up in a yukata to see the fireworks display, with the intention of getting a new boyfriend, but it's cancelled due to a typhoon. She ends up walking around in the pouring rain, tripping over her yukata, and getting splashed by a passing car.
Just how long will her unlucky streak continue? Will she ever find love? You'll have to read it to find out.
COHABITATION GAME - SEXUAL LESSONS FROM A DASHING WOLF -
Posted on Mar 30th, 2016 / Genre: Mature Romance

Candi's comment
Although I was expecting a purely smutty manga, I was pleasantly surprised (not that I dislike smut, mind you.) to find that this was much more than that. The story is about an erotic novelist and a porn star who start living together. Shiho, the erotic novelist has zero experience with men, and is suffering from an extended period of writers block. Kou, the porn star is devilishly handsome, and offers to teach her all about sex in exchange for a place to stay.

Now, it might sound like your bog-standard smut up to this point, but trust me, it's not. The way that their relationship develops is just adorable. You get a real sense that the two of them love each other, but are holding back. Especially Kou, who's worried about what impact his job as a porn star might have on Shiho. I don't want to say anymore because I might spoil it, but this really is a great read that will satisfy both your romance and smut needs. I really can't recommend it enough.
IN LOVE WITH MY SLAVE
Posted on Dec 22nd, 2015 / Genre: Mature Romance

Candi's comment
Okay. I realize this sounds like the title for something in the spicy section, but this really is a sweet manga. When the main character, Itta, asks out Riri, he tells her to be his slave (which is where the title comes from). Fortunately, she doesn't literally end up being his slave; if anything, it ends up with Itta becoming Riri's slave because he's so madly in love with her. One of the great things about this manga is how ridiculously cute Riri is. She is the very definition of an airhead, which is what makes her so adorable - just look at the picture below if you don't believe me. Itta is ridiculously over-protective of Riri to the point that he (initially) won't have sex with Riri, for fear of hurting her. Itta isn't usually the type to worry about inflicting pain (as the old man who stalks Riri discovers), so it shows just how much he cares about her. There's plenty of humor to be had as well. The last chapter is particularly funny, with Riri drawing on Itta's penis to make it look like a prairie dog (yes, you read that correctly). This is all in all a great read, and I highly recommend it!
HONEY-LOVE GIRL: THE HORNDOG BOYFRIEND
Posted on Mar 2nd, 2016 / Genre: Mature Romance

Candi's comment
Bravo! Bravo, Kuromame-Sensei! Leave it to you to create such a cute hero. He's so sweet-but-direct with his sexual advances; like when he begs the heroine to let him go down on her, and then proceeds to lick her all over like a dog. If only he had a tail it would make him perfect! Thank you so much Kuromame-Sensei!
HONEY DEVIL
Posted on Nov 18th, 2015 / Genre: Mature Romance

Candi's comment
At first glance this manga looks like an erotic fantasy, but it's actually a really funny romantic comedy. In contrast to the fiery main character Rin, Char, the demon king of Avalon, is lazy, selfish and behaves like a kid. It's really funny seeing the interplay between the two of them. The scene where Rin beats Char with a fan is very reminiscent of manzai (a type of Japanese stand-up comedy). However, it's not lacking in the romance department either, and despite being childish a lot of the time Char manages to be really hot when he's making a move on Rin. I really love the fact that there are two distinct sides to him. I highly recommend this manga to people that love rom-coms.
Forbidden DNA - A Society Where Sex is Forbidden
Posted on Feb 10th, 2016 / Genre: Mature Romance

Candi's comment
In a dystopian future where sex is forbidden, one girl discovers the true meaning of love... Well, it's not really as epic as I just made it sound, but it's a nice story, though less spicy than some of the manga I've picked out for you before. It has a nice happy ending, although at one point it seems like things might not work out between the leading lady and her man because he's actually... (Don't worry. I won't spoil it.) It keeps you guessing with numerous plot twists, and the artwork is a pleasure to look at. You can even read the first chapter for free! What are you waiting for?
JUST LISTEN TO WHAT I SAY. -THE THINGS I WANT A SADISTIC DOCTOR TO DO TO ME-
Posted on Oct 21st, 2015 / Genre: Mature Romance

Candi's comment
I LOVE this manga. The main character, Makoto, has the affections of four handsome guys. Unfortunately for three of them, there's only one that she's interested in. The main selling point for me is the humor. There were lots of bits where I genuinely laughed out loud. One thing that really tickled me was how the artist used cute animals to cover up the characters' private parts. For example, when Makoto goes to get herself checked by the hot gynecologist (who she also happens to be really into), and she spreads her legs for him, instead of the usual white blur there's a picture of a teddy bear in between her legs. By the way, if you're someone who isn't usually into sex scenes, fear not. This manga is much tamer than the title would have you believe. In fact, it probably has the least sex out of all the manga in the sweet genre. Don't let that put you off if sex scenes are your thing, because this manga is hilarious and beautifully drawn. If you don't read it you'll be missing out.
MY OBEDIENT LOVE PET
Posted on Dec 28th, 2015 / Genre: Mature Romance

Candi's comment
First of all, let me say that the art style in this manga is really cute, which is a must for all lovers of erotic manga. You just can't have a spicy manga without good art. The story is of the "childhood friend" type. The main character, Itoko, is a country girl who goes off to start her college life in the big city. Unfortunately, her childhood friend, Kei, happens to be in the club she joins, and he threatens to tell everyone she's a country bumpkin unless she does exactly as he says. I just really loved the interplay between the main character and her friend. I couldn't get enough of it. This is a great cute and sexy read for all you spicy lovers.
AT NIGHTFALL THE HAUGHTY STYLIST TAKES OVER THE BEAUTY SALON
Posted on Jan 27th, 2016 / Genre: Mature Romance

Candi's comment
This week's spicy recommendation is, "AT NIGHTFALL THE HAUGHTY STYLIST TAKES OVER THE BEAUTY SALON" by the popular artist, Wasou Miyakoshi. Like her other works, this is a thrilling, beautifully illustrated story and a must-read for all you spicy-manga fans. I must emphasize how pretty the illustrations are. This extends not only to the sex scenes between the heartbroken main character and her childhood friend/hair stylist/lover, but also the beautiful backgrounds.

I know some girls are close to their stylist, but I didn't realize they could be this close. It might be something worth considering for those of you who are contemplating a career change.
Bloody Lover: Forbidden Tryst
Posted on Nov 25th, 2015 / Genre: Mature Romance

Candi's comment
As a lover of erotic fiction I really recommend this manga. Even the cover is exiting enough to get your pulse racing. The main character is a young office worker who sees her co-worker sucking someone's blood. The co-worker then threatens her and sucks her blood to keep her silent. One of the big draws is the cute and upbeat main character; she's just so airheaded that you can't help but like her, and want to read on to find out what happens to her. The artwork's a little lighter in tone than most vampire stories, and is overall neat and aesthetically pleasing, making the sex scenes alone worth a look.
No Way! He's My Husband!? My Life, Ten Years Later
Posted on Dec 9th, 2015 / Genre: Mature Romance

Candi's comment
This week's spicy manga is the worldwide smash hit "No Way! He's My Husband!?". Haruka, the main character, on her way to ask out the hot guy she likes, leaps forward in time to find to find that that she's married to her childhood friend. "This can't be real!" she thinks, but her very sexy and fully-developed body says otherwise, as it eagerly accepts her friend's touch. How did Haruka end up in the future? Why did she get married to her childhood friend? What happened to the hot guy she liked? You'll have to read it to find out. This is a brilliant erotic manga which is full of both suspense and sex.
Elevator Sex, Caught in the act!
Posted on Oct 28th, 2015 / Genre: Mature Romance

Candi's comment
Carrying on an illicit affair in an elevator is probably up there as one of my all-time favorite saucy scenarios. The fact that everything's being seen by another guy (a hottie, of course) makes it even better.
And then said guy (remember: he's a hottie) blackmails her for her body. It's enough to get my nose gushing. I feel like I might faint from the loss of blood...
View Previous Staff Awards